Johnson sweeps to Busch Pole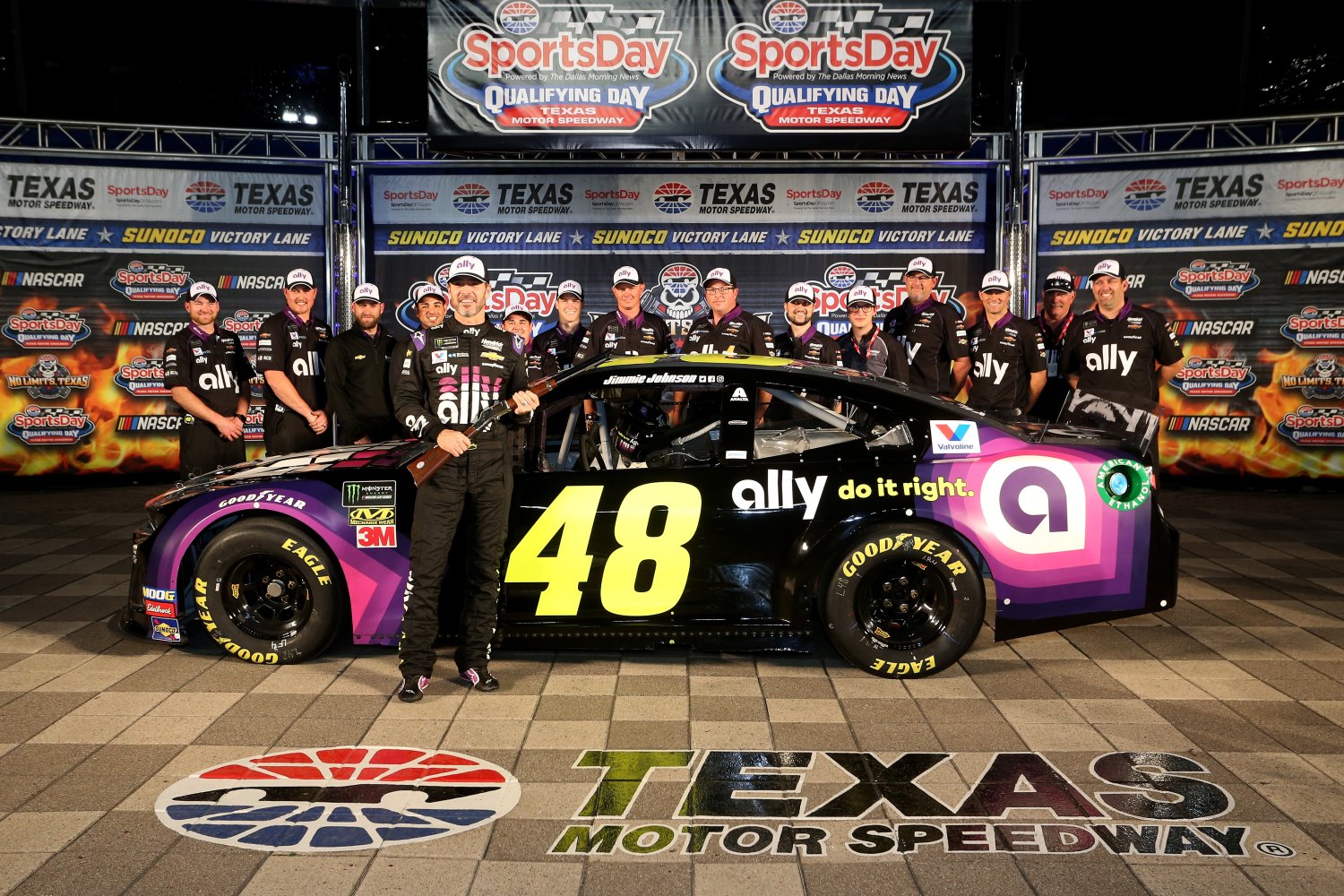 Did NASCAR threw Jimmie Johnson and the Hendrick team a bone (the pole)?
Getty Images for NASCAR
Jimmie Johnson is back in the saddle again.
After leading first practice at Texas Motor Speedway and the first two rounds of qualifying, the seven-time champion bumped his Hendrick Motorsports teammate Chase Elliott from the top spot with seconds remaining in the final round with a lap at 188.890 mph to win the pole for Sunday's O'Reilly Auto Parts 500 (at 3 p.m. ET on FOX, PRN, SiriusXM NASCAR Radio).
The Busch Pole Award is the first for Johnson in 96 races, 36th of his career and his second at the 1.5-mile track.
"It's been a long couple of years and we still have a ways to go and certainly race day is much more important than Friday," said Johnson after earning his 36th Monster Energy NASCAR Cup pole. "We're working so hard and I think we're a bit guilty of trying too hard and maybe stepping outside of our comfort zone at times and putting set-ups on the car that just quite aren't proven yet.
"With all that said, we were very aggressive coming here, changed a lot of stuff around on our mile-and-a-half program. Top of the charts all day long. It's a great start. I'm really proud of everybody keeping the faith and working hard."
William Byron, who crossed the line after Johnson, topped Elliott for second in time trials.
"That is just a credit to the guys really, just giving us a fast car," Byron said. "Teamwork man. Just keeping the communication down to get that hole that we did. Just teamwork. So it's all good. It's awesome."
Daniel Suarez's strategy of making a single-car run and not relying on the draft paid off for the driver of the No. 41 Stewart-Haas Racing Ford Mustang. He finished fourth in Round 2 to advance to the Final Round. He'll roll off fourth on Sunday.
"I was planning to go by myself without helping anyone, so I waited until everyone was shut off so I could go quick and they didn't have time to re-fire and then go," Suarez said. "That part played out well. The part that we just missed a little bit is that we were expecting them to make more mistakes or to wait a little bit longer, but they didn't.
"It was a good effort. That was our gamble. We were out of trouble and the car was good, fast and we didn't have to work as hard as they did that's for sure."
Austin Dillon, Denny Hamlin, Daniel Hemric, Joey Logano, Ty Dillon and Bubba Wallace rounded out the top 10.
With four minutes remaining in the first round of qualifying, Alex Bowman bounced off the wall in Turn 2. He had posted the seventh-fastest lap to advance to the next round, but was unable to continue. Bowman was seen and released from the infield care center.
"I think Alex would have been right there if he hadn't had his problems in Round 1," Johnson added.
Jimmie Johnson, currently on a 65-race winless streak, has won seven times at Texas Motor Speedway in the Monster Energy NASCAR Cup Series; including once from the pole (2012).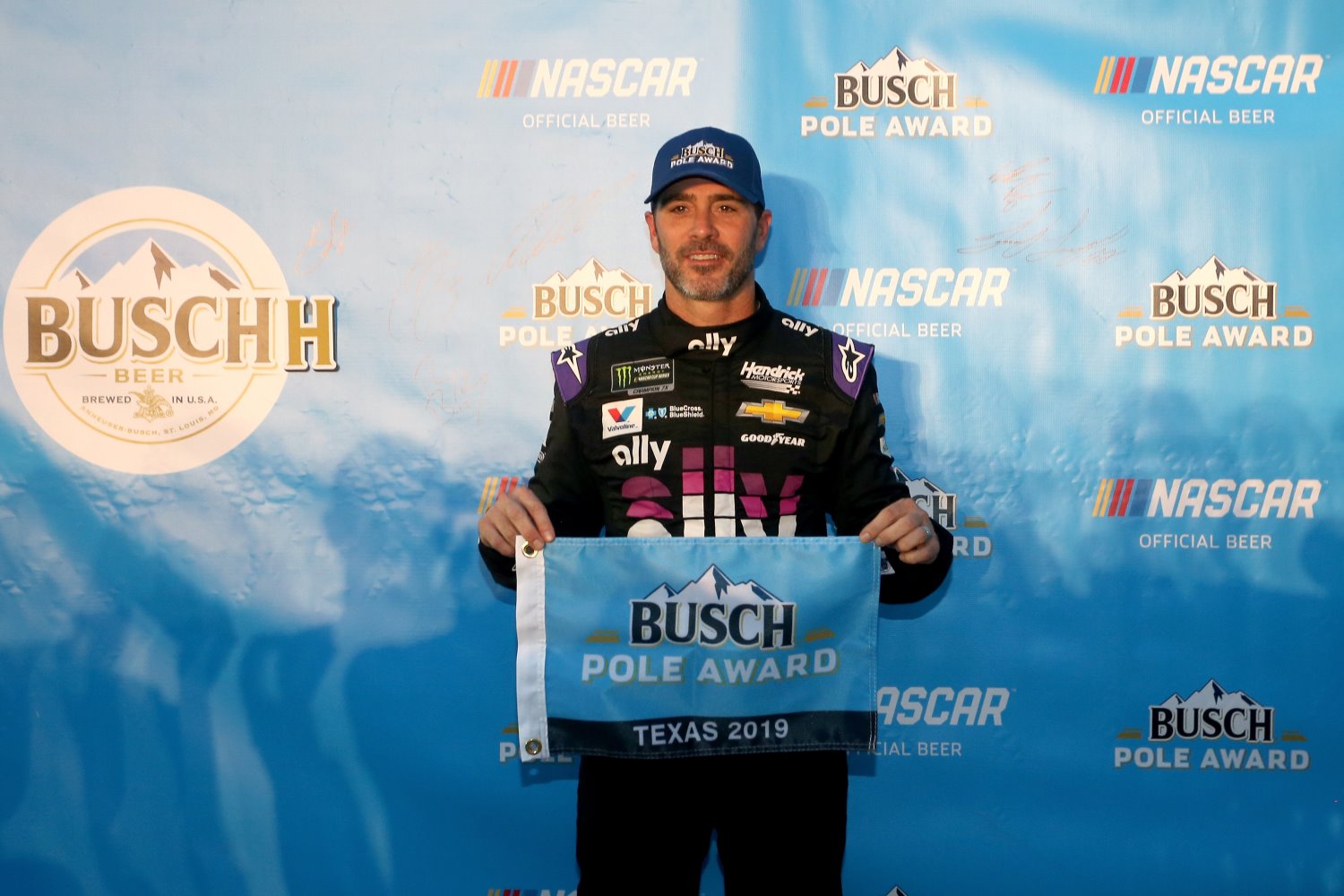 Jimmie Johnson
JIMMIE JOHNSON, NO. 48 ALLY CAMARO ZL1 – POLE WINNER
POST-QUALIFYING PRESS CONFERENCE TRANSCRIPT:
KNOWING IT'S BEEN A TOUGH START FOR HENDRICK MOTORSPORTS AS A WHOLE, HOW ENCOURAGED ARE YOU ABOUT THIS PERFORMANCE AND DO YOU THINK IT WILL TRANSLATE INTO RACE DAY FOR YOU GUYS?
"We'll see on race day. I feel like over my career good Fridays mean good Sundays. I'm thankful to have just raw speed in the car and I think it's that. And we'll have to see how it works in traffic. I think at Las Vegas we had a car capable of really performing well on Friday and we got in race conditions and dirty air and didn't have exactly what we needed. But, to have all three cars up there in the top three positions, and I think Alex (Bowman) would have been right there in the mix if he didn't have his troubles in Round 1, is saying a lot (laughs). The work that went into these cars and the work that's gone into, honestly the last 36 months; and we're not out of the woods yet. But this is a very good weekend for us to really build on our 1.5-mile program. And I think we're off to a great start."
WAS THIS A TOUGH WEEK FOR YOU AFTER MARTINSVILLE? IT WAS PROBABLY A LOW FOR YOU
"No way man, I had so much support on Social Media. There were so many nice people talking about me and how good of a driver I am and how young I am. It was a great week (laughter)"
WHAT WAS THE WEEK LIKE FOR YOU?
"Sunday and into Monday was tough. But every time I check in at the shop to see where things are at, and we're just forced to move on. That was a short track and they were working real hard to get the cars and the truck to come here. So, we debriefed and we downloaded and we worked through it. I spent some time talking to the other crew chiefs and their opinion on what could have gone wrong for my car and three of the four cars in general. I think we've got some great notes. And, I think last week we were guilty of just trying to hard with the set-up of the car. We haven't had what we wanted there in a while and maybe we were just too aggressive. We qualified decent and practiced decent. But when the rubber laid down in the race, we were just way off. With that in mind we kind of told ourselves maybe let's not be so aggressive and then we completely changed our concept and ideas of what we were going to bring here and stayed aggressive and it paid off. We still have the race ahead of us. We'll see where that pans out. But our struggles have been highly frustrating just because of the effort that's gone into it. Thankfully we're having a car shine on certain weeks and we're able to learn from that and find our way. We're off to a good start this weekend."
AS THE POLE WINNER YOU'RE HAPPY WITH THE WAY THIS ENDED-UP? WAS THAT GOOD AND KEEP MAKING THINGS A LITTLE MURKY ABOUT WHAT YOU CAN DO AND WHAT YOU CAN'T DO DURING QUALIFYING?
"Yeah, I think we all knew that there would be some challenges with this rules package. We all know that for television we don't want single car. We're just dealing with some issues that we're all trying to work through collectively, and I think NASCAR is trying to keep and open mind and they don't want to over-react. We're competitors and we're trying to work the system the best we can. If rulings come down, I think we're just going to have to be open-minded to it. But I think once you get in that final round, at least this is what happened in California, you're like man, it's either 12th or the pole. You make that final round, you're going to risk it all. And, today that waiting game certainly was going on. I'm not sure where the No. 41 ended up, but he got out there fourth. That's why it's so hard. It's so hard for NASCAR to pick a way to call this or officiate it. It seems like single-car would have worked just fine (laughs). But we don't know that until now, right? It's just tricky. And, I appreciate the fans being open-minded to this as it evolves and teams, NASCAR, media; it's just a moving target. We know it's not ideal, but we're all trying to make the most of it."
KNOWING LIKE THIS IS ANOTHER RACE WITH THE NEW PACKAGE, DO YOU KIND OF VIEW THIS AS THE REAL FIRST TEST TO SEE HOW THINGS WOULD BE GAUGED AT OTHER TRACKS LIKE CHARLOTTE AND KENTUCKY? DO YOU THINK THIS WILL REUNITE THE CHEVROLET TEAMS TO WORK CLOSER TOGETHER?
"Win, lose, or draw, our relationships on the manufacturer's side are what they are. But it's hard to say that they could be more because they've been heavily aligned in working together. So, we continue to find out how to reallocate assets and to work closer together so there is an evolution that happens. But, the Chevy teams have been doing the most that they can together; especially when it comes to the shape of the car and the body and submission processes. So, our next step is to try to figure out how we make sure that the next generation car is the best that it can be. We don't have a ton of time to get that. I think in July, that one goes in for submission. So, we're working hard on that.
"I feel like Atlanta was the track that was kind of an outlier; but Vegas was really the first true test in my opinion. And what we had there didn't work and we're totally different here."
DO YOU FEEL WITH THE GROUP QUALIFYING FORMAT THAT IT IS CLOSE AND NEEDS JUST A COUPLE MORE CHANGES TO GET RIGHT? "I think it is close. We are having a hard time running flat in one and two, and that is all the difference in the world you need. If there is a lift, I think single car qualifying really becomes a priority for the teams. Fontana is a bit different because those straightaways are so dang long; so much real estate, so I think Fontana and Michigan are the two outliers. In Vegas the RCR cars were the fastest and they did single car – the rest of us were drafting. I think we are close honestly. It might just be those two two-mile tracks that honestly that we may need a little different qualifying set of rules."
INAUDIBLE: "It's like a three or four edge sword because the first reaction is single-car. If we do single-car, the teams are then going to work so hard to make the cars slippery for single-car then it is four or five times the work to go from qualifying to race trim. Maybe if it is single-car impound; if you have to race what you qualify, that might be a way to control that a bit more. That would be a suggestion to consider for Michigan."
JUST WANT TO GET YOUR THOUGHTS ON YOUR POLE TYING YOU WITH REX WHITE AND RUSTY WALLACE ON THE ALL TIME LIST: "That is cool. I am a fan of both of those names. I'm very honored to be in that category with them and tie with them. It's crazy that I have had so many more race wins than poles. Fridays and trying to squeeze out that last half of tenth has never been my strength as a driver. It's always been racing and other drivers…but to keep chipping away at it is really cool and this one came at an important time for our company and my racing needed a nice shot in the arm."
IS THIS A GROUP EFFORT AT HENDRICK MOTORSPORTS WHERE THE FOUR CARS ARE ALL WORKING TOGETHER TO MAKE CARS BETTER? "I feel like, depending on the week and the experience we had the week before, it just kind of changes around. I think at Phoenix we were all close together, and we all performed very well. Martinsville there big differences in the setups of the cars. Old ideas on some cars and new ideas on others. Some weeks we think we need to stick closer together and we can move the ball down the field that way, and other weeks we think we need to be different. Kevin is in a tough spot because he doesn't have any notes of his own. Plus there are so many different rules packages to play with here. I don't envy Kevin's position. I think he has done a great job managing it and handling it. I think this week was probably one of the biggest tests he has had so far, maybe in his career after a tough race in Martinsville. Rallying through it and calming everyone down and get stuff buttoned up in a line, and then be on the top of the board here every session is pretty amazing to have that composure to hold it all together."
ON MARATHON TRAINING: "It is probably hour most days, and maybe two days where it is an hour and a half or two hours for a run just to get the mileage in. It is a lot less than I have done in years past training for triathlons and some cycling events I have done. Running is much more efficient. You can get a lot done in a shorter period of time. I am thankful that the bulk of my mileage is behind me and I am starting a process called tapering. This week mileage cuts back, next week even more and then the following week we are at the marathon. We've tore the body down, now it is time to rebuild it and get ready and heal up to run my 26.2 on April 15th.
"I do feel good. I've had four months to train for it. I lost a month due to an injury and a cold. I know that is going affect my goal in a sense, but to go run such a major event on Patriots Day and what I hear about the experience, I'm just excited to have that chance. The Gatorade Endurance get me in to the event and have supported me…it is going to be a fun day."
WHAT IS IT LIKE TO WIN AT TEXAS: "As you say that, I look over your shoulder I see a picture of us after a win. It is cool, especially when it is cool out and the flames are on. I remember one year in victory lane, I was so exhausted and so hot, I asked them to turn the flames off it was so hot, but the hat, the six shooters, the whole experience are always a lot fo fun. The track does a great job promoting the sport and us drivers here. My wife growing up near here in Oklahoma. It isn't a hometown feel but everyone has always paid attention to my career here. Great energy and I love to come race here."
IS IT NERVE WRACKING TO SIT THERE WAITING FOR SOMEONE TO TELL YOU TO GO FOR A MINUTE OR SO? "It is weird. You have to be on your toes. And things continue to change. The longer I'm in the sport, the more it changes. You have to keep an open mind and study and show up at the track prepared. There are different packages for Phoenix, Martinsville there are different packages to make the cars go. It is tricky. And even how to fall in a hole to get the right draft."