Logano strikes late to win Martinsville pole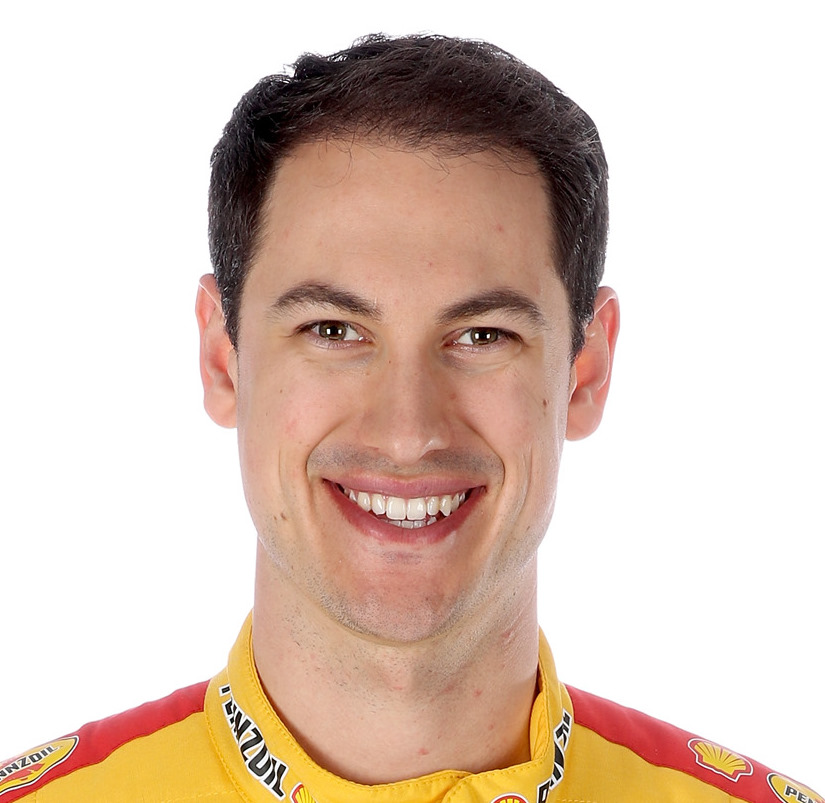 Joey Logano
Joey Logano led a Ford charge in Monster Energy NASCAR Cup Series qualifying at Martinsville speedway on Saturday, winning the pole with a speed of 97.830 mph. Aric Almirola will start on the outside of the front row. Brad Keselowski and Kevin Harvick will take up the second row. Denny Hamlin was the only non-Ford driver to crack the top 5. William Byron's last-second run made him the top Chevrolet driver in sixth.
Kyle Larson, Chase Elliott, Martin Truex Jr. and Kurt Busch round out the top 10, with Clint Bowyer and Jimmie Johnson posting the 11th and 12-place runs respectively to finish out the final round.
Denny Hamlin led the way in Round 1, posting a speed of 97.835 mph to top Brad Keselowski, Aric Almirola, Kevin Harvick and Kyle Larson. Ricky Stenhouse Jr. and Michael McDowell waged a last-second battle to advance to Round 2, with McDowell procuring the 24th and final spot. Stenhouse had posted a top-10 speed earlier in the round but it was disallowed by NASCAR after Stenhouse sped on pit road, testing a new regulation for the first time since it was implemented. Neither Corey LaJoie nor Cody Ware made a lap after suffering damage in practice and will start 35th and 36th respectively.
Round 2 was all about Hamlin again as he posted a top speed of 97.683 to take that round as well. Harvick, Almirola, Chase Elliott and Larson took the top 5 spots. Notably failing to advance to the final round was Truck Series winner Kyle Busch, who will start 14th Sunday.
Results
| | | | | | |
| --- | --- | --- | --- | --- | --- |
| Pos | Car | Driver | Team | Time | Speed |
| 1 | 22 | Joey Logano | Shell Pennzoil Ford | 19.356 | 97.830 |
| 2 | 10 | Aric Almirola | SHAZAM!/Smithfield Ford | 19.393 | 97.643 |
| 3 | 2 | Brad Keselowski | Reese/Draw Tite Ford | 19.430 | 97.458 |
| 4 | 4 | Kevin Harvick | Mobil 1 Ford | 19.445 | 97.382 |
| 5 | 11 | Denny Hamlin | FedEx Ground Toyota | 19.449 | 97.362 |
| 6 | 24 | William Byron | Axalta Chevrolet | 19.481 | 97.202 |
| 7 | 42 | Kyle Larson | Credit One Bank Chevrolet | 19.502 | 97.098 |
| 8 | 9 | Chase Elliott | NAPA Auto Parts Chevrolet | 19.511 | 97.053 |
| 9 | 19 | Martin Truex Jr. | SiriusXM Toyota | 19.518 | 97.018 |
| 10 | 41 | Daniel Suarez | Haas Automation Ford | 19.556 | 96.830 |
| 11 | 14 | Clint Bowyer | Mobil 1/Rush Truck Centers Ford | 19.581 | 96.706 |
| 12 | 48 | Jimmie Johnson | Ally Chevrolet | 19.608 | 96.573 |
| 13 | 37 | Chris Buescher | Kroger Speed Up Your Cleanup Chevrolet | 19.571 | 96.755 |
| 14 | 18 | Kyle Busch | M&M's Chocolate Bar Toyota | 19.579 | 96.716 |
| 15 | 21 | Paul Menard | Motorcraft/Quick Lane Tire & Auto Center Ford | 19.583 | 96.696 |
| 16 | 47 | Ryan Preece # | Kroger Chevrolet | 19.588 | 96.671 |
| 17 | 88 | Alex Bowman | Nationwide Chevrolet | 19.593 | 96.647 |
| 18 | 12 | Ryan Blaney | Menards/Libman Ford | 19.602 | 96.602 |
| 19 | 20 | Erik Jones | DeWalt Toyota | 19.602 | 96.602 |
| 20 | 1 | Kurt Busch | GEARWRENCH/Monster Energy Chevrolet | 19.623 | 96.499 |
| 21 | 6 | Ryan Newman | Acorns Ford | 19.626 | 96.484 |
| 22 | 95 | Matt DiBenedetto | Toyota Express Maintenance Toyota | 19.630 | 96.465 |
| 23 | 13 | Ty Dillon | GEICO Chevrolet | 19.652 | 96.357 |
| 24 | 34 | Michael McDowell | A&W All American Foods Ford | 19.695 | 96.146 |
| 25 | 17 | Ricky Stenhouse Jr. | Fastenal Ford | 19.664 | 96.298 |
| 26 | 38 | David Ragan | MDS Transport Ford | 19.703 | 96.107 |
| 27 | 43 | Bubba Wallace | Transporation Impact Chevrolet | 19.742 | 95.917 |
| 28 | 00 | Landon Cassill | CGS Imaging Chevrolet | 19.785 | 95.709 |
| 29 | 8 | Daniel Hemric # | Bass Pro Shops/TRACKER Chevrolet | 19.807 | 95.603 |
| 30 | 3 | Austin Dillon | Symbicort Chevrolet | 19.814 | 95.569 |
| 31 | 15 | Ross Chastain(i) | Rim Riderz Chevrolet | 19.846 | 95.415 |
| 32 | 36 | Matt Tifft # | Surface Sunscreen/Tunity Ford | 19.846 | 95.415 |
| 33 | 52 | Jeb Burton(i) | Muzzy Bowfishing Chevrolet | 19.998 | 94.689 |
| 34 | 77 | DJ Kennington(i) | Go-Parts Chevrolet | 20.013 | 94.618 |
| 35 | 32 | Corey LaJoie | CorvetteParts.net Ford | 0.000 | 0.000 |
| 36 | 51 | Cody Ware # | Jacob Companies Chevrolet | 0.000 | 0.000 |
[adinserter name="GOOGLE AD"]