Will Power nips Rossi for IndyCar pole at COTA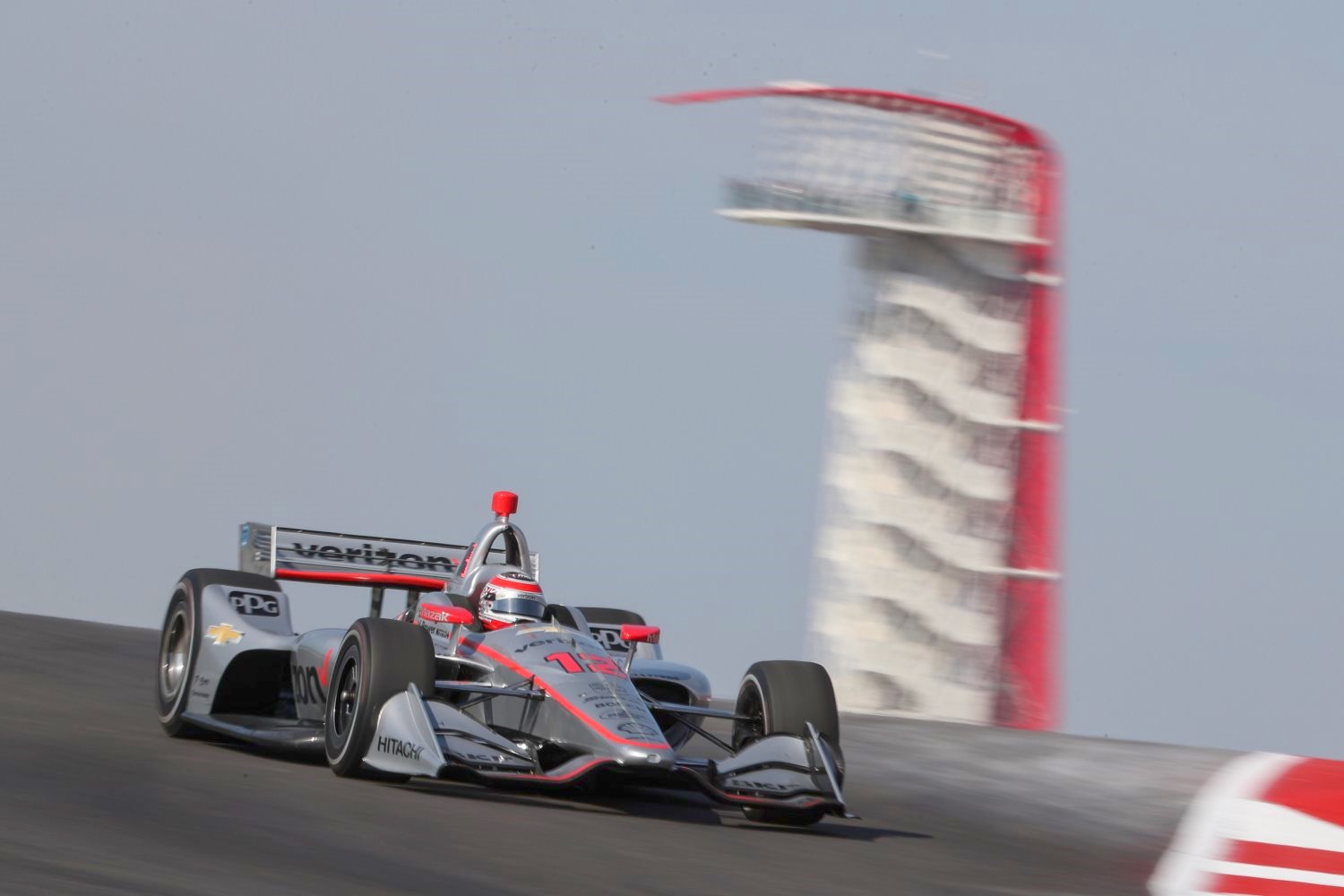 Will Power
Qualifying ace Will Power squeezed in two sets of reds in the Fast Six and that second run was enough to knock Alexander Rossi off the pole for the IndyCar Classic at Circuit of Americas in his Penske Chevy.
Rossi came up 0.1584s short in his Andretti Honda and he led a bevy of Honda drivers in 3rd through 6th. Rossi's teammate Ryan Hunter-Reay was 3rd quick 0.3051s behind with rookie sensation Colton Herta and Felix Rosenqvist rounding out the top-5.
Rosenqvist actually turned the fastest lap of the weekend in the Fast 12 at 1m45.454s but he could not duplicate that effort on used reds in the Fast Six.
Rosenqvist's Ganassi teammate Scott Dixon will start 6th.
[adinserter name="GOOGLE AD"]In the Firestone Fast Six, the last of three knockout qualifying rounds, Power pushed the No. 12 Verizon Team Penske around the 3.41-mile, 20-turn permanent road course in 1 minute, 46.0177 seconds (115.792 mph). It earned the 2014 NTT IndyCar Series champion a second straight pole position to open the 2019 season and pole No. 56 of his 15-year career. It leaves the reigning Indianapolis 500 winner within 11 of tying Mario Andretti for the most all time.
"When I looked at the Firestone Fast Six and where we stacked up, I thought the only chance we have at getting pole is if we do one lap of fuel (in the car) and do a lap and then next set (of used Firestone alternate tires), one lap of fuel and do a lap," Power said. "That's what we did, so it paid off."
"That last lap was very neat, and I finally breathed by the time I got to the alternate start/finish line."
"The thing that's bothersome is it was a good lap," Rossi said. "It's just, he (Power) has almost 60 poles for a reason, right? I missed it a bit in (Turn 19) to open the lap, so I knew it was an uphill battle from there. A front-row start is good; it's a big turnaround for us from St. Pete, where we were not that competitive."
Jack Harvey and Tony Kanaan each slid off track into the gravel in Turn 19, bringing premature ends to each group of qualifying in Round 1. While those two drivers will start from the last row in the race, the red-flag stoppages prevented other notable drivers from logging a lap fast enough to advance to the next round – including James Hinchcliffe (who will start 15th), Sebastien Bourdais (17th) and Simon Pagenaud (22nd).
Quotes

JOSEF NEWGARDEN (No. 2 PPG Team Penske Chevrolet): "We made a lot of progress as the weekend as progressed, but it just wasn't enough. It just wasn't a good enough lap. I missed it a bit to start the lap in (Turn) 19. You have to take a lot of risks the way we are running it. I think we did a good job getting up as far as we could. Overall, we've had a good weekend with the PPG Chevrolet. I'm proud of everyone on how hard they've worked. We just need to make sure we have a good race car. There are two races – the race for the pole and the race itself. We might have lost this one, but we can still win the war."
MATHEUS LEIST (No. 4 ABC Supply AJ Foyt Racing Chevrolet): "Just ended qualifying here at the track. I think it was a lucky day for me – I finished 12th in qualifying and am looking forward to the race tomorrow. I think we still need to work on race pace, so we have to focus tonight in our debrief, work for tomorrow, and hopefully, we're going to have a good race."
JAMES HINCHCLIFFE (No. 5 Arrow Schmidt Peterson Motorsports Honda): "If we were on a quicker lap, we were probably good enough to transfer (to Round 2). At the same time, these reds (Firestone alternate tires) are best on Lap 1 and we just didn't get quite the most out of it out on Lap 1. I think we could've been a lot stronger for Round 2 had we transferred through, but that's the name of the game. It's a long race tomorrow, and I think our car is a lot better than where we're starting. I have a lot of faith in the Arrow guys on pit lane with the car. We'll just put our heads down and move forward tomorrow."
MARCUS ERICSSON (No. 7 Arrow Schmidt Peterson Motorsports Honda): "I didn't even get my first lap on the reds (Firestone alternate tires), and unfortunately we just missed out. It's a bit of a shame. I think on the blacks (Firestone primary tires) we were there or thereabouts. Coming from a crash from the last practice wasn't the best preparation. I was building it up on the blacks, and then my red lap I did half a lap and it was a decent first half. Then there was the red flag, so I never really got the chance to see how the reds were. The Arrow car felt a bit better than the third practice, so I think it was a step in the right direction. We know we have a strong race car, so we just have some work to do tomorrow to get where we want." (About how the Indy car compares to the F1 car at COTA) "It's definitely very different; it's two very different cars. I think the track knowledge from F1 has definitely helped me, but the problem is we had two days of testing, so everyone sort of got up to speed on the track. If we didn't have that testing, I think it would have been a bigger advantage for me. That's how it goes, I have some tricks up my sleeve from racing here, so I'm going to play them tomorrow."
SCOTT DIXON (No. 9 PNC Bank Chip Ganassi Racing): "It's been a very messy weekend so far, for some reason. We got caught out by some red flags and things just haven't flowed for us in the PNC Bank car yet. The cars are really fast, though, as Felix (Rosenqvist) has shown. We just need to do a little more work and fine tuning and the race should be good, hopefully."
FELIX ROSENQVIST (No. 10 NTT DATA Chip Ganassi Racing): "On the new red (Firestone alternate) tires, we've been good all weekend, and even in qualifying we were second in the first round and first in the second round. In the last run, we just didn't have the grip we needed. I think we did a good lap, but maybe some other cars managed it better. It was a pretty positive day and we had good speed in the NTT DATA car for sure."
WILL POWER (No. 12 Verizon Team Penske): "I thought, when I looked at the Firestone Fast Six and where we stacked up, I thought the only chance we have at getting pole is if we do one lap of fuel, and one lap on our tires, and do that twice. And that's what we did, so it paid off." (About if he ever takes winning pole for granted, since he's won so many): "Whenever you feel like that, you never ever win pole. I always feel like I don't have a chance, I don't know why, but the last two races I thought our best chance was a top three (start) if we're lucky."
TONY KANAAN (No. 14 ABC Supply AJ Foyt Racing): "Very difficult day for us. We struggled all weekend with speed. In qualifying, you always think you can do better, you can make a difference, and I should know better with my experience. I overdrove the car, but obviously, trying to put this team where we belong, so I made a mistake and spun. It would have been good for a top 14 I think, but when you spin, you lose your fastest lap, so we're starting dead last for tomorrow. So, a lot of cars to pass, but we'll keep it positive."
GRAHAM RAHAL (No. 15 TOTAL Honda): "The TOTAL Honda was competitive. After looking at those times, I don't know if we had quite enough to advance to Round 3. We had a good start to the day and were P3 in Practice 3. In qualifying, Group 1 went really well but in Group 2 I made a mistake. I reached for a little bit extra at the end of the back straight and the left front brake locked up immediately and that was game over. Did we have enough to advance? I'm not really sure but we were on the cusp. The lap was showing to be a 1:06.3 which was what did advance but would we have gained or lose time in the last few corners? I'm not really sure but I'm disappointed. We do have a competitive car though and hopefully tomorrow we will get the TOTAL car in victory lane."
SEBASTIEN BOURDAIS (No. 18 SealMaster Honda): "I just can't find what I need to make the No. 18 SealMaster Honda fast. It's mostly me, the way I drive. It's frustrating. The car was better yesterday when it was sunny. I had some heat in the front tires that brought the car to life. In the cooler conditions, like today, we can make the car loose, but we can't make it turn. I don't know how to drive that. Never have, never will. We'll sit down, take a look at the data again and see what we can come up with for tomorrow. Hopefully, it will be sunny."
SANTINO FERUCCI (No. 19 David Yurman Honda): "It's nice to finally make it to Round 2 of qualifying with our No. 19 David Yurman Honda. That was our goal today. The team did a fantastic job. When we tested here at COTA last month, we were always inside of the top 10, but in practice here on Friday, we were struggling quite a bit. So to bounce back from that before the start of the race and to be starting more than halfway up from where I started at the first race of the season is really encouraging heading into tomorrow. Now, the goal is to keep moving forward and to pick up more points for us in the race."
ED JONES (No. 20 Ed Carpenter Racing Scuderia Corsa Chevrolet): "I am very frustrated. We made so much progress over the weekend and were on a lap to transfer, but the red came out one corner before the end, so my time was deleted. That's two weekends in a row now that we haven't been able to put in an actual qualifying lap and have suffered from it. We seemed really strong yesterday in the warmup when we did a longer run, which I think other people really struggled with. Hopefully, that will work in our favor and we will have better luck tomorrow."
SPENCER PIGOT (No. 21 Ed Carpenter Racing Chevrolet): "It is a shame to have to start the race from so far back. With an extra 15 seconds of green flag time, I would have been able to complete that lap and we'd be starting much higher up. Our starting position is disappointing, but fortunately Circuit of the Americas is a long track and there are plenty of opportunities to work our way forward tomorrow."

SIMON PAGENAUD (No. 22 Menards Team Penske Chevrolet): "Yeah. That's two weeks in a row. Those are the circumstances we are dealt, I guess. It is frustrating for sure. We just need to be able to put a time up. It's just too bad, because we don't get to show all of the hard work this Menards Chevrolet team has put into this car. The car was great. We started with a scuff set of tires. Maybe that wasn't the right approach, but you never know. I just wish I could have finished that lap on the reds (Firestone alternate tires)."

ZACH VEACH (No. 26 Gainbridge Honda): "I think qualifying was really good – I just got a little too aggressive. I asked for a little more front wing trying to go for it and I had the lap going to get us into the (Firestone) Fast Six. Then the extra turn of front wing bit me in the esses. From where we started this weekend to where we are now, I am pretty happy with the No. 26 Gainbridge car. As long as you are in the top 10, we can race from there and I am happy to be rolling off ninth."
ALEXANDER ROSSI (No. 27 NAPA AUTO PARTS Honda): "I'd like to say I'm satisfied for second, but I know we had the speed for the pole position. We only went out for one lap in the (Firestone) Fast Six and I think the the thing that is bothersome is it was a good lap. (Will) Power just put together what he needed to secure pole which is why he has almost 60 poles – he's good at that. I missed it a bit into the final corner to open the lap. I knew I was in an uphill battle from there. A front row start is good – it's a big turnaround for us from St. Pete where we weren't really that competitive, we were just floating around in fifth and sixth. To be challenging for the pole this weekend is great and a testament to Andretti Autosport and everything the NAPA AUTO PARTS team has done."
RYAN HUNTER-REAY (No. 28 DHL Honda): "I think we have a chance tomorrow, especially on used tires. I was going for everything out there, but really struggling with some rear lock in the brake zones so I had to take a bit easy in those. I was on a pole lap until I hit Turn 15, I was just trying to get a little more time out of it and locked up the left front which put me a little wide. That's how tight it is in IndyCar – you have to go for every little bit. Congrats to Will (Power) on his 56th pole position. I thought the DHL car had a good shot at it, but we are starting third tomorrow and can win from there."
TAKUMA SATO (No. 30 Mi-Jack / Panasonic Honda): "We had an unfortunate qualifying session again. The practice session felt pretty positive and we made good progress. We were P3 on the first attack for the first run in qualifying on the black tire and felt we had a reasonably good pace. Then we put on the red tires and went out to do the lap times and unfortunately somebody spun in front of us and brought out the red flag so I couldn't even manage one timed lap. The car would have had better balance. At that point I was P4 or P5 but wasn't able to complete the lap on red tires and dropped out of the top six. It's definitely a shame after the good progress we made. There is not a warmup for tomorrow because we did it yesterday so hopefully we can figure the parts of the car out that I didn't like overnight. It's going to be a long, exciting race because nobody knows what to expect."
PATRICIO O'WARD (No. 31 Carlin Chevrolet): "I think we should be really proud of ourselves with the result this weekend. I'm a little bit behind the curve from everybody else not having those two testing days at spring training here in February, so it's been a process of trying to get comfortable with the car and getting to know the Carlin team. This is such a long track and even spread out everyone was able to be extremely competitive in qualifying today. I think we were only eight hundredths of a second off of moving into the Firestone Fast Six, so I'm a little bummed that I wasn't able to advance but then again I'm super happy to be starting eighth tomorrow especially with how little track time I've had. I'm just pumped and ready to go racing tomorrow."
KYLE KAISER (No. 32 NFP Chevrolet): "I am extremely encouraged by the progress we have made throughout the race weekend here in COTA. From where we started to where we are now, I think there are lots of gains to be had and our outright pace. I am very grateful to everyone at Juncos Racing for pushing at it and making more strides every session. The result of the qualifying isn't exactly where we would like to be, but outright pace and race pace are two completely different aspects of an NTT IndyCar Series race. Hopefully, everything falls our way and we will be able to work our way through the field tomorrow in our No. 32 NFP Chevrolet. It will make for a very exciting race for myself, for all the fans and everybody at NFP to watch. I am very happy to have the support from NFP for this race and I look forward to putting on a great show."
MAX CHILTON (No. 59 Gallagher Carlin Chevrolet): "I'm happy with the car from where we were this morning – I think we were pretty much stone last. I just wasn't overly comfortable with the car in the first practice, so we made a few changes and had to fix an issue with the clutch, and we obviously came out much quicker in qualifying. I felt like I extracted as much as I possibly could from the No. 59 Gallagher Carlin Chevrolet, but with that red flag at the end of the session coming out on my fast lap, we just weren't able to make it to the second round. It was really close between Pato (Patricio O'Ward) and I, but he just barely edged me out before the red flag. Pato's done a fantastic job this weekend. He's basically a rookie and to be able to come in and do that kind of job is impressive."

JACK HARVEY (No. 60 AutoNation/Sirius XM Honda): "We were trying to find some more speed and when I turned in, I just lost it and spun. I'm disappointed in myself and for the guys and that this happened during qualifying, but we had good pace this weekend and I feel confident in that. There are no guarantees in racing so we can only go and try to have a good race tomorrow."

COLTON HERTA (No. 88 Harding Steinbrenner Racing Honda): "Today was awesome. After Practice 3, we all had a feeling that we could go for the pole today because the No. 88 Latitude Vacation Club car was so fast today. I'm just so happy the Harding Steinbrenner Racing boys were able to get the car ready yesterday for warmup. I have to thank everyone on the team and Honda for working so hard this weekend. Let's bring home the checkered tomorrow."

MARCO ANDRETTI (No. 98 U.S. Concrete / Curb Honda): "I think we have a really good race car and that is why I'm kind of bummed in our qualifying result. I think if we had some track position we'd be able to grab a good result – that's been the story of the past few years and I need to qualify better. We definitely need a little bit of luck, too. I didn't even get a true lap in before the red flag was waved. We'll be in attack mode tomorrow and will do our best to work the U.S. Concrete machine through the field."
Fast Six Results
| | | | | | | | |
| --- | --- | --- | --- | --- | --- | --- | --- |
| Pos | No | Name | FTime | Diff | Gap | Engine | Team |
| 1 | 12 | Will Power | 1:46.018 | –.—- | –.—- | Chevy | Team Penske |
| 2 | 27 | Alexander Rossi | 1:46.176 | 0.1584 | 0.1584 | Honda | Andretti Autosport |
| 3 | 28 | Ryan Hunter-Reay | 1:46.323 | 0.3051 | 0.1467 | Honda | Andretti Autosport |
| 4 | 88 | Colton Herta | 1:46.359 | 0.3417 | 0.0366 | Honda | Harding Steinbrenner Racing |
| 5 | 10 | Felix Rosenqvist | 1:46.568 | 0.5503 | 0.2086 | Honda | Chip Ganassi Racing Teams |
| 6 | 9 | Scott Dixon | 1:46.938 | 0.9198 | 0.3695 | Honda | Chip Ganassi Racing Teams |
Fast 12
| | | | | | | | |
| --- | --- | --- | --- | --- | --- | --- | --- |
| Pos | No | Name | FTime | Diff | Gap | Engine | Team |
| 1 | 10 | Felix Rosenqvist | 1:45.454 | –.—- | –.—- | Honda | Chip Ganassi Racing Teams |
| 2 | 27 | Alexander Rossi | 1:45.926 | 0.4721 | 0.4721 | Honda | Andretti Autosport |
| 3 | 88 | Colton Herta | 1:45.966 | 0.5123 | 0.0402 | Honda | Harding Steinbrenner Racing |
| 4 | 28 | Ryan Hunter-Reay | 1:46.006 | 0.5515 | 0.0392 | Honda | Andretti Autosport |
| 5 | 12 | Will Power | 1:46.022 | 0.5679 | 0.0164 | Chevy | Team Penske |
| 6 | 9 | Scott Dixon | 1:46.308 | 0.8533 | 0.2854 | Honda | Chip Ganassi Racing Teams |
| 7 | 2 | Josef Newgarden | 1:46.344 | 0.8896 | 0.0363 | Chevy | Team Penske |
| 8 | 31 | Patricio O'Ward | 1:46.381 | 0.9265 | 0.0369 | Chevy | Carlin |
| 9 | 26 | Zach Veach | 1:46.542 | 1.0879 | 0.1614 | Honda | Andretti Autosport |
| 10 | 15 | Graham Rahal | 1:46.968 | 1.5134 | 0.4255 | Honda | Rahal Letterman Lanigan Racing |
| 11 | 19 | Santino Ferrucci | 1:47.396 | 1.9414 | 0.4280 | Honda | Dale Coyne Racing |
| 12 | 4 | Matheus Leist | 1:48.063 | 2.6092 | 0.6678 | Chevy | AJ Foyt Enterprises |
Lineup
| | | | | | | |
| --- | --- | --- | --- | --- | --- | --- |
| Pos | Car | Driver Name | Engine | Time | Speed | Session |
| 1 | 12 | Power, Will | Chevy | 01:46.0177 | 115.792 | Round 3 / Firestone Fast Six |
| 2 | 27 | Rossi, Alexander | Honda | 01:46.1761 | 115.619 | Round 3 / Firestone Fast Six |
| 3 | 28 | Hunter-Reay, Ryan | Honda | 01:46.3228 | 115.460 | Round 3 / Firestone Fast Six |
| 4 | 88 | Herta, Colton (R) | Honda | 01:46.3594 | 115.420 | Round 3 / Firestone Fast Six |
| 5 | 10 | Rosenqvist, Felix (R) | Honda | 01:46.5680 | 115.194 | Round 3 / Firestone Fast Six |
| 6 | 9 | Dixon, Scott | Honda | 01:46.9375 | 114.796 | Round 3 / Firestone Fast Six |
| 7 | 2 | Newgarden, Josef | Chevy | 01:46.3438 | 115.437 | Elimination Round 2 / Top 12 |
| 8 | 31 | O'Ward, Patricio (R) | Chevy | 01:46.3807 | 115.397 | Elimination Round 2 / Top 12 |
| 9 | 26 | Veach, Zach | Honda | 01:46.5421 | 115.222 | Elimination Round 2 / Top 12 |
| 10 | 15 | Rahal, Graham | Honda | 01:46.9676 | 114.764 | Elimination Round 2 / Top 12 |
| 11 | 19 | Ferrucci, Santino (R) | Honda | 01:47.3956 | 114.306 | Elimination Round 2 / Top 12 |
| 12 | 4 | Leist, Matheus | Chevy | 01:48.0634 | 113.600 | Elimination Round 2 / Top 12 |
| 13 | 59 | Chilton, Max | Chevy | 01:46.8253 | 114.917 | Elimination Round 1 / Group 1 |
| 14 | 30 | Sato, Takuma | Honda | 01:47.7109 | 113.972 | Elimination Round 1 / Group 2 |
| 15 | 5 | Hinchcliffe, James | Honda | 01:46.8670 | 114.872 | Elimination Round 1 / Group 1 |
| 16 | 7 | Ericsson, Marcus (R) | Honda | 01:48.4259 | 113.220 | Elimination Round 1 / Group 2 |
| 17 | 18 | Bourdais, Sebastien | Honda | 01:47.0702 | 114.654 | Elimination Round 1 / Group 1 |
| 18 | 20 | Jones, Ed | Chevy | 01:48.4523 | 113.193 | Elimination Round 1 / Group 2 |
| 19 | 21 | Pigot, Spencer | Chevy | 01:48.4895 | 113.154 | Elimination Round 1 / Group 1 |
| 20 | 98 | Andretti, Marco | Honda | 01:48.6521 | 112.984 | Elimination Round 1 / Group 2 |
| 21 | 32 | Kaiser, Kyle (R) | Chevy | 01:48.6343 | 113.003 | Elimination Round 1 / Group 1 |
| 22 | 22 | Pagenaud, Simon | Chevy | 01:48.9030 | 112.724 | Elimination Round 1 / Group 2 |
| 23 | 60 | Harvey, Jack | Honda | 01:49.1795 | 112.439 | Elimination Round 1 / Group 1 |
| 24 | 14 | Kanaan, Tony | Chevy | 01:50.0743 | 111.525 | Elimination Round 1 / Group 2 |
(R) Rookie
[adinserter name="GOOGLE AD"]