Stewart Friesen wins Truck pole at Martinsville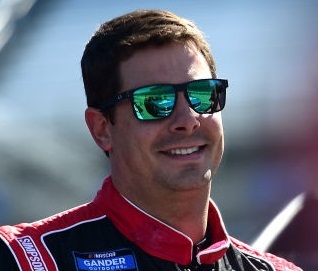 Stewart Friesen
Stewart Friesen snatched the pole for Saturday's TrueNorth Global 250 NASCAR Gander Outdoors Truck Series race at Martinsville Speedway. With a pole speed of 96.484 mph, he beat out Kyle Busch for the top spot. Busch will start on the outside of the front row. Todd Gilliland, Sheldon Creed and Brett Moffitt rounded out the top 5.
Others starting in the top 10 this afternoon include Matt Crafton, Raphael Lessard, Johnny Sauter, Austin Hill and Ross Chastain.
Cup Series regulars Austin Dillon and Bubba Wallace will start 12th and 13th respectively.
In the first round, Busch topped the field with a speed of 95.840. The rest of the top 5 in the session included Sauter, Tyer Ankrum, Harrison Burton and Creed.
Moffitt bested the field in the second round, posting a lap speed of 96.112 mph to beat Busch, Chastain, Austin Hill and Creed in the top 5.
Martinsville always attracts a large field, and this week, six teams went home empty-handed as Codie Rohrbaugh, Juan Manuel Gonzalez, Ray Ciccarelli, Dawson Cram, Norm Benning and Tony Mrakovich failed to make the 32-truck field. Cram had enough speed to make the field in 32nd, but Travis Kvapil will make the race as a past champion, bumping Cram.
The race is scheduled for Saturday afternoon at 2pm Eastern time.
Lineup

| | | | | | |
| --- | --- | --- | --- | --- | --- |
| Pos | Car | Driver | Team | Time | Speed |
| 1 | 52 | Stewart Friesen | Halmar International Chevrolet | 19.630 | 96.465 |
| 2 | 51 | Kyle Busch(i) | Cessna Toyota | 19.650 | 96.366 |
| 3 | 4 | Todd Gilliland | Mobil 1 Toyota | 19.674 | 96.249 |
| 4 | 2 | Sheldon Creed # | A.M.Ortega/RTL Chevrolet | 19.684 | 96.200 |
| 5 | 24 | Brett Moffitt | Worx Garden & Power Tools Chevrolet | 19.688 | 96.180 |
| 6 | 88 | Matt Crafton | Ideal Door/Menards Ford | 19.698 | 96.132 |
| 7 | 46 | Raphael Lessard | Spectra Premium Toyota | 19.708 | 96.083 |
| 8 | 13 | Johnny Sauter | Tenda Heal Ford | 19.722 | 96.015 |
| 9 | 16 | Austin Hill | United Rentals Toyota | 19.818 | 95.550 |
| 10 | 45 | Ross Chastain(i) | TruNorth/Paul Jr. Designs Chevrolet | 19.835 | 95.468 |
| 11 | 19 | Derek Kraus | ENEOS/NAPA FILTERS Toyota | 19.877 | 95.266 |
| 12 | 8 | Austin Dillon(i) | Phone Skope Chevrolet | 19.898 | 95.165 |
| 13 | 22 | Bubba Wallace(i) | GO TEXAN \ AM Technical Solutions | 19.799 | 95.641 |
| 14 | 17 | Tyler Ankrum # | May's Hawaii Toyota | 19.806 | 95.607 |
| 15 | 27 | Myatt Snider | TaxSlayer Ford | 19.807 | 95.603 |
| 16 | 99 | Ben Rhodes | Carolina Nut Ford | 19.809 | 95.593 |
| 17 | 12 | Gus Dean # | OverkillRV.com Chevrolet | 19.837 | 95.458 |
| 18 | 18 | Harrison Burton # | Safelite AutoGlass Toyota | 19.845 | 95.420 |
| 19 | 98 | Grant Enfinger | CURB Records Ford | 19.876 | 95.271 |
| 20 | 02 | Tyler Dippel # | Danda Concrete Contractors/Lobas | 19.877 | 95.266 |
| 21 | 54 | David Gilliland | Fred's Toyota | 19.897 | 95.170 |
| 22 | 04 | Cory Roper | 2019 Preferred Industrial Contractors Inc. Ford | 19.973 | 94.808 |
| 23 | 56 | Timmy Hill(i) | Southern Freight Services Chevrolet | 20.074 | 94.331 |
| 24 | 11 | Spencer Davis | All Pro Ford | 20.151 | 93.971 |
| 25 | 20 | Spencer Boyd | EZ Red Chevrolet | 20.103 | 94.195 |
| 26 | 92 | Austin Theriault | BTS Tire & Wheel Distributors Ford | 20.107 | 94.176 |
| 27 | 44 | Reid Wilson | TruNorth/Paul Jr. Designs Chevrolet | 20.118 | 94.125 |
[adinserter name="GOOGLE AD"]