Kyle Busch wins 200th NASCAR race in Fontana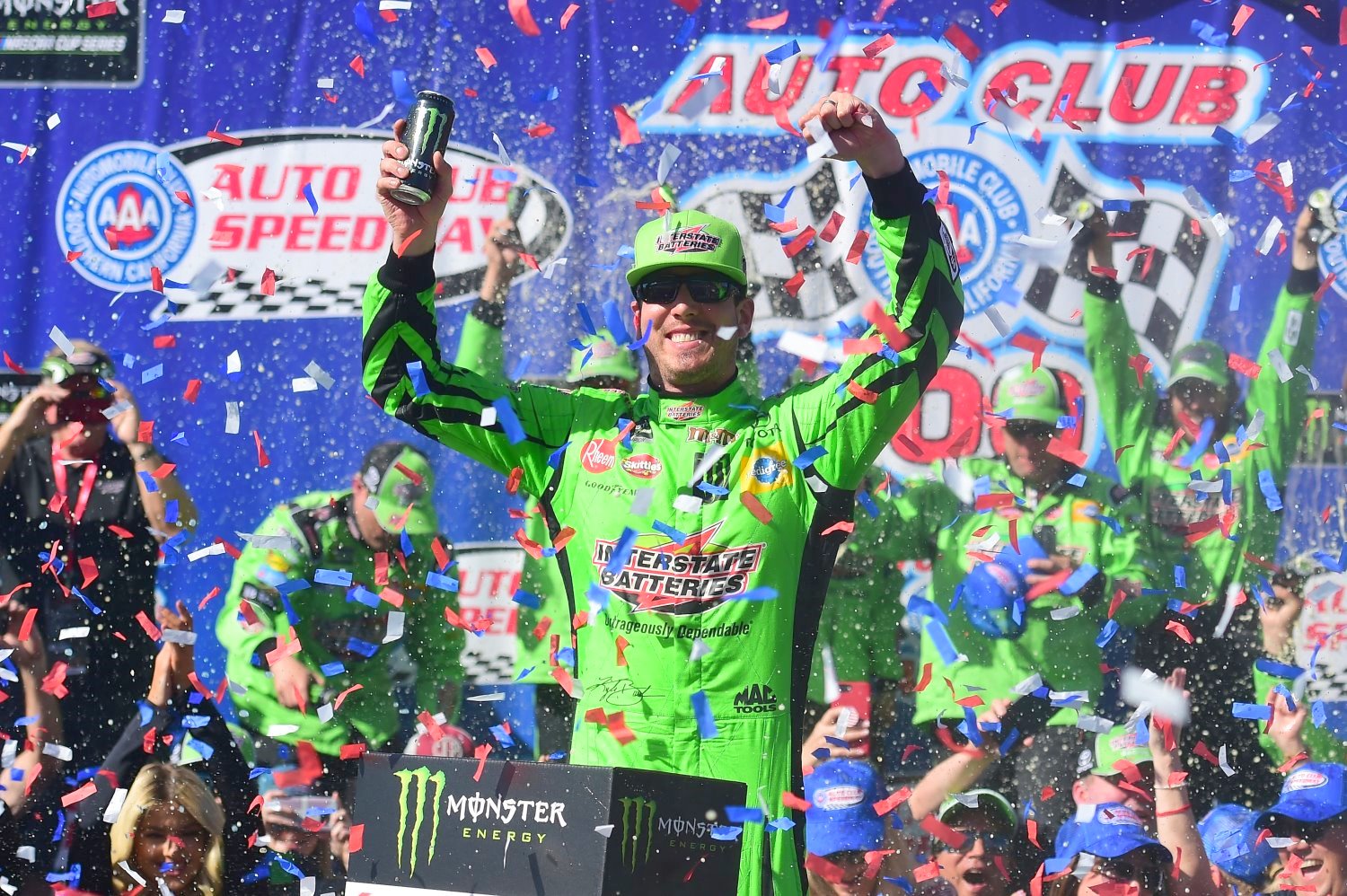 Kyle Busch, driver of the #18 Interstate Batteries Toyota, celebrates in victory lane after winning the Monster Energy NASCAR Cup Series Auto Club 400 and winning his 200th NASCAR race win
Getty Images for NASCAR
Kyle Busch picked up his 200th career NASCAR national series victory by virtue of his win in Sunday's Monster Energy NASCAR Cup Series race at Auto Club Speedway, the same track where he notched his first career Monster Energy Series victory in 2005.
The win is the Joe Gibbs Racing driver's 53rd in the series. Busch also has piled up 94 wins in the NASCAR Xfinity Series and another 53 in NASCAR Gander Outdoors Truck Series Series competition.
"Feels just like number one. Feels just like yesterday," a jubilant Busch said after climbing out of his car Sunday. " … Just awesome. Just awesome. To win 200, I mean, whatever it means, it means a lot to me. It means a lot to all my guys, everybody at Joe Gibbs Racing. It's an amazing opportunity to drive for Joe Gibbs. I cherish every minute of it, love it always."
The Las Vegas native notched his first of 200 victories in 2004 at Richmond Raceway in what is now the Xfinity Series, starting from the pole and leading 236 laps in the No. 5 Hendrick Motorsports Chevrolet. Win No. 2 wasn't too far behind, as Busch led 93 laps a Charlotte Motor Speedway two weeks later for his second victory.
NASCAR's 2015 Monster Energy Series champion added his first victory in the premier series in 2005 at Auto Club Speedway, leading 95 laps after starting 25th to take the checkered flag and celebrate for the first time at the sport's highest level. Earlier that year, Busch picked up his first Gander Outdoors Truck Series win at Charlotte, followed up a week later by another trip to Victory Lane at Dover.
Busch has won at least one Monster Energy Series race in every season since 2005 and only missed out on scoring victories in the other two series during that time frame in 2012. He's also the 2009 Xfinity Series champion.
[adinserter name="GOOGLE AD"]Seven-time Cup Series champion Richard Petty also has 200 career national series wins, all of which came at the premier series level. The comparisons between the two milestones was inevitable, but one that even Busch himself doesn't consider parallel.
"What I said from the beginning of all this is it's not a comparison to Richard Petty's 200 wins. It is not," Busch said in March at ISM Raceway. "It is my own and an accomplishment for myself that should stand alone separate from Richard. Hell, I could say right now that I'm the winningest driver on pavement in NASCAR ever in the top-three series because Richard doesn't have 200 pavement wins, right? …
"I think it's a pretty cool accomplishment. There's so many different ways you can argue it or debate it or whatever and it has nothing to do with Richard, it's just solely a number. I think it's an accomplishment of its own. With Richard's accomplishment and what he's been able to do and what he's done for the sport, that's huge," Busch continued. "I feel as though I've been in this position to win as many races as I have due to a lot of great people and being able to go out there and celebrate 200 wins, I don't know that it will happen again, but if it does, that person should certainly cherish that moment. I hate that you get beat up so much about an accomplishment, but I guess that's part of life. Haters gonna hate."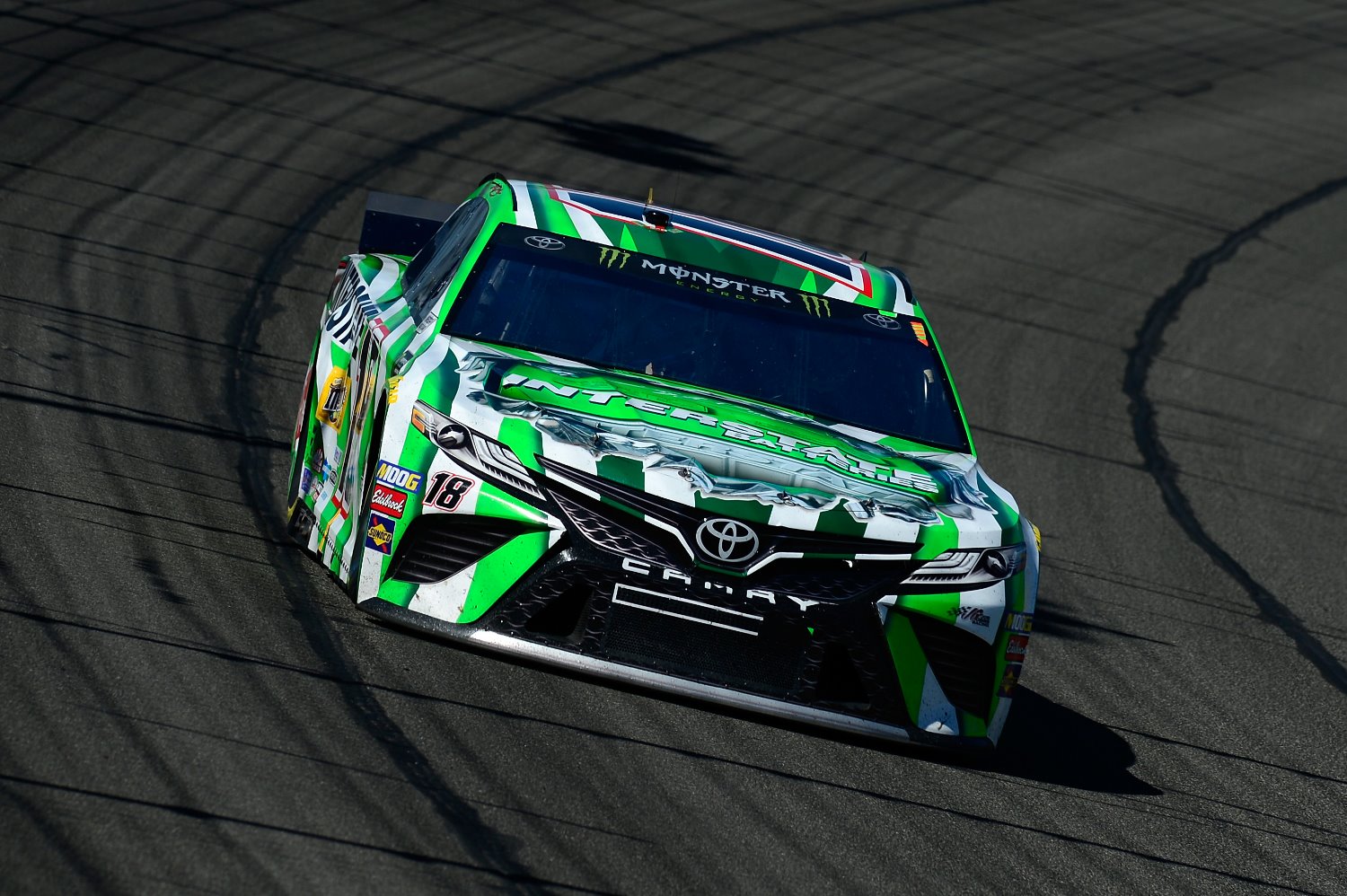 Kyle Busch in the #18 Joe Gibbs racing Toyota
Now that Busch has crossed No. 200 off his list — and he's still just 33 years old — what's next on his agenda?
"I don't know. 250 I guess — the race to 250," he said. "It's about being able to win on Sundays and I feel like I've won a bunch of races on Sundays — I've got (53) of them and the race there is going to be the race to 100 on that side. I think that's kind of what the next goal will be, is to try to get 100 Cup wins. …
"Might as well set your goals high, go out there and achieve. Let's set it at 100 and see if we can't get there. That would certainly put us up there with the top guys, being one of the best of the best. But overall that's a long ways to go. You got to win a lot of races, a lot of years, to be able to tally up that many. I'm not quite as good as Jeff Gordon any more with being able to win 10 races a year or 13 races a year. I don't know if those details will happen that much any more. Last year we gave it a shot with eight. See if we can't keep firing them off like we are right now and living the dream, baby."
KYLE BUSCH, No. 18 Interstate Batteries Toyota Camry, Joe Gibbs Racing
Finishing Position: 1st
You finally did it. It's complete. How does 200 feel?
"Feels just like number one. Feels just like yesterday. Man, that was such an awesome racecar. I mean, dang. This Interstate Batteries Camry was awesome today. I'm glad we put on a heck of a show for all these fans out here in California at Auto Club Speedway. It takes green to get in Victory Lane today. Today is St. Patty's day. All these other guys were at a disadvantage. The Interstate Batteries Green Machine was flying today. Just awesome. Just awesome. To win 200, I mean, whatever it means, it means a lot to me. It means a lot to all my guys, everybody at Joe Gibbs Racing. You guys are all the best. Toyota, TRD. It's an amazing opportunity to drive for Joe Gibbs. I cherish every minute of it, love it always. Just wish that we could keep it going, keep it going like this, running strong, running well, and winning these races."
When that speeding penalty happened, what was going through your mind? Did you think your chances of winning this race and getting to 200 were maybe over?
Yeah, that thought certainly crosses your mind. I knew we had a great racecar. We had a great racecar all day long. We were fast. I wasn't sure how well we were going to be able to come through the field, get back in traffic, get our way worked back up to the lead. Brad (Keselowski) was really fast that run, he was way out front. We were catching the 22 (Joey Logano), the 4 (Kevin Harvick). If it went green to the end, I wasn't sure how it was going to play out. Sometimes you have to a little bit of luck on your side. Fortunately, we were in the Interstate Batteries green today with being St. Patty's day. Cool to get all these guys in Victory Lane. To win my 200th race with Interstate Batteries, with Norm Miller (Interstate Batteries), Scott Miller (Interstate Batteries), everybody that does such an awesome job of supporting us since day one, the reason why Joe Gibbs Racing exists. It certainly is a monumental moment for all of us, including M&M's, Skittles, Snickers. Maybe the stars aligned a little bit more perfectly today."
Can you take us through the rebound from the speeding penalty to win today's race?
"Well, we just had an awesome race car all day long. Adam Stevens (crew chief) and the boys never cease to amaze me and the way they're able to work and the way they're able to do things for me is pretty awesome. Just having a fast Interstate Batteries Camry and being able to come back through after our speeding penalty, I wasn't sure if we were going to be able to get there and get it done, but once we got about four or five laps in on that last run we really charged through there and got to those guys and we were able to drive away. Just an awesome day for us. This is pretty cool to be able to come out here to California, a place where I remember getting sat out and then I remember winning my first Cup Series race and now to bookend it with 200 right here, it's pretty awesome.
What original goals did you have when you entered NASCAR?
"I think the original goal was just to get to NASCAR and then once I got here, it was to win a race. Once it was winning a race then it was about trying to sustain and being able to be a winner here and to be a champion here. To have the opportunities to continue down the line to be able to be successful each and every year and we've been doing that. We've only won one title, but certainly I feel like I have the best team out there right now and we just have to be able to do it all year long."
What did your Mom say to you when she got to the car?
"Just that she couldn't believe it and how she remembered number one here as well and the special night that was and the opportunity that was with me being able to win number one. To solidify that stance in NASCAR and to then be able to continue on and win 199 more of them and close it out with 200 here was pretty cool."
Do you pay attention to various milestones other than this number 200 accomplishment?
"It's something that I don't necessarily pay attention to. As long as you're successful and doing a good job and doing your job about what you know how to do and you're winning those races then you're going to be eclipsing a lot of milestones and certainly it's been pretty awesome so far."
Results
| | | | | | |
| --- | --- | --- | --- | --- | --- |
| POS | NO. | DRIVER | MANUF | BEHIND | LAPS |
| 1 | 18 | Kyle Busch | Toyota | 0.000s | 200 |
| 2 | 22 | Joey Logano | Ford | 2.354 | 200 |
| 3 | 2 | Brad Keselowski | Ford Ford | 4.037 | 200 |
| 4 | 4 | Kevin Harvick | Ford | 9.146 | 200 |
| 5 | 12 | Ryan Blaney | Ford | 9.241 | 200 |
| 6 | 1 | Kurt Busch | Chevy | 9.820 | 200 |
| 7 | 11 | Denny Hamlin | Toyota | 13.178 | 200 |
| 8 | 19 | Martin Truex Jr | Toyota | 13.313 | 200 |
| 9 | 10 | Aric Almirola | Ford | 17.949 | 200 |
| 10 | 3 | Austin Dillon | Chevy | 20.084 | 200 |
| 11 | 9 | Chase Elliott | Chevy | 20.715 | 200 |
| 12 | 42 | Kyle Larson | Chevy | 24.401 | 200 |
| 13 | 41 | Daniel Suarez | Ford | 24.421 | 200 |
| 14 | 17 | Ricky Stenhouse Jr | Ford | 28.059 | 200 |
| 15 | 24 | William Byron | Chevy | 28.377 | 200 |
| 16 | 37 | Chris Buescher | Chevy | 28.424 | 200 |
| 17 | 48 | Jimmie Johnson | Chevy | 31.131 | 200 |
| 18 | 95 | Matt DiBenedetto | Toyota | 33.800 | 200 |
| 19 | 20 | Erik Jones | Toyota | 35.571 | 200 |
| 20 | 21 | Paul Menard | Ford | 36.692 | 200 |
| 21 | 88 | Alex Bowman | Chevy | 37.562 | 200 |
| 22 | 6 | Ryan Newman | Ford | -1 Lap | 199 |
| 23 | 47 | Ryan Preece # | Chevy | -1 | 199 |
| 24 | 34 | Michael McDowell | Ford | -2 | 198 |
| 25 | 38 | David Ragan | Ford | -2 | 198 |
| 26 | 36 | Matt Tifft # | Ford | -3 | 197 |
| 27 | 13 | Ty Dillon | Chevy | -3 | 197 |
| 28 | 15 | Ross Chastain(i) | Chevy | -5 | 195 |
| 29 | 00 | Landon Cassill | Chevy | -5 | 195 |
| 30 | 43 | Bubba Wallace | Chevy | -6 | 194 |
| 31 | 32 | Corey LaJoie | Ford | -7 | 193 |
| 32 | 51 | Cody Ware # | Chevy | -8 | 192 |
| 33 | 8 | Daniel Hemric # | Chevy | -8 | 192 |
| 34 | 27 | * Reed Sorenson | Chevy | -8 | 192 |
| 35 | 66 | * Joey Gase(i) | Toyota | -12 | 188 |
| 36 | 77 | Garrett Smithley(i) | Chevy | -12 | 188 |
| 37 | 52 | BJ McLeod(i) | Ford | -28 | 172 |
| 38 | 14 | Clint Bowyer | Ford | -69 | 130 |
# Denotes Rookie
(i) Not Eligible For Points
(*) Required To Qualify On Time