Cadillac 1-2-3 in 12 Hours of Sebring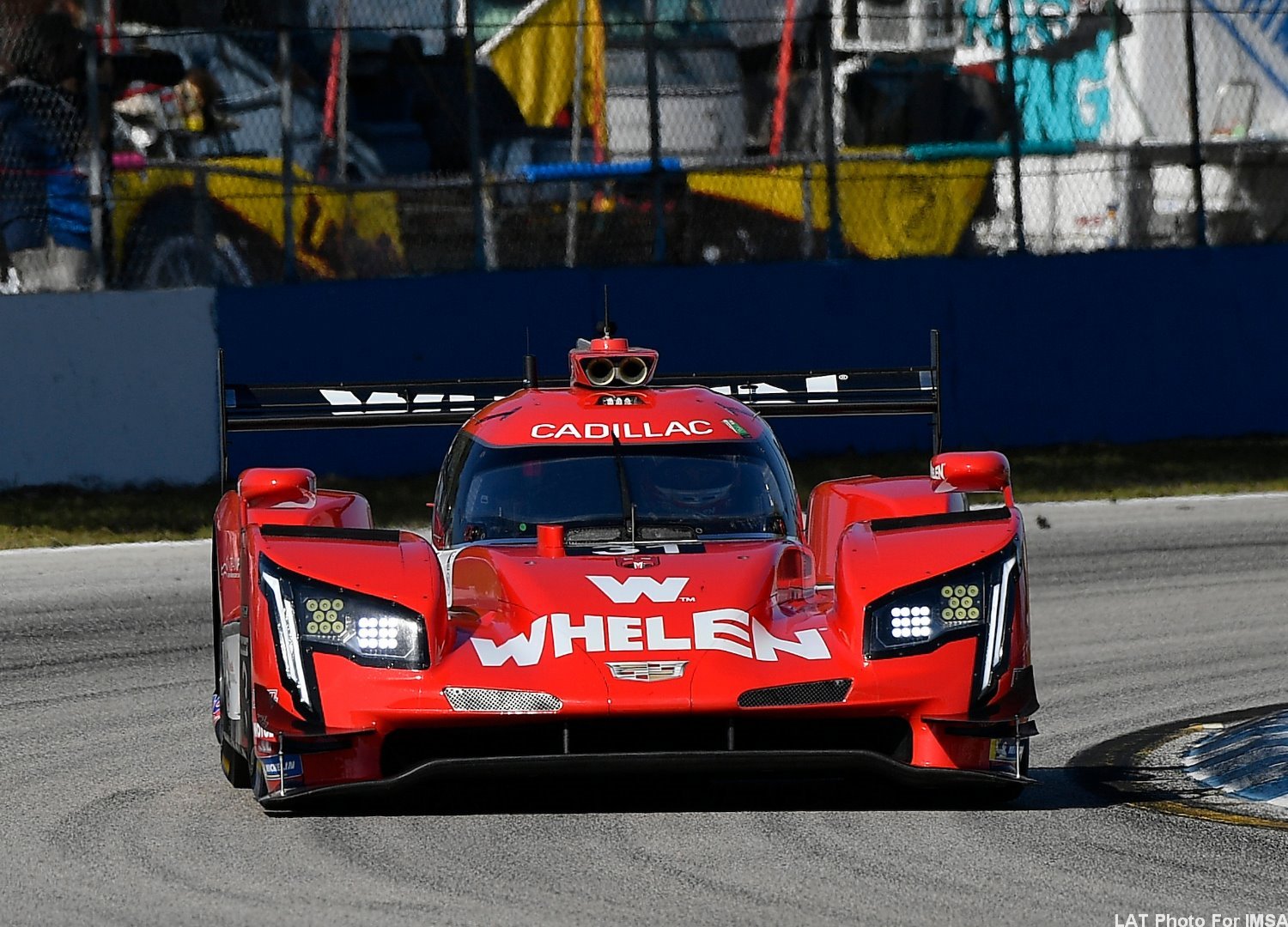 The winning #31 Cadillac of Felipe Nasr, Pipo Derani and Eric Curran
Felipe Nasr, Pipo Derani and Eric Curran won the Mobil 1 Twelve Hours of Sebring after a dominant run that saw Whelen Engineering Racing lead the majority of the race.
Driving the No. 31 Action Express Racing-run Cadillac DPi-V.R, Nasr won a late-race restart duel with six minutes to go to keep his lead despite pressure from Jordan Taylor in the Wayne Taylor Racing Cadillac.
It marked Derani's third Sebring win in four years, having scored victories at the central Florida circuit with Tequila Patron ESM in 2016 and 2018.
Taylor was unable to take his second consecutive win in the No. 10 WTR entry despite repeated attempts to get through during the final stint.
Filipe Albuquerque crossed the line third in the Mustang Sampling Racing entry, ensuring both Action Express cars made it onto the podium and giving Cadillac a 1-2-3 sweep.
The fourth and final car to finish on the final lap was the No. 7 Acura Team Penske ARX-05, classified 11 seconds behind the leader with Alexander Rossi at the wheel. The Acuras never had a chance against the Cadillacs here or at Daytona. Whoever does the Balance of Power adjustments for IMSA must have a bias in favor of GM and Cadillac. There is no other way to explain the disparity in speed.
[adinserter name="GOOGLE AD"]The sister #6 Acura of Dane Cameron, Simon Pagenaud and Juan Pablo Montoya started from pole but dropped down the order as soon as the green flag dropped.
Porsche Takes Second Straight Sebring GTLM Win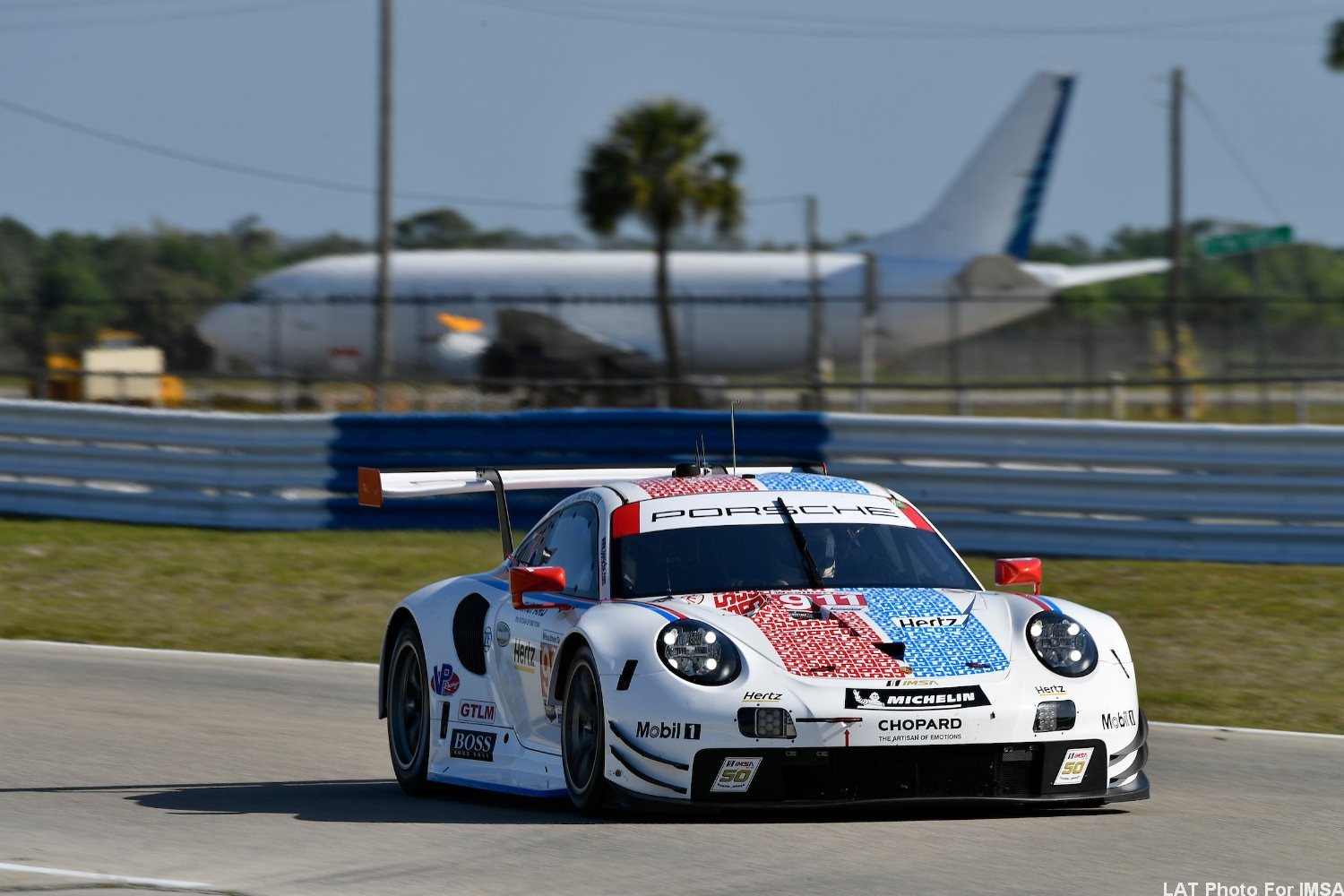 #911 GTLM winning Porsche
Nick Tandy held off the pair of Chip Ganassi Ford GTs to claim victory for the No. 911 Porsche crew in the Mobil 1 Twelve Hours of Sebring GT Le Mans class contest.
The Englishman had a manageable lead over Ryan Briscoe and Joey Hand eradicated with 15 minutes to go when a Full Course Yellow was called to retrieve a parked GTD car, bringing the two Ford drivers right onto the Porsche 911 RSR's tail.
Tandy, who shared the No. 92 machine with Patrick Pilet and Frederic Makowiecki, hold off Hand by 1.951 seconds at the checkered flag.
It marked the second consecutive Sebring victory for the Tandy/Pilet/Makowiecki combination.
Grasser Leads Lamborghini 1-2 in GTD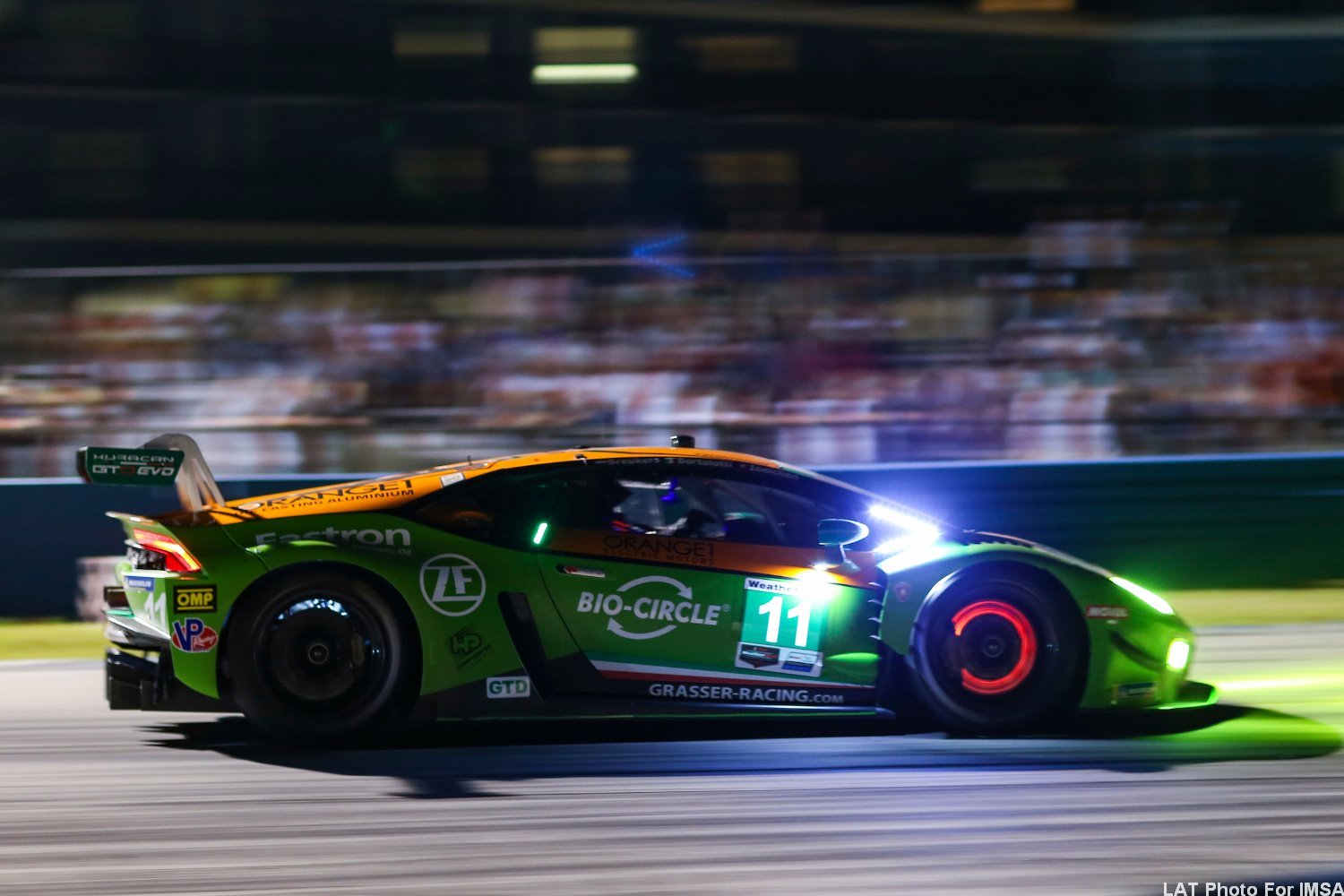 #11 GTD winning Lamborghini
The Grasser Racing Team won GT Daytona class honors in the Mobil 1 Twelve Hours of Sebring, leading a historic 1-2 finish for Lamborghini.
Mirko Bortolotti led home Andy Lally by 2.724s following a duel between the pair of Lamborghini Huracan GT3 Evos after the late caution bunched the field.
More to follow…………….
Results
| | | | | | | | |
| --- | --- | --- | --- | --- | --- | --- | --- |
| Pos | PiC | No. | Class | Drivers | Make | Laps | Behind |
| 1 | 1 | 31 | DPi | F. Nasr/E. Curran/P. Derani | Cadillac DPi | 348 | 0.000s |
| 2 | 2 | 10 | DPi | R. Van Der Zande/J. Taylor/M. Vaxiviere | Cadillac DPi | 348 | 1.030 |
| 3 | 3 | 5 | DPi | J. Barbosa/B. Hartley/F. Albuquerque | Cadillac DPi | 348 | 4.023 |
| 4 | 4 | 7 | DPi | R. Taylor/H. Castroneves/A. Rossi | Acura DPi | 348 | 11.331 |
| 5 | 5 | 54 | DPi | J. Bennett/C. Braun/R. Dumas | Nissan DPi | 347 | 1 Lap |
| 6 | 6 | 55 | DPi | J. Bomarito/H. Tincknell/O. Pla | Mazda DPi | 346 | 2 Laps |
| 7 | 7 | 85 | DPi | M. Goikhberg/T. Vautier/J. Piedrahita | Cadillac DPi | 346 | 2 Laps |
| 8 | 8 | 84 | DPi | S. Trummer/S. Simpson/C. Miller | Cadillac DPi | 345 | 3 Laps |
| 9 | 9 | 6 | DPi | D. Cameron/J. Montoya/S. Pagenaud | Acura DPi | 339 | 9 Laps |
| 10 | 1 | 911 | GTLM | P. Pilet/N. Tandy/F. Makowiecki | Porsche 911 RSR | 330 | 18 Laps |
| 11 | 2 | 66 | GTLM | J. Hand/D. Mueller/S. Bourdais | Ford GT | 330 | 18 Laps |
| 12 | 3 | 3 | GTLM | J. Magnussen/A. Garcia/M. Rockenfeller | Chevrolet Corvette | 330 | 18 Laps |
| 13 | 4 | 24 | GTLM | J. Krohn/J. Edwards/P. Eng | BMW M8 GTE | 330 | 18 Laps |
| 14 | 5 | 912 | GTLM | E. Bamber/L. Vanthoor/M. Jaminet | Porsche 911 RSR | 330 | 18 Laps |
| 15 | 6 | 67 | GTLM | R. Briscoe/R. Westbrook/S. Dixon | Ford GT | 330 | 18 Laps |
| 16 | 7 | 25 | GTLM | T. Blomqvist/C. De Phillippi/C. Herta | BMW M8 GTE | 329 | 19 Laps |
| 17 | 1 | 38 | LMP2 | K. Masson/A. Evans/C. Cassels | ORECA LMP2 | 322 | 26 Laps |
| 18 | 8 | 4 | GTLM | O. Gavin/T. Milner/M. Fassler | Chevrolet Corvette | 321 | 27 Laps |
| 19 | 1 | 11 | GTD | R. Ineichen/M. Bortolotti/R. Breukers | Lamborghini Huracan | 320 | 28 Laps |
| 20 | 2 | 44 | GTD | J. Potter/A. Lally/S. Pumpelly | Lamborghini Huracan | 320 | 28 Laps |
| 21 | 3 | 63 | GTD | C. MacNeil/T. Vilander/J. Westphal | Ferrari 488 GT3 | 320 | 28 Laps |
| 22 | 4 | 29 | GTD | D. Morad/C. Mies/R. Feller | Audi R8 LMS GT3 | 320 | 28 Laps |
| 23 | 5 | 33 | GTD | B. Keating/J. Bleekemolen/F. Fraga | Mercedes-AMG GT3 | 320 | 28 Laps |
| 24 | 6 | 73 | GTD | P. Lindsey/P. Long/N. Boulle | Porsche 911 GT3 R | 320 | 28 Laps |
| 25 | 7 | 86 | GTD | M. Farnbacher/T. Hindman/J. Marks | Acura NSX GT3 | 320 | 28 Laps |
| 26 | 8 | 57 | GTD | K. Legge/A. Beatriz/C. Nielsen | Acura NSX GT3 | 320 | 28 Laps |
| 27 | 9 | 12 | GTD | F. Montecalvo/T. Bell/A. Telitz | Lexus RC F GT3 | 318 | 30 Laps |
| 28 | 10 | 9 | GTD | S. Hargrove/Z. Robichon/L. Kern | Porsche 911 GT3 R | 318 | 30 Laps |
| 29 | 11 | 71 | GTD | J. Perez/M. Buhk/F. Schiller | Mercedes-AMG GT3 | 315 | 33 Laps |
| 30 | 12 | 47 | GTD | B. Gdovic/D. Yount/L. Aschenbach | Lamborghini Huracan | 311 | 37 Laps |
| 31 | 13 | 96 | GTD | B. Auberlen/R. Foley/D. Machavern | BMW M6 GT3 | DNF | DNF |
| 32 | 2 | 52 | LMP2 | M. McMurry/G. Aubry/A. Fjorback | ORECA LMP2 | DNF | DNF |
| 33 | 10 | 50 | DPi | W. Owen/R. Binder/A. Canapino | Cadillac DPi | DNF | DNF |
| 34 | 14 | 8 | GTD | P. Chase/R. Dalziel/E. Perez Companc | Audi R8 LMS GT3 | DNF | DNF |
| 35 | 15 | 14 | GTD | R. Heistand/J. Hawksworth/P. Frommenwiler | Lexus RC F GT3 | DNF | DNF |
| 36 | 16 | 48 | GTD | B. Sellers/R. Hardwick/C. Lewis | Lamborghini Huracan | DNF | DNF |
| 37 | 11 | 77 | DPi | O. Jarvis/T. Nunez/T. Bernhard | Mazda DPi | DNF | DNF |
| 38 | 17 | 19 | GTD | A. Davis/A. Riberas/W. Hardeman | Audi R8 LMS GT3 | DNF | DNF |