Austin Dillon on pole at Fontana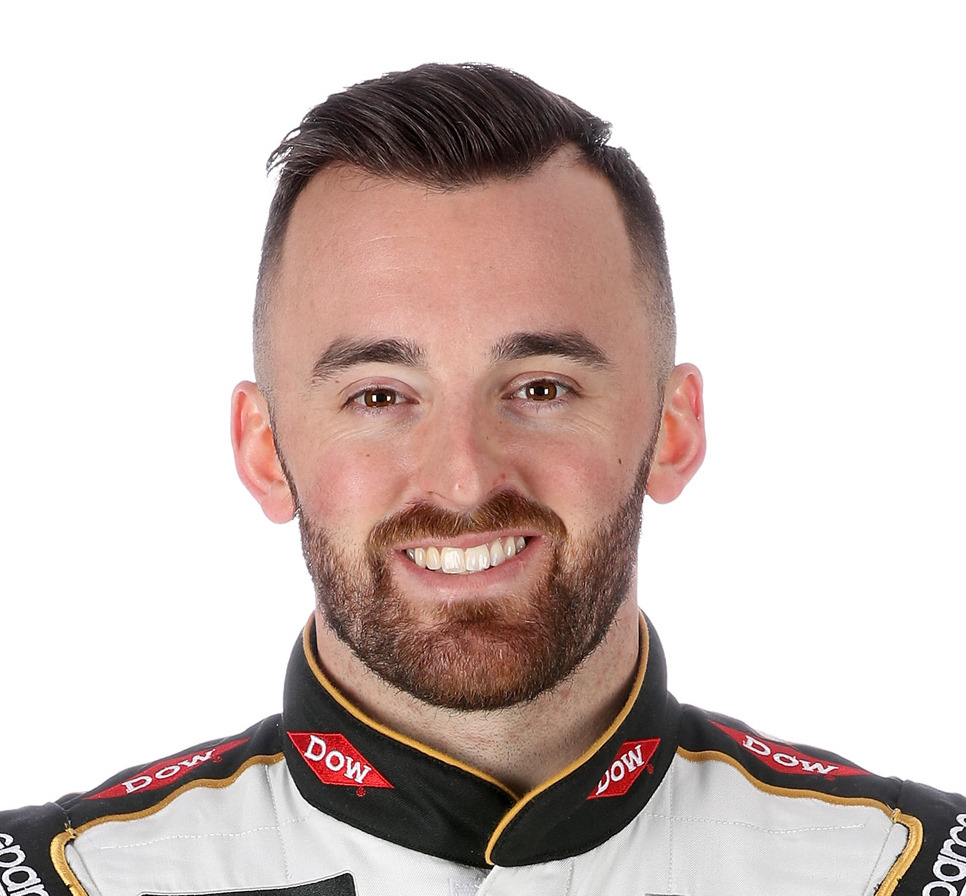 Austin Dillon
Austin Dillon will start on the pole for Sunday's Sunday's Auto Club 400 after recording the fastest time in Friday's Busch Pole Qualifying.
Dillon recorded the fastest lap in what became a frantic three round, knockout qualifying session in advance of Sunday's race. It is Dillon's second pole at the Fontana, California, track and his fourth career pole.
The qualifying session included a frantic mad dash at the end of every round, as drivers waited to take to the track in drafting groups — and resulted in no driver reaching the start-finish line in time for a third-round qualifying lap.
That means the top positions are set by second-round speeds. Kevin Harvick will start alongside Dillon on the front row at the 2-mile track.
[adinserter name="GOOGLE AD"]Aric Almirola, Kyle Busch and Joey Logano round out the top five in the starting lineup, unofficially.
Every driver except Kurt Busch waited until the final minute of the second round to attempt a qualifying lap. Among those not advancing to the final round were Brad Keselowski, Kyle Larson, Erik Jones and Kurt Busch.
Chase Elliott brought out the red flag in the first round when he spun while coming out of Turn 2. Elliott's No. 9 Chevrolet did not make contact with anything, and he was able to make another qualifying lap — that was the third-best of the round.
AUSTIN DILLON, NO. 3 DOW COATINGS CAMARO ZL1 – Pole Winner
"It was good. We had a good car off the trailer. They made some good adjustments going into qualifying. And we kept the speed that we needed. It came down to Round 2 and putting the placement right. Andy Houston (spotter) did a great job. We didn't panic. And, that ended up putting us in a great position for Round 3. I'm really happy for our guys and everybody back at the shop, who has been working really hard. We've been frustrated the last couple of weeks because we've had fast cars and not gotten the finishes, so this definitely feels good."
Lineup
| | | | | | | | |
| --- | --- | --- | --- | --- | --- | --- | --- |
| Pos | No. | Driver | Car | Time | Speed | Behind | Gap |
| 1 | 3 | Austin Dillon | Dow Coatings Chevrolet | 39.982 | 180.081 | 0.000 | 0.000 |
| 2 | 4 | Kevin Harvick | Jimmy John's Ford | 40.137 | 179.386 | 0.155 | 0.155 |
| 3 | 10 | Aric Almirola | Farmer John Ford | 40.205 | 179.082 | 0.223 | 0.068 |
| 4 | 18 | Kyle Busch | Interstate Batteries Toyota | 40.247 | 178.895 | 0.265 | 0.042 |
| 5 | 22 | Joey Logano | AAA Southern California Ford | 40.248 | 178.891 | 0.266 | 0.001 |
| 6 | 11 | Denny Hamlin | FedEx Express Toyota | 40.312 | 178.607 | 0.330 | 0.064 |
| 7 | 6 | Ryan Newman | Performance Plus Motor Oil Ford | 40.334 | 178.509 | 0.352 | 0.022 |
| 8 | 9 | Chase Elliott | NAPA AUTO PARTS Chevrolet | 40.356 | 178.412 | 0.374 | 0.022 |
| 9 | 14 | Clint Bowyer | Rush Truck Centers/Haas Automation Ford | 40.368 | 178.359 | 0.386 | 0.012 |
| 10 | 12 | Ryan Blaney | PPG Ford | 40.378 | 178.315 | 0.396 | 0.010 |
| 11 | 48 | Jimmie Johnson | Ally Chevrolet | 40.380 | 178.306 | 0.398 | 0.002 |
| 12 | 17 | Ricky Stenhouse Jr | Fastenal Ford | 40.405 | 178.196 | 0.423 | 0.025 |
| 13 | 2 | Brad Keselowski | Wurth Ford | 40.448 | 178.006 | 0.466 | 0.043 |
| 14 | 37 | Chris Buescher | Kroger Flavor Fill Up Chevrolet | 40.491 | 177.817 | 0.509 | 0.043 |
| 15 | 42 | Kyle Larson | Credit One Bank Chevrolet | 40.505 | 177.756 | 0.523 | 0.014 |
| 16 | 13 | Ty Dillon | GEICO Chevrolet | 40.523 | 177.677 | 0.541 | 0.018 |
| 17 | 8 | Daniel Hemric # | Liberty National Chevrolet | 40.545 | 177.580 | 0.563 | 0.022 |
| 18 | 20 | Erik Jones | Craftsman Toyota | 40.590 | 177.384 | 0.608 | 0.045 |
| 19 | 38 | David Ragan | MDS Trucking Ford | 40.613 | 177.283 | 0.631 | 0.023 |
| 20 | 41 | Daniel Suarez | Haas Automation Ford | 40.620 | 177.253 | 0.638 | 0.007 |
| 21 | 1 | Kurt Busch | Monster Energy Chevrolet | 40.644 | 177.148 | 0.662 | 0.024 |
| 22 | 24 | William Byron | Axalta Chevrolet | 40.733 | 176.761 | 0.751 | 0.089 |
| 23 | 88 | Alex Bowman | Nationwide Pet Insurance Chevrolet | 41.141 | 175.008 | 1.159 | 0.408 |
| 24 | 95 | Matt DiBenedetto | Procore Toyota | 41.497 | 173.507 | 1.515 | 0.356 |
| 25 | 21 | Paul Menard | Menards/MOEN Ford | 40.534 | 177.629 | 0.523 | 0.016 |
| 26 | 47 | Ryan Preece # | Kroger Flavor Fill Up Chevrolet | 40.572 | 177.462 | 0.561 | 0.038 |
| 27 | 19 | Martin Truex Jr | Bass Pro Shops Toyota | 40.580 | 177.427 | 0.569 | 0.008 |
| 28 | 43 | Bubba Wallace | PlanBSales.com Chevrolet | 40.666 | 177.052 | 0.655 | 0.086 |
| 29 | 34 | Michael McDowell | Loves's Travel Stops Ford | 40.874 | 176.151 | 0.863 | 0.208 |
| 30 | 32 | Corey LaJoie | Hartford Gold Group Ford | 40.941 | 175.863 | 0.930 | 0.067 |
| 31 | 15 | Ross Chastain(i) | Southern California Chevy Dealers Chevrolet | 41.158 | 174.936 | 1.147 | 0.217 |
| 32 | 36 | Matt Tifft # | Surface Sunscreen/Tunity Ford | 41.184 | 174.825 | 1.173 | 0.026 |
| 33 | 00 | Landon Cassill | Manscaped Chevrolet | 41.400 | 173.913 | 1.389 | 0.216 |
| 34 | 51 | Cody Ware # | Jacob Companies Chevrolet | 41.745 | 172.476 | 1.734 | 0.345 |
| 35 | 27 | * Reed Sorenson | RimRyderz Chevrolet | 42.442 | 169.643 | 2.431 | 0.697 |
| 36 | 52 | BJ McLeod(i) | Mtel-One Ford | 42.755 | 168.401 | 2.744 | 0.313 |
| 37 | 77 | Garrett Smithley(i) | Chevrolet | 42.806 | 168.201 | 2.795 | 0.051 |
| 38 | 66 | * Joey Gase(i) | Nevada Donor Network Toyota | 43.519 | 165.445 | 3.508 | 0.713 |