Cameron puts Penske Acura on pole for Sebring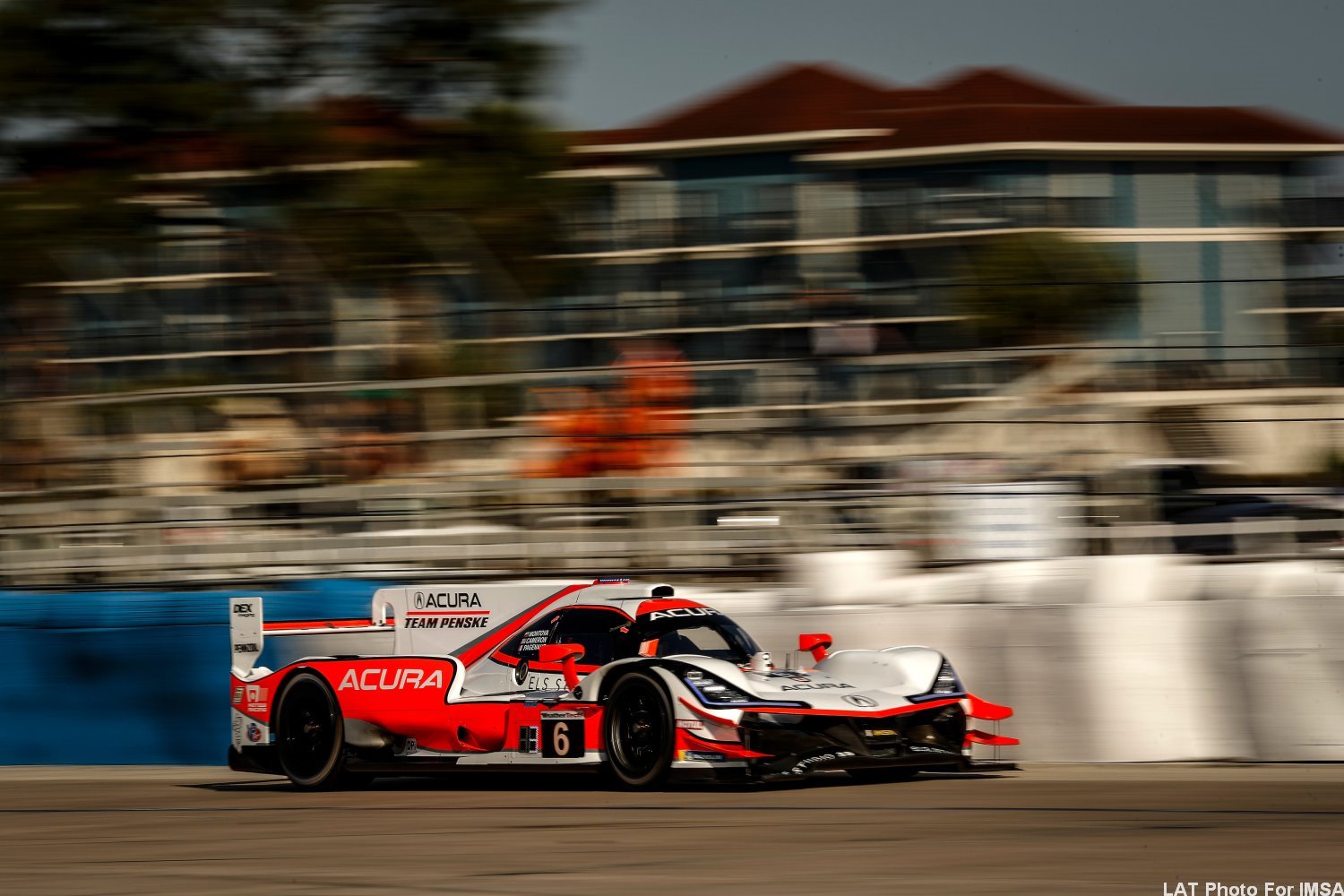 Dane Cameron
Dane Cameron gave Acura Team Penske pole position for the Mobil 1 Twelve Hours of Sebring Friday.
He posted a best time of 1:45.865 driving the No. 6 Acura ARX-05 that he shares with Juan Pablo Montoya and Simon Pagenaud.
Tristan Nunez placed second in the No. 77 Mazda RT24-P which he co-drives with Oliver Jarvis and Timo Bernhard.
Helio Castroneves set exactly the same lap time as Nunez, both 0.146 seconds slower than Cameron, but had to settle for third having logged his time later in the session than the Mazda Team Joest driver.
Action Express Racing's two Cadillac DPi-V.Rs qualified fourth and fifth, with Filipe Albuquerque's Mustang Sampling Racing-entered car ahead of the Whelen Engineering-backed car of Pipo Derani.
Matt McMurry narrowly won pole in LMP2 late in the session, going just 0.011 seconds quicker than Kyle Masson.
Porsche leads GTLM field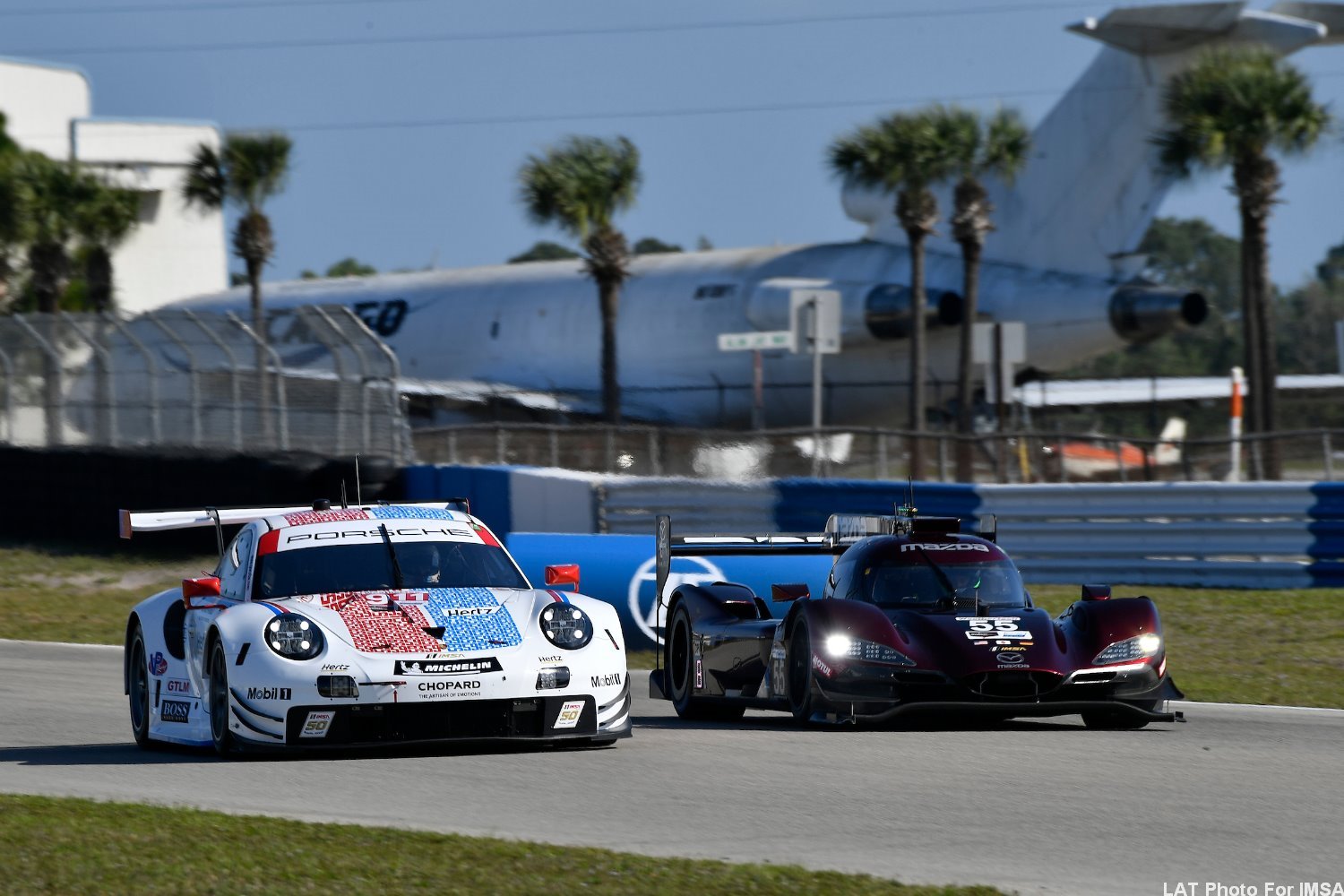 #911 Porsche
Porsche swept the front row in GT Le Mans with Patrick Pilet setting the fastest time of the session, a 1:55.899, in his No. 911 car to go 0.143 seconds quicker than teammate Laurens Vanthoor in the sister #912 911 RSR.
Antonio Garcia qualified third for Corvette Racing, ahead of Richard Westbrook for Ford Chip Ganassi Racing.
The best-placed BMW M8 GTE was Jesse Krohn's No. 24 car in sixth.
Hindman Puts Meyer Shank on GTD Pole
Trent Hindman secured his first IMSA WeatherTech SportsCar Championship pole, taking GT Daytona class honors for Meyer Shank Racing.
He posted a best time of 1:59.917 in the No. 86 Acura NSX GT3 he shares with Mario Farnbacher and Justin Marks.
The Mobil 1 Twelve Hours of Sebring gets underway at 10:40 a.m. EDT on Saturday.
Lineup
| | | | | | | | | |
| --- | --- | --- | --- | --- | --- | --- | --- | --- |
| Pos | Pic | No. | Class | Drivers* | Car | Time | Behind | Gap/Mph |
| 1 | 1 | 6 | DPi | D. Cameron/J. Montoya/S. Pagenaud | Acura DPi | 1:45.865 | +0.000 | +0.000 125.837 |
| 2 | 2 | 77 | DPi | O. Jarvis/T. Nunez/T. Bernhard | Mazda DPi | 1:46.011 | +0.146 | +0.146 125.663 |
| 3 | 3 | 7 | DPi | R. Taylor/H. Castroneves/A. Rossi | Acura DPi | 1:46.011 | +0.146 | +0.000 125.663 |
| 4 | 4 | 5 | DPi | J. Barbosa/B. Hartley/F. Albuquerque | Cadillac DPi | 1:46.238 | +0.373 | +0.227 125.395 |
| 5 | 5 | 31 | DPi | F. Nasr/E. Curran/P. Derani | Cadillac DPi | 1:46.354 | +0.489 | +0.116 125.258 |
| 6 | 6 | 10 | DPi | R. Van Der Zande/J. Taylor/M. Vaxiviere | Cadillac DPi | 1:46.530 | +0.665 | +0.176 125.051 |
| 7 | 7 | 55 | DPi | J. Bomarito/H. Tincknell/O. Pla | Mazda DPi | 1:46.832 | +0.967 | +0.302 124.698 |
| 8 | 8 | 84 | DPi | S. Trummer/S. Simpson/C. Miller | Cadillac DPi | 1:47.086 | +1.221 | +0.254 124.402 |
| 9 | 9 | 85 | DPi | M. Goikhberg/T. Vautier/J. Piedrahita | Cadillac DPi | 1:47.275 | +1.410 | +0.189 124.183 |
| 10 | 10 | 50 | DPi | W. Owen/R. Binder/A. Canapino | Cadillac DPi | 1:47.478 | +1.613 | +0.203 123.948 |
| 11 | 1 | 52 | LMP2 | M. McMurry/G. Aubry/A. Fjorback | ORECA LMP2 | 1:49.728 | +3.863 | +2.250 121.407 |
| 12 | 2 | 38 | LMP2 | K. Masson/A. Evans/C. Cassels | ORECA LMP2 | 1:49.739 | +3.874 | +0.011 121.394 |
| 13 | 11 | 54 | DPi | J. Bennett/C. Braun/R. Dumas | Nissan DPi | 1:50.029 | +4.164 | +0.290 121.074 |
| 14 | 1 | 911 | GTLM | P. Pilet/N. Tandy/F. Makowiecki | Porsche 911 RSR | 1:55.899 | +10.034 | +5.870 114.942 |
| 15 | 2 | 912 | GTLM | E. Bamber/L. Vanthoor/M. Jaminet | Porsche 911 RSR | 1:56.042 | +10.177 | +0.143 114.801 |
| 16 | 3 | 3 | GTLM | J. Magnussen/A. Garcia/M. Rockenfeller | Chevrolet Corvette C7.R | 1:56.158 | +10.293 | +0.116 114.686 |
| 17 | 4 | 67 | GTLM | R. Briscoe/R. Westbrook/S. Dixon | Ford GT | 1:56.189 | +10.324 | +0.031 114.655 |
| 18 | 5 | 4 | GTLM | O. Gavin/T. Milner/M. Fassler | Chevrolet Corvette C7.R | 1:56.248 | +10.383 | +0.059 114.597 |
| 19 | 6 | 24 | GTLM | J. Krohn/J. Edwards/P. Eng | BMW M8 GTE | 1:56.486 | +10.621 | +0.238 114.363 |
| 20 | 7 | 25 | GTLM | T. Blomqvist/C. De Phillippi/C. Herta | BMW M8 GTE | 1:56.486 | +10.621 | +0.000 114.363 |
| 21 | 8 | 66 | GTLM | J. Hand/D. Mueller/S. Bourdais | Ford GT | 1:56.731 | +10.866 | +0.245 114.123 |
| 22 | 1 | 86 | GTD | M. Farnbacher/T. Hindman/J. Marks | Acura NSX GT3 | 1:59.917 | +14.052 | +3.186 111.091 |
| 23 | 2 | 96 | GTD | B. Auberlen/R. Foley/D. Machavern | BMW M6 GT3 | 2:00.299 | +14.434 | +0.382 110.738 |
| 24 | 3 | 9 | GTD | S. Hargrove/Z. Robichon/L. Kern | Porsche 911 GT3 R | 2:00.504 | +14.639 | +0.205 110.550 |
| 25 | 4 | 11 | GTD | R. Ineichen/M. Bortolotti/R. Breukers | Lamborghini Huracan GT3 | 2:00.710 | +14.845 | +0.206 110.361 |
| 26 | 5 | 47 | GTD | B. Gdovic/D. Yount/L. Aschenbach | Lamborghini Huracan GT3 | 2:00.775 | +14.910 | +0.065 110.302 |
| 27 | 6 | 57 | GTD | K. Legge/A. Beatriz/C. Nielsen | Acura NSX GT3 | 2:00.809 | +14.944 | +0.034 110.271 |
| 28 | 7 | 63 | GTD | C. MacNeil/T. Vilander/J. Westphal | Ferrari 488 GT3 | 2:00.974 | +15.109 | +0.165 110.120 |
| 29 | 8 | 12 | GTD | F. Montecalvo/T. Bell/A. Telitz | Lexus RC F GT3 | 2:01.100 | +15.235 | +0.126 110.006 |
| 30 | 9 | 33 | GTD | B. Keating/J. Bleekemolen/F. Fraga | Mercedes-AMG GT3 | 2:01.184 | +15.319 | +0.084 109.929 |
| 31 | 10 | 29 | GTD | D. Morad/C. Mies/R. Feller | Audi R8 LMS GT3 | 2:01.189 | +15.324 | +0.005 109.925 |
[adinserter name="GOOGLE AD"]