Alonso sets fastest ever lap of Sebring track to take pole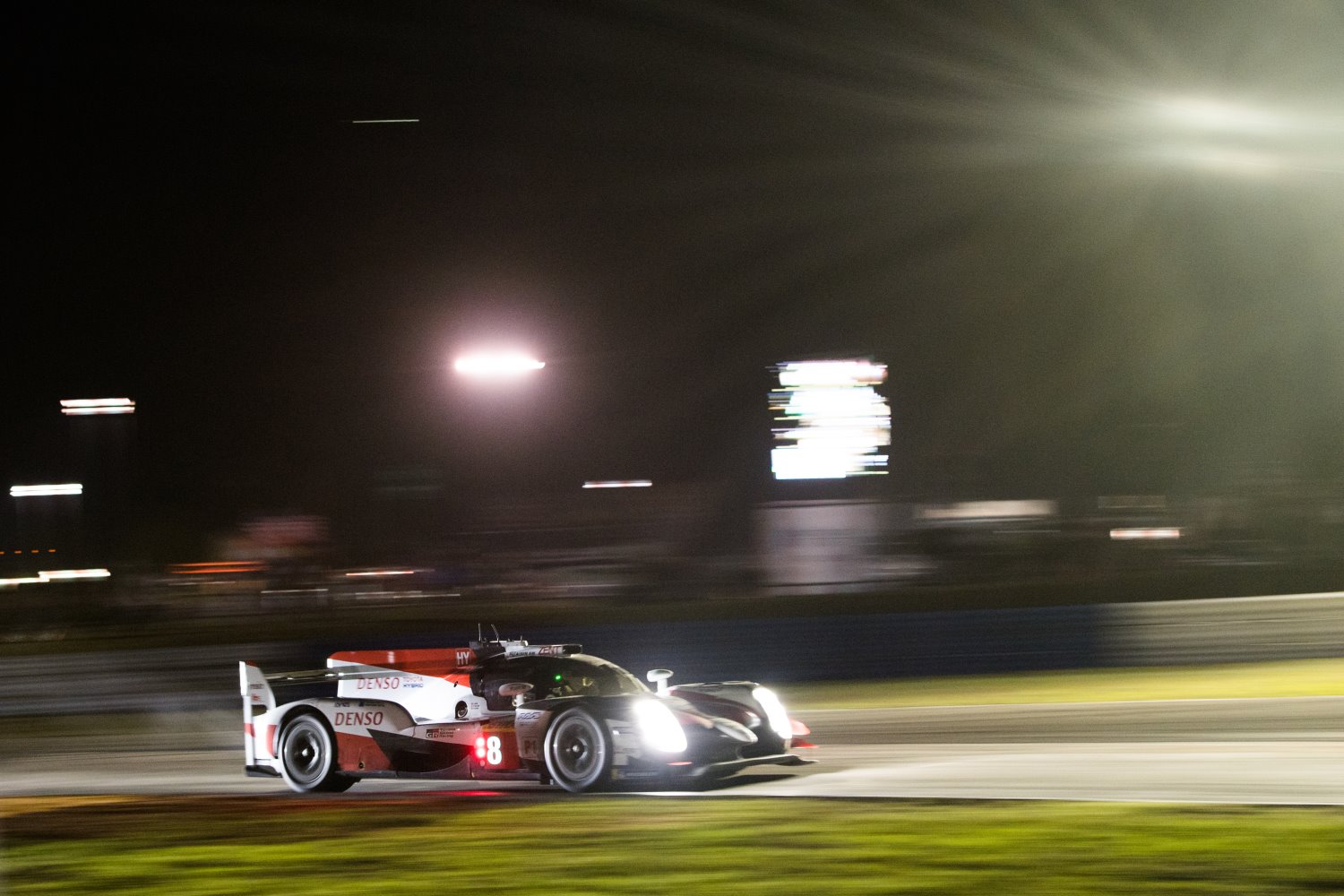 Alonso puts #8 Toyota on pole at night
An enthralling qualifying session at Sebring saw Fernando Alonso clock the fastest ever lap on the old airport circuit, giving Toyota the front row for the 1000 Miles of Sebring. Porsche will start from pole in both GTE classes.
Toyota Racing will start the 1000 Miles of Sebring from pole position after a clean sweep of the front row in qualifying for the sixth round of the 2018-2019 FIA World Endurance Championship (WEC).
The team maintained its perfect record in WEC qualifying this season, with the #8 TS050 HYBRID of World Championship leaders Sébastien Buemi, Kazuki Nakajima and Fernando Alonso going fastest in qualifying with an average of 1min 40.318secs, earning the additional point for pole position in the process.
The #7 TS050 HYBRID of Mike Conway, Kamui Kobayashi and José María L¢pez completed an all-TOYOTA front row with second place, 0.485secs behind.
Fernando set a new official qualifying record at Sebring International Raceway with his 1min 40.124secs lap, beating the previous record set by Audi in 2013 by 3.762secs. Friday's race gives both cars the chance to set a new race record at the famous venue, which has hosted endurance racing since 1950.
Qualifying took place in darkness, adding an additional challenge for the drivers, alongside the constant battle to find clean space on the 6.019km track that is notorious for heavy traffic due to the proximity of the walls and the unforgiving curbs.
The night proved to be a frustrating one for the #7 car, which had topped two of the three practice sessions in the run-up to qualifying. Mike was first behind the wheel but could not match the #8 car's pace on his flying laps, while José faced traffic on his first lap and made a small error on his second before holding his nerve in the closing seconds to record a competitive time.
The #8 car had a less dramatic and more successful session, with Fernando immediately writing his name in the Sebring record books with his first flying lap before Kazuki found space among the traffic and secured pole position.
[adinserter name="GOOGLE AD"]SMP Racing's No. 17 BR Engineering BR1 AER qualified third ahead of the No. 3 Rebellion Racing R-13 Gibson but at over 2-seconds per lap slower they will be lapped by the Toyotas numerous times.
LMP2 pole position went to Jackie Chan DC Racing as the Jota-run squad will start 1-2.
Gabriel Aubry and Stephane Richelmi led the way with their average time of 1:44.288 that put them six tenths up on the identical No. 37 car of David Heinemeier Hansson and Will Stevens.
Signatech Alpine will start third ahead of DragonSpeed's Oreca, while Larbre Competition rounded out the top five with its Ligier JS P217 Gibson.
Kevin Estre and Michael Christensen took their first GTE-Pro pole in the No. 92 Porsche 911 RSR two-tenths ahead of the two Chip Ganassi Racing Ford GTs.
The Ford qualified by Harry Tincknell and Andy Priaulx will start second, ahead of the sister Ganassi car which Stefan Mucke and Olivier Pla shared in qualifying.
Augusto Farfus and Antonio Felix da Costa set the fourth-best average in their No. 82 Team MTEK BMW M8 GTE, which finished 0.341 seconds shy of the average pace.
Corvette Racing rounded out the top-five as Antonio Garcia set the fastest lap in class at 1:57.25 but his teammate Jan Magnussen's choked and was a second slower.
Christian Ried and Matt Campbell took pole in GTE Am in the fastest of the Dempsey-Proton Porsche 911 RSRs.
The GTE session was briefly halted after Luiz Perez Companc wadded up the Clearwater Racing Ferrari
Toyota Quotes (No one else has a chance)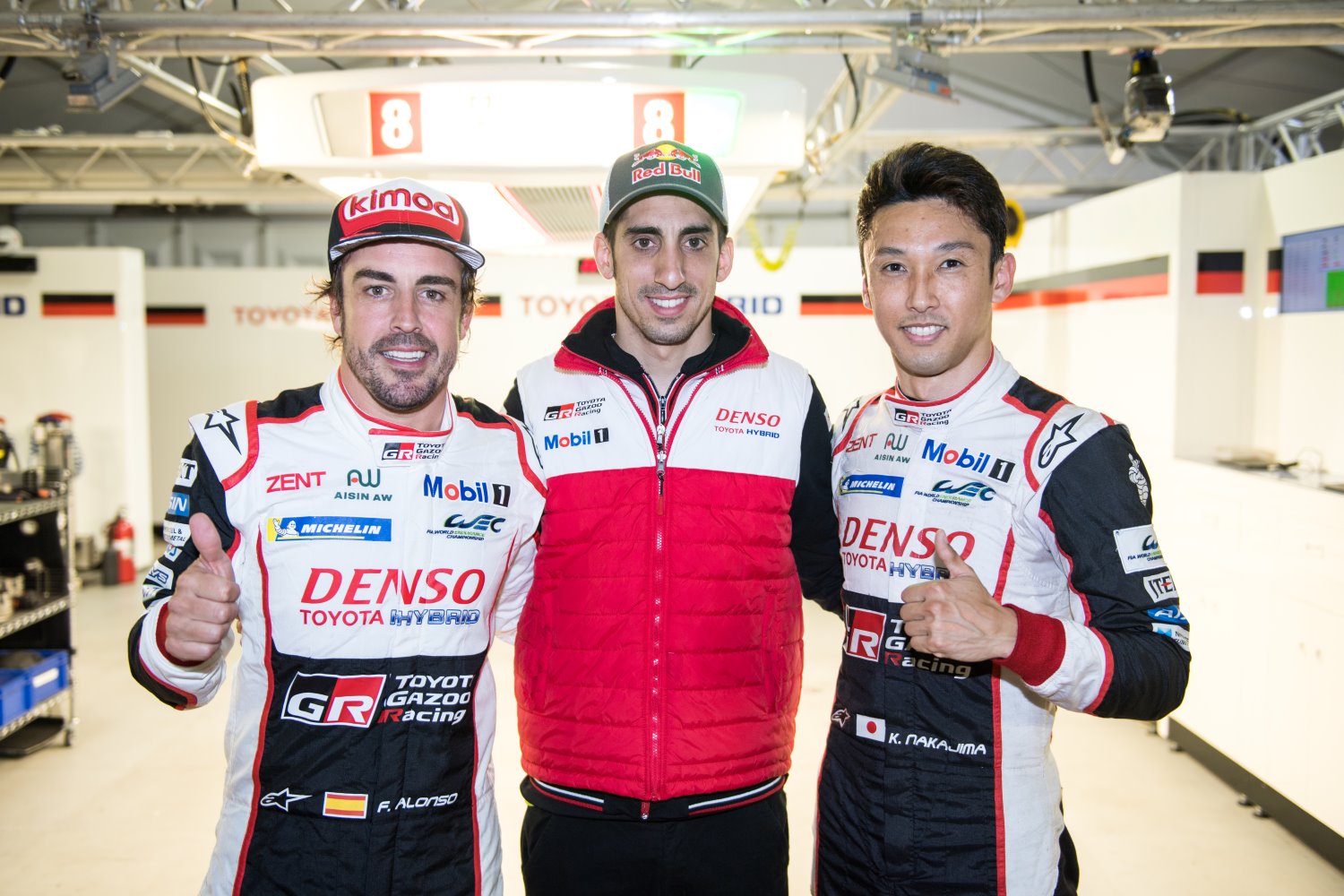 Alonso (L) put up a mega lap time
Mike Conway (TS050 HYBRID #7): "I found the car a little bit difficult in the night. It was hard to put a lap together so in the end I had two scrappy laps. We start second which isn't bad for a long race tomorrow. We've got to execute our race well and make the right calls on strategy. Hopefully we can come home with a good result."
Jose María Lopez (TS050 HYBRID #7): "I am happy for the team to get a one-two with a good margin; the cars are looking very strong. Our car had shown good pace all weekend but qualifying is just one lap in the night. I knew I had to put together an exceptional lap and I went for it. On my first lap another car blocked me and on my second lap I pushed too hard and went wide. Then my last attempt was not enough for pole but we are looking strong for the race."
Kazuki Nakajima (TS050 HYBRID #8): "Thanks to Fernando, after his mega lap the job I had to do was just to put a good lap together; it took away a lot of pressure from me. It's always very tricky to drive at night with these cars but I was happy with the car and the result. It is nice to start the race from the front but we still have a long way to go and we know that to finish a race here without trouble is always a challenge."
Fernando Alonso (TS050 HYBRID #8): "It's great to have the new qualifying record here at Sebring. It felt good to get a lap with low fuel and new tires; I enjoyed it a lot. At night this circuit is very challenging as it's not easy to see all the reference points but I had a good lap. I thought a 1min 39secs lap might be possible but I lost a couple of tenths here and there so didn't quite make it."
Lineup
| | | | | | |
| --- | --- | --- | --- | --- | --- |
| POS | CLASS | DRIVER | TEAM | CAR | GAP |
| 1 | LMP1 | S.Buemi, K.Nakajima, F.Alonso | Toyota Gazoo Racing | Toyota | 1m40.318s |
| 2 | LMP1 | M.Conway, K.Kobayashi, J.M.Lopez | Toyota Gazoo Racing | Toyota | 0.485s |
| 3 | LMP1 | S.Sarrazin, E.Orudzhev, S.Sirotkin | SMP Racing | BR Engineering/AER | 2.412s |
| 4 | LMP1 | N.Berthon, T.Laurent, G.Menezes | Rebellion Racing | Rebellion/Gibson | 2.545s |
| 5 | LMP1 | M.Aleshin, V.Petrov, B.Hartley | SMP Racing | BR Engineering/AER | 2.687s |
| 6 | LMP1 | N.Jani, M.Beche, B.Senna | Rebellion Racing | Rebellion/Gibson | 2.697s |
| 7 | LMP1 | H.Hedman, B.Hanley, R.van der Zande | DragonSpeed | BR Engineering/Gibson | 3.970s |
| 8 | LMP2 | H-Pin Tung, G.Aubry, S.Richelmi | Jackie Chan DC Racing | ORECA/Gibson | 7.240s |
| 9 | LMP2 | D.H.Hansson, J.King, W.Stevens | Jackie Chan DC Racing | ORECA/Gibson | 7.890s |
| 10 | LMP2 | N.Lapierre, A.Negrao, P.Thiriet | Signatech Alpine Matmut | Alpine/Gibson | 8.206s |
| 11 | LMP2 | R.Gonzalez, P.Maldonado, A.Davidson | DragonSpeed | ORECA/Gibson | 9.363s |
| 12 | LMP2 | E.Creed, R.Ricci, G.Jeannette | Larbre Competition | Ligier/Gibson | 10.387s |
| 13 | LMP2 | F.Perrodo, M.Vaxiviere, L.Duval | TDS Racing | ORECA/Gibson | 10.900s |
| 14 | LMP2 | F.van Eerd, G.van der Garde, N.de Vries | Racing Team Nederland | Dallara/Gibson | 10.989s |
| 15 | GTE Pro | M.Christensen, K.Estre | Porsche GT Team | Porsche | 17.182s |
| 16 | GTE Pro | A.Priaulx, H.Tincknell, J.Bomarito | Ford Chip Ganassi Team UK | Ford | 17.297s |
| 17 | GTE Pro | S.Mucke, O.Pla, B.Johnson | Ford Chip Ganassi Team UK | Ford | 17.396s |
| 18 | GTE Pro | A.Farfus, A.F.da Costa, B.Spengler | BMW Team MTEK | BMW | 17.523s |
| 19 | GTE Pro | J.Magnussen, A.Garcia, M.Rockenfeller | Corvette Racing | Chevrolet | 17.526s |
| 20 | GTE Pro | D.Rigon, S.Bird, M.Molina | AF Corse | Ferrari | 17.620s |
| 21 | GTE Pro | M.Tomczyk, N.Catsburg, A.Sims | BMW Team MTEK | BMW | 17.682s |
| 22 | GTE Pro | R.Lietz, G.Bruni | Porsche GT Team | Porsche | 17.795s |
| 23 | GTE Pro | A.P.Guidi, J.Calado, D.Serra | AF Corse | Ferrari | 17.914s |
| 24 | GTE Pro | M.Sorensen, N.Thiim, D.Turner | Aston Martin Racing | Aston Martin | 18.048s |
| 25 | GTE Am | C.Ried, J.Andlauer, M.Campbell | Dempsey-Proton Racing | Porsche | 19.472s |
| 26 | GTE Am | J.Bergmeister, P.Lindsey, E.Perfetti | Team Project 1 | Porsche | 19.617s |
| 27 | GTE Am | P.D.Lana, P.Lamy, M.Lauda | Aston Martin Racing | Aston Martin | 19.758s |
| 28 | GTE Am | T.Flohr, F.Castellacci, G.Fisichella | Spirit of Race | Ferrari | 20.040s |
| 29 | GTE Am | G.Roda, G.Roda, M.Cairoli | Dempsey-Proton Racing | Porsche | 20.099s |
| 30 | GTE Am | S.Yoluc, J.Adam, C.Eastwood | TF Sport | Aston Martin | 20.225s |
| 31 | GTE Am | M.Ishikawa, O.Beretta, E.Cheever | MR Racing | Ferrari | 21.332s |
| 32 | GTE Am | M.Wainwright, B.Barker, T.Preining | Gulf Racing | Porsche | 23.479s |
| 33 | GTE Pro | A.Lynn, M.Martin | Aston Martin Racing | Aston Martin | 24.430s |
| 34 | GTE Am | L.P.-Companc, M.Cressoni, M.Griffin | Clearwater Racing | Ferrari | 19.078s |