Ryan Blaney earns Busch Pole Award at ISM Raceway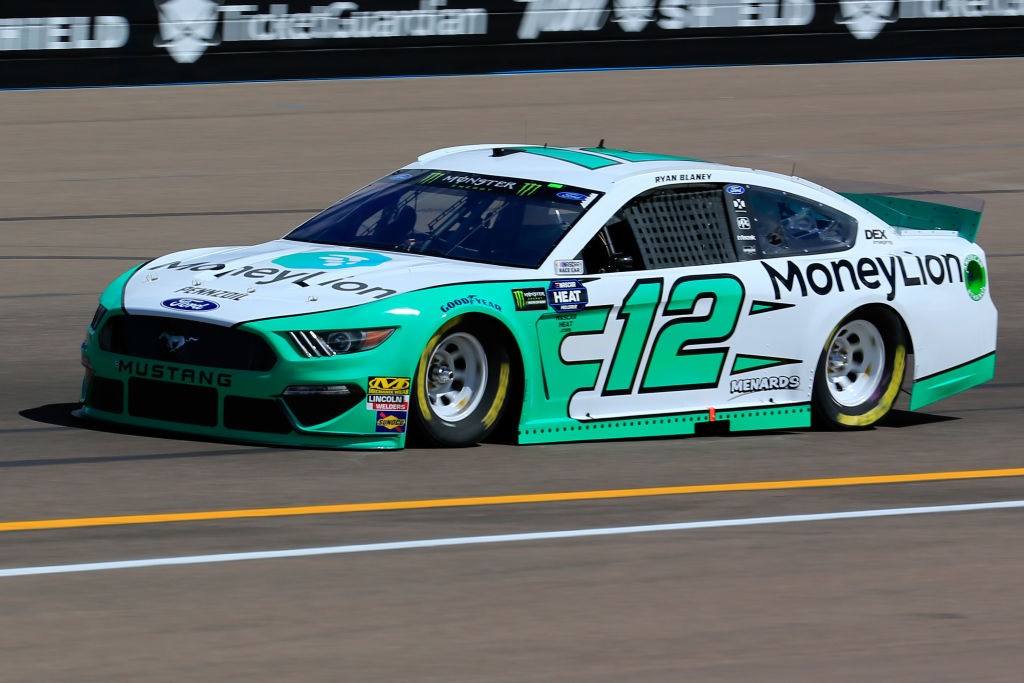 Ryan Blaney
Ryan Blaney will unofficially have the best view of the green flag at ISM Raceway, earning the pole position for Sunday's TicketGuardian 500.
Blaney scored the top spot with a fastest lap of 141.287 mph in the No. 12 Team Penske Ford during the final round of Friday's Monster Energy NASCAR Cup Series Busch Pole Award qualifying session.
Chase Elliott will start alongside Blaney on the front row with a lap of 140.171 mph for the second starting spot. Denny Hamlin had the third-best lap at 140.007 mph, followed by Kyle Busch in fourth (139.855 mph) and Brad Keselowski (139.849 mph).
Kevin Harvick led the way following the first knockout round as notable drivers such as Kyle Larson, Clint Bowyer and Daniel Suarez failed to advance. Blaney also laid down the fastest lap in Round 2.
The biggest incident of the qualifying session occurred when Daniel Suarez and Michael McDowell were involved in a physical altercation on pit road following the first round. Suarez qualified 28th, while McDowell will start one spot ahead in 27th.
Results
| | | | | | |
| --- | --- | --- | --- | --- | --- |
| Pos | Car | Driver | Team | Time | Speed |
| 1 | 12 | Ryan Blaney | MoneyLion Ford | 25.480 | 141.287 |
| 2 | 9 | Chase Elliott | Hooters Chevrolet | 25.683 | 140.171 |
| 3 | 11 | Denny Hamlin | FedEx Freight Toyota | 25.713 | 140.007 |
| 4 | 18 | Kyle Busch | Skittles Toyota | 25.741 | 139.855 |
| 5 | 2 | Brad Keselowski | Alliance Truck Parts Ford | 25.742 | 139.849 |
| 6 | 88 | Alex Bowman | Nationwide Chevrolet | 25.757 | 139.768 |
| 7 | 24 | William Byron | Axalta Chevrolet | 25.794 | 139.567 |
| 8 | 4 | Kevin Harvick | Jimmy John's Ford | 25.823 | 139.411 |
| 9 | 19 | Martin Truex Jr. | Bass Pro Shops Toyota | 25.861 | 139.206 |
| 10 | 20 | Erik Jones | Reser's Fine Foods Toyota | 25.901 | 138.991 |
| 11 | 8 | Daniel Hemric # | Okuma Chevrolet | 25.928 | 138.846 |
| 12 | 22 | Joey Logano | Shell Pennzoil Ford | 25.962 | 138.664 |
| 13 | 3 | Austin Dillon | Dow Chevrolet | 25.924 | 138.867 |
| 14 | 10 | Aric Almirola | Smithfield Ford | 25.936 | 138.803 |
| 15 | 48 | Jimmie Johnson | Ally Chevrolet | 25.936 | 138.803 |
| 16 | 1 | Kurt Busch | Global Poker Chevrolet | 25.943 | 138.766 |
| 17 | 21 | Paul Menard | Menards/Quaker State Ford | 25.948 | 138.739 |
| 18 | 6 | Ryan Newman | Oscar Mayer Bacon Ford | 25.956 | 138.696 |
| 19 | 17 | Ricky Stenhouse Jr. | Sunny D Ford | 25.989 | 138.520 |
| 20 | 13 | Ty Dillon | GEICO Chevrolet | 26.005 | 138.435 |
| 21 | 47 | Ryan Preece # | Kroger Chevrolet | 26.025 | 138.329 |
| 22 | 37 | Chris Buescher | Kroger Flavor Fill Up Chevrolet | 26.191 | 137.452 |
| 23 | 43 | Bubba Wallace | World Wide Technology Chevrolet | 26.289 | 136.939 |
| 24 | 32 | Corey LaJoie | Schluter Systems Ford | 26.310 | 136.830 |
| 25 | 95 | Matt DiBenedetto | Procore Toyota | 26.315 | 136.804 |
| 26 | 14 | Clint Bowyer | ITsavvy Ford | 26.362 | 136.560 |
| 27 | 34 | Michael McDowell | Dockside Logistics Ford | 26.371 | 136.514 |
| 28 | 41 | Daniel Suarez | Ruckus Ford | 26.379 | 136.472 |
| 29 | 38 | David Ragan | Select Blinds Ford | 26.382 | 136.457 |
| 30 | 36 | Matt Tifft # | Surface Sunscreen/Tunity Ford | 26.411 | 136.307 |
| 31 | 42 | Kyle Larson | McDonald's Chevrolet | 26.709 | 134.786 |
| 32 | 00 | Landon Cassill | Iron Mountain Data Centers Chevrolet | 26.777 | 134.444 |
| 33 | 15 | Ross Chastain(i) | FitStrong Chevrolet | 26.989 | 133.388 |
| 34 | 51 | Cody Ware # | Jacob Companies Chevrolet | 27.770 | 129.636 |
| 35 | 77 | Quin Houff | Rim Ryderz Chevrolet | 28.646 | 125.672 |
| 36 | 52 | Bayley Currey(i) | Mtel-One Ford | 0.000 | 0.000 |
[adinserter name="GOOGLE AD"]