IndyCar Chevy vs. Honda as 2019 season begins
Chevrolet Aims for Strong Start to Season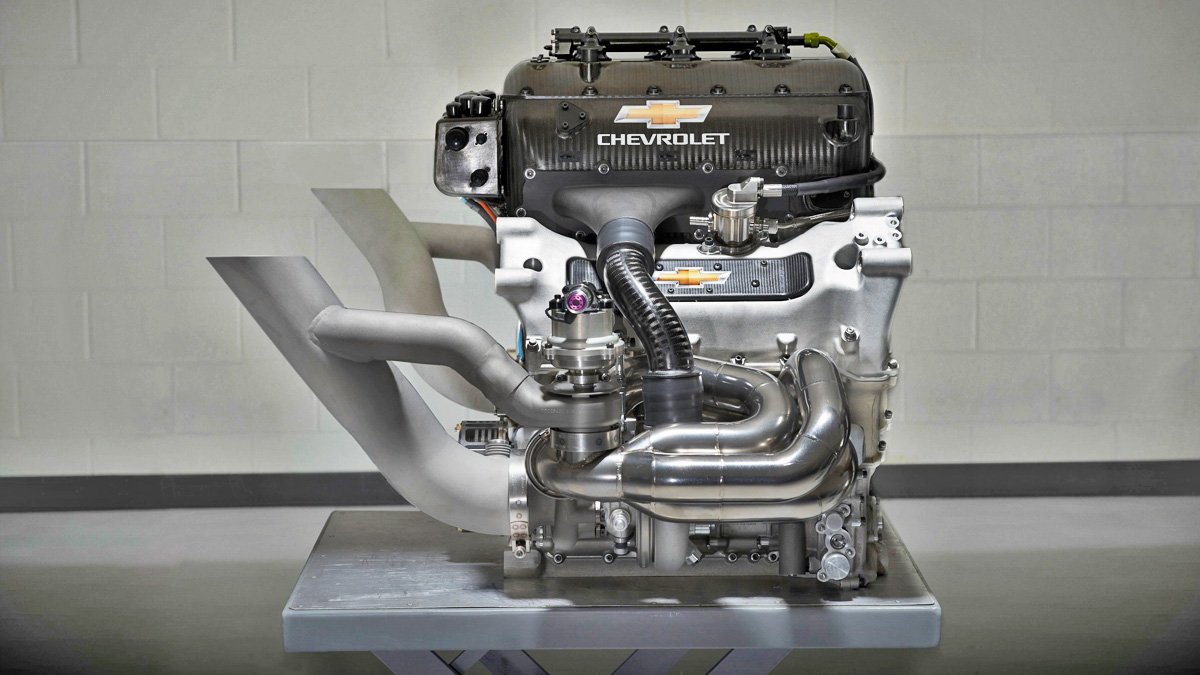 Chevy IndyCar engine
Performance and experience are a winning combination that underscore Chevrolet Racing's promising outlook entering the 2019 NTT IndyCar Series.
Chevrolet begins the six-month trek to corral its seventh Manufacturer Championship in eight seasons of INDYCAR competition in the Firestone Grand Prix of St. Petersburg. The 110-lap race March 10 kicks off 17 races on 16 event weekends.
The 10 Chevrolet drivers entered in the opener represent 74 victories and four NTT IndyCar Series driver/entrant championships, and all but one driver has race experience in the Dallara IR-15 chassis with universal aero kits introduced for the 2018 season.
Data collected from the 17 races, offseason development and recent on-track test sessions will support Chevrolet teams' further optimization of car handling and tire management on the mix of short ovals, superspeedways, road courses and street circuits.
[adinserter name="GOOGLE AD"]"I think we made gains on the road and street courses, and I think there will be gains for us on the ovals, as well," said Josef Newgarden, driver of the No. 2 Hitachi Team Penske Chevrolet who made his NTT IndyCar Series debut at St. Petersburg in 2012. "We learned a lot at the Circuit of The Americas test in February.
"I'm confident in the data we collected as a team and I'm sure we'll start the year strong. There's just a lot to look forward to and I'm really ready for it."
Chevrolet's 2.2-liter, twin-turbocharged, direct-injected V6 engine has powered entries to five poles and an equal number of victories on the 1.8-mile St. Petersburg temporary street circuit since 2012. Will Power owns four of the pole starts in the span.
"It's going to be really cool to start the season knowing we're the defending Indy 500 champions," said Power, whose win in the No. 12 Verizon Team Penske Chevrolet was one of three in the 2018 season. "There's just so much to be excited for and I can't wait to get it started in St. Petersburg."
At St. Petersburg, Power will seek to make his 205th Indy car start. Tony Kanaan, driver of the No. 14 ABC Supply Chevrolet for AJ Foyt Racing, will seek to make his 301st consecutive start and 361st overall.
Two additions to the Chevrolet lineup for the season opener show promise.
Ed Jones, the 2017 Sunoco Rookie of the Year and 2016 Indy Lights champion, joins Ed Carpenter Racing with Scuderia Corsa for 12 road-street course races in the No. 20 Chevrolet and will drive the No. 64 Chevrolet in the 103rd Indianapolis 500 presented by Gainbridge.
First-year NTT IndyCar Series team DragonSpeed Racing, based in Jupiter, Florida, will utilize Chevrolet power at five races with sports car and single-seater veteran Ben Hanley behind the wheel.
"We're viewing it as a stepping stone to becoming full time. We're not underestimating how difficult it's going to be considering all the full-timers and all the top teams here," said Hanley, 34, of Great Britain. "But, at the same time, we're not just here to make up the numbers and we do think we can achieve something."
Also new for 2019 are races at Circuit of the Americas on March 24 and the season finale Sept. 22 at WeatherTech Raceway Laguna Seca, an exclusive TV package with NBC Sports Group, races telecast on Sky Sports F1 in the United Kingdom, and series title sponsor NTT Data.
Team Chevy will be well represented by:
AJ Foyt Racing
#4 Matheus Leist, ABC Supply Chevrolet
#14 Tony Kanaan, ABC Supply Chevrolet
Carlin
#23 Charlie Kimball, Tresiba Chevrolet
#59 Max Chilton, Gallagher Chevrolet
DragonSpeed
#81 Ben Hanley, 10 Star Chevrolet
Ed Carpenter Racing
#20 Ed Jones, Autogeek Chevrolet
#21 Spencer Pigot, Autogeek Chevrolet
Team Penske
#2 Josef Newgarden, Hitachi Chevrolet
#12 Will Power, Verizon Chevrolet
#22 Simon Pagenaud, Menards Chevrolet
Honda drivers, teams begin defense of 2018 championships
Honda IndyCar engine
Eight race winners, four Indianapolis 500 champions and three former series title holders – with a combined 10 series championships – make up the talented Honda-powered lineup for the 2019 NTT IndyCar Series, opening this weekend at the Firestone Grand Prix of St. Petersburg.
Eleven wins from 17 races in 2018 brought Honda the company's seventh IndyCar Manufacturers' Championship, highlighted by a 1-2 finish in the Drivers' Championship for Honda-powered Scott Dixon and Alexander Rossi. Honda's Indy car win total of 237 in 25 years of North American open-wheel racing – including 12 Indianapolis 500 victories since 2004 – is unmatched by any other manufacturer in the same period. In addition, for the second year in a row, each full-time Honda team scored at least one IndyCar Series race victory.
Six Honda teams will field 14 Honda-powered entries at Sunday's 2019 season opener on the Florida Gulf Coast, all utilizing the Honda HI19TT engine and Dallara IR15 chassis, which features a universal aero kit introduced for all competitors in 2018.
"We had an excellent season in 2018, but this is a new year, with both new opportunities and new challenges," said Art St. Cyr, president of Honda Performance Development, the racing arm for American Honda in North America. "This is the largest field of full-time entries supplied by HPD since 2013, and we're also expecting one of the largest Indianapolis 500 entries in recent years. Everyone at HPD has worked extremely hard to prepare for another highly competitive IndyCar Series season, and we're looking forward to getting our title defense under way this weekend in St. Petersburg."
Honda and HPD will present an impressive lineup at Sunday's season-opening Firestone Grand Prix of St. Petersburg. It begins with defending, five-time IndyCar series champion and 2008 Indianapolis 500 victor Scott Dixon, and includes 2017 Indianapolis 500 winner Takuma Sato; 2012 series and 2014 Indianapolis 500 champion Ryan Hunter-Reay; four-time consecutive Champ Car champion Sebastien Bourdais; 2016 Indianapolis 500 winner Alexander Rossi; and multi-race winners Graham Rahal and James Hinchcliffe.
All will utilize the twin-turbocharged Honda Indy V6 engine, designed, manufactured, developed and maintained by HPD. Designated the HI19TT, the engine will be used throughout the 2019 season.
Honda has been a fixture in North American open-wheel racing since 1994, and has played an active role in the growth of the NTT IndyCar Series as both a Manufacturers' Championship competitor and single engine supplier, with a record that includes 237 individual race wins and seven manufacturers' championships.
The company scored its first Indianapolis 500 victory in 2004 with Buddy Rice; Manufacturers' Championships in 2004 and '05; and became engine supplier to the entire IndyCar Series in 2006. Honda supplied racing engines to the full, 33-car Indianapolis 500 field every year from 2006-2011, and for six consecutive years — and the only six times in event history – the '500' ran without a single engine failure.
Since the return of multi-manufacturer competition in 2012, Honda has scored four more Indy 500 triumphs, by Dario Franchitti in 2012, Hunter-Reay in 2014, Rossi's historic victory in 2016's historic 100th race and Sato's popular victory in 2017. The 12 wins by Honda at the famed Indianapolis Motor Speedway lead all other major automobile manufacturers.
2019 Honda Verizon IndyCar Series Lineup
Andretti Autosport
#26 Zach Veach
#27 Alexander Rossi (W)
#28 Ryan Hunter-Reay (C) (W)
Andretti-Herta Autosport
#98 Marco Andretti (W)
Arrow Schmidt Peterson
# 5 James Hinchcliffe (W)
# 7 Marcus Ericsson (R)
Chip Ganassi Racing
# 9 Scott Dixon (C) (W)
#10 Felix Rosenqvist (R)
Dale Coyne Racing
#18 Sebastien Bourdais (C) (W)
#19 Santino Ferrucci (R)
Harding Steinbrenner Racing
#88 Colton Herta (R)
Meyer Shank Racing
#60 Jack Harvey – 10 races
Rahal Letterman Lanigan Racing
#15 Graham Rahal (W)
#30 Takuma Sato (W)
C – IndyCar Series Champion W – Race Winner R – Series Rookie