Harvick earns Busch Pole Award at Las Vegas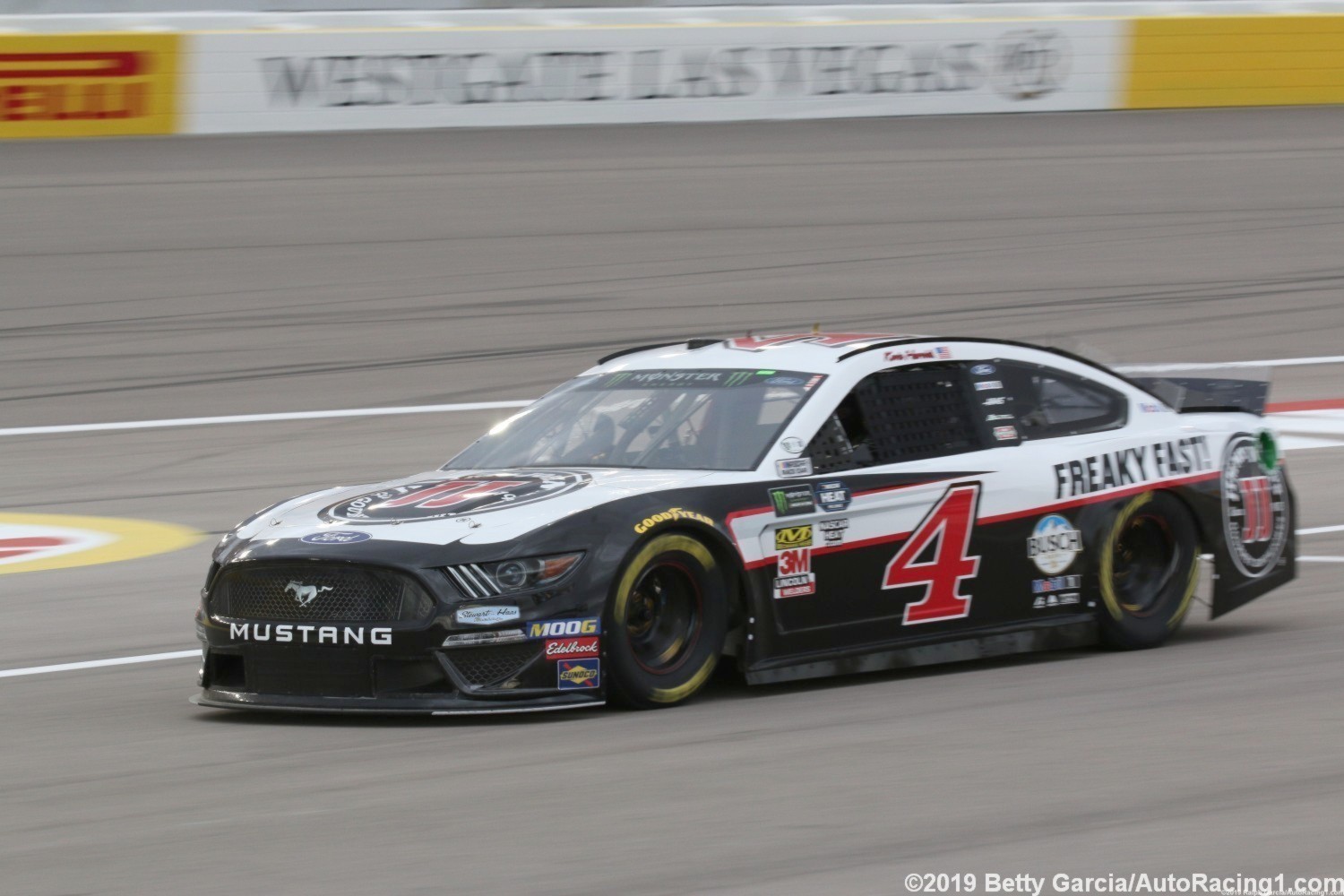 Kevin Harvick
Ralph Garcia/AR1.com
Wheeling a fast lap of 180.517 mph in the final minutes of Friday's qualifying session, Kevin Harvick notched his first Busch Pole Award of the 2019 season at Las Vegas Motor Speedway. Harvick won this race last year in his No. 4 Stewart-Haas Racing Ford.
Daytona 500 winner Denny Hamlin will roll off the grid second on Sunday, while his Joe Gibbs Racing teammate Kyle Busch nabbed the third starting position. A pair of Richard Childress Racing Chevrolets — practice leader Austin Dillon and Daniel Hemric — completed the top five, respectively.
All 12 drivers waited until around the 1:30 mark of the final, five-minute session to begin rolling off pit road. Alex Bowman and Chase Elliott attempted to make a second lap to better their spots, but their laps — which ranked fastest in the field — were disqualified as they did not reach the line before time expired. Bowman was deemed to have missed the line by about 0.5 second, while Elliott missed it by slightly over one second.
Austin Dillon paced Round 1, while Harvick lead Round 2.
Lineup
| | | | | | |
| --- | --- | --- | --- | --- | --- |
| Pos | No. | Driver | Team | Time | Speed |
| 1 | 4 | Kevin Harvick | Jimmy John's Ford | 29.914 | 180.517 |
| 2 | 11 | Denny Hamlin | FedEx Office Toyota | 29.924 | 180.457 |
| 3 | 18 | Kyle Busch | M&M's Chocolate Bar Toyota | 30.049 | 179.706 |
| 4 | 3 | Austin Dillon | Dow SILASTIC Silicone Elastomers Chevrolet | 30.082 | 179.509 |
| 5 | 8 | Daniel Hemric # | Caterpillar Chevrolet | 30.087 | 179.480 |
| 6 | 38 | David Ragan | Citgard Heavy Duty Engine Oil Ford | 30.092 | 179.450 |
| 7 | 42 | Kyle Larson | Credit One Bank Chevrolet | 30.131 | 179.217 |
| 8 | 17 | Ricky Stenhouse Jr. | Fastenal Ford | 30.234 | 178.607 |
| 9 | 48 | Jimmie Johnson | Ally Chevrolet | 30.255 | 178.483 |
| 10 | 22 | Joey Logano | Pennzoil Ford | 30.356 | 177.889 |
| 11 | 88 | Alex Bowman | Axalta Chevrolet | 30.504 | 177.026 |
| 12 | 9 | Chase Elliott | Hooters Chevrolet | 30.533 | 176.858 |
| 13 | 12 | Ryan Blaney | Menards/Pennzoil Ford | 30.055 | 179.671 |
| 14 | 13 | Ty Dillon | GEICO Chevrolet | 30.061 | 179.635 |
| 15 | 21 | Paul Menard | Motorcraft/Quick Lane Tire & Auto Center Ford | 30.071 | 179.575 |
| 16 | 34 | Michael McDowell | Love's Travel Stops Ford | 30.082 | 179.509 |
| 17 | 14 | Clint Bowyer | One Cure Ford | 30.096 | 179.426 |
| 18 | 20 | Erik Jones | Sport Clips Toyota | 30.101 | 179.396 |
| 19 | 2 | Brad Keselowski | Discount Tire Ford | 30.132 | 179.211 |
| 20 | 24 | William Byron | Hertz Chevrolet | 30.163 | 179.027 |
| 21 | 43 | Bubba Wallace | Transportation Impact Chevrolet | 30.168 | 178.998 |
| 22 | 41 | Daniel Suarez | Haas Automation Ford | 30.169 | 178.992 |
| 23 | 19 | Martin Truex Jr. | Bass Pro Shops Toyota | 30.174 | 178.962 |
| 24 | 47 | Ryan Preece # | Kroger Chevrolet | 30.344 | 177.959 |
| 25 | 10 | Aric Almirola | Smithfield Ford | 30.283 | 178.318 |
| 26 | 95 | Matt DiBenedetto | Dumont JETS Toyota | 30.296 | 178.241 |
| 27 | 37 | Chris Buescher | Natural Light Naturdays Chevrolet | 30.300 | 178.218 |
| 28 | 1 | Kurt Busch | Star Nursery Chevrolet | 30.310 | 178.159 |
| 29 | 6 | Ryan Newman | Wyndham Rewards Ford | 30.329 | 178.047 |
| 30 | 32 | Corey LaJoie | PROSPR Ford | 30.458 | 177.293 |
| 31 | 00 | Landon Cassill | Manscaped Chevrolet | 30.626 | 176.321 |
| 32 | 96 | * Parker Kligerman(i) | Gaunt Brothers Racing Toyota | 30.640 | 176.240 |
| 33 | 51 | Cody Ware # | Jacob Companies Chevrolet | 31.324 | 172.392 |
| 34 | 52 | BJ McLeod(i) | Mtel-One Ford | 31.820 | 169.705 |
| 35 | 36 | Matt Tifft # | Surface Sunscreen/Tunity Ford | 32.450 | 166.410 |
| 36 | 66 | * Joey Gase(i) | Eternal Fans Toyota | 33.864 | 159.461 |
| 37 | 77 | Reed Sorenson | Chevrolet | 0.000 | 0.000 |
| 38 | 15 | Ross Chastain(i) | Rim Riderz Chevrolet | 0.000 | 0.000 |
# DENOTES ROOKIE
(i) NOT ELIGIBLE FOR POINTS
(*) REQUIRED TO QUALIFY ON TIME
[adinserter name="GOOGLE AD"]