Kyle Busch puts Toyota Truck on pole in Vegas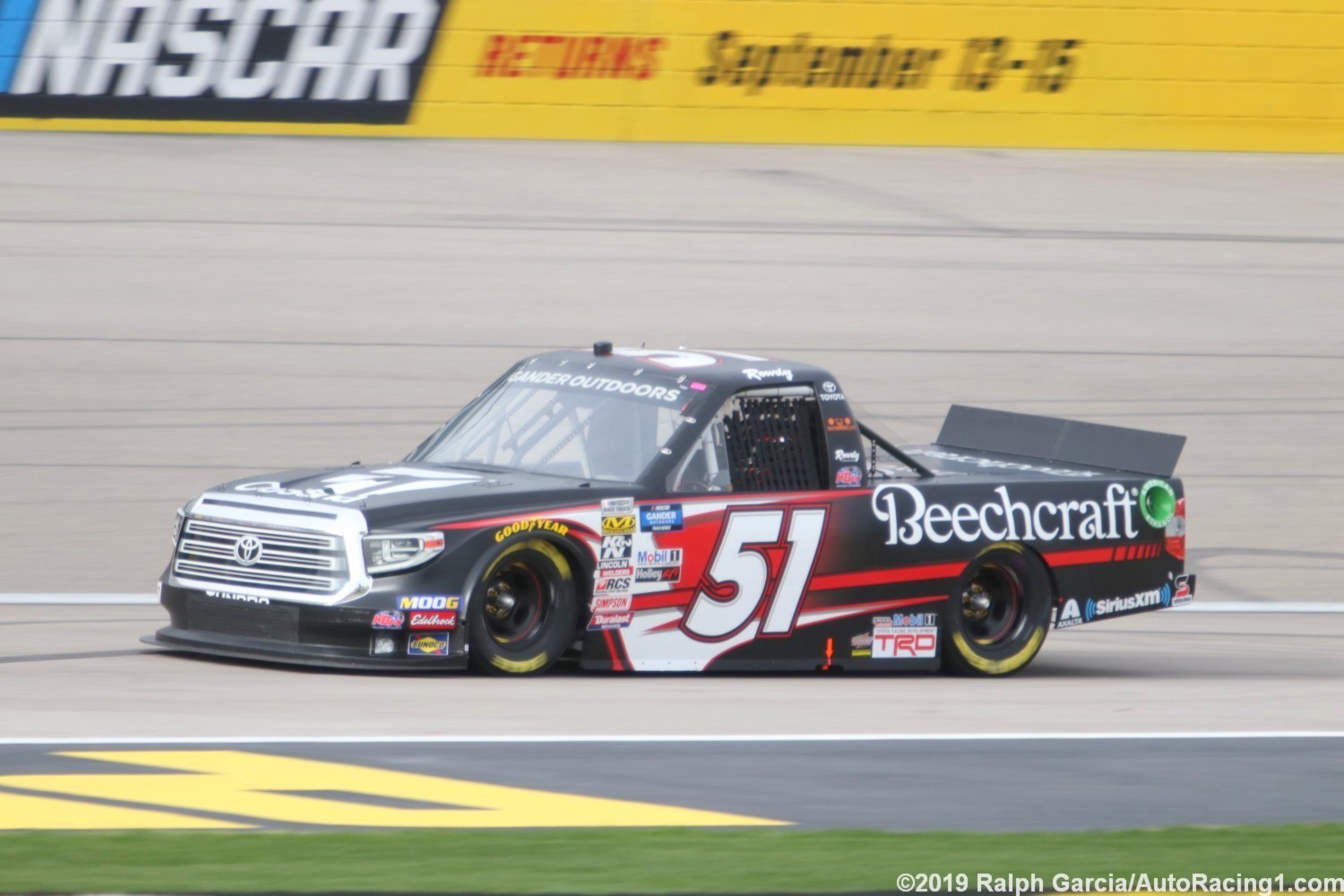 Kyle Busch
Ralph Garcia/AR1.com
Using his powerful Toyota motor, Kyle Busch roared to the pole for tonight's Stratosphere 200 NASCAR Gander Outdoors Truck Series race at Las Vegas Motor Speedway.
Busch earned his 22nd career Truck Series pole with a speed of 178.903 mph.
Brett Moffitt was second-fastest at 178.359 mph, followed by Harrison Burton (178.224 mph), Grant Enfinger (178.036 mph) and Cory Roper (177.895 mph).
Sixth through 12th were Austin Hill (177.731), Stewart Friesen (177.521), Brennan Poole (177.509), Sheldon Creed (177.433), Ryan Reed (177.293), Johnny Sauter (177.235) and Natalie Decker (176.794).
The race, scheduled for 134 laps/201 miles, kicks off tonight at 9 p.m. ET. It will be broadcast on Fox
Qualifying Results
| | | | | | |
| --- | --- | --- | --- | --- | --- |
| Pos | No. | Driver | Team | Time | Speed |
| 1 | 51 | Kyle Busch(i) | Cessna Toyota | 30.184 | 178.903 |
| 2 | 24 | Brett Moffitt | Allegiant Chevrolet | 30.276 | 178.359 |
| 3 | 18 | Harrison Burton # | Safelite AutoGlass Toyota | 30.299 | 178.224 |
| 4 | 98 | Grant Enfinger | Champion Power Equipment Ford | 30.331 | 178.036 |
| 5 | 04 | Cory Roper | Preferred Industrial Contractors Inc. Ford | 30.355 | 177.895 |
| 6 | 16 | Austin Hill | A&D Welding Toyota | 30.383 | 177.731 |
| 7 | 52 | Stewart Friesen | Halmar International Chevrolet | 30.419 | 177.521 |
| 8 | 30 | Brennan Poole | KeepandBear.com Toyota | 30.421 | 177.509 |
| 9 | 2 | Sheldon Creed # | A.M. Ortega/RTL Chevrolet | 30.434 | 177.433 |
| 10 | 17 | Ryan Reed | Dexcom Toyota | 30.458 | 177.293 |
| 11 | 13 | Johnny Sauter | Tenda Heal Ford | 30.468 | 177.235 |
| 12 | 54 | Natalie Decker # | N29 Technologies LLC Toyota | 30.544 | 176.794 |
| 13 | 4 | Todd Gilliland | Mobil 1 Toyota | 30.560 | 176.702 |
| 14 | 15 | Anthony Alfredo # | CecoBldngSystms/FrndsofJclyn Toyota | 30.591 | 176.523 |
| 15 | 88 | Matt Crafton | DampRid/Menards Ford | 30.595 | 176.499 |
| 16 | 45 | Ross Chastain(i) | TruNorth Chevrolet | 30.625 | 176.327 |
| 17 | 97 | Jesse Little | Parker FiberNet Ford | 30.652 | 176.171 |
| 18 | 44 | Timothy Peters | Friends of Jaclyn Foundation Chevrolet | 30.661 | 176.120 |
| 19 | 99 | Ben Rhodes | Carolina Nut Ford | 30.706 | 175.861 |
| 20 | 3 | Jordan Anderson | Lucas Oil/Knight Fire Protection Chevrolet | 30.709 | 175.844 |
| 21 | 02 | Tyler Dippel # | Danda Concrete/Lobas Productions Chevrolet | 30.817 | 175.228 |
| 22 | 8 | Angela Ruch | JJ Resources Chevrolet | 30.893 | 174.797 |
| 23 | 20 | Spencer Boyd | 1A Auto Chevrolet | 30.919 | 174.650 |
| 24 | 22 | Austin Wayne Self | GO TEXAN/JB Henderson Construction | 31.034 | 174.003 |
| 25 | 7 | Korbin Forrister | Strut Masters Toyota | 31.079 | 173.751 |
| 26 | 12 | Gus Dean # | Chevrolet | 31.577 | 171.011 |
| 27 | 1 | Stefan Parsons | Phoenix Construction Chevrolet | 31.720 | 170.240 |
| 28 | 34 | Jesse Iwuji | Fueltrax Chevrolet | Owner Points | – |
| 29 | 10 | Jennifer Jo Cobb | Waldo's Painting Chevrolet | Owner Points | – |
| 30 | 63 | Scott Stenzel | Chevrolet | Owner Points | – |
| 31 | 33 | Josh Reaume | Mr. Beast Chevrolet | Owner Points | – |
| 32 | 6 | Norm Benning | Zomongo/H&H Transport Chevrolet | 33.801 | 159.759 |
(i) Ineligible for driver points in this series
# Rookie
[adinserter name="GOOGLE AD"]