New IndyCar team aims to field car for RC Enerson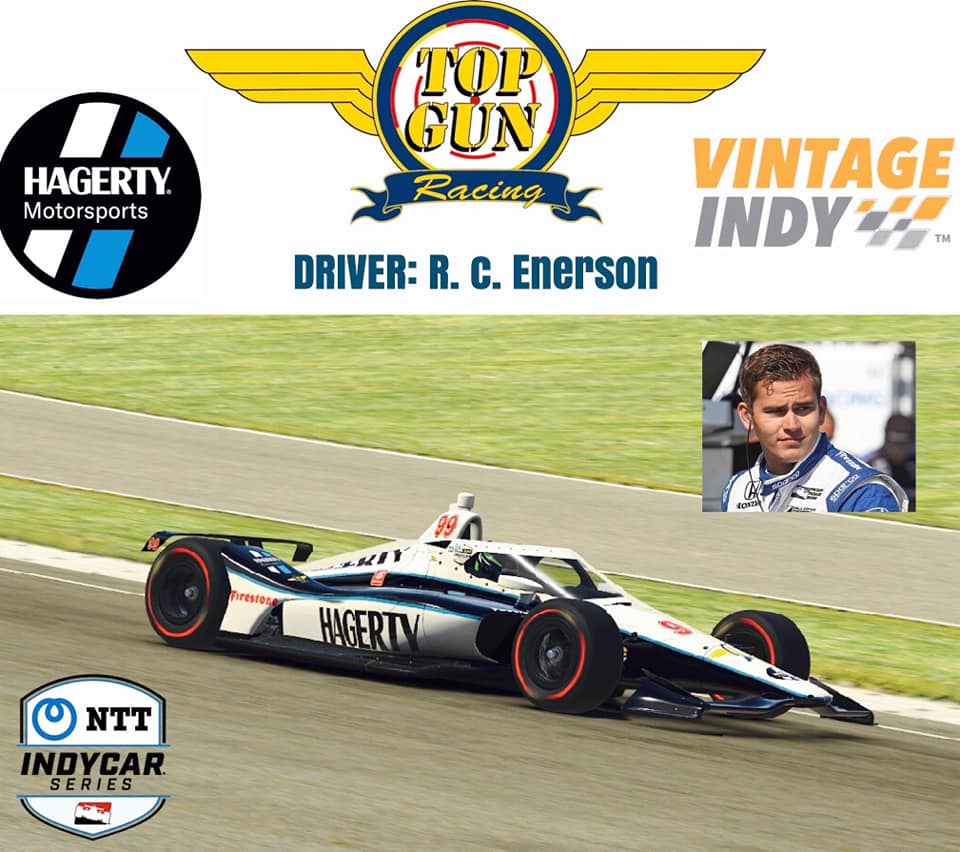 RC Enerson to be entered in Indy 500
Prospective INDYCAR team Top Gun Racing is proud to announce their participation in the upcoming INDYCAR iRacing Challenge to be held at the virtual Indianapolis Motor Speedway this Saturday, May 2 at 2:30 PM EDT on NBCSN. Top Gun Racing has enlisted INDYCAR driver RC Enerson to drive the virtual Top Gun Racing/Hagerty Insurance/Vintage Indy Dallara in the 70 lap, 175 mile race on an incredible facsimile of the famous 2.5 mile oval that is home to the Indianapolis 500 presented by Gainbridge. Full-time INDYCAR teams have guaranteed entries to the event which means Enerson and Top Gun Racing will have to qualify at a special qualifications event Wednesday, April 29.
Top Gun Racing was formed in 2019 by Gary Trout and Bill Throckmorton and is looking to become a force in INDYCAR. Gary Trout has been an INDYCAR owner in the past and is active in the vintage motorsports community. Bill Throckmorton is the owner and operator of Grant King Race Shops, famous builders of Indy cars and dirt cars for decades.
RC Enerson is a 23 year old racing driver from New Port Richey, Florida, the son of former IndyLights car owner Neil Enerson. He has driven Indy cars for Dale Coyne and Carlin Racing in 2016 and 2019, respectively.
Hagerty Vintage Motorsports Insurance has been insuring vintage racing cars and passenger cars for nearly 25 years. Please go to www.hagerty.com for more information.
Vintage Indy holds major events throughout the racing season featuring classic and antique Indianapolis championship cars. Please go to www.vintageindyregistry.com for more information.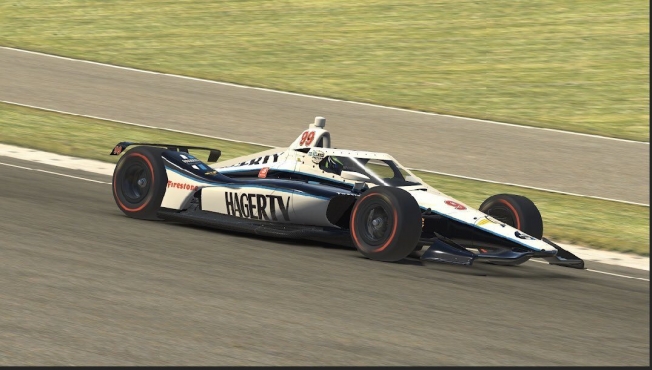 The team will have a go at Saturday's iRacing IndyCar race from Indianapolis
Gary Trout: "Incredibly excited to partner with Hagerty Insurance in the final INDYCAR iRacing event with our driver RC Enerson. Top Gun Racing continues to work diligently to enter the INDYCAR series beginning with the Indianapolis 500 this August. Until then we will be rolling out the virtual Top Gun Racing Haggerty Dallara for qualifications tomorrow."
Bill Throckmorton: "We are looking forward to qualifying and then racing at the computerized Indianapolis Motor Speedway, even a virtual race is a big deal. A lot of effort has gone into this and we'd like to thank everyone involved."
RC Enerson: "I am super excited to be a part of the INDYCAR iRacing Challenge at the Indianapolis Motor Speedway. Even though we have to qualify on Wednesday I have confidence we will get the Top Gun Racing #99 sponsored by Hagerty into the starting field."
Mark Briggs, Manager of Motorsports, Hagerty Insurance: "We are so pleased to be on the sidepods of the virtual Indy car RC will drive this weekend at the greatest race track in the world, and look forward to a very successful racing season."
Mike Lashmett, Vintage Indy: "We are very happy to be involved with Top Gun Racing and its plan to run the last race in the INDYCAR iRacing Challenge this weekend. Congrats to Gary and Bill for getting this together. Looking forward to following the team during qualifications tomorrow!"