How Lando Norris schooled the IndyCar drivers on iRacing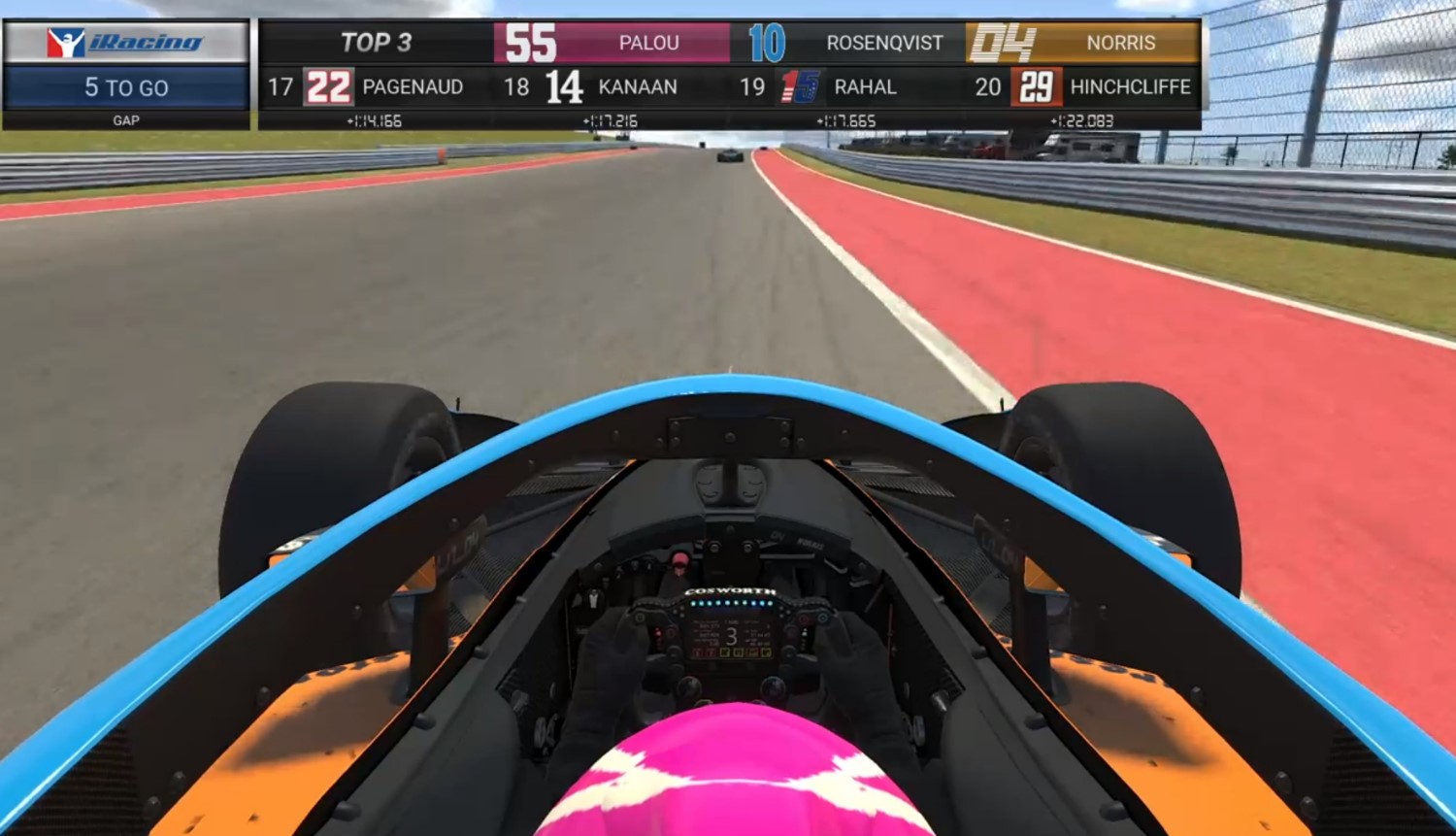 After spinning, Norris chases down Rosenqvist for the lead and eventual victory
In a post-race press conference Lando Norris has described how he used data from his real racing experience at Circuit of the Americas to school the IndyCar regulars during last weekend's IndyCar iRacing Challenge on virtual COTA.
For the race the McLaren driver was reunited with his 2019 F1 race engineer Andrew Jarvis, who had moved from the team's F1 division to its IndyCar program.
"I've probably never put so much time into testing and so on as I have for this race," said Norris.
"I have a lot of similarities between the actual racetrack and the sim. We were bringing up bits of data from last year when I drove COTA in F1.
"Some things I was doing exactly the same, sometimes in a good way or bad way, as what I was doing in the race today or in the qualifying or practice. That part of it and really working with the engineers, looking at the data between me and Pato, me and Ollie, me and Robby, I wasn't quicker everywhere, there were a lot of places Pato and the others were doing better.
"I still improved a lot on my time from looking at them and working together as a team, not just joining as a single driver. It kind of was a bit more serious."
Norris said he liked how IndyCar has administered its virtual championship.
"Having fixed setups for everyone is good," he said. "Everyone is on a similar playing field. It also means there's less work to do from that side of things, I think that's really good.
"I'm happy that is how the championship is set because there's unlimited time you can spend on creating set-ups, making them for ideal conditions in the race and quallies. There is no testing limit, unlike real life. That's different. It also makes the racing and entertainment a lot better from the outside watching in.
"But still a lot of things you can do, from the strategy, the communication. I kept asking my engineers or Jarv how many push-to-passes Pato had on the last couple of laps. I think with two laps to go he had four and I had one, so I was getting a bit worried. It's things like that, not just driving alone, but looking at the data, really working through things.
"It wouldn't have been as good if I was doing this with someone I didn't know. It wouldn't have been bad, but knowing the guy and knowing Jarv really well, him being my actual engineer for the last year, a lot of testing I did in Formula 1, that was crucial. It really helped. He knew how I wanted to drive the car, how I do drive the car, my weaknesses and my strengths, so on.
"I think 100% it helped. If there was more to do, if we did have to work on the set-up, then it would be even tougher, and more of an advantage to work with a guy I knew."