FOX NASCAR iRacing Sunday From Virtual Talladega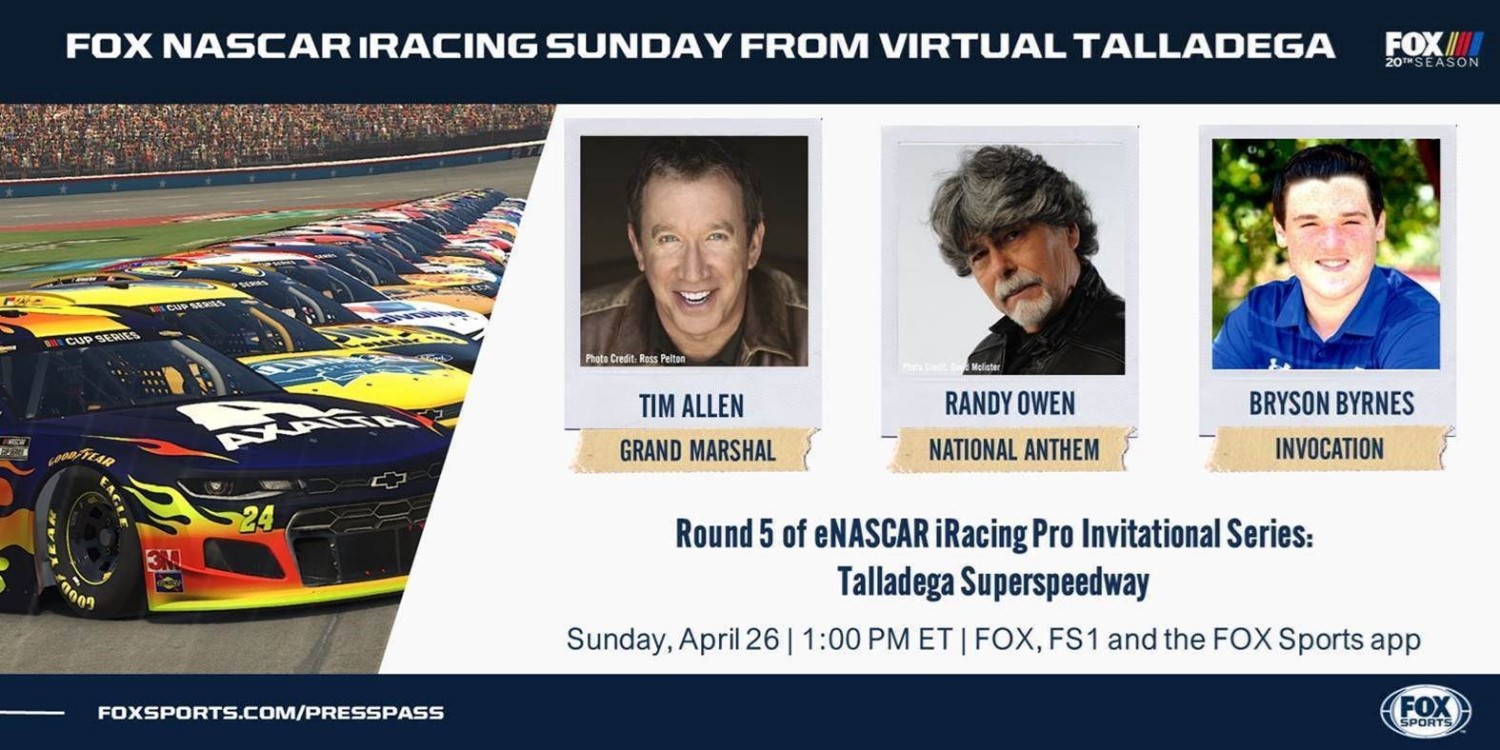 Fox will again deliver be TV ratings for NASCAR
Randy Owen, Tim Allen and Bryson Byrnes serve as prerace dignitaries for Sunday's FOX NASCAR iRACING event from virtual Talladega Superspeedway via video from their respective homes.
Owen, lead vocalist of iconic country music band ALABAMA, performs the national anthem Sunday, April 26, prior to the start of the eNASCAR iRACING Pro Invitational Series race (1:00 PM ET on FOX*, FS1 and the FOX Sports app). Owen and his bandmates, Teddy Gentry and Jeff Cook, have notched 43 #1 hits (including a record-setting 21 consecutive No. 1 singles in a row), sold more than 80 million albums and are immortalized in the Country Music Hall of Fame, the Musicians Hall of Fame and on the Hollywood Walk of Fame. The trio, credited with helping take country music mainstream, has earned more than 200 awards, including ACM's Entertainer of the Year and CMA's Entertainers of the Year in three consecutive years.
Allen, an award-winning actor and comedian currently starring on LAST MAN STANDING on FOX, gives the command to start engines. Allen rose to prominence as a stand-up comedian in the 1980s before starring as Tim "The Tool Man" Taylor on the beloved hit ABC sitcom "Home Improvement." In 2019, he reprised his role as the iconic Buzz Lightyear in Disney's Oscar-winning "Toy Story 4." On the big screen, his credits include starring roles in "The Santa Clause" films, the "Toy Story" films, "Galaxy Quest" and "Wild Hogs," among many others.
Byrnes, the 17-year-old son of the late FOX NASCAR broadcaster Steve Byrnes and an aspiring broadcaster himself, offers the invocation from his home prior to the start of the race.