Enerson to drive 3rd Carlin IndyCar entry in 2019 (3rd Update)
RC Enerson
UPDATE
We have learned that it was RC Enerson who tested for Carlin at COTA Monday for a possible third full-time seat in 2019.
If you recall, when Enerson ran a few races for Dale Coyne Racing he was very impressive.
We have updated our 2019 IndyCar Silly Season page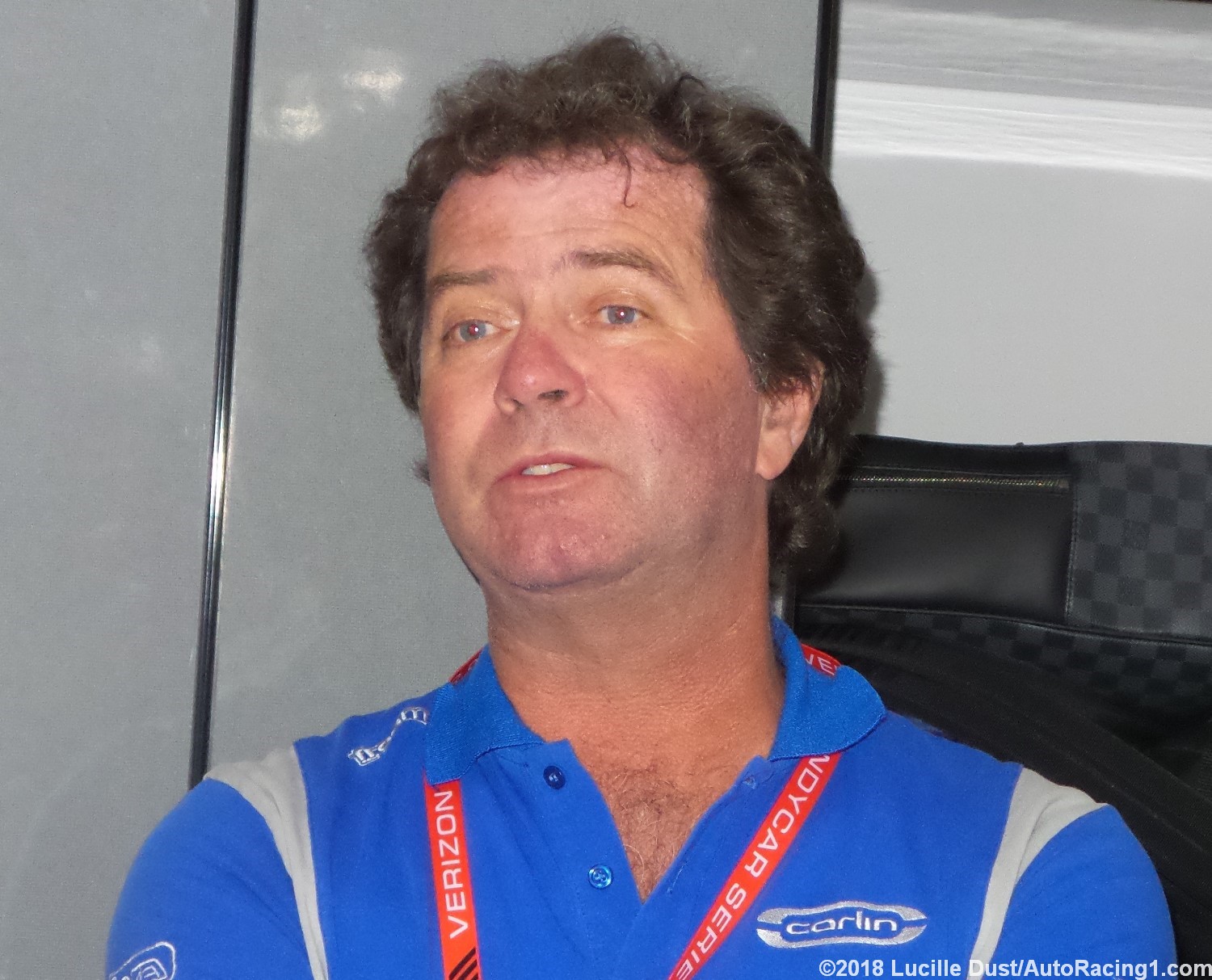 Trevor Carlin
10/30/18 While Trevor Carlin would not reveal who was testing his car Monday at COTA, he did confirm to Motorsport.com that it was for a prospective full-time third entry, and that Charlie Kimball's contract for returning to the squad alongside Max Chilton is "all but done."
We have updated our 2019 IndyCar Silly Season page
09/20/18 Adding to our report below about Carlin running a 3-car IndyCar team in 2019, "We're having a lot of drivers speak to us about joining. It looks like there'll be a lot of demand for a third car, so we're gearing up accordingly," Carlin told Autosport.
"At this stage, I don't know who might be driving it, but we're getting ready to accommodate for that demand for a full-season car and I'd definitely hope by the end of October we'll know who it is.
"Max [Chilton] and Charlie [Kimball] are staying on, or that's the plan at least. We're just in that contract stage of getting everything buttoned up.
"I've asked Chevrolet about an extra engine lease and they say there's no reason why they couldn't cover us for a third car."
Carlin said he would be interested in hiring 2016 Indy Lights champion Ed Jones, who been the subject of speculation that he will replaced at Chip Ganassi Racing by Felix Rosenqvist.
But he also added that the third IndyCar seat might be split between two drivers – for ovals and road courses.
"Yeah, that's definitely an option," he said.
"I've seen how the American model works and although it means the drivers of that third entry aren't fighting for championships, it still helps the team as a whole to have that extra data at each race. You learn faster."
To encourage new Indy Lights entries, IndyCar and [Road to Indy promoter] Andersen Promotions has increased its prize fund and theoretically lowered costs for 2019.
Carlin says these moves were not the prime enticement for returning his squad to the IndyCar feed series, but explained that they did help.
"It doesn't make a huge difference," he said. "But they're moves in the right direction and I think we can save a little bit of money.
"We came over to the States four years ago and in that period of time we have become an IndyCar team thanks to Indy Lights and Ed, Max, Matheus Leist and Zachary Claman De Melo have become IndyCar drivers thanks to our efforts in Indy Lights.
"So I think the Lights series deserves our support to help feed the next generation of drivers. You look at Pato [O'Ward] and Colton [Herta] and what they did in Lights, and Michael Andretti has prepared them and they've stepped up to IndyCar.
"I almost think it's our duty to rejoin Indy Lights and start nurturing young drivers for the future.
"We need less than a week's worth of work to get our Lights cars running with the small spec updates that have been brought in since we were last in the series."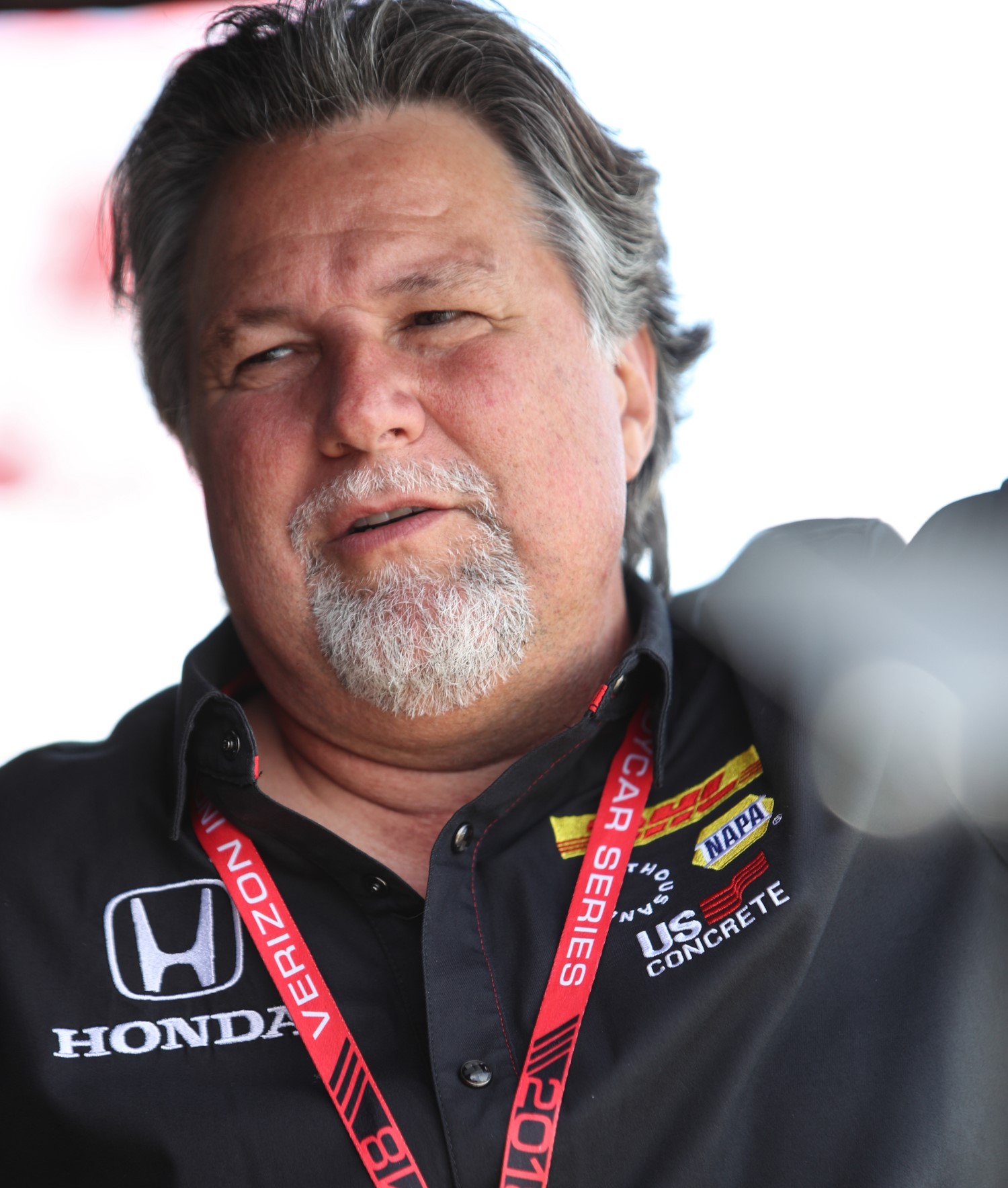 Michael Andretti
09/15/18 Despite the championship being on the line between Scott Dixon and Alexander Rossi, the big talk in the paddock continues to be how Michael Andretti is going to field a car for McLaren and Fernando Alonso given the later two's relationship with Honda.
Some writer started the rumor that Andretti would have both a Honda team and a Chevy team with Harding for McLaren. As we have stated on these pages numerous times, Michael told our Mark C. that was not true, and he confirmed that again today on the Advance Auto Parts INDYCAR Radio Network after Saturday's practice session.
The Honda team owner denied, just like he did with us since Pocono, that he is seeking to become a partner in the Chevrolet team, which could cause conflict of interest issues.
Andretti is helping Harding Racing this weekend at Sonoma Raceway because his two Indy Lights drivers – champion Patricio O'Ward and Colton Herta – are making their IndyCar Series debuts and Andretti has given Harding Racing some of their dampers. They worked – did you see how fast Patricio O'Ward was in his debut?
"No, it's funny to hear the rumors out there about all the things that are going on," Andretti said on INDYCAR Radio. "We have no ownership. We are helping out a little bit. It has given the illusion that is going that way, but it's not."
"Harding is their own team and they are doing their own thing. We are helping out a little bit, but it's not what everybody is speculating."
When asked about Alonso for next year, Andretti said, "I think he is going to run for us in some way or another but I don't know if it will be a full season or not," Andretti said. "He is still trying to decide. His schedule next year is pretty crazy. We are hoping that he is going to give us an indication here soon, but I don't know.
"I hope so. It's not a definite but I'm hoping it will go that way."
Andretti confirmed Alonso will run in IndyCar with him in 2019 in some form or another
So how will Andretti get around this conundrum? Simple. Since losing the Ganassi team to Honda, we hear Chevy may help to pay Andretti to break his Honda contract and get Andretti's four cars plus the two cars for Andretti/McLaren – six cars in total. If Chevy pulls off that coup Honda will be licking their wounds over losing their best team for a very long time.
"The IndyCar Series continues to deliver some of the best on-track competition in motorsports today," Chevrolet's director of motorsports competition Mark
Kent told Motorsport.com. "The depth of driver talent continues to increase every season. The addition of Formula 1 champion Fernando Alonso to the IndyCar driver roster is an exciting possibility for the Series.
"Chevrolet currently has a tremendous line-up of race and championship-winning teams and drivers in the Verizon IndyCar Series. We previously enjoyed success with Andretti Autosport, including winning the driver's championship with them and Hunter-Reay in 2012. Therefore, if the opportunity presented itself, we would certainly be open to discussions with Andretti Autosport regarding them again partnering with Chevrolet."
We told you this silly season was going to be one for the ages.
In other rumblings around the paddock, Trevor Carlin graciously invited the media to have lunch with him at the Carlin hospitality suite up between turns two and three. After a bit of food, Carlin talked about his first season in INDYCAR and future plans for his team.
"Our cars have finished every race this season. Mechanically and reliability wise, it has been 100%. Hats off to Dallara and Chevy, they have done a good job with the package. They have made it easy for us."
"I think in the long term, we would look at sports car as the next step. I think that is the logical thing to do. Not NASCAR, I think that is a bit too specialized. And they won't take too kindly to an extreme British guy showing up."
Carlin talked about his IndyCar plans for next year. "We have been playing catch up all year because of timing of the second car we received in St. Pete. So now we can prepare for next year. We have a good bunch of guys that were pretty tired in the middle of the year."
"I would like to add a third car. For the whole season not just for the Indy 500. I am putting this out there so drivers for this ride will come to me." So there you have, Carlin could be a three-car team next year.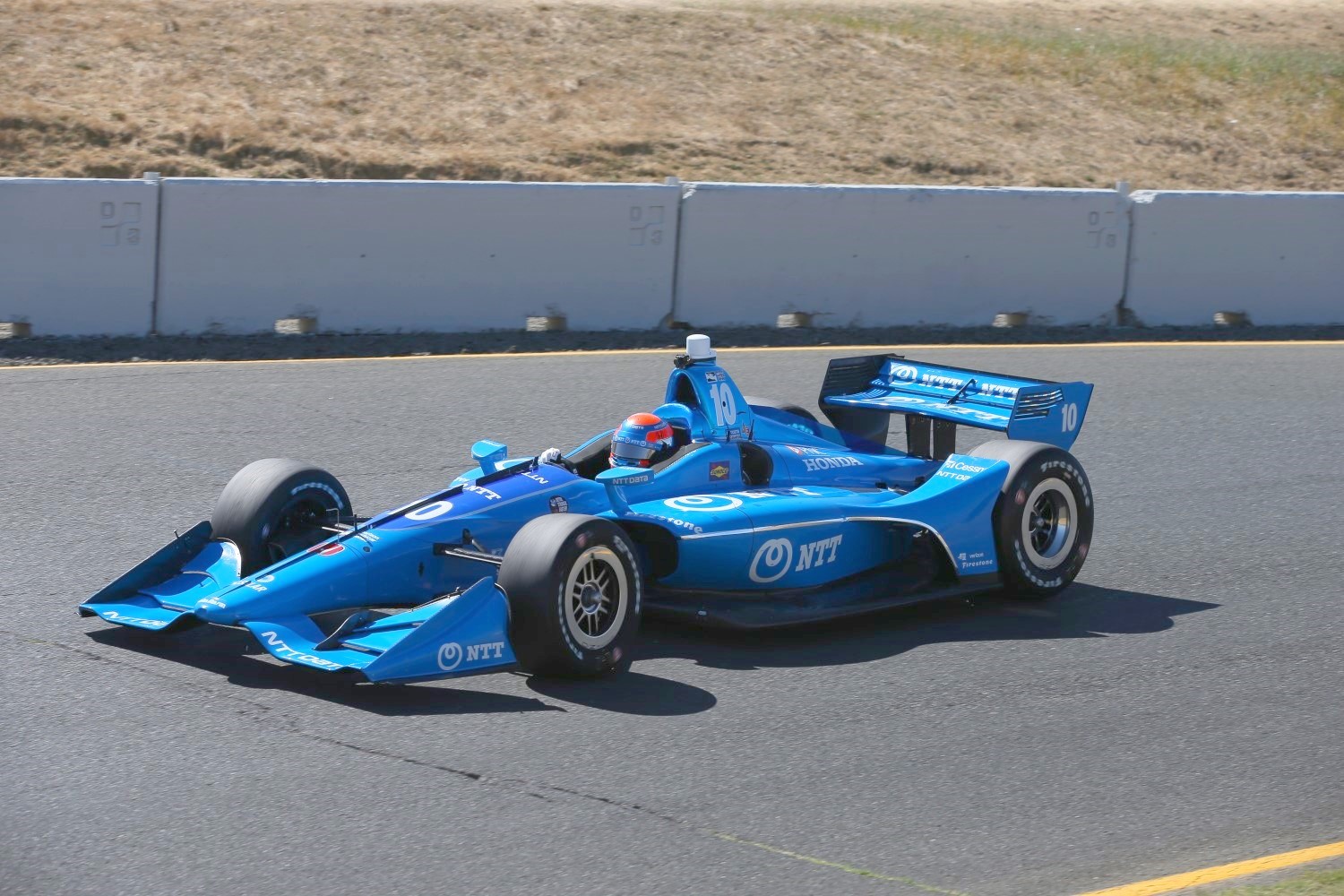 Ed Jones is back in the frame at Ganassi
Lucille also talked with Chip Ganassi about Ed Jones, driver of his Number 10 car and it seems the reports that Ed Jones was going to be replaced by Felix Rosenqvist were wide of the mark.
Once Felix saw how dangerous IndyCars are and what happened to Robert Wickens at Pocono (how many drivers have been done in by the catch-fence poles for the last three decades and still IndyCar has done nothing) we hear he got cold feet.
So now it would appear Ed Jones is back in the picture.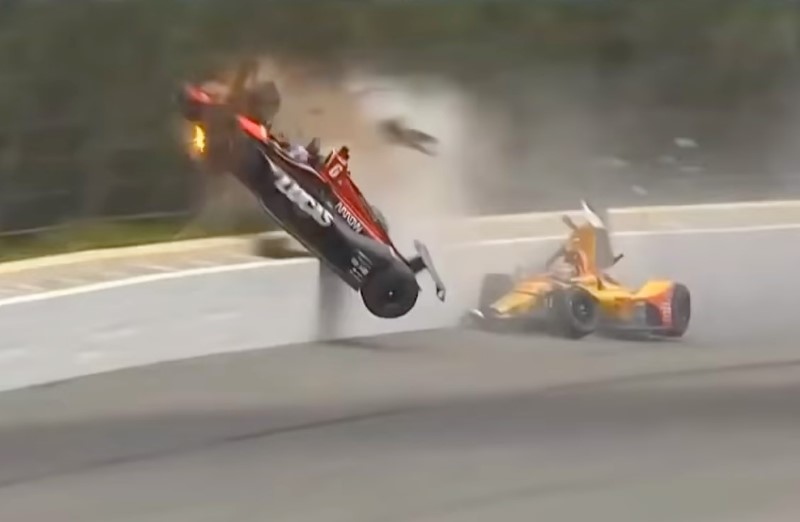 Wickens' car slices thru the fence wire like butter, hits one of the big steel fence poles, and suffers massive injuries to his body, narrowly escaping death – This is fixable. A countless number of drivers have met the same fate, but still nothing gets done.
"I think Ed did great this season," Ganassi told AR1.com. "We just had some bad luck. We are talking with him now about next season."
Mike Silver picked up that Sage Karam tweeted last night he is on his way to Sonoma to take care of some business this weekend.
NASCAR driver Kasey Kahne may quit NASCAR, but the former open wheel driver was hanging out with Ed Carpenter during the morning practice. Possible Indy 500 ride?
Our Mike Silver spoke with George Steinbrenner IV. He said "an announcement on Tuesday is just one of the rumors.
"Right now were focused this weekend making sure Colton has a good safe weekend and go from there. We still have some conversations going forward. We hope to have an announcement soon."
We spoke with Jim Ayello from the IndyStar and he said that Yankee field has been reserved this coming Tuesday for the announcement.
We ran into Kevin Kalkhoven this weekend in Sonoma. He is looking great as he was hanging around pit lane. Did he have any manufacturer discussions? Cosworth is still willing and able to have their engine badged by someone.
We have updated our 2019 IndyCar Silly Season page with today's rumors
Mark C., Lucille Dust and Mike Silver reporting
Felix Rosenqvist is not going to get in this situation because IndyCar has not addressed the catch-fences. Our proposal of laminated Plexiglas or polycarbonate lining the inside of the fences in the corners and just after exit solves this safety issue. Fix it IndyCar.