Hartley in over his head, will be axed (4th Update)
Lando Norris will not be replacing Hartley, another ride-buyer will be – Alexander Albon
UPDATE This rumor is upgraded to 'fact' based on the rumor above.
06/06/18 McLaren is rumored to have declined an offer from Toro Rosso which would have seen Lando Norris replace Brendan Hartley from next month's Austrian Grand Prix!
Hailed as Britain's next great F1 star, Norris is currently racing with Carlin in F2 but contracted to McLaren as its reserve driver.
Hartley's struggles to perform in F1 since his surprise promotion to Toro Rosso in the latter part of last year have led to speculation about the Kiwi's short term future.
The 28-year-old former Porsche works driver and Le Mans winner claimed to be baffled by the exit rumors despite their persistence.
Toro Rosso's alleged plan was to slot in the on-loan Norris into Hartley's seat and hopefully extend the deal with McLaren into next season.
With Fernando Alonso's chances of remaining in F1 appearing to dwindle, and Stoffel Vandoorne's future with the Woking-based outfit also uncertain, Norris appears to be well-placed for a logical promotion to the big time in 2019, especially in light of McLaren's rejection of Toro Rosso's offer.
If anything however, the rumors also point to increasing pressure on Hartley, who could become the next dispensable driver victim of the ruthless Mr. Marko.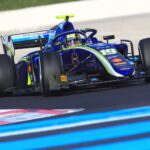 F2 driver Lando Norris
06/04/18 Red Bull Racing are reportedly courting McLaren star Lando Norris as a potential replacement for Brendon Hartley, who, according to various sources is at risk of losing his Toro Rosso seat.
Hartley and team-mate Pierre Gasly joined STR late last season after the outfit axed Daniil Kvyat, whilst Carlos Sainz was loaned to Renault at short notice following Toro Rosso's switch to Honda engines.
The team, which is owned by Red Bull, has a history of changing its driver line-up if it believes one of its juniors is underperforming and Hartley, who has scored just one point to Pierre Gasly's 18, is under pressure to lift his results.
Rumours in Spain suggested former Sauber driver and Mercedes junior Pascal Wehrlein could be in line to replace Hartley, but those claims were dismissed by Hartley himself who insisted he holds a valid contract.
"I was surprised to hear that [rumour]. I have a contract. There's always a lot of rumours in Formula 1, so as a driver, it's better not to read too much."
But what of Red Bull's own stable of young drivers? Dan Ticktum is the most senior but given he's in his maiden season of the FIA European Formula 3 Championship, it's not thought he'll be ready for the jump to F1 until at least 2020, which is the same story for Nirei Fukuzumi.
Therefore Red Bull must look elsewhere and fresh speculation has now linked Formula 2 championship leader Norris with the seat, although this might not initially make sense given the British driver is contracted to McLaren.
But with Fernando Alonso on the verge of quitting F1 to focus on a potential IndyCar entry with McLaren next season as he attempts to secure motorsports unofficial 'Triple Crown' – and even if he doesn't, Stoffel Vandoorne could lose his seat given he's scored just eight points to Alonso's 32 and doesn't have a contract after 2018 – McLaren will likely be in need of a driver for 2019.
By agreeing to loan the highly-rated Norris to Red Bull for the remainder of the current season, it provides Toro Rosso with a potential boost in their battle over sixth in the standings with Haas on the same number of points and Force India just seven ahead, whilst McLaren receives an experienced and race-ready Norris for the 2019 season.
Red Bull will likely give Hartley a couple more races to prove himself, but if we've learned anything from Toro Rosso's driver line-up over the past few seasons, it's unlikely to remain unchanged if a driver underperforms.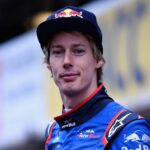 Hartley's performance puts him in danger of getting the ax
05/21/18 Toro Rosso wants to run a Japanese driver in Formula 1 "sooner or later" as part of its alliance with Honda.
The Red Bull junior team currently fields Pierre Gasly and Brendon Hartley, both of whom have long-standing links with the energy drinks company.
Honda backs its own drivers in feeder categories, with Nirei Fukuzumi and Tadasuke Makino currently racing in Formula 2.
Fukuzumi finished third in GP3 last season and has been made a Red Bull athlete, though not a formal member of its junior team, making him the logical choice if he can secure a superlicense.
Asked if Fukuzumi was a driver option for next season, Toro Rosso team boss Franz Tost replied: "Of course, there is the Honda link. And what we want is to have sooner or later a Japanese driver.
"Here, it is in his hands. He must show a good performance and then we will see."
Fukuzumi's GP3 result earned him 15 superlicense points, which means the 21-year-old needs to finish in the top four in F2 to meet the requirements for a race seat.
He has so far scored just one point in the opening six races and lies 18th in the championship.
That is one place and three points behind Makino, with whom Fukuzumi crashed in the previous race in Spain.
The option of fielding a Honda driver at Toro Rosso formed part of the early discussions the Japanese manufacturer has had with Red Bull over supplying the senior team with engines in 2019.
Honda motorsport boss Masashi Yamamoto told Autosport: "It is very important for Honda to make Formula 1, and motorsport, more popular once again in Japan.
"In that sense it's really important to have an F1 driver.
"The F2 drivers are fighting for the championship, they have to get the superlicense.
"For sure, adding a team gives us a better opportunity to put a driver at other teams." Autosport
05/19/18 Brandon Hartley was a sportscar driver for a reason. He was never fast enough for F1. The number of crashes and damages that Brendon Hartley has caused in the last five races has left Toro Rosso with a big headache. What to do with him?
Formula 1 has not been good to the New Zealander. His single point earned in Azerbaijan is the only piece of solace for the team. His early crash at Barcelona and its repercussions are weighing heavily on the Faenza outfit. The crash in the Saturday free practice destroyed the car almost completely.
Except for some parts of the bodywork, everything else was lost in that crash. The outfit had to set him up with an almost brand new car that included a completely new hybrid engine package – internal combustion engine, MGU-H, MGU-K, turbocharger, control electronics and energy store – and a new gearbox.
Armed with everything new, the Kiwi started at the back of the grid and finished 12th in the race. In other words, an expensive race with no returns. Sources in the paddock say there is a lot of discontent with the New Zealander's lack of performance. But at the moment, Red Bull doesn't have an extra driver who can take Hartley's place, which of course is BS, what they really mean is they do not have one who can write a big enough check.
This has led to the rumor that the Milton Keynes outfit is looking beyond their own academy for an F1 driver. Pascal Wehrlein's name has been mentioned a couple of times as a possible replacement for the Kiwi but Wehrlein never showed he had what it takes in F1 to be a future star.
The question now is when Hartley will get the ax.