Wickens to race IndyCar again?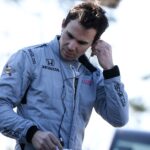 Robert Wickens
By now, you've probably heard today's announcement from IndyCar driver Robert Wickens that he is paralyzed from the waist down following a horrific crash at Pocono Raceway in August. AR1 is already hearing that consideration is being given to Wickens competing in IndyCar as a paraplegic.
Of course, the technology for hand-driven cars exists, as we have seen with Alex Zanardi, Sam Schmidt and Michael Johnson in the Mazda Road to Indy. Furthermore, Schmidt Peterson Motorsports sponsor Arrow would likely have some interest in such a project.
Putting aside, the competitive disparity that would have to be addressed for a moment, our initial reaction is that this idea would need to be thoroughly vetted before being put into place. What would the protocols be for a paralyzed driver in an accident? Is the DW12 which already requires drivers hands to be very on pit exit be adaptable and safe for a driver whose hands require a greater commitment? And would a chassis with hand controls specially-made for a paraplegic be thoroughly crash-tested as it would for other driver?
Look, we wish Robert Wickens all the best, and do hope that he can race again either by making a full recovery or a technological development that would allow a paraplegic to race. However, we do caution that there are a lot of questions that would need to be addressed before a paralyzed Wickens races an Indy car at speed.
Brian C. reporting for AutoRacing1