Haas to fire Ferrucci (Update)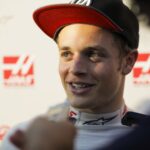 Santino Ferrucci will be given an ultimatum – IndyCar or F1, but not both
UPDATE Haas Formula 1 chief Gunther Steiner says Ferrucci cannot do IndyCar and also be the Haas team bench warmer.
"I think Santino is trying to go IndyCar racing, and if he goes IndyCar racing, I don't think there is a lot of sense to keep him on as a development driver," Steiner said.
"I think then he has picked his career path. But we haven't discussed it internally, so we don't know what we are doing."
Anti-American Steiner will likely take great pleasure in sacking American Ferrucci so he can bring another of his beloved foreign drivers onboard
07/19/18 Haas say Santino Ferrucci will be dealt with when the team breaks for the mid-season pause in Formula 1 after the American driver was sacked by F2 team Trident on Wednesday. Team boss Guenther Steiner says the German and Hungarian Grands Prix will take precedence over the disgraced junior driver.
Ferrucci ran Trident teammate Arjun Maini – also a Haas junior driver – off the road at the Sunday sprint race at Silverstone earlier this month, the pair having collided in Saturday's feature race too.
After the second race, Ferrucci bizarrely smashed into the right-rear of his teammate's car.
He boasted about the incident on Twitter after the race, but later claimed it had been an accident and deleted his posts.
It was not the end of Ferrucci's discretions that weekend, however. He was also fined after being caught driving from the support paddock to race pitlane wearing just one glove and holding a mobile phone in his ungloved hand and refused to attend any stewards meetings over the numerous incidents.
The American was banned for four races and fined $75,000, but the suspension may prove immaterial as he was sacked by Trident, who also accused him of failing to keep up with payments to the team.
Despite the furore, Steiner is putting the matter on the backburner until after trips to Hockenheim and Budapest.
In a statement, Steiner said: "Haas F1 Team remains committed to gathering all of the facts and having in-person conversations with all the individuals involved in the situation.
"We are being diligent, but our priority is the last two races before the summer shutdown.
"While we want a better understanding of everything that took place, we aren't in a hurry because the German and Hungarian Grands Prix are, quite frankly, more important."