NASCAR schedule changes for 2020 season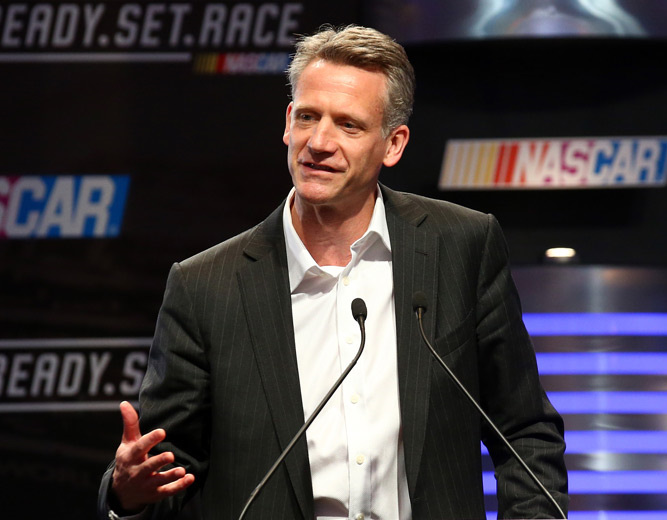 Steve Phelps
According to the new president of NASCAR, Steve Phelps, he wants to hear from fans on the type of races they want to see so they can be incorporated into the 2020 schedule.
Phelps recently sat down for a wide-ranging interview with the Charlotte Observer, where he weighed in on topics like team ownership, declining attendance figures and upcoming changes in series sponsorship. However, his most interesting comments came right after the first question, when he was asked about both the priority and practicality of having new venues host Cup Series races.
His answer was that NASCAR is looking at everything that you and your friends have probably kicked around, and he dropped some no so subtle hints that some changes are definitely coming in two years.
"So with respect to any changes that we would make to the schedule moving forward, whether they're new venues, doubleheaders, midweek racing — all these things that are being thrown around at this particular point — we're looking at everything.
"For us, we will look at 2020 and look at the schedule and figure out the best opportunity for us to put on the best racing. … There are changes that I think will happen to the 2020 schedule that again, there will be input from a lot of different folks.
"One of those important groups will be our fans. What do they like? What don't they like? That can inform decisions as well."
He also touched on some other key topics such as Brian France.
"I can't look into the future and see what that's going to look like. Brian is doing what he needs to do at this particular point. We're focused on what we need to do at this point."
And what about reports NASCAR was for sale?
"What I will say is that, if you've been at a racetrack you've seen Jim France there," said Phelps. "From the moment that he was announced as the Chairman and CEO of NASCAR replacing Brian, he has been at the racetrack, and he's at the racetrack three and four days every single week.
"Jim France, Lesa France Kennedy are committed to this sport, and they will continue to have their hand on this sport for a long, long time."