Giovinazzi to get second Sauber seat (5th Update)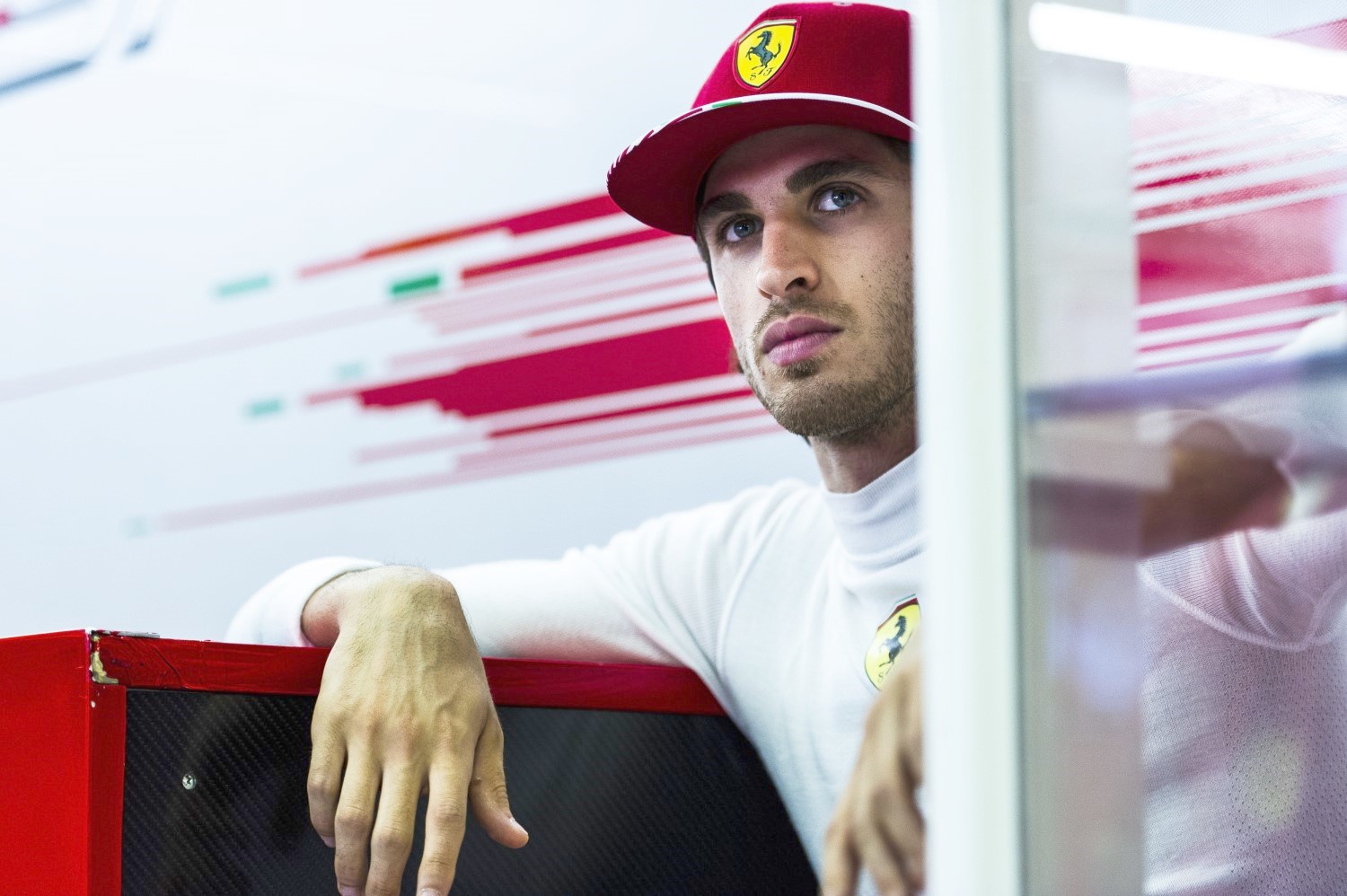 Antonio Giovinazzi to replace backmarker Ericsson
UPDATE This rumor is upgraded to 'fact' with today's announcement. We have updated out 2019 F1 Silly Season page accordingly.
09/25/18 Latest Silly Season speculation puts Antonio Giovinazzi as the front-runner for a full-time race seat with Sauber next year, with the Ferrari backed driver scheduled for FP1 duty with the Swiss team on day one of the Russian Grand Prix this Friday.
Reports in Italy claim that Giovinazzi is set to be announced as the Sauber's second seat alongside veteran Kimi Raikkonen in the team, the Swiss team simply waiting on confirmation that Giovinazzi will replace Ferrari bound Charles Leclerc.
Since finishing second in the 2016 GP2 Series Championship, Giovinazzi has been on the sidelines of Formula 1 as Sauber and Ferrari reserve driver. He made two grand prix starts for Sauber in place of injured Pascal Wehrlein last year.
Earlier this month, Sauber scored a coup when they managed to secure the services of Kimi Raikkonen for the next two years after Ferrari decided to promote young Leclerc to replace the Finn.
Should Giovinazzi get the nod from his minders and get the Sauber seat next year, the team's current driver Marcus Ericsson will be out of a job.
Ferrari have a deal with Sauber whereby they have first option for one seat with the Hinwill outfit and with Leclerc heading to Maranello, it is now up to the Reds to decide who they place in the team.
In Sochi on Friday morning, Giovinazzi will not be the only guest driver on duty as Artem Markelov will be in a Renault cockpit, Lando Norris in action for McLaren and Nicholas Latifi set for a Force India run.
09/16/18 Another piece of the 2019 driver puzzle set to fall into place in the coming days involves Antonio Giovinazzi.
With his Ferrari backing, the Italian is said to have agreed a deal to replace Charles Leclerc at Sauber next year.
"I think you will see about the future of Giovinazzi in the next few weeks," said Ferrari boss Maurizio Arrivabene in Singapore.
His teammate will be Kimi Raikkonen, whose decision to join Sauber after being dropped by Ferrari surprised many in the F1 paddock.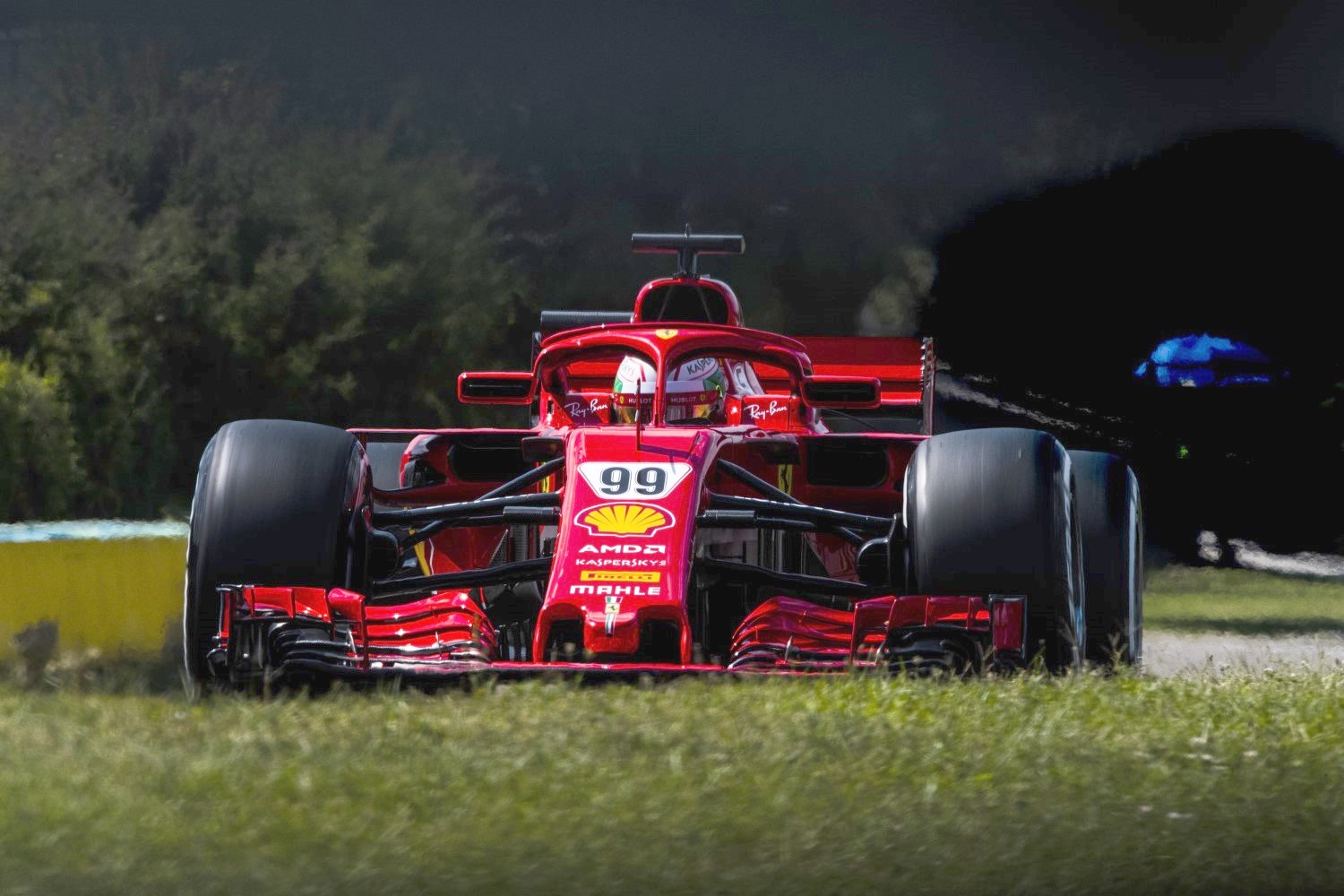 Testing for Ferrari recently in Hungary. He is a Ferrari junior driver and Ferrari makes Sauber's Alfa Romeo engines
09/13/18 (GMM) Antonio Giovinazzi has emerged on pole position to be Kimi Raikkonen's teammate at Sauber next year.
Currently, the Ferrari-bound Charles Leclerc's teammate at the Swiss team is Marcus Ericsson, a driver with strong backing and links to Sauber's owners.
"It's no secret that I want to stay in Sauber, but I know the coming races will be very important for me," said the Swede.
Multiple authoritative media sources say Italian Giovinazzi, the next best Ferrari junior in the Maranello team's development academy, will get the drive.
"Giovinazzi is a really good driver and a big talent," racing driver Toni Vilander, a Finnish F1 pundit, is quoted by Finland's Ilta Sanomat.
"Let's see how much Ericsson's dollars weigh or whether it will be Alfa Romeo taking more of the decision making power.
"It would be great if Giovinazzi's talent was to win over the other things," he said.
Meanwhile, another Finnish pundit, former F1 driver Mika Salo, thinks Monaco-born Charles Leclerc could push Sebastian Vettel at Ferrari next year.
"If you look at Charles' career, he always controlled the situation," he told MTV.
"I do not expect him to struggle at Ferrari. I would not even be surprised if he was ahead of Sebastian," Salo added.
We have updated our 2019 F1 Silly Season Page
09/02/18 The possibility of another of Ferrari development driver, Antonio Giovinazzi, joining Toro Rosso is also understood to be of interest to Red Bull.
We have added Giovinazzi to our 2019 F1 Silly Season Page
07/22/18 (GMM) Antonio Giovinazzi has emerged as the big favorite to drive for Sauber in 2019.
The rumor stepped up a notch at Hockenheim, where he drove for the Swiss team in Friday practice.
The Italian is a member of Ferrari's driver academy. This year, Ferrari's Charles Leclerc is at Sauber, but he is linked with a move to Ferrari for 2019.
"We will discuss the issue with Ferrari and then make a decision," said Sauber boss Frederic Vasseur at Hockenheim.
"It's important for Alfa Romeo that we achieve good results with two drivers who are best suited for our future."
Giovinazzi, 24, said at Hockenheim: "It was nice to finally be back in the car, but everything felt normal.
"I know the team well now, since I did my first two races with them in 2017. Since then, Sauber has grown as a team so it would be silly to say I don't want to race in formula one with them in 2019," he added.
When asked about Giovinazzi's comments, Vasseur said: "It's nice that Antonio wants to drive for us. It's something to be proud of.
"He will work with us in several practice sessions and I can get to know him better and find a common language. Last year, we did the same with Charles," he added.