Bayne to get the ax at Roush Fenway Racing (Update)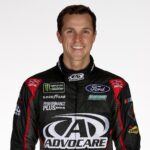 No money to buy his ride after 2018?
UPDATE This rumor from back in May is upgraded to 'fact' today. Jack Roush confirmed on SiriusXM NASCAR Radio on Thursday night that Trevor Bayne will not return to the No. 6 in 2019.
"We're … in negotiations with drivers right now that would drive the 6 car next year," Roush told Claire B Lang.
"I think the decision has been made – and I don't want to be breaking the story here, but … it's been announced that Trevor's not going to be in the car next year."
05/04/18 Adam Stern of Sports Business Daily tweets that NASCAR industry folks close to Roush Fenway are saying that it's unlikely that Trevor Bayne will return to the team next year.
However, RFR is insisting that no decisions have been made and that it's hopeful Matt Kenseth's arrival will improve the performance of the entire organization.