Vettel to McLaren (5th Update)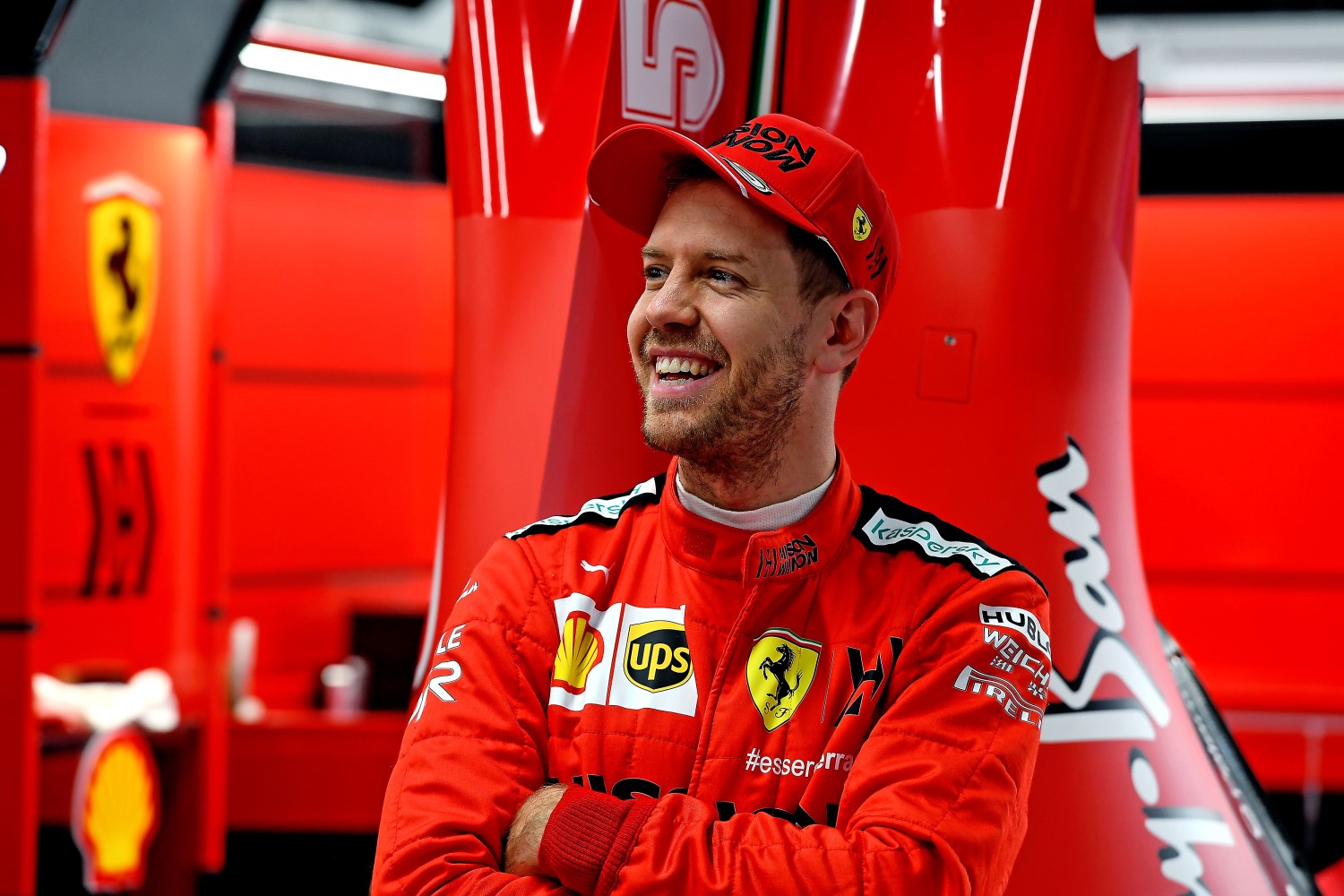 Vettel will land a ride at Mercedes, or retire
UPDATE Of course we now know this rumor is 'false' but it turns out there was never anything to it whatsoever.
(GMM) Speculation Sebastian Vettel might retire at the end of 2020 is ramping up, with McLaren revealing that it never even negotiated with the Ferrari refugee.
"The subject of Sebastian was never raised with us," team boss Andreas Seidl, who is reported to have been close with the quadruple world champion, told Sky Germany's 'Warm up – das F1 Spezial' program.
"Negotiations were never held. It was always Carlos (Sainz) or Daniel (Ricciardo)," he added.
Seidl said he is "very happy with the outcome" of last week's sensational moves in the 2021 driver market, and has no hard feelings about Sainz's departure.
"We had a very open, transparent exchange with Carlos at all times," he said. "We knew he was going to talk to Ferrari.
"At the same time, we have been talking to Daniel for a long time."
As for Vettel, Seidl revealed that the German never inquired about joining McLaren, which would seem to indicate that retirement is on his mind.
"We didn't assume that Sebastian would be available," he said.
"I have good contact with Sebastian, we have spoken repeatedly in the past few days, just not about Formula 1."
Finally, Seidl said he hopes Germany returns to the F1 calendar this year as the scene of a 'ghost race'.
"We have also heard that Chase Carey is talking with Hockenheim," he said. "I can well imagine a race in Germany happening."
05/12/20 Sebastian Vettel has reportedly been offered opportunities at the two teams where his Ferrari replacement could come from next year.
"I know that Vettel has some contract offers from Renault and McLaren, but I don't know how much he is interested in them," he wrote. "We will have to see what Seb will answer."
Carlos Sainz Jr. appears to be the favorite to replace Vettel, which would reunite Vettel with McLaren team boss Andreas Seidl. It would also give Vettel access to the powerful German Mercedes engine.
And Carlos Sainz Jr was recently recommended to go to Ferrari by Sky Sports pundit Karun Chandhok.
"I think there's a difference with Ricciardo and Sainz," he explained. "Danny Ric's had his opportunity with a top team whereas Carlos hasn't yet.
"I'd love to see Carlos have that opportunity. I think he's been stellar at McLaren, he's come alive and he's turned a corner."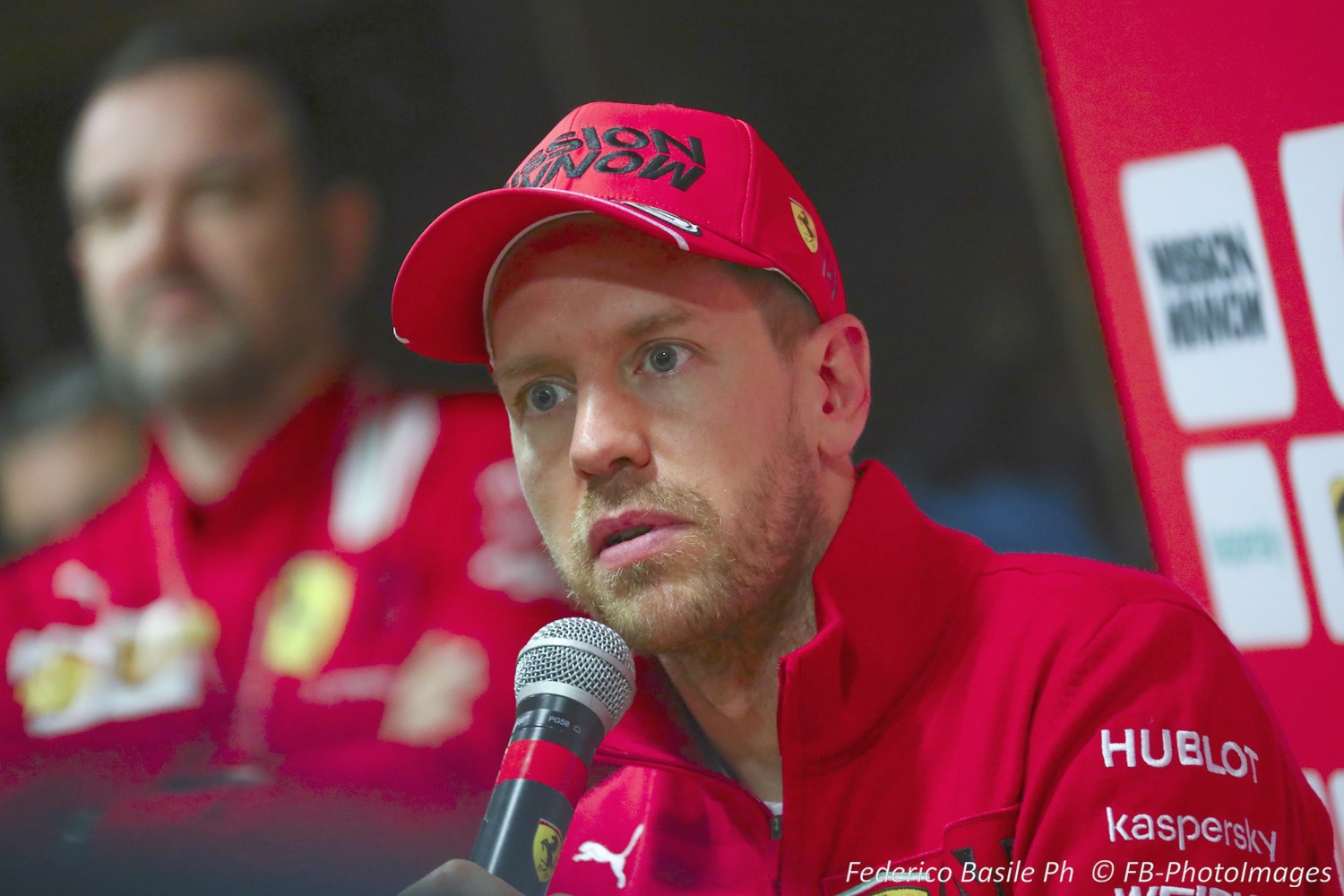 Vettel now realizes staying at hapless Ferrari won't bring another F1 title
04/29/20 This rumor is elevated from 'false' to 'speculation' with reports Ferrari made Sebastian Vettel a ridiculously small offer to re-sign. Vettel may decide to reject Ferrari's "immoral" contract offer and instead switch to McLaren, which will now run the superior Mercedes engine starting in 2021.
That is the view of Sascha Roos, the commentator for Sky Germany.
"He has just received an immoral offer from Ferrari, with a big drop in salary and probably not with number 1 status," he said.
"Perhaps they have given him an offer that he will not sign. Then his place would be free for Carlos Sainz Jr.."
And Vettel, Roos suggested, may switch to McLaren to replace the Spaniard.
"Sebastian and Andreas Seidl know each other very well from their time together at BMW," he said.
Roos thinks that while the low sum offered by Ferrari may one reason Vettel leaves, it would be more about the message that the contractual demotion gives him.
"Sebastian Vettel is not about money," he said. "He is interested in having a successful car with the status he likes within the team.
"McLaren is also going to have a Mercedes engine, which is not a bad thing. It could be a reason that is attractive for Vettel, rather than having poor terms and being the less popular choice at Ferrari.
"It may be that the conditions he has at McLaren would be better than staying at Ferrari as the number 2 behind Charles Leclerc," said Roos.
04/18/20 This rumor is now officially downgraded to 'false' today. 32-year-old quadruple world champion Sebastian Vettel says he is talking only to Ferrari.
"I think I had made that clear before," German media reports quote him as saying. "It's not part of the discussion."
Vettel said he is expecting negotiations to be complete before Formula 1's interrupted 2020 season begins.
"The likelihood of this is high," he said. "We won't be racing before June or July. We don't have a timetable, but we surely have enough time to find a solution and discuss the issue before it starts again."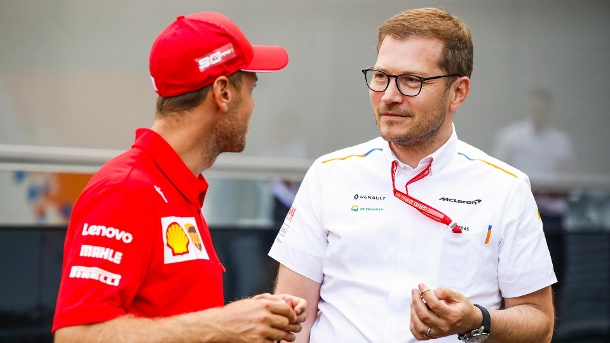 Vettel talking future job with Seidl?
03/15/20 Sebastian Vettel may head to McLaren if he leaves Ferrari at the end of his contract. The German driver has endured a disappointing five-year spell at Ferrari, with Mercedes enjoying a sustained spell of dominance at the top of F1 thanks to the efforts of Aldo Costa and the rest of the design team he put in place.
Vettel is getting tired of the inferior Ferrari (as compared to the Mercedes) and, since he is German, and the Mercedes engine is German, he longs to drive a Mercedes powered car.
Vettel opened the door to joining reigning F1 champions Mercedes earlier this month, but that could only happen if they waved goodbye to Hamilton, who is on Ferrari's list of long-term targets.
McLaren, who is switching to Mercedes power in 2021, have now emerged as potential contenders for Vettel's signature, with a reunion with their team principal Andreas Seidl a possibility.
Vettel and Seidl worked together for three years during the driver's spell at BMW in the 2000s and fostered a strong relationship.
A source told F1-Insider: "Seidl knows Vettel well from the time they spent together at BMW. If Sebastian is available, he will definitely think about him. It would also be a strong PR coup for McLaren-Mercedes."
And the latest Ferrari cheating scandal may be the final straw that Vettel could endure from the under-performing Binotto squad,
03/09/20 (GMM) The saga about the legality of Ferrari's 2019 engine could trigger Sebastian Vettel's exit from the team.
That is the view of former F1 driver and fellow German Timo Glock, who was asked by ran.de about quadruple world champion Vettel's expiring contract.
"I think it will also depend on what happens with how this Ferrari story ends," he said.
"I could imagine that it could be a reason for him to say 'That's it'."
When asked where Vettel, 32, might go instead, Glock answered: "Maybe McLaren.
"With Andreas Seidl they have a German boss with whom they're only going up lately. I can imagine he would certainly like to have an experienced German on the team."
Glock, now a DTM driver but also a F1 pundit for German television, thinks the scandal over the legality of Ferrari's 2019 engine could also cost Ferrari its boss.
"As is the way in this business, the one who is responsible has to take off his hat and go," he said, referring to Mattia Binotto.
"Because he knew exactly what was going on and would have to live with the consequences if something happens."