Salinas, Hight, Stoffer Number 1 Qualifiers at zMax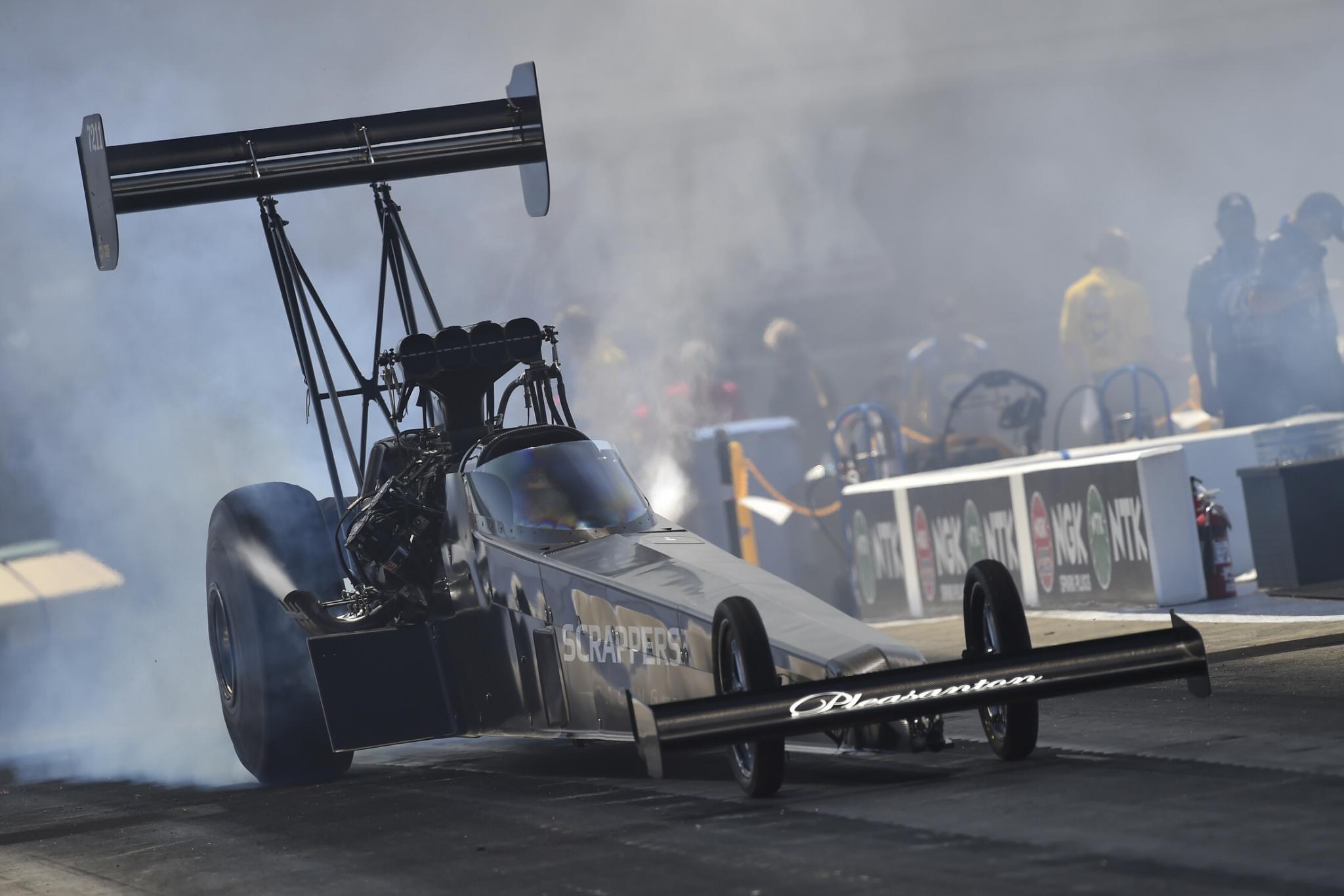 Mike Salinas
Mike Salinas, Robert Hight and Karen Stoffer collected the number one qualifier spots in Saturday's qualifying for Sunday's 10th-annual NGK Spark Plugs Four Wide Nationals NHRA Mello Yello Drag Racing Series event at zMax Dragway.
With rain and high-winds limited Friday's qualifying to just a single nighttime session, teams were left with little room for error during Saturday's final two sessions, with some of the top competitors only making the show on their final runs of the day.
Robert Hight continued to beat up his competition in the Funny Car division with his fourth pole in six races after climbing to the top of the leaderboard in Saturday's final round.
Hight raced to the second qualifying position in Friday's session and was unable to advance his position in Saturday's opening round. Hight then came up in the final quad of four cars in the final session and turned in a run of 3.883 seconds at 325.92 mph to beat out "Fast" Jack Beckman for his 64th-career top qualifying spot.
Hight will face Bob Gilbertson in the first round of eliminations on Sunday as he looks to record his fourth victory of the season.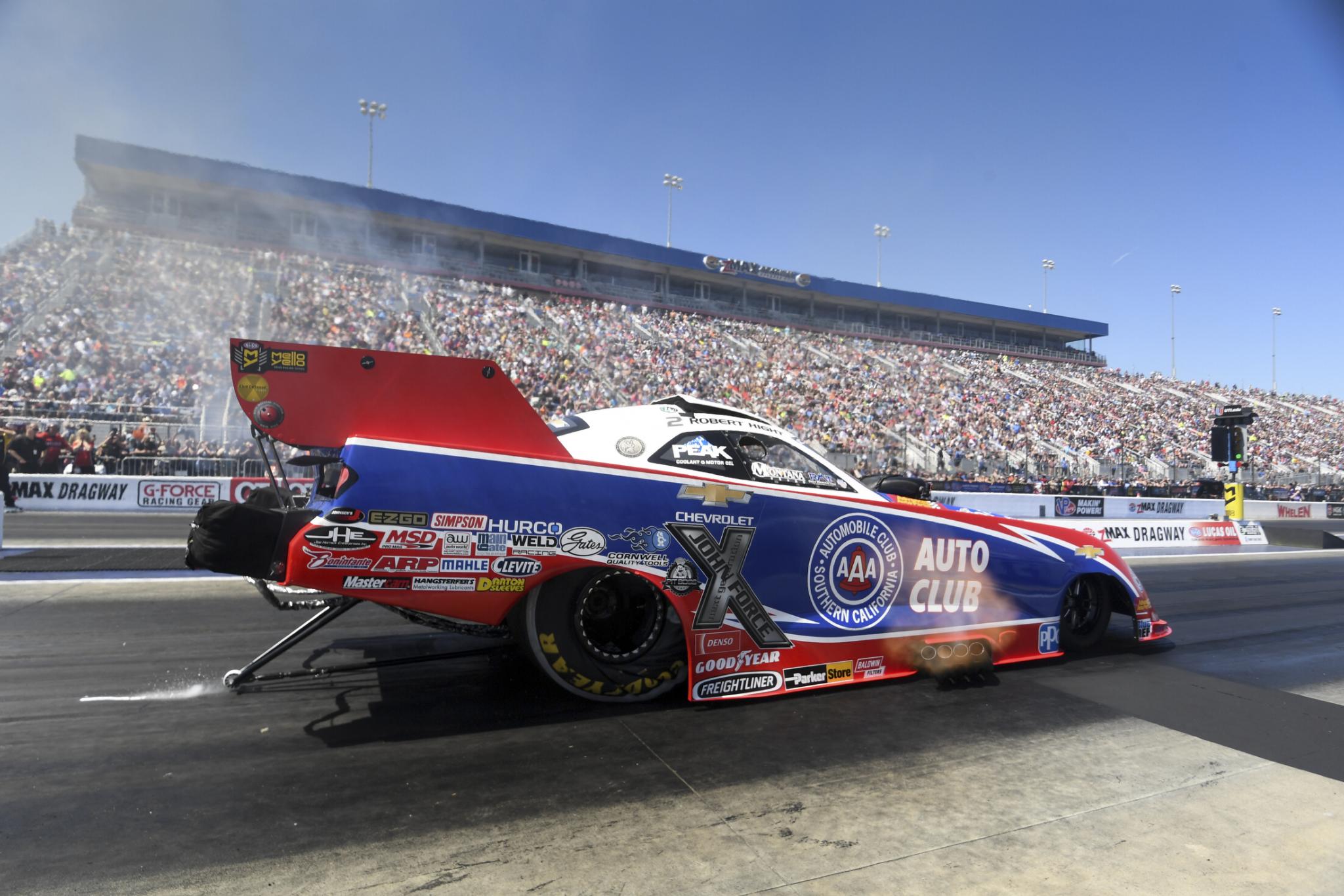 Robert Hight
"I don't think I've ever in my career had a car that's this dominant," said Hight. "When you really look at how competitive the class is, from one to twelve, there's just hundredths of a second separating us. It's pretty amazing for us to be running this well and it makes my job pretty easy. You know that this car is going to go down the track as long as you don't screw it up."

Beckman held the number two spot after standing pat on his 3.891, 321.42 from Friday. John Force was third with a 3.905, 329.42, followed by Tommy Johnson, Jr. (3.938, 320.36) and Shawn Langdon (3.944, 322.96).
Ron Capps was among the drivers on the outside looking in coming into Saturday's final round. After throwing everything but the kitchen sink at the qualifying problems, Capps' crew chief Rahn Tobler swung for the fences and pulled out their backup car – and the gamble paid off with a pass of 4.025, 315.05 that was enough to advance to eighth place and bump Dale Creasy, Jr. from the field.
"We switched cars in between runs on a Saturday and went out there and made a nice pass," said Capps. "I was a nervous wreck; my crew guys didn't act like they were. I jumped in and went 315-mph in a brand-new piece of equipment that was put together by (crew chief) Rahn Tobler and my crew. I hope people understand the pressure that I felt, and I probably shouldn't have but I did. I don't want to let anyone down. I can't believe we just did what we did in between rounds, but we're a championship-caliber team."

Bob Bode and Jim Campbell also failed to make the show.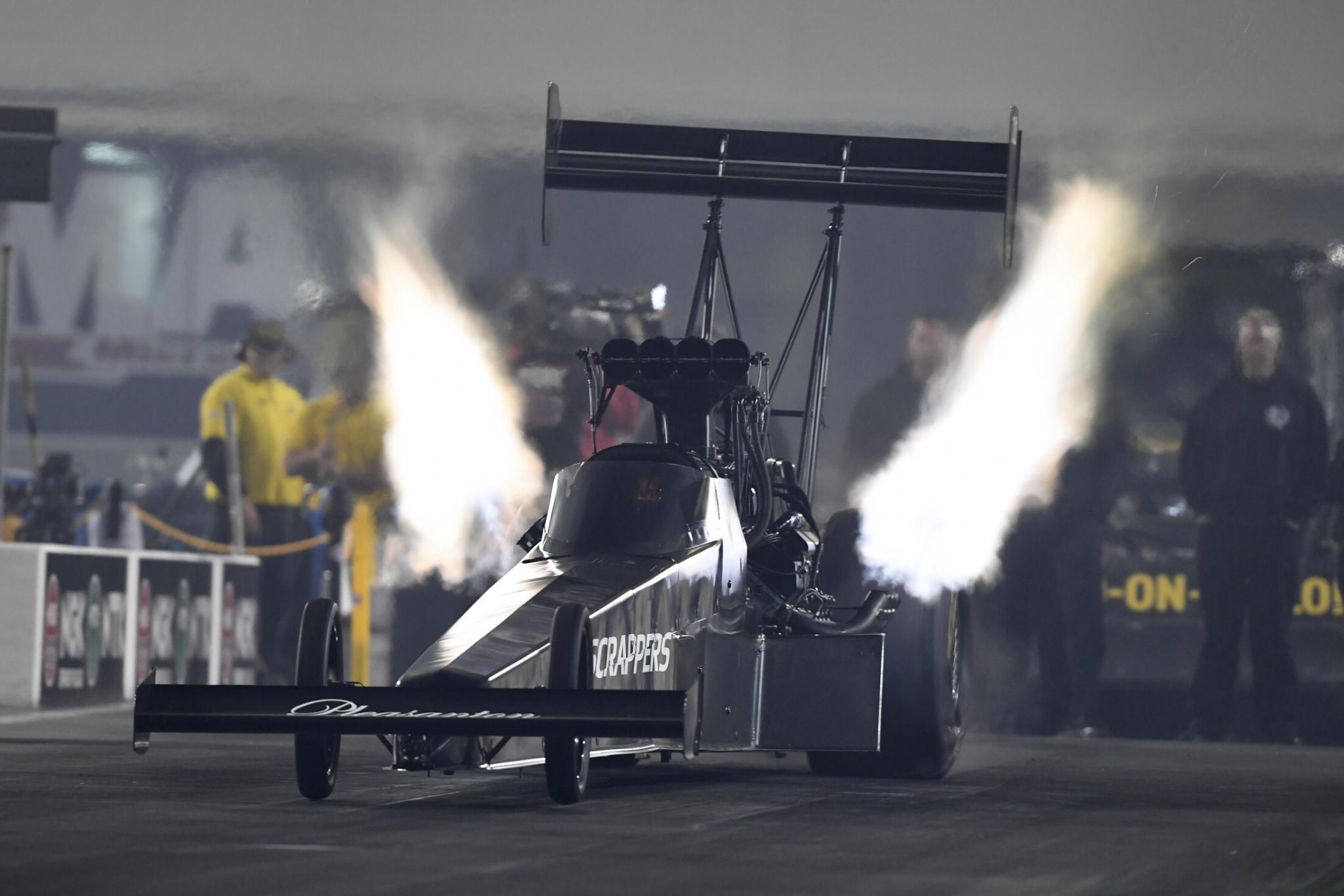 Mike Salinas recorded a track-record run during Friday night's qualifying session
In Top Fuel, qualifying was not as dramatic, as the top spot was decided Friday night with Mike Salinas blowing away the field with a 3.687-second, 327.43 mph run that broke the track ET record and earned Salinas his second number one qualifier of the year and third of his career.
"We knew (on Friday) that the track might not hold much," said Salinas. "Alan (Johnson, tuner) is a genius at what he's doing and the nice part about it is the car did exactly what we wanted it to do, getting us into the number one spot. All in all I think we had a great run right off the trailer from our disappointment in Houston."
Antron Brown was second at 3.725, 327.03, followed by Terry McMillen (3.728, 320.36), Doug Kalitta (3.733, 324.36) and Leah Pritchett (3.750, 329.67). Cameron Ferre claimed the bumped spot and will face Salinas in the opening round.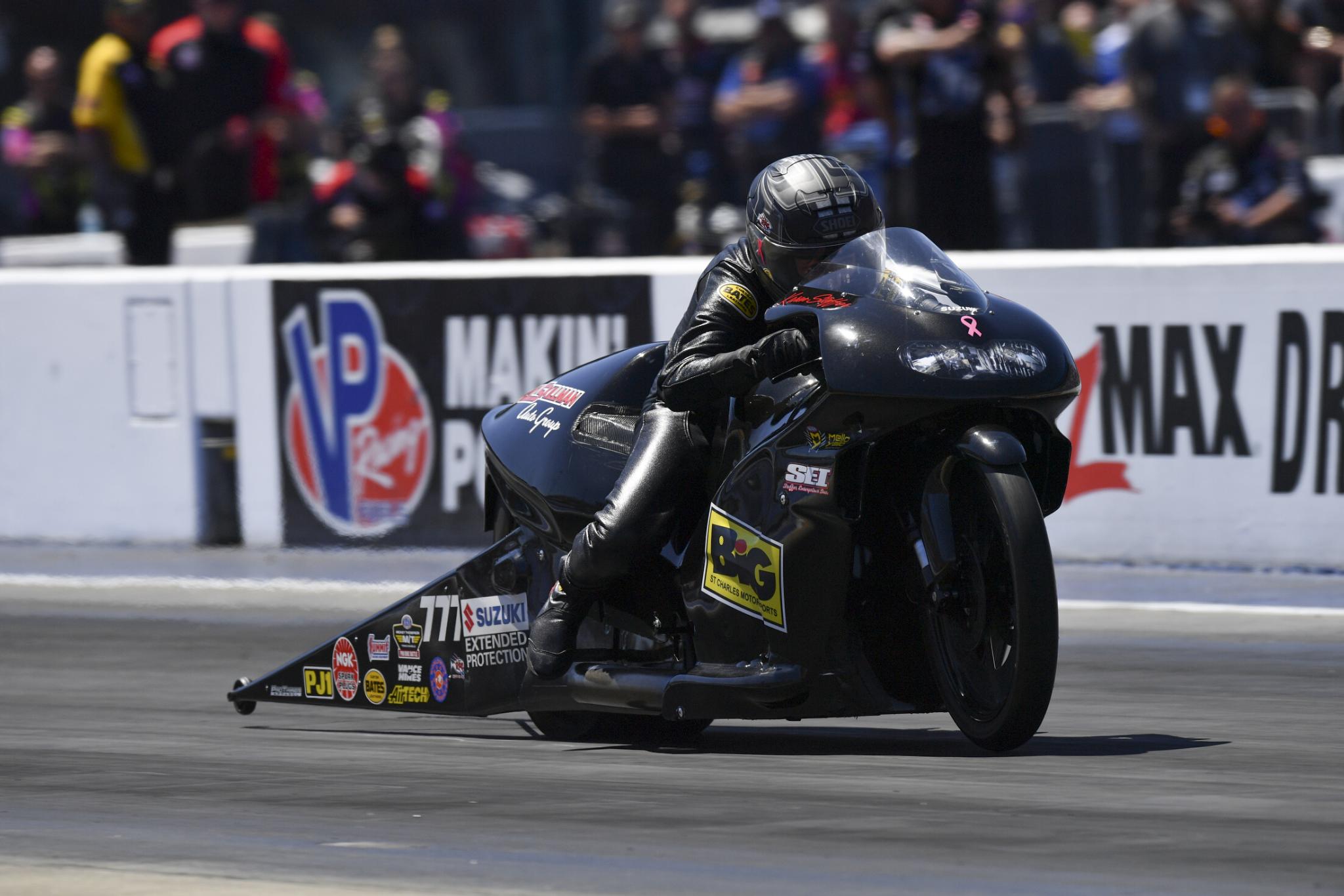 Karen Stoffer
In Pro Stock Motorcycle, Karen Stoffer rallied from the seventh qualifier position to move to the top of the ladder in Saturday's opening round to secure her fourth-career top qualifying spot and her first since taking the pole at Atlanta in 2015.
Stoffer had the provisional pole after Friday night's session before falling behind in round two. Stoffer then powered to a career-best 6.793 at 197.91 mph to collect her first number one qualifier of the year.
"It's pretty big for me," said Stoffer. "It's been a long time and even then, I've only done it one other time so it's pretty huge. I think what was more impressive for me was that we did it with a 6.79. I've never run in the 70s so it was a record for me E.T.-wise and to also maintain that and get the green hat in the end of qualifying was pretty huge."
Hector Arana Jr. (6.802, 196.10), Andrew Hines (6.811, 199.05), Eddie Krawiec (6.825, 199.17) and Joey Gladstone (6.829, 197.88) rounded out the top five qualifiers.
First-round pairings for professional eliminations Sunday for the 10th annual NGK Spark Plugs NHRA Four-Wide Nationals at zMax Dragway, the sixth of 24 events in the NHRA Mello Yello Drag Racing Series. Pairings based on results in qualifying, which ended Saturday. DNQs listed below pairings.
Top Fuel — 1. Mike Salinas, 3.687 seconds, 327.43 mph vs. 16. Cameron Ferre, 10.640, 42.54 vs. 8. Austin Prock, 3.782, 326.95 vs. 9. Clay Millican, 3.824, 315.64; 2. Antron Brown, 3.725, 328.22 vs. 15. Dom Lagana, 8.608, 81.12 vs. 7. Brittany Force, 3.757, 315.93 vs. 10. Scott Palmer, 4.103, 273.05; 3. Terry McMillen, 3.728, 321.65 vs. 14. Audrey Worm, 7.420, 96.15 vs. 6. Steve Torrence, 3.756, 327.43 vs. 11. Spencer Massey, 4.134, 212.69; 4. Doug Kalitta, 3.733, 327.98 vs. 13. Lex Joon, 6.876, 99.56 vs. 5. Leah Pritchett, 3.750, 329.67 vs. 12. Richie Crampton, 4.354, 187.05.
Funny Car — 1. Robert Hight, Chevy Camaro, 3.883, 328.46 vs. 16. Bob Gilbertson, Chevy Monte Carlo, 4.395, 246.89 vs. 8. J.R. Todd, Toyota Camry, 3.970, 320.28 vs. 9. Bob Tasca III, Ford Mustang, 3.979, 316.67; 2. Jack Beckman, Dodge Charger, 3.891, 322.27 vs. 15. Dave Richards, Mustang, 4.312, 284.33 vs. 7. Tim Wilkerson, Mustang, 3.960, 320.97 vs. 10. Ron Capps, Charger, 4.025, 315.05; 3. John Force, Camaro, 3.905, 329.42 vs. 14. Cruz Pedregon, Charger, 4.303, 282.84 vs. 6. Matt Hagan, Charger, 3.959, 325.45 vs. 11. Jonnie Lindberg, Mustang, 4.106, 300.33; 4. Tommy Johnson Jr., Charger, 3.938, 320.36 vs. 13. Jeff Diehl, Camry, 4.299, 258.47 vs. 5. Shawn Langdon, Camry, 3.944, 322.96 vs. 12. Terry Haddock, Mustang, 4.189, 290.69.
Did Not Qualify: 17. Bob Bode, 4.436, 275.73; 18. Dale Creasy Jr., 4.659, 237.05; 19. Jim Campbell, 9.501, 68.85.
Pro Stock Motorcycle — 1. Karen Stoffer, Suzuki, 6.793, 197.91 vs. 16. Jim Underdahl, Suzuki, 6.930, 196.64 vs. 8. Angelle Sampey, Harley-Davidson, 6.839, 197.16 vs. 9. Cory Reed, EBR, 6.845, 197.28; 2. Hector Arana Jr, EBR, 6.802, 198.73 vs. 15. Scotty Pollacheck, EBR, 6.906, 195.22 vs.7. Matt Smith, EBR, 6.838, 200.32 vs. 10. Angie Smith, EBR, 6.848, 198.99; 3. Andrew Hines, Harley-Davidson, 6.811, 199.05 vs. 14. Kelly Clontz, Suzuki, 6.902, 195.45 vs. 6. Jerry Savoie, Suzuki, 6.830, 197.16 vs. 11. Hector Arana, EBR, 6.855, 198.67; 4. Eddie Krawiec, Harley-Davidson, 6.825, 199.17 vs. 13. Ryan Oehler, Buell, 6.899, 196.36 vs. 5. Joey Gladstone, EBR, 6.829, 197.88 vs. 12. Steve Johnson, Suzuki, 6.895, 195.96.
Did Not Qualify: 17. Marc Ingwersen, 7.028, 193.57; 18. Melissa Surber, 7.059, 193.63; 19. Jianna Salinas, 7.154, 188.62.