Da Costa gives Andretti BMW team first Formula E win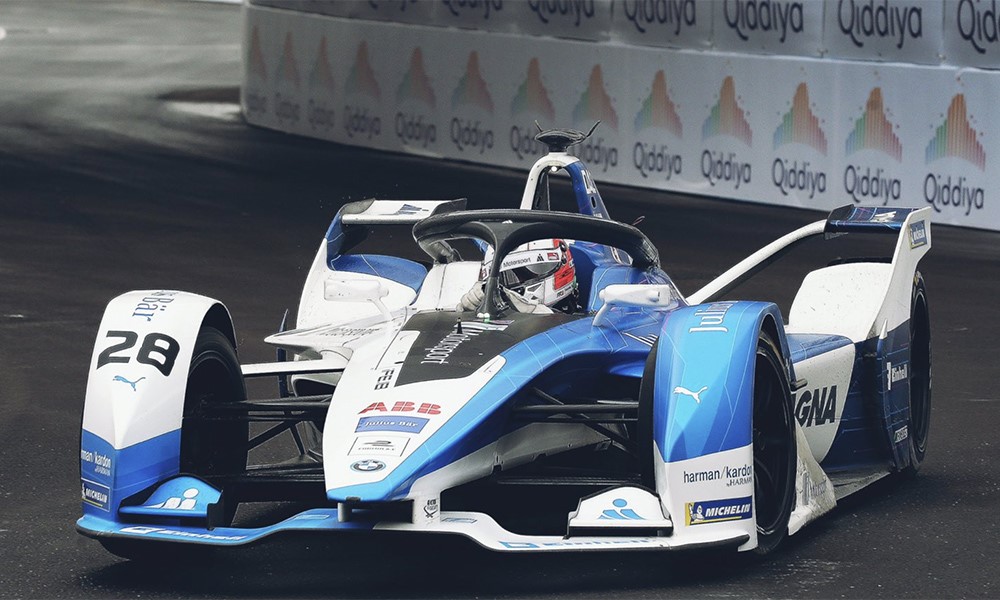 Felix da Costa in the BMW Andretti machine
Felix da Costa held off a late charge from Jean Eric Vergne to win the Season 5 opening Formula E race in Saudi Arabia.
It was the first Formula E win for the Andretti BMW team but it was Vergne and his teammate Andre Lotterer driving for the DS Techeetah team who had the fastest cars on track but lost the race due to drive-thru penalties.
Jerome d'Ambrosio rounded out the podium for the Mahindra team.
Mitch Evan and Lotterer rounded out the top-5.
Both Verge and Lotterer passed polesitter da Costa earlier in the race, but both had to serve drive-thru penalties for a power infraction handing da Costa a big lead.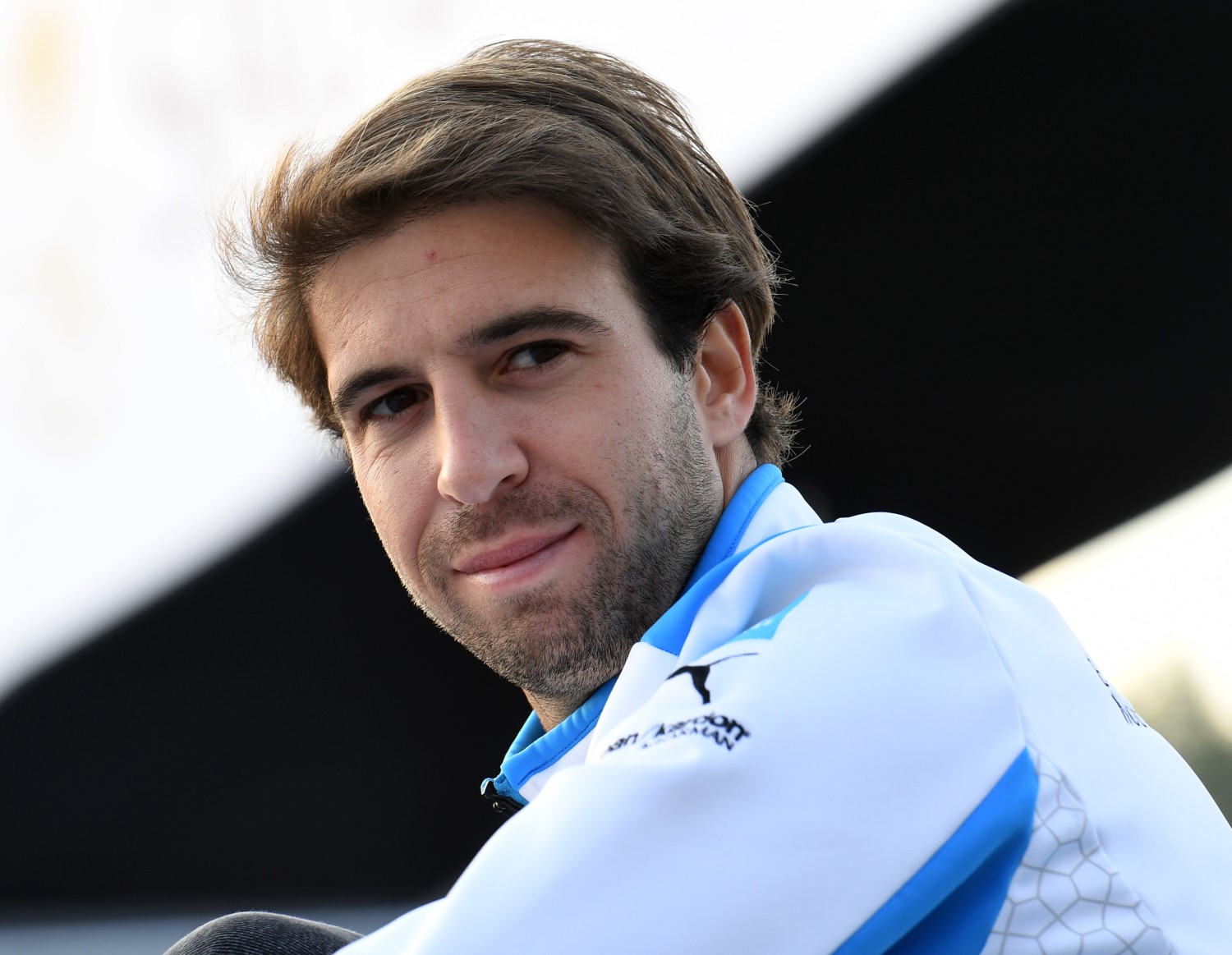 Felix da Costa
But a late race caution to retrieve Jose Maria Lopez's stricken Dragon car allowed Vergne in third close up right behind da Costa and then 2nd place Jerome d'Ambrosio.
When the green flag flew with three laps to go Vergne quickly disposed of d'Ambrosio and set sail after da Costa.
But da Costa drove a defensive final lap, holding off a passing attempt under braking from Vergne, who's brakes were glowing red hot, to score the win.
Vergne lost time in the final corner after the failed late-braking move, allowing da Costa to cross the line 0.462 seconds ahead of the DS Techeetah driver.
Just before the race it was learned that reigning ABB FIA Formula E champion Vergne has agreed a new long-term contract extension with the DS Techeetah squad.
Race Summary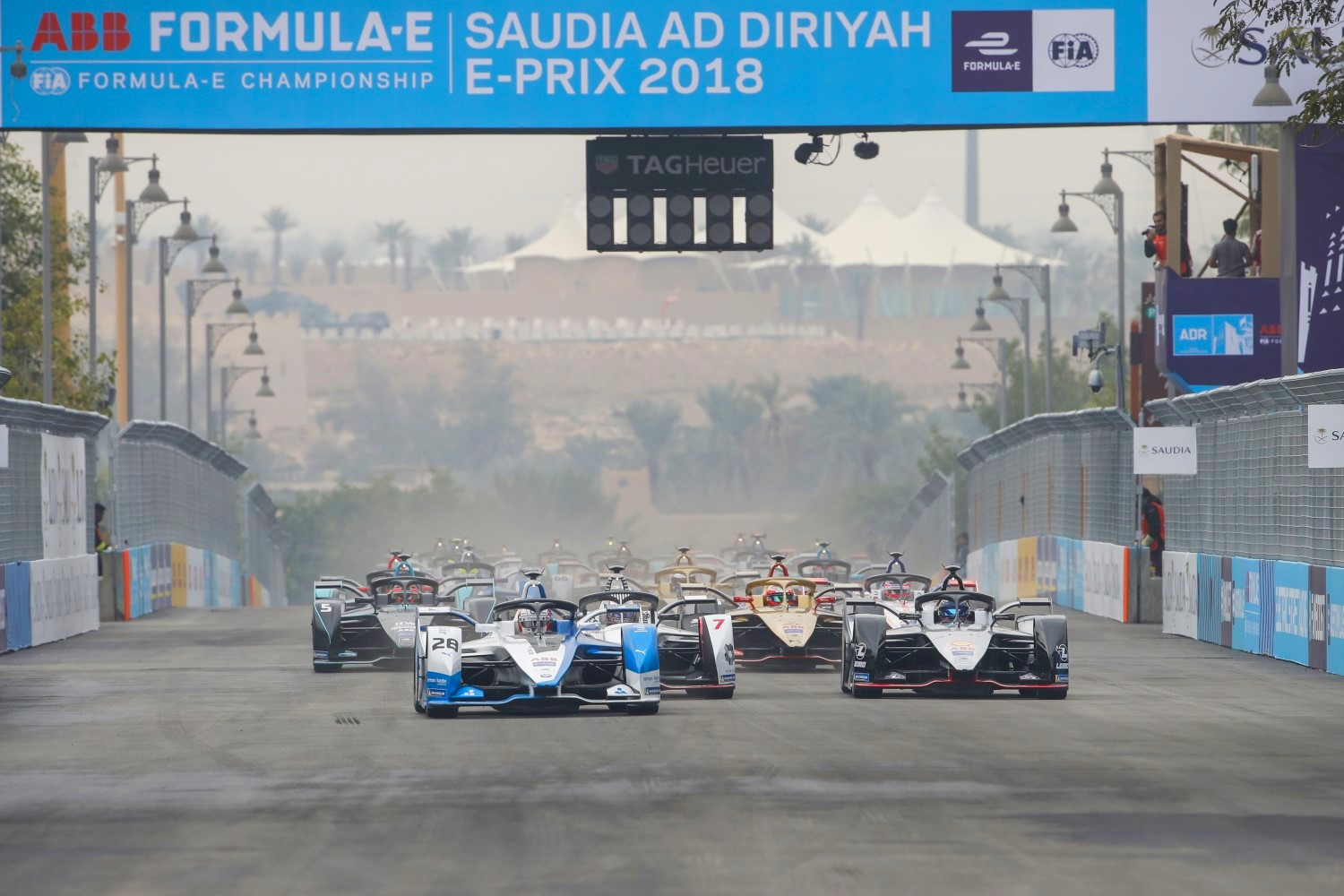 da Costa grabs lead at the start
With all 22 Gen2 cars lining up on the grid for the first time in Ad Diriyah, it was race winner da Costa who started on Pole.
With the green lights on and 45 minutes on the clock, Venturi Formula E's Edoardo Mortara locked up the wheels just moments after the start and slammed into the wall. Back on track, Mortara limped along with damaged bodywork to rejoin the back of the pack.
With a new race format this season, there's no more laps, just 45 minutes of racing. When the time is up, there's one more lap to complete before the checkered flag falls. After five minutes, the ATTACK MODE activation zone opened up for the first time in Formula E's history. In this race, the drivers must activate the higher power mode twice during the race, with each burst lasting four minutes.
With 36 minutes to go, the two DS Techeetah drivers – reigning champion Jean-Eric Vergne and Andre Lotterer in third and fourth respectively – fended off Geox Dragon's Jose-Maria Lopez who was bearing down in fifth.
With 34 minutes to go, NIO Formula E's drivers Oliver Turvey and Tom Dillmann engaged ATTACK MODE in a bid to break out of the back.
In the same minute, Vergne made his way past Buemi, up into second on Turn 18 while Mahindra Racing's Felix Rosenqvist crashed out, finishing his race. At the same time, HWA Racelab's Gary Paffett returned to the pits due to a technical issue, where he finished his race.
[adinserter name="GOOGLE AD"]On Turn 21, Venturi Formula E's Felipe Massa made his way past HWA Racelab rookie Stoffel Vandoorne on the inside and up into ninth place with 29 minutes to go.
Having held the lead all race, da Costa fell victim to Vergne's attack as the Frenchman took him on the outside of Turn 18. Sandwiched in between the two DS Techeetah's, da Costa did his best to fend off another Techeetah assault from Andre Lotterer.
Battling to maintain fourth was Nissan e.dams Sebastien Buemi and Lopez as they went wheel to wheel. Seeing an opportunity to advance, Mahindra Racing's Jerome d'Ambrosio slotted into the gap, sending Buemi down to fourth.
Back at the top, Lotterer engaged ATTACK MODE, hunting down da Costa./ Shortly after passing him, both he and race leader Vergne lost the lead while serving a drive-through penalty in the pits. Rejoining the race in fourth, Vergne went back on the attack in a bid to regain the lost ground.
After missing the narrow ATTACK MODE activation zone twice, Lopez ended up stranded on the exit of Turn 14 after sustaining damage to the rear wheel of his car. With the Safety Car deployed, after a full-course yellow, the cars regrouped under the new rules for the 2018/19 season, which allows drivers to close any gaps under a full-course yellow.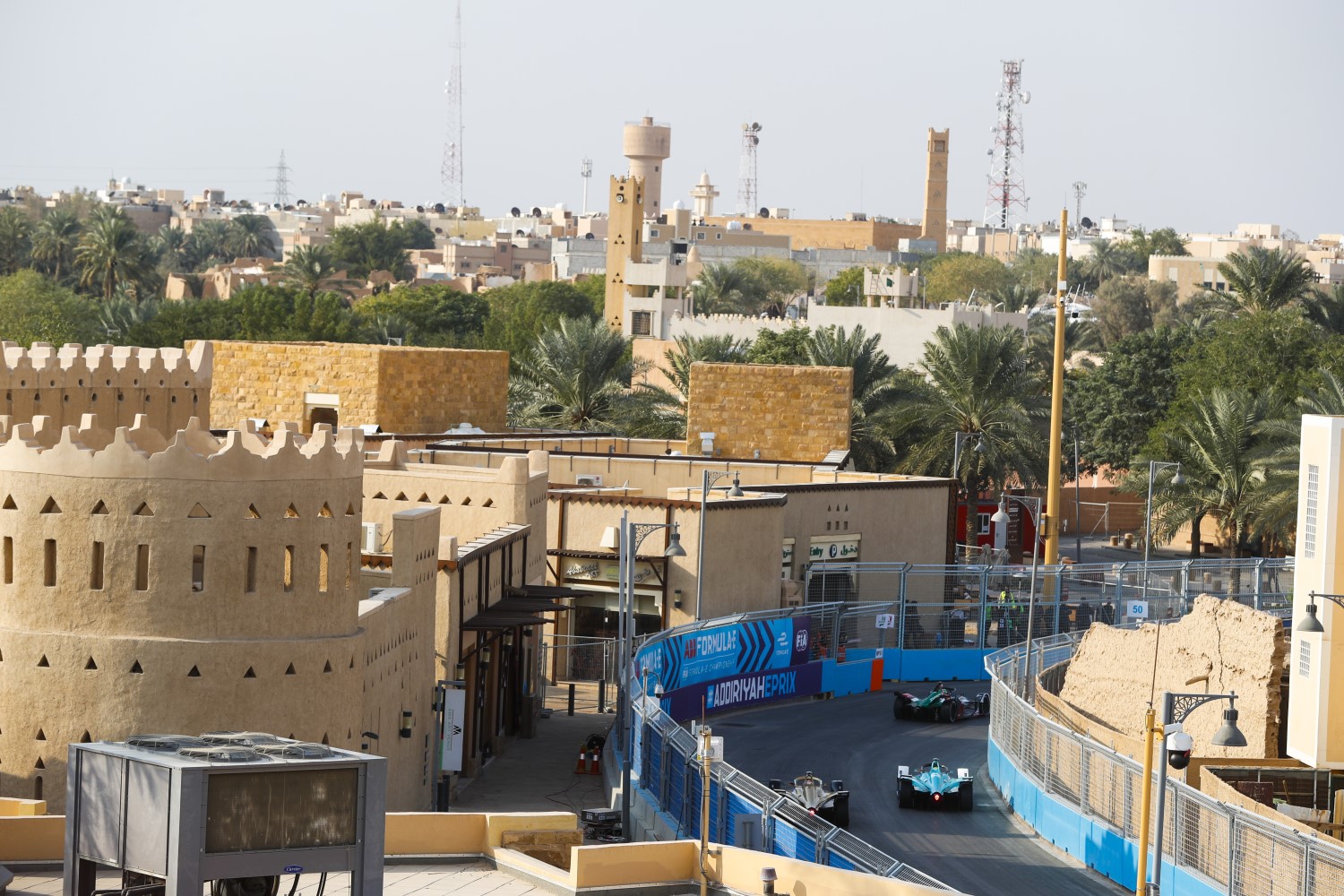 Like all Formula E tracks, this one was as Mickey Mouse as the rest
Restarting the race with only three minutes to go, nine cars activated ATTACK MODE in a final attempt to improve their position in the opening race of the season.
Going wheel to wheel, Buemi and Lotterer jostled for fifth place, with Lotterer winning out. Still in the lead, da Costa lit up his car's halo device as he activated FANBOOST to put more distance between him and Vergne in second.
Still challenging to the bitter end, Vergne made one last effort but it wasn't enough – da Costa crossed the line, clinching the win in the first race of a new era of the ABB FIA Formula E Championship. Behind him, Vergne finished second with Jerome d'Ambrosio in third.
"We did it baby, we're back! screamed da Costa down the radio, moments after crossing the line.
"Finally, finally! Buenos Aries, Season 1 was a long time ago!" he added, referring to his only other win.
Quotes
BMW I ANDRETTI MOTORSPORT
ANTONIO FELIX DA COSTA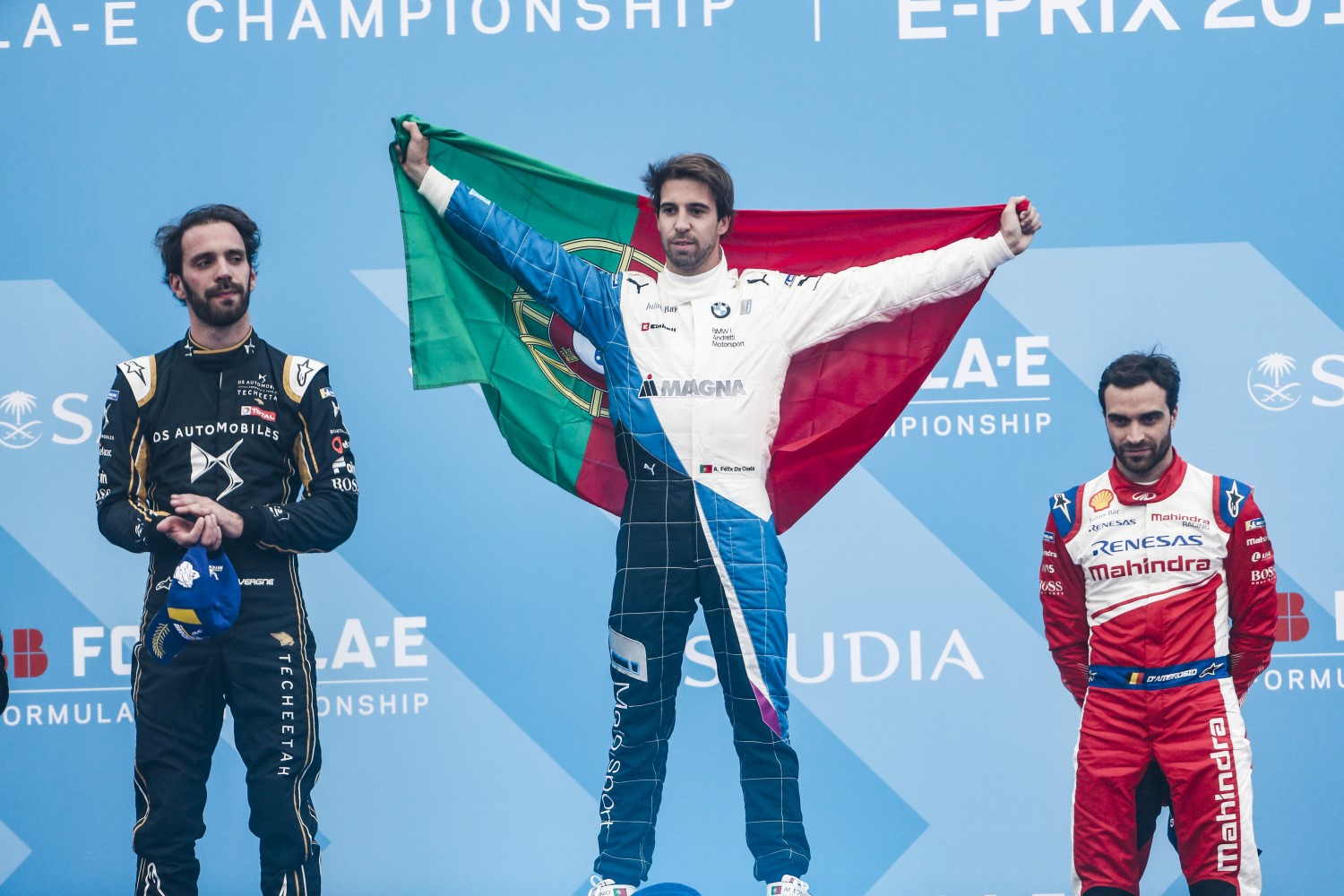 From left, Vergne, Da Costa and D'Ambrosio
"I feel good. I've had two really hard years to be honest. You know how it is, this motorsport world – people quickly forget, and you're only as good as your last race. It wasn't always easy, but it was always the plan. We kept together, kept working hard – I have to thank the team for that."
DS TECHEETAH
JEAN-ERIC VERGNE
"First of all, I want to congratulate Antonio and BMW – I know how it feels to have a couple of hard years. I think we had an amazing venue racing in the desert. I want to wish a massive welcome to DS in our team – I wanted to do it with a win, but I'll take what I have today. All I can promise them is to fight for more wins."
MAHINDRA RACING
JEROME D'AMBROSIO
"I also come from two difficult years, so it's great to start this new relationship with the team in this way. We've worked really hard over the past few months to be ready and I think we were really fast and good in race pace. I'm really happy to be a part of such a great team – there are loads of great people and a great atmosphere. I think we've got some good days ahead of us."
Results 33-Laps
| Pos | No. | Driver | Team | St | Best Lap | Behind | Pts |
| --- | --- | --- | --- | --- | --- | --- | --- |
| 1 | #28 | Antonio Felix Da Costa | BMW I Andretti Motorsport | 1 | 1:13:265 | +0.000s | 28 |
| 2 | #25 | Jean-Eric Vergne | Ds Techeetah Formula E | 5 | 1:12:750 | +0.462s | 18 |
| 3 | #64 | Jerome D'Ambrosio | Mahindra Racing | 6 | 1:13:830 | +4:033 | 15 |
| 4 | #20 | Mitch Evans | Panasonic Jaguar Racing | 8 | 1:13:427 | +5:383 | 12 |
| 5 | #36 | Andre Lotterer | Ds Techeetah Formula E | 7 | 1:12:591 | +5:579 | 11 |
| 6 | #23 | Sebastien Buemi | Nissan E.Dams | 3 | 1:13:397 | +6:625 | 8 |
| 7 | #22 | Oliver Rowland | Nissan E.Dams | 14 | 1:14:026 | +9:105 | 6 |
| 8 | #66 | Daniel Abt | Audi Sport Abt Schaeffler | 11 | 1:14:301 | +9:819 | 4 |
| 9 | #11 | Lucas Di Grassi | Audi Sport Abt Schaeffler | 18 | 1:13:914 | +10:936 | 2 |
| 10 | #3 | Nelson Piquet Jr. | Panasonic Jaguar Racing | 15 | 1:14:803 | +11:564 | 1 |
| 11 | #2 | Sam Bird | Envision Virgin Racing | 19 | 1:14:307 | +11:747 | 0 |
| 12 | #4 | Robin Frijns | Envision Virgin Racing | 20 | 1:13:735 | +12:189 | 0 |
| 13 | #16 | Oliver Turvey | Nio Formula E Team | 21 | 1:14:343 | +13:104 | 0 |
| 14 | #19 | Felipe Massa | Venturi Formula E Team | 12 | 1:13:950 | +13:610 | 0 |
| 15 | #8 | Tom Dillmann | Nio Formula E Team | 22 | 1:13:205 | +14:273 | 0 |
| 16 | #6 | Maximilian Gunther | Geox Dragon | 16 | 1:14:018 | +16:161 | 0 |
| 17 | #5 | Stoffel Vandoorne | Hwa Racelab | 4 | 1:14:850 | +20:013 | 0 |
| 18 | #27 | Alexander Sims | Bmw I Andretti Motorsport | 10 | 1:13:604 | +47:712 | 0 |
| 19 | #48 | Edoardo Mortara | Venturi Formula E Team | 13 | 1:14:547 | 1 lap | 0 |
| DNF | #7 | Jose Maria Lopez | Geox Dragon | 2 | 1:14:306 | – DNF | 0 |
| DNF | #17 | Gary Paffett | Hwa Racelab | 9 | 1:16:654 | – DNF | 0 |
| DNF | #94 | Felix Rosenqvist | Mahindra Racing | 17 | 1:16:113 | – DNF | 0 |