Ad Diriyah ABB FIA Formula E E-Prix circuit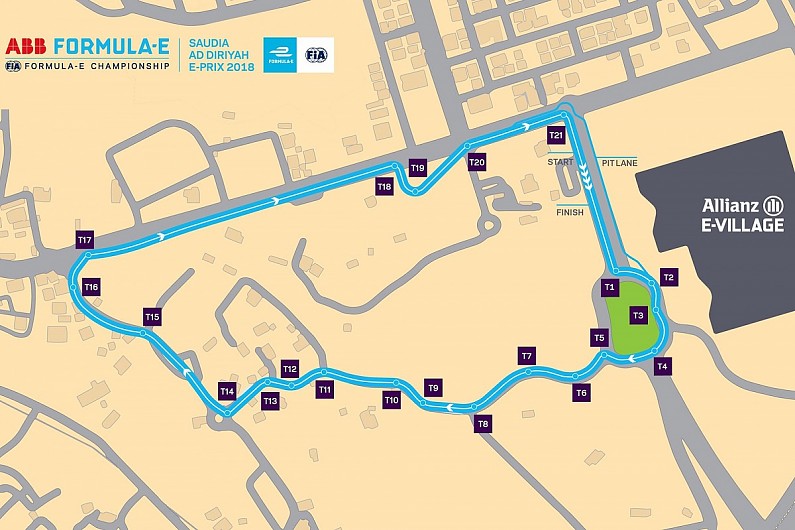 2018 Saudia Ad Diriyah E-Prix track map
The ABB FIA Formula E Championship heads to Ad Diriyah, Saudi Arabia for the Season 5 opener, where all 11 teams and 22 Gen2 cars will take to the track for the very first time. Here's all you need to know.
Prince Abdulaziz told journalists: "Formula E in Saudi Arabia feels very real today. In just a few days, the world's most modern motorsport will thrill crowds here in the heart of Saudi Arabia at this stunning UNESCO heritage site which honors the Kingdom's past.
"That is amazing in itself but take a look at what has been created off the track, the ambition of this partnership to bring the 'Saudia' Ad Diriyah E Prix to life is nothing short of inspiring.
"Remember, this isn't just a single race, this is the biggest festival of sport, music, entertainment and culture the Kingdom has ever seen, including six huge global acts performing here for the very first time.
"This is an exclusive event. Fans need to know the only way they can be part of this unforgettable experience is to buy their tickets.
"That is their key to unlocking the most amazing three days. The entire Ad Diriyah site, however, will be accessible only to ticket holders, so if you don't want to miss out, get your ticket now."
About the race
[adinserter name="GOOGLE AD"]The ABB FIA Formula E Championship is the world's first fully-electric international single-seater street racing series.
Driven by the latest innovations in electric vehicle technology, alternative energy solutions and thrilling racing in the heart of the Saudi capital of history – Ad Diriyah. Formula E redefines the very boundaries of what a sport can be through the unique fusion of entertainment, sustainability, technology and innovation. We are fighting climate change by offering electric vehicles as a solution to air pollution in city centers and breaking down the barriers to the electric vehicle market.
Consisting of eleven teams and 22 drivers, Formula E delivers world-class racing to twelve cities around the world throughout the seven-month Championship season, bringing racing rivalries to city streets set against some of the most iconic skylines in the world – such as New York, Hong Kong, Paris and NOW in Ad Diriyah.
The track
Old meets new. Racing in the ancient surroundings of Ad Diriyah, all 22 Gen2 cars and drivers will take to the 2.495km track to battle for the first victory of the season.
With 21 twists and turns, the drivers will skirt the historic town walls before heading back towards the start/finish line in the heart of the district. Who will emerge victorious? Join us to find out.
*Track is subject to FIA homologation
The Festival
The 2018 SAUDIA Ad Diriyah E-Prix represents the biggest annual sporting, social and business networking opportunity yet created in line with the Kingdom of Saudi Arabia's Vision 2030 program. The three-day event promises an array of family entertainment each day, with stunning live performances from global and regional headline acts, which will be crowned by the race itself as the first of its kind for all-electric motorsport in the Middle East. A variety of ticketing options ensure that the event can be enjoyed by individuals and families or as a backdrop for your business needs from the comfort of the grandstands and the exclusive hospitality area.
On race day, December 15, the world's favorite DJ David Guetta, US smash act OneRepublic will perform and close three amazing nights of world-class entertainment. The festival line-up will open on Thursday 13th December with global superstar Enrique Iglesias and Jason Derulo. Then on the eve of the opening race of season five, The Black Eyed Peas and Amr Diab will get the party started on Friday December 14, ahead of the 2018 SAUDIA Ad Diriyah E-Prix, as the biggest line-up of music ever seen in the Kingdom celebrates Formula E's debut in the Middle East.
15 Reasons to Go
A ticket to the race is your key to unlocking a host of exhilarating, inspiring and unique activities across the three-day festival. Here are 15 reasons to buy yours.
1) Racing action…
At the heart of the event is the 2018 'Saudia' Ad Diriyah E-Prix race on December 15. You'll get to watch 22 drivers from around the world battle it out on the track from your seat in the multi-tiered grandstand, giving you the best views. Live commentary and dedicated video screens will complete your race experience.
2) 'Live in Ad Diriyah' it's six of the biggest names in music
Three nights of amazing acts, with two global superstars on stage each night. Chose from Enrique Iglesias and Jason Derulo on Thursday, December 13, The Black Eyed Peas and Amr Diab on December 14, or be part of the epic after-race concert on December 15 with the world's favorite DJ David Guetta and US smash act OneRepublic performing for crowds in a family-friendly unsegregated concert zone. Buy a ticket for a single night, or for all three and witness music history in the Kingdom.
3) Relax and leave the car at home
For single day and three-day Grandstand ticket holders, a 'Park & Ride' service will operate from King Saud University. Also shuttle buses from a number of locations across Riyadh with pick up points at Al Faysalaih, Narcissus Hotel, the Hyatt Regency, Four Seasons, Holiday Inn Al Maydan, Holiday Inn Olaya, Aloft hotel, Movenpick Riyadh Hotel, Marriott King Saud Rd Hotel, DoubleTree by Hilton Hotel, Panorama Mall and Riyadh Park Mall. Important – there is restricted access to Ad Diriyah for single day and three-day Grandstand ticket holders with parking passes required. Check ticket details for further information.
4) A totally unique retail experience…
A first of its kind in Saudi, renowned shopping destination Harvey Nicholls is creating five unique 'pop up' stores at Ad Diriyah for race-goers. One store will feature the work of local designers and evening wear, another contemporary clothes and designer collections, a third for children's wear, another for men's wear and lastly a popup cosmetics store.
5) Take a trip back in time…
Appropriately for the UNESCO heritage site that was Saudi Arabia's first capital, the Prince Mohammed bin Salman bin Abdulaziz Foundation (MiSK) is creating a time capsule tunnel that showcases the history of the Kingdom of Saudi Arabia.
6) Enjoy the future of entertainment in the Allianz E-Village…
Formula E's fan zone features everything from the spectacular podium ceremony to the crowd-pleasing autograph session with drivers. With giant screens offering action from the race, the Allianz E-Village also hosts augmented and virtual reality attractions
7) Get your culture on…
Experience Saudi Arabia's Intangible cultural heritage, music and contemporary art in the cultural zone. Learn about the Kingdom's traditional dress, be enchanted by Arabic storytelling, learn how Arabic coffee is made, indulge in hand Henna and be transported by musicians, artists, sculpture and galleries. It's your chance to discover Saudi Arabia's hidden cultural jewels.
8) Entertainment for all the family….
Let your children be delighted by walking trees and hummingbirds and butterflies on stilts in the entertainment zone, while Oud, Qanoun and Rababa players set the tone with tradition Saudi Arabian music.
9) Visit the souq
Ad Diriyah will host a traditional Souk, where merchants will do business and craftsmen perform their skills before the visitors. From jewelry making to traditional embroidery, silverwork, carpentry and stone grinding to the chance to ride a camel. Actors will make the past come alive in the Souk.
10) A Jeddah dining institution comes to Ad Diriyah…
Anyone from Jeddah can tell you about Shababik, a Lebanese restaurant which has become a mainstay on the social dining scene. For the 2018 'Saudia' Ad Diriyah E-Prix they are re-creating the entire restaurant for racegoers.
11) Renowned Japanese cuisine, via London, to Ad Diriyah…
The award-winning Nozomi brings an exciting and unique dining experience from Knightsbridge, London to the heart of the racing action. Is flagship Riyadh restaurant will 'popping up' to serve contemporary Japanese cuisine.
12) Classic Italian dining amid an ancient site and a futuristic sport…
Cipriani Riyadh, known its signature Italian cuisine will welcome guests to its innovative new restaurant, created especially for the 2018 'Saudia' Ad Diriyah E-Prix.
13) Eat and be entertained by lasers…
For all guests dining in any of the bespoke pop-up restaurants (open from 1pm to 12am) there will be a laser show in the Turaif district opposite to add visual spice to the experience.
14) Stay refreshed, keep shopping…
Food and beverage offerings throughout the 2018 'Saudia' Ad Diriyah E-Prix site will keep you refreshed and as you explore keep an out for more boutique stall
15) Long opening hours
Your ticket buys you acres of time to make sure you access each, and every, activity. On Thursday the site opens on Thursday, December 13, from 4pm; on Friday, December 14, from 2pm; and on race day, Saturday December 15, from 10am.
*For more information about 2018 'Saudia' Ad Diriyah E-Prix including schedule and tickets, please visit: http://fiaformulae.com/Ad-Diriyah.Tickets can also be purchased at point of sale units in Riyadh Park Mall, Oud Square and Doos Carting (only Grandstand tickets from Doos) and Seven Car Lounge.