Speculating on 2020 IndyCar Schedule (2nd Update)
Michael Andretti pitting in Mexico City in 2001. The crowd size rivaled the Indy 500
UPDATE Correction to our assumed 2020 IndyCar Schedule. The Acura Grand Prix of Long Beach will return to its usual dates on the third weekend of April 17-19 in 2020. The event moved up to the second weekend in 2019 only because Easter was on the third weekend this year.
They have scheduled the event on that third weekend into the future except for 2022 when Easter will again be on that weekend Grand Prix President Jim Michaelian told AutoRacing1.com.
No.
Date
Venue
Comment
1
Sun Feb 16
Surfers Paradise
Assumes 3 week separation between
Surfers and St. Pete for travel
2
Sun, Mar 8
St. Petersburg
3
Sun, Mar 22
Austin
Same weekend as 2018
4
Sun, Apr 5
Barber
Same weekend as 2018
Sun, Apr 12
Easter
No Racing
5
Sun, Apr 19
Long Beach
One week later than 2018 to avoid Easter
6
Sun Apr 26

Mexico City*

Teams depart straight from LB
7
Sat, May 9
GP Of Indy
Same weekend as 2018
8
Sun, May 24
Indianapolis 500
Memorial Day Weekend
9
Sat, May 30
Detroit – Race 1
Always 1 week after Indy 500
10
Sun, May 31
Detroit – Race 2
11
Sat, Jun 6
Ft.Worth
Same weekend as 2018
12
Sun, Jun 21
Road America
Same weekend as 2018
13
Sun, Jul 12
Toronto
Same weekend as 2018
14
Sat, Jul 18
Iowa
Same weekend as 2018
15
Sun, Jul 26
Mid-Ohio
Same weekend as 2018
16
Sun, Aug 18
Pocono
Same weekend as 2018
17
Sat, Aug 22
Gateway
Same weekend as 2018
18
Sun, Sep 6
Portland
Again Labor Day weekend
19
Sun, Sep 20
Laguna Seca
Same weekend as 2018
Sun, Sep 27

Mexico City*

Preferred date for Mexico City
2002. The crowd in the stadium section was just as huge for CART as it is for F1 today
05/15/19 With the news that F1 will no longer feature on the 2020 F1 calendar, now is IndyCar's chance to take its place. We assumed in our hypothetical 2020 calendar below that IndyCar would head south to Mexico City straight after the Long Beach race. While that makes the most sense logistically, the door is now open for IndyCar to take F1's fall date, not in November, but perhaps late September or the first week in October. The average high both months is 75 degrees.
When CART Champ Cars ran there in the early 2000s the place was packed. Wouldn't it be nice if IndyCar had a season finale that had packed grandstands (easily over 150,000), making it look like a winner, rather than the sparse crowds we saw at Sonoma and will see at Laguna Seca, which make IndyCar look like a loser.
There is this notion that IndyCar must finish their season in the USA. Hogwash, hardly anyone shows up anyway. Mexico City is in the central time zone, which is perfect for the USA fanbase watching on TV.
This is not rocket science Mr. Miles.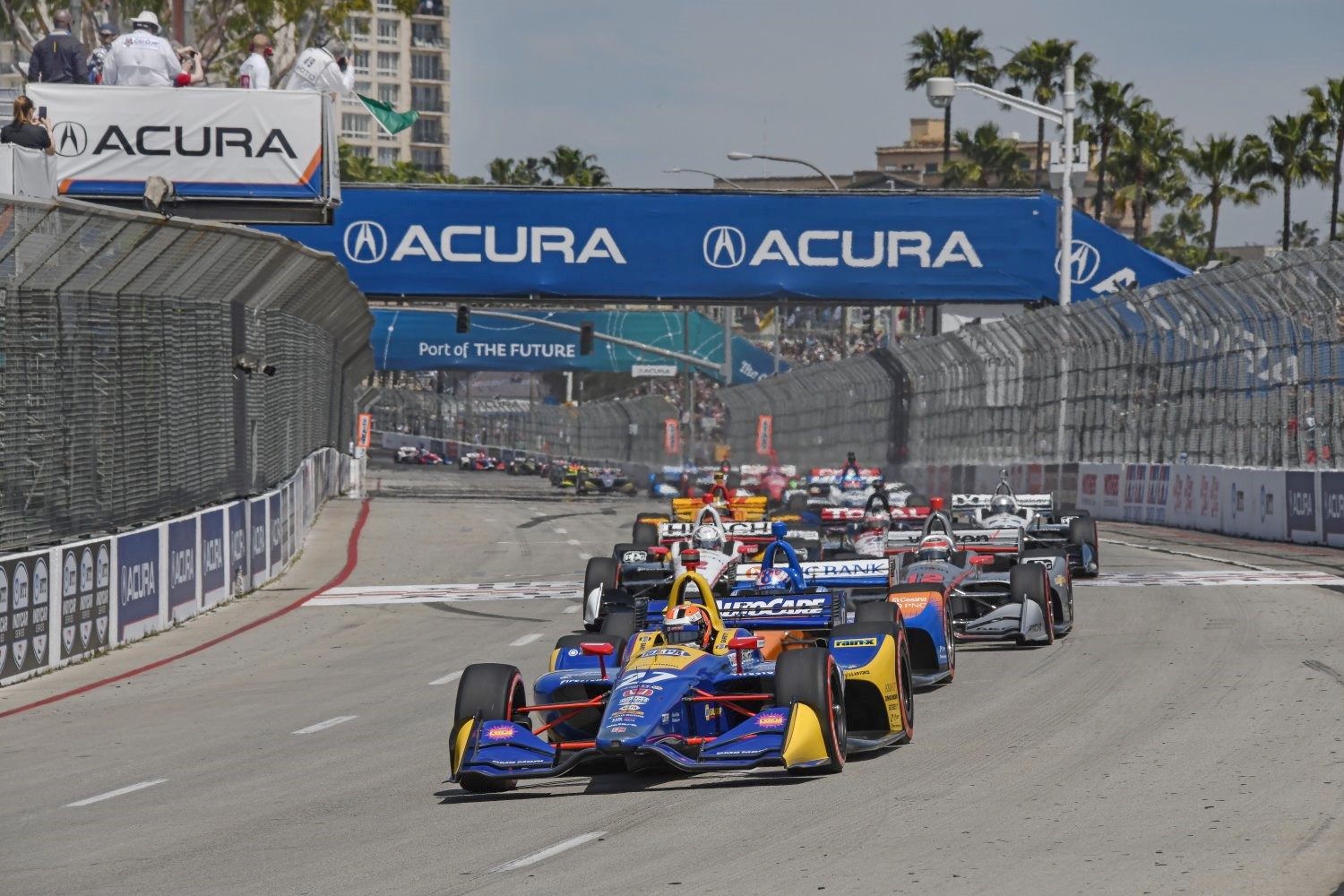 Our guess at the 2020 IndyCar schedule. What do you think?
04/20/19 We take a swipe at what the 2020 IndyCar schedule might look like. We assume:
Two new races, Surfers Paradise and Mexico City bringing total to 19-races. Both races are only 25% likely to happen at this point
Surfers opens the season in February (if it happens, which we doubt)
Most races on same weekend as 2018
Trucks drive south straight from Long Beach to Mexico City the following weekend, or after Laguna Seca in Sept. Mexico City makes too much sense not to happen.
No.
Date
Venue
Comment
1
Sun Feb 16
Surfers Paradise
Assumes 3 week separation between
Surfers and St. Pete for travel
2
Sun, Mar 8
St. Petersburg
3
Sun, Mar 22
Austin
Same weekend as 2018
4
Sun, Apr 5
Barber
Same weekend as 2018
5
Sun, Apr 12
Long Beach
Same weekend as 2018
6
Sun Apr 19

Mexico City*

Teams depart straight from LB
7
Sat, May 9
GP Of Indy
Same weekend as 2018
8
Sun, May 24
Indianapolis 500
Memorial Day Weekend
9
Sat, May 30
Detroit – Race 1
Always 1 week after Indy 500
10
Sun, May 31
Detroit – Race 2
11
Sat, Jun 6
Ft.Worth
Same weekend as 2018
12
Sun, Jun 21
Road America
Same weekend as 2018
13
Sun, Jul 12
Toronto
Same weekend as 2018
14
Sat, Jul 18
Iowa
Same weekend as 2018
15
Sun, Jul 26
Mid-Ohio
Same weekend as 2018
16
Sun, Aug 18
Pocono
Same weekend as 2018
17
Sat, Aug 22
Gateway
Same weekend as 2018
18
Sun, Sep 6
Portland
Again Labor Day weekend
19
Sun, Sep 20
Laguna Seca
Same weekend as 2018
Sun, Sep 27

Mexico City*

Preferred date for Mexico City