Proposed solution to lethal catch-fences (6th Update)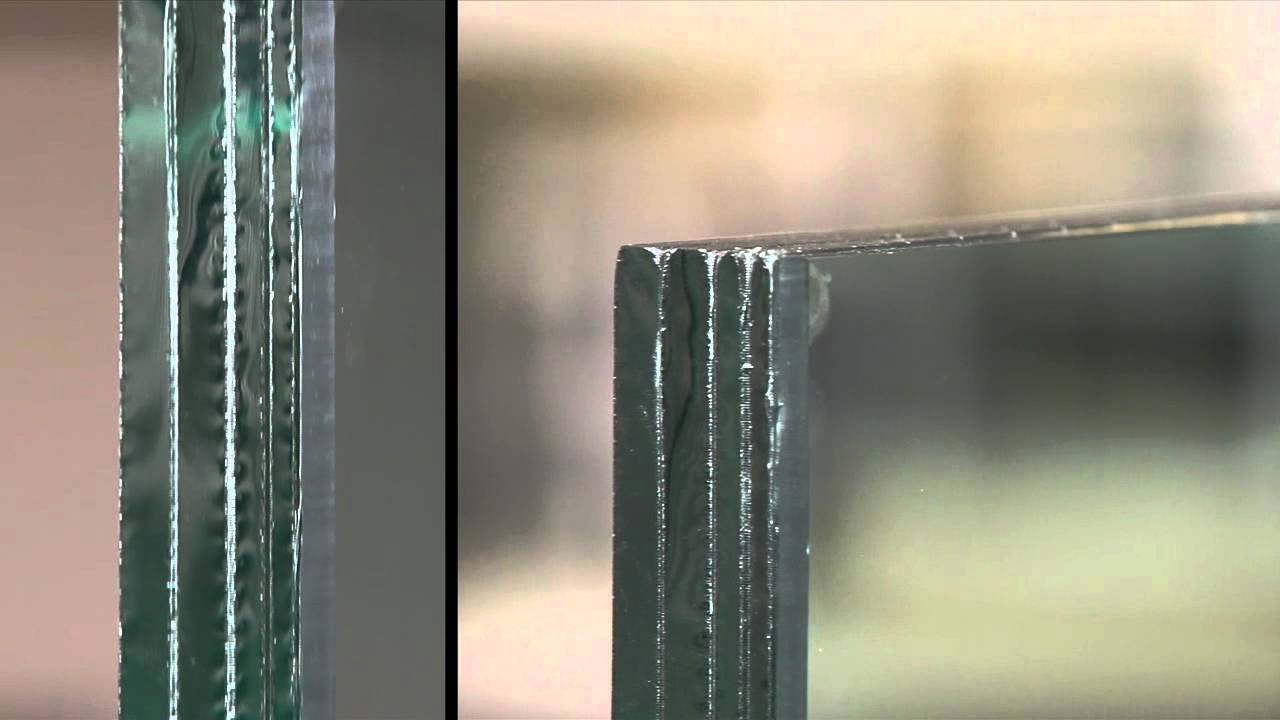 Laminated Polycarbonate. In fact you can have multiple layers, each layer increasing the cost.
UPDATE A reader adds…..I think some reader confusion may be generated by your use of the brand name Plexiglas, aka, Lucite, Perspex, etc. All of those various market names are acrylic plastic, PMMA, poly methyl methacrylate.
What I think you are proposing may be laminated polycarbonate, a very different and much tougher panel than acrylic PMMA. A common brand name for single layer polycarbonate is Lexan. That is what is shown and properly titled in the photo accompanying your recent update on this subject. Laminated polycarbonate of increasing thicknesses can be very tough stuff indeed and is used as fighter jet canopies and bullet proof bank teller windows among many other uses. It is not "Plexiglas", however. Dan Martin
Dear Dan – You are absolutely correct and as I said below, there are better materials than Plexiglas. The idea is to line the inside of these catch fences with some smooth and strong material to prevent broken spines and crushed skulls. Laminated Plexiglas may be 'strong' enough. It would have to be tested. If it does not work than a laminated polycarbonate. The question is what can the sport afford to do that is 'good enough?' Broken panels can be replaced during a red flag. Broken spines and crushed skulls cannot. Something must be done. To do nothing is irresponsible and complicit. Mark C.
09/12/18 A reader writes, Dear AR1.com, I read somewhere that Plexiglas will not work in front on the catch-fences because it would shatter like a basketball backboard. Is this true? Eleanor Stepansky
Dear Eleanor, Not sure where you read that but obviously they are uninformed. The Plexiglas would in fact be laminated. As with Hurricane windows on structures that must resist flying objects in the air during hurricanes and tornadoes that could have speeds over 200 mph, the Plexiglas would actually be two layers thick bonded to an intermediate layer of a shatter-proof membrane.
This membrane is typically made of Polyvinyl Butyral (PVB), a plastic film which varies from .015 to .090 inches in thickness (or more if needed), depending on the design pressures needed. So like a hurricane window, the Plexiglas might break but it will not fall onto the track or fly anywhere because it is bonded to the clear center membrane. There are other materials even better than Plexiglas, such as Lexan, and Polycarbonate
People who say it cannot be done just want to keep the catch-fences as they are "because it's the best we can do." Nonsense. Mark C.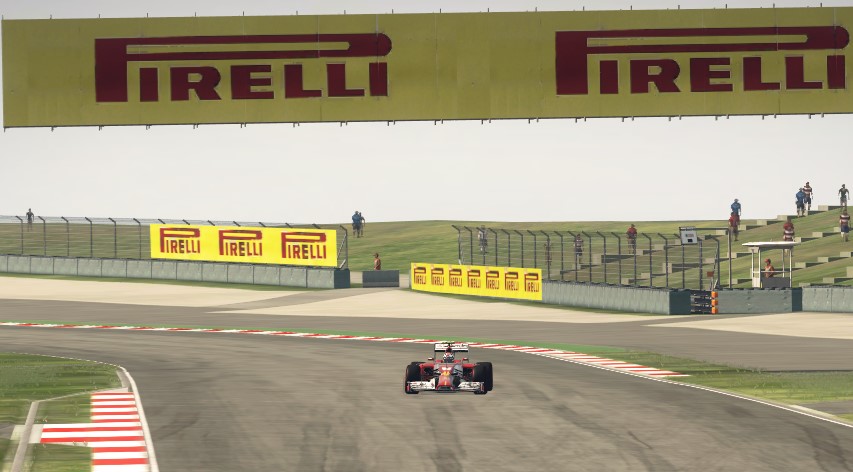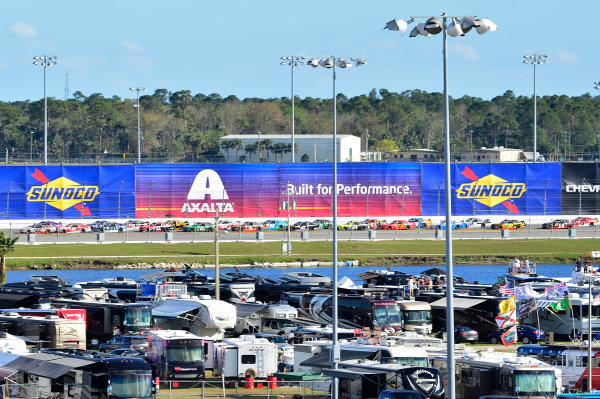 Banners = Revenue. Net cost of Plexiglass = $0.00
08/29/18 As with any safety improvement, it costs money. And right now there has been questions around who would pay for fixing the lethal catch-fences that line race tracks today.
Why not retrofit the existing catch-fences with Plexiglass to solve the problem of drivers being injured, and pay for the retrofit by having the track sell signage banners adhered to the smooth plexiglass.
F1 sells track signage and it is a big revenue generator. IndyCar and NASCAR race promoters miss the boat on this. The Long Beach GP has a lot of track signage, but they are the exception, rather than the rule
If Robert Wickens hit a Plexiglass lined catch fence, he would be racing this weekend in Portland. Ditto for Dan Wheldon and the many others done in by catch-fence posts.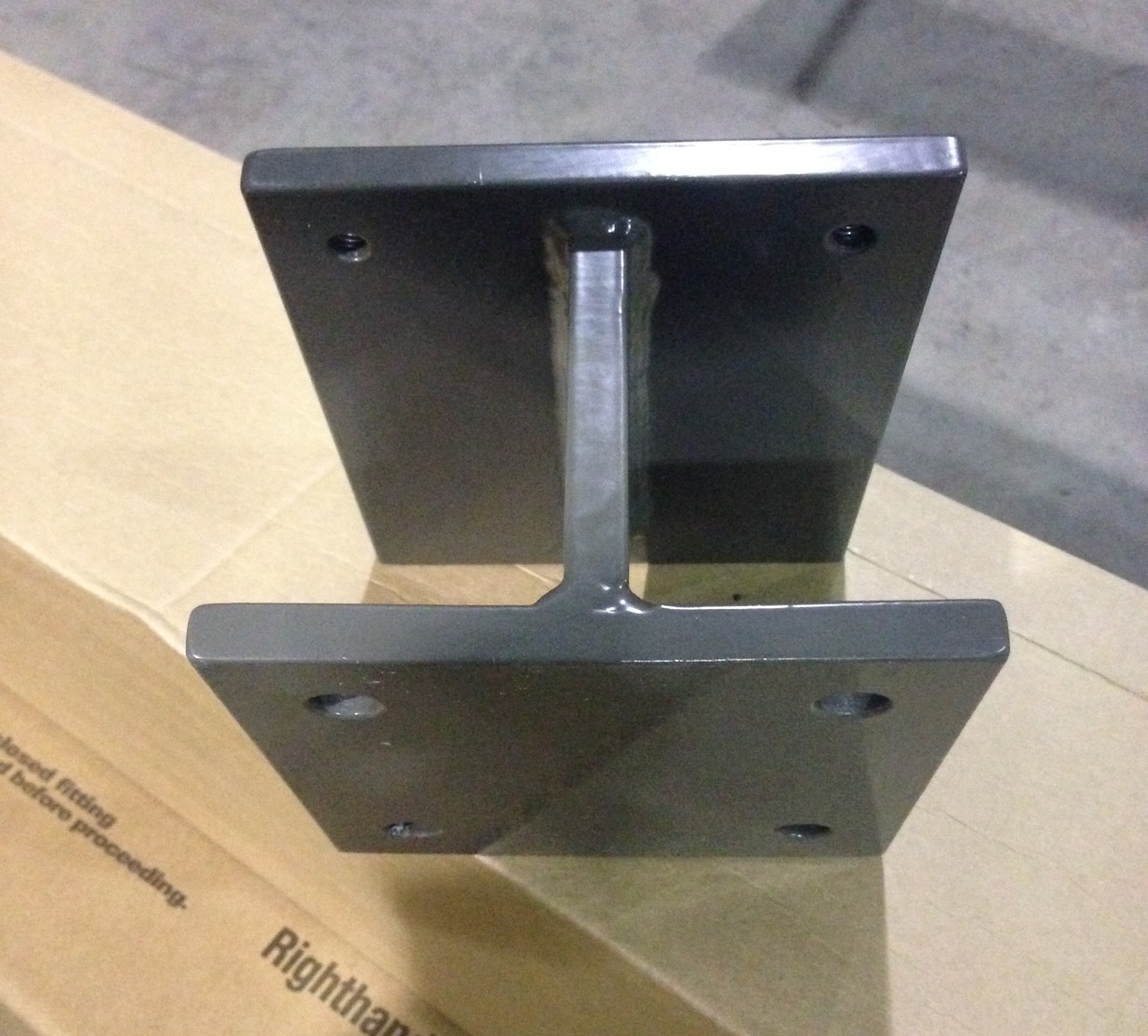 Butt Joint Plexiglass brackets 12 o.c.
08/24/18 A reader asks, Dear AutoRacing1.com, I love the idea of thick plexiglass panels to line the catch-fence in the corners, but I have a question. While I understand your U bold below to fasten the panels to the posts, how would you fasten the panels to each other where they butt together. Jason Lyme
Dear Jason, Excellent question. You would use a bracket like the one I show to the right down the butt joint about 12 inches on-center. This concept will work just need to make it happen. Mark C.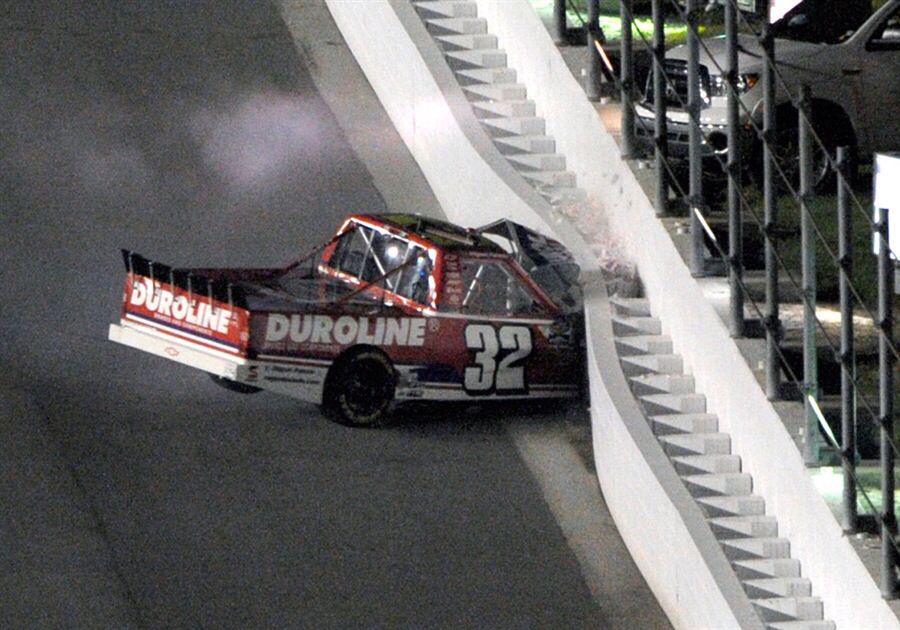 A higher SAFER Barrier would need a higher concrete wall behind it
08/22/18 Sam Schmidt gets it wrong. "We've got to figure something out," Sam Schmidt said, "and I've been saying this since Dan [Wheldon] died in 2011. I hate complaining about something or calling for changes when I haven't got a solution. I'm not the guy with the answers.
"But what I've asked for since then is that in the turns where there is no grandstand so no spectator sight-lines are affected, I think they should go double-high with the SAFER barrier.
"Maybe that's only a short-term fix, but the SAFER is tested and it doesn't spring the cars back onto the track like some people have worried about regarding the 'Plexiglass' solution." Note: You cannot just raise the SAFER Barrier without also raising the concrete wall behind it. Now you are talking about even more money. We proposed raising the concrete wall in front of the grandstands and eliminating the bottom rows that will be blocked since they are usually empty anyway. And cars spring back into the track when hitting any wall. The Plexiglass will not spring the car back onto the track anymore than what we saw at Pocono Sunday.
08/21/18 A reader writes, Dear AutoRacing1.com, I was at Knoxville recently and instead of using lethal catch fences with poles, they use a smoother solution made of Guide Rail, to avoid a car and driver getting mangled on catch fence poles. Keith Hylton
Knoxville 'Wall'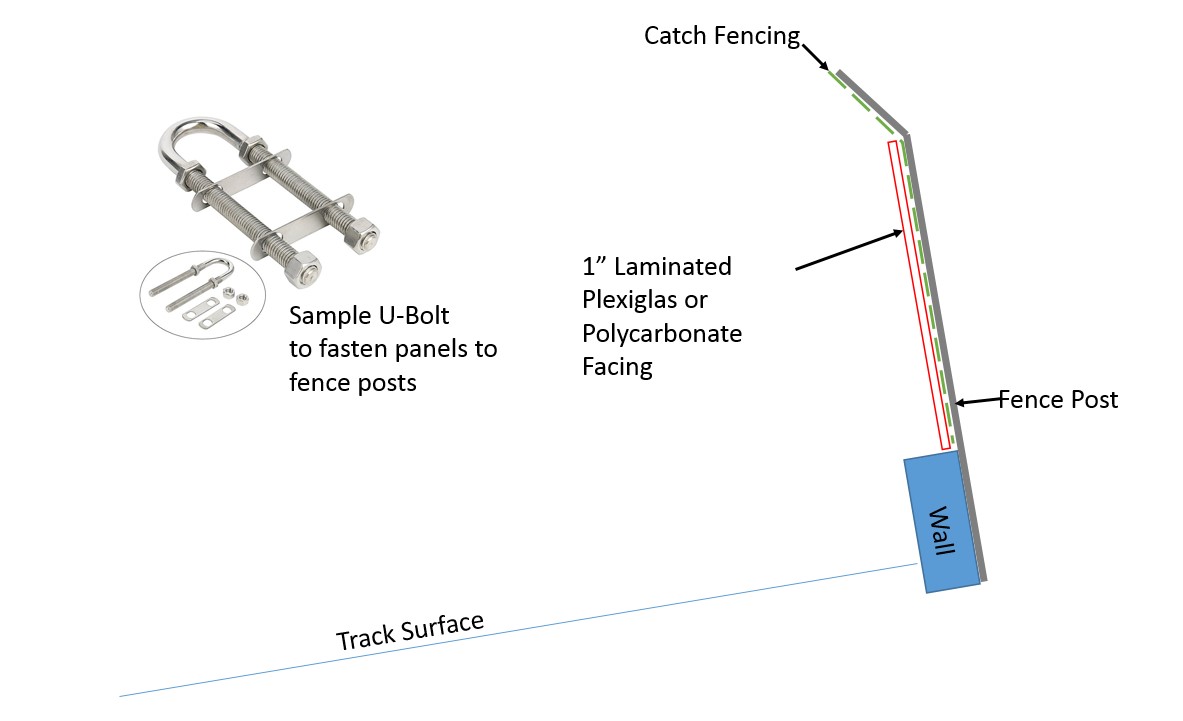 AR1 proposed solution to lethal catch-fences
08/21/18 NBC Sports' Paul Tracy today called on IndyCar to "review safety standards" after a crash in yesterday's Pocono 500 left driver Robert Wickens in the hospital with "multiple injuries." Wickens suffered "two broken legs and injuries to his lung and spine on Sunday after his car was sent hurtling into the catchfence following a collision." Tracy, a former IndyCar driver, in an Instagram post said that IndyCar "should find an alternative to chain link fencing and posts around racetracks." AFP.
Tracy "cites the fact that we've seen the untimely death of Dan Wheldon and retirement of Dario Franchitti because of high-impact collisions into walls and fencing, and the same could have occurred to Wickens." SPORTSNET.ca
A reader asks, Dear AR1.com, what can be done to the catch fencing poles so they do not mangle up IndyCar drivers when the car flies up into the fence above the concrete wall and Safer barrier? How many more drivers do we have to kill or severely mangle before something is done? David Perry
Dear David, In front of the grandstands it gets a bit tricky, but there are plenty of portions around the track that do not have grandstands, similar to where Wickens' accident happened yesterday, where the fix is easy and not that cost prohibitive. 1 inch sheets of Plexiglas's could be secured to the catch fencing (on side facing the track), similar to an ice hockey rink, but much thicker. The chances of a car taking down the catch fencing and severely injuring the driver would be greatly reduced, or almost non-existent, against the smooth surface. If panels are damaged in an accident, track operations crew can have extra ones ready to install.
It gets a bit more difficult in front of a grandstand where the Plexiglas's would distort the vision of the fans, and there is no easy solution there. There you can triple the height of the concrete wall and eliminate the bottom rows on the grandstands that would be blocked by the higher wall.
But the Plexiglas's solution can be done around a good portion of most oval tracks IndyCar races on. If Pocono had it Wickens may not have been injured at all on Sunday.
The two biggest issues in my mind are 1) cost – does IndyCar draw enough fans to make it financially worth doing it to the track owner, but how many times has a NASCAR car taken down the catch fencing and 2) Wind load – can the steel catch fence poles withstand the horizontal wind load against the panels – more poles will need to be added and that is an additional cost. Alternately, rounds holes can be cut in the Plexiglas's to reduce wind load. Mark C. reporting for AR1.com