Alonso leaving F1 for IndyCar, maybe not (13th Update)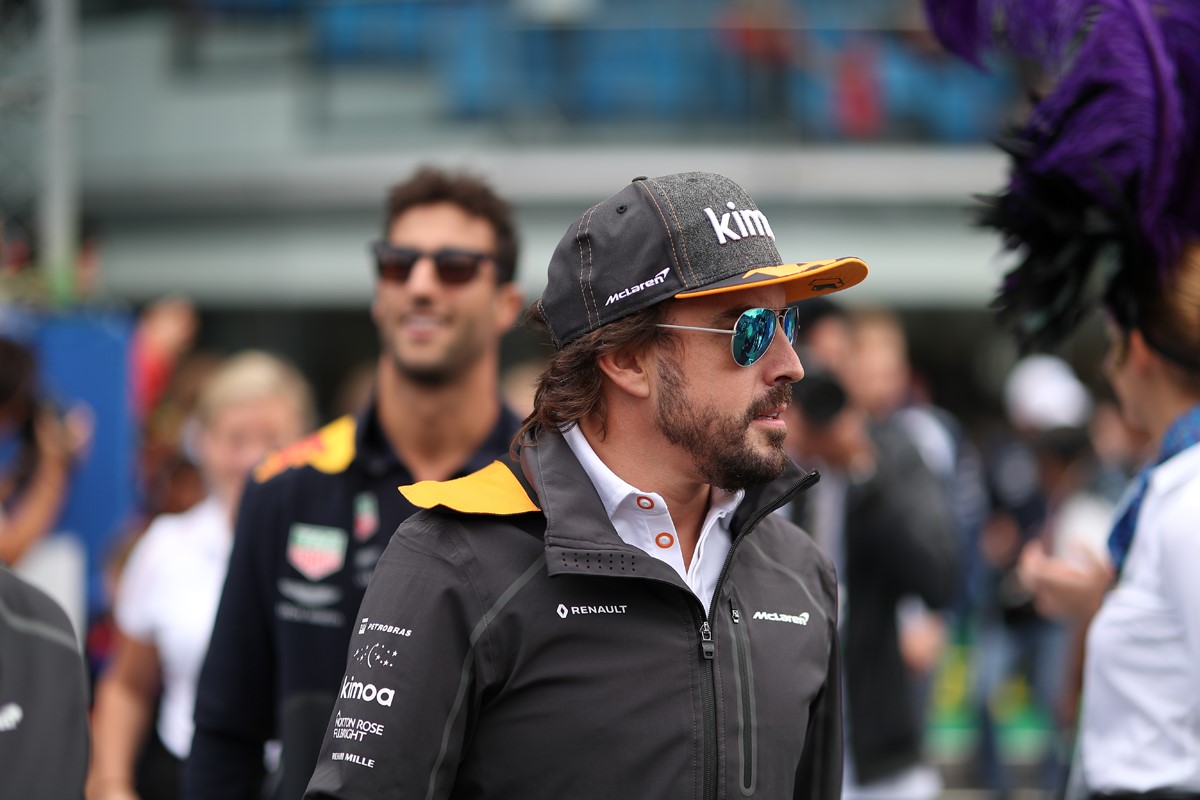 Alonso at Monza
UPDATE
Zak Brown says that McLaren's IndyCar deliberations will also consider whether it competes full-time in the series or just races in the Indy 500. It could still opt against racing Stateside at all next year.
"Fernando is testing next Wednesday in an Andretti car at Barber and that's for him to evaluate what an Indycar feels like on a road course," said Brown.
"From there he'll start to take a decision on what he wants to do next year and clearly, IndyCar is one of the series under consideration.
"We're very much doing the same and I think we'll make a decision sometime this month on whether we push forward with the Indy 500, IndyCar or doing nothing.
"Ultimately [there are] three decisions we need to make in September."
McLaren's IndyCar exploration has involved talks with both Honda and Chevrolet over an engine supply and Autosport understands the team is favouring Chevy.
That could be a potential complication for Andretti, which uses Honda engines. Autosport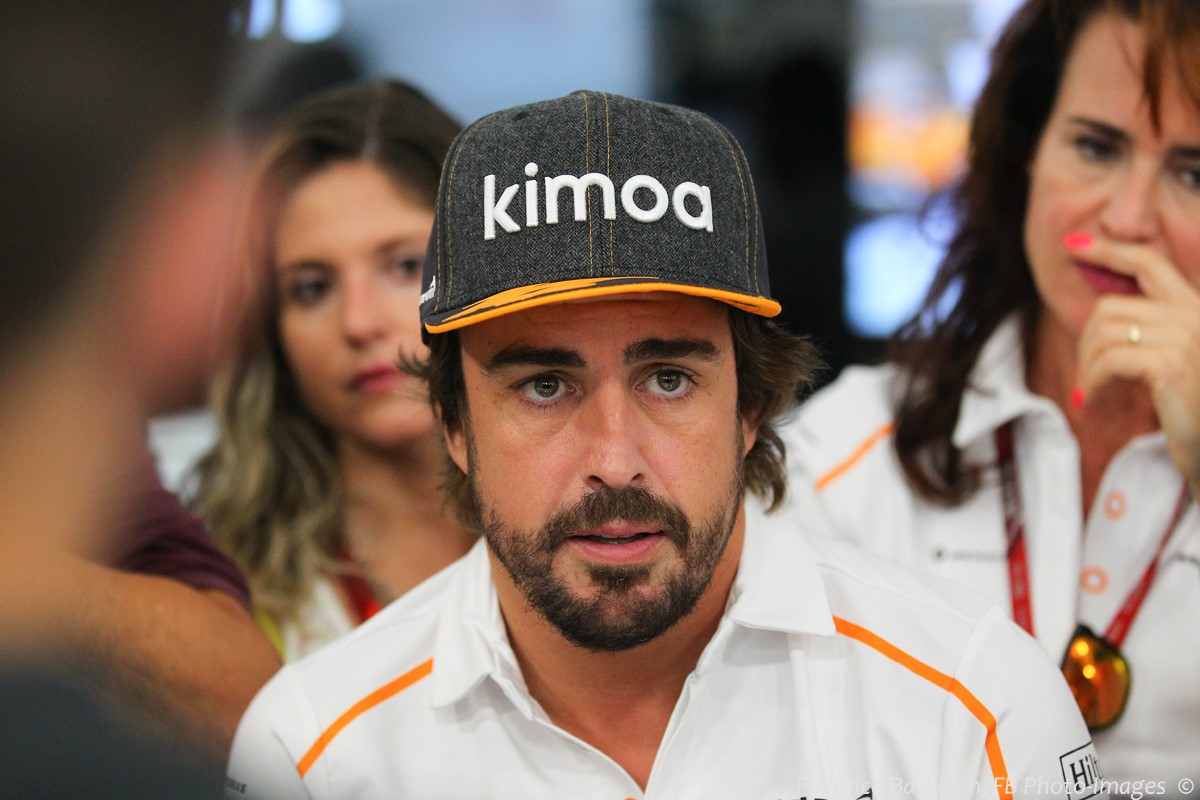 Alonso downplays Barber test. Has already decided what he will do
09/01/18 (GMM) Fernando Alonso will test an Indycar next week, it emerged at Monza.
The 2005 and 2006 world champion has announced he is quitting formula one at the end of the year, and is hotly tipped to switch to Indycar full-time.
"Yes, Alonso will test with Andretti," McLaren boss Zak Brown, who is considering an Indycar team for the Woking outfit, told Movistar.
"He has not decided what he will do, but he remains part of the McLaren family. We are continuing to work with Indycar on all the possibilities," Brown added.
Alonso agreed with Brown that Wednesday's Indycar test is not necessarily an indication of what he will do in 2019.
"My decision for next year is not going to be based on Wednesday," he said.
"I have everything decided in my head already," said the McLaren driver.
"The test was already scheduled months ago. I like to try all kinds of cars.
"Last year Andretti wanted me to test on a normal circuit but there was no time. This year we have the opportunity to do it but for next year I don't think it's a key day," Alonso added.
The forecast for next Wednesday at Barber is Partly Cloudy with a high of 90 and 58% humidity
09/01/18 The Indy Star confirms the test will be Wednesday at Barber in an Andretti Honda
"I think what you're seeing is he's done the Formula One thing, and It's not that much fun anymore," Andretti COO Rob Edwards told the Indy Star. "He's a really, really good driver, and he wants to have some fun doing some different things. So he's doing the Toyota (sports car program); he's going to try an Indy car on a road course; then who knows? Maybe he wants to try NASCAR. I saw he and Jimmie Johnson going back and forth on social media. I just think he loves to drive, and he's achieved certain things and now he just wants to try some new things. After that, we'll see where it goes."
Alonso will pilot the car Andretti one-off Carlos Munoz drove to a seventh-place finish at this year's Indianapolis 500, though obviously it will be reconfigured to a road course setup. Ryan Hunter-Reay's No. 28 DHL crew, including race engineer Ray Gosselin, has been called upon to service the car. Though Alonso remains under McLaren employ — and McLaren is known to be considering an entry into IndyCar in 2019 — the car will not contain any of the Formula One team's decals. In fact, the only decals the car is slated to have are Firestone, Honda and IndyCar, though it will retain the Andretti signature silver strip on the nose.
Edwards said the plan for the day is relatively loose. They will cycle through some things with him, but because track conditions will be much different than they are when IndyCar visits Barber (April), there isn't a whole lot to be learned.
"It's really for him to experience some of the facets of driving an Indy car on a road course," Edwards said. "We want to make sure when he leaves, he had a fun day and can say he learned some things. That's about it. It's really going to be very low-key."
Interestingly, this wasn't the first time Andretti scheduled a day at the track for Alonso to test. Andretti booked a day for him in July at Mid-Ohio as well as another undisclosed date and location. The Sept. 5 date was just the first time Andretti and Alonso's schedules aligned.
08/31/18 Double Formula 1 world champion Fernando Alonso will sample a 2018-spec IndyCar for the first time next week in a private test, McLaren has confirmed to Motorsport.com.
As revealed by Motorsport.com, McLaren and IndyCar are currently working together on a plan for the F1 team to join the American series next year.
Following Alonso's announcement that he would retire from F1 at the end of 2018, Alonso was linked with a test drive of a 2018 IndyCar – which the Spaniard admitted was an option. The team has now confirmed that Alonso will drive in a test which will be closed to the media and the public, but didn't outline any more detail.
As AR1.com reported weeks ago, the private test was scheduled to be next Wednesday September 5th at Barber. When we asked Michael Andretti this week he said he still did not know the date because Alonso's schedule is so crazy. With McLaren F1 being so slow at Monza today, Alonso appears resigned to a new challenge.
The confusing part right now is whether McLaren will run Chevy or Honda power, but the test next week is expected to be in an Andretti Honda.
After Alonso saw this NBCSN TV rating for IndyCar he probably said What a joke
06/24/18 This rumor was 'speculation' and will remain speculation. Formula 1 champion Fernando Alonso has been mentioned as a possibility to drive in the IndyCar Series in 2019 in either a one-off return to the Indianapolis 500 or a full season on the American open-wheel circuit.
According to a story in the Times of London, the former is an option. The latter is not.
The double world champion has spent much of this year fending off questions about his future, with his contract with McLaren up at the end of this season. There is an option for next year and McLaren are eyeing an entry into IndyCar, but a whole season in America does not appeal to Alonso.
His only interest is the Indy500, which he competed in last year but was forced to retire, as he continues his bid to complete motor racing's triple crown — winning the Monaco Grand Prix, Le Mans and the Indy500. He is two thirds of the way to becoming only the second man in history, after Graham Hill, to complete the hat-trick.
IndyCar chose to go with NBC and NBCSN and that decision will cost the series a lot of sponsorship, a third engine manufacturer and big name drivers like Alonso. NBCSN TV ratings are atrocious and getting worse.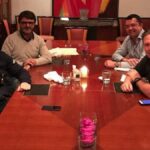 Luis Garcia Abad (behind Alonso) says it's not an option for Alonso to race IndyCar fulltime. Why? He makes more money in F1 than the entire IndyCar grid combined
06/21/18 This rumor remains 'false' today as Alonso's manager has reiterated essentially what Alonso said. Luis Garcia Abad said when asked about Alonso racing fulltime in IndyCar, "It is not an option or a possibility." Because F1 has great global TV deals that bring in Super Bowl-like viewership every race there is big money in the F1 paddock. Because IndyCar has such a bad TV package with very few viewers watching (and dropping) there is little money in the IndyCar paddock to pay someone like Alonso what he deserves. 'Think small and you will be small' must be IndyCar's motto.
(GMM) Fernando Alonso's manager has played down speculation the Spaniard is weighing up between formula one or Indycar for 2019.
After winning Le Mans, the double world champion only now needs to win the Indy 500 to secure his target of the motor racing 'triple crown'.
One rumor is that Alonso is tired of not winning in F1, and so will along with McLaren tackle the full Indycar calendar next year in order to win the Indy 500.
His manager, Luis Garcia Abad, told Onda Cero radio: "It is not an option or a possibility."
"Of course you always have the option of staying or leaving, or choosing one of the two, but nothing is decided.
"This is speculation that comes from the environment around formula one and its more than 500 million spectators and the large number of media," he added.
"We are calm and when the time comes to make the decision, he will take it as always.
"What we all want is for Fernando to be as happy as possible, but he knows that when he can win he does win, and when he cannot, he cannot.
"Every time he's on a podium, he's happy, and with Le Mans he has fulfilled a dream," Luis Garcia Abad said.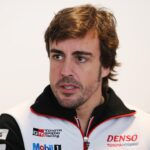 It's likely that when Alonso heard IndyCar broadcasts go dark outside of North America next year, it's better to stay in F1
06/07/18 This rumor is downgraded to 'false' today. Fernando Alonso denied he's set to quit Formula 1 at the end of the season when his current McLaren deal comes to an end, a rumor that intensified when the Spaniard described the sport as "boring" in Monaco.
Speaking to reporters in Canada, Alonso, who is set to make his 300th grand prix appearance this weekend, clarified his "boring" comment, insisting he was referring to the predictability of races.
"I'm not bored," he is quoted as saying by RaceFans.net. "It's obviously the top series in motorsport. It's where we all dream to come one day when we are go-kart drivers.
"But it's true that in the last years, especially with the turbo era, things are so predictable. This is race seven, there are 21 races, and we all know what is going to happen in the next 14 races. This is very sad for the sport.
"It's nothing against Formula 1, it's not that I get tired of F1, it's just I know that I will come here and I will fight from seventh to 12th and I will finish the season in Abu Dhabi fighting from seventh to 12th."
Some believe Alonso has run out of passion for the sport given his full-time World Endurance Championship drive and his interest in IndyCar, but the 36-year-old insists that isn't the case and he has "many more years" left in F1.
"I already signed [with McLaren] last year," he added. "It is a multi-year contract. I have many more years [here]."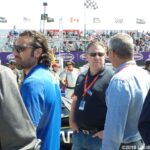 Zak Brown on the grid
06/02/18 Added photo of Zak Brown on the grid at Detroit Saturday after meeting with Michael Andretti earlier.
06/01/18 We are downgrading this rumor to speculation.
According to AR1.com sources, an announcement will be made soon regarding this new INDYCAR team for 2019. We are told Alonso will not be the full time driver.
He will run the Indy 500 and maybe another race or two during the season.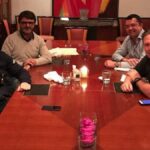 Alonso discusses his IndyCar future with his manager Abad, McLaren Team boss Zak Brown and Team Manager Eric Boullier
05/30/18 It now appears likely Alonso could be an IndyCar driver in 2019.
05/29/18 This rumor is very much tied together with this McLaren to IndyCar rumor.
05/26/18 (GMM) The next rumor regarding Fernando Alonso's future has emerged in the Monaco paddock.
Earlier, with McLaren's Zak Brown saying he wants to keep the Spaniard, it emerged that Alonso and Flavio Briatore met with Ferrari officials.
But Speed Week now reports that McLaren is considering entering Indycar full time. Another rumor in the paddock suggests the British team will initially partner with an existing team before going it alone in 2020.
It would tie in with the sudden appointment of two-time Indycar champion and Indy 500 winner Gil de Ferran as a McLaren consultant.
The rumor is that Alonso would front the Indycar team from the cockpit from 2019.
Brown confirmed: "We are looking at some other forms of motor sport, most notably Indycar is under review.
"He (de Ferran) obviously has great history there, so any expertise he has that he can volunteer to help us improve, we're very open-minded to that."
Alonso said: "I had nothing to do with de Ferran's appointment. Zak called me a few weeks ago and said that the team is looking at options and he can help with a fresh perspective.
"At the moment he (de Ferran) is listening more than talking, and then he will contribute more."
05/14/18 This rumor is now upgraded to 'strong' with the rumor on AR1.com that McLaren is eyeing a fulltime IndyCar team.
05/14/18 Amid reports that Fernando Alonso is considering retiring from Formula 1 at the end of this season, McLaren team chief Zak Brown is adamant that his team will wait on the Spaniard's decision before committing to a driver line-up for 2019 and beyond.
Alonso began his World Endurance Championship (WEC) Career in fine style by winning on his debut at the 6-Hours of Spa. His quest for the Triple Crown of Motorsport has become his priority.
In Barcelona, Brown said, "We will look at the driver line-up in the middle of the year. We'll see what Fernando wants to do."
"I think Formula 1 is his passion, but he has been doing it a long time so we have got to see what he wants to do, but hopefully he will be with McLaren for a long time."
"He loves the McLaren environment, I don't think he has ever been happier driving for a racing team. I think his heart is definitely still in Formula 1 but he wants to win."
"He's going to wait and see how these developments come along – we have more developments coming – so in the middle of the year we will sit down and make a decision."
"But I expect to see Fernando racing something and I hope it has a McLaren badge on it," added Brown.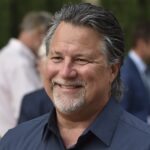 Will Michael Andretti run Alonso again at the 500 in future years?
04/22/18 Leaving F1 will free up 36-year-old Alonso to focus on a WEC (including Le Mans) program and another crack at the Indianapolis 500 – the two races he wants to win, to add to his Monaco triumphs, and become the second Triple Crown winner in the history of the sport.
Graham Hill is still the only man to have accomplished the unique feat to date.
The report below says that Alonso will only remain in Formula 1 beyond 2018 if he can secure a seat with Ferrari or Mercedes.
A return to Maranello is highly unlikely as his departure from the Italian team at the end of 2014 was far from amicable and Sebastian Vettel will hardly welcome the divisive and highly political Spaniard back into the fold.
The report speculates that if Hamilton and Mercedes are beaten this year in the championship, the Silver Arrows bosses may be tempted into ousting Valtteri Bottas and hire in a big name driver to 'motivate' the Englishman – enter Alonso into the equation…
However, a move to Mercedes is unlikely because Lauda and Hamilton don't want Alonso in the team and Ferrari is not going to take him back and Re Bull usually promotes from within.
Alonso has clearly stated that the reason he remains in Formula 1 is to win a third World Championship title, but the truth is that for him to do so he needs a car that can challenge and beat Ferrari, Mercedes and Red Bull. Barring a miracle McLaren will not be doing so anytime soon, something that has for sure not escaped Alonso.
Despite the speculation presented in the report, it is common knowledge in the F1 paddock that Ferrari and Mercedes will not hire Alonso, thus his dream of a third title will remain just that.
The winner of 32 grands prix will likely quit F1 after the season finale in Abu Dhabi this year because for Alonso the doors are firmly shut for him with the Big Three teams.
Lando Norris with Zak Brown. Norris could replace Alonso if he leaves McLaren
04/20/18 Lando Norris has been tipped to replace Fernando Alonso, who will reportedly leave McLaren at the end of the season.
According to Spanish publication Diario Gol, highly-rated Norris is in line to make the step up to Formula 1 as Alonso has 'grown increasingly frustrated' with McLaren's incapability of providing a car that can match the likes of Mercedes, Ferrari and Red Bull.
McLaren are believed to have further one-year options on both Alonso and his team-mate Stoffel Vandoorne, but Alonso is apparently ready for a new challenge elsewhere.
Mercedes and Ferrari could both have seats available at the end of the season with Valtteri Bottas and Kimi Raikkonen also out of contract, but it appears very unlikely either team will look to sign him and risk disrupting the team dynamics with Lewis Hamilton and Sebastian Vettel.
That may lead Alonso to continue racing in other disciplines away from Formula 1, something which he has stepped up this year with a full WEC season also on the agenda this year.
In reality, we look forward to Alonso being linked with every team under the sun before he signs a new extension with McLaren.