Visser to sell Furniture Row to GMS Racing (Update)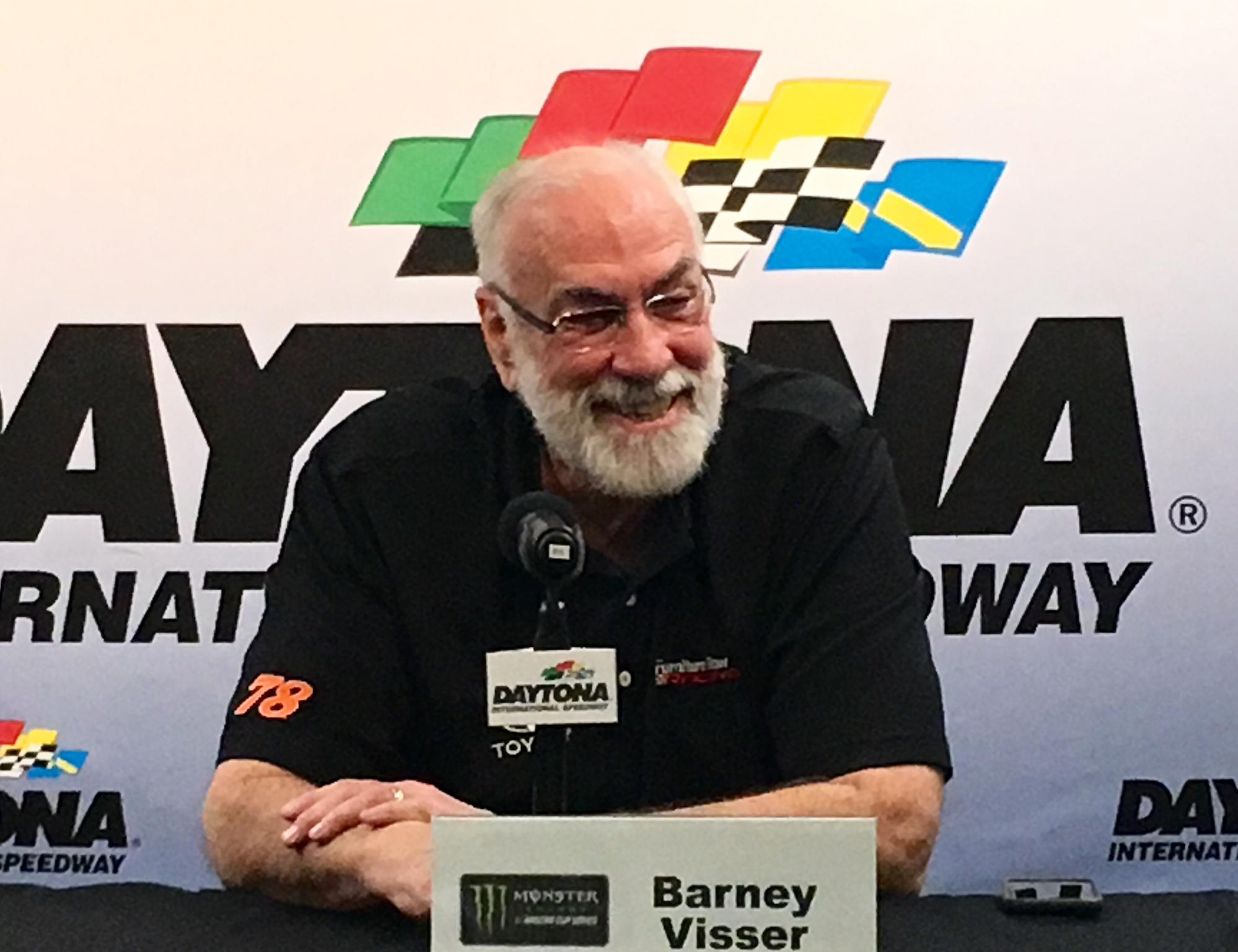 Barney Visser
UPDATE This rumor is downgraded to 'false' today. Furniture Row Racing met with team principals from GMS Racing on Tuesday in Denver, but neither party expects a deal between the two organizations to materialize.
President Joe Garone told RacinBoys.com that Furniture Row Racing's top priority is to fill the sponsorship void created by 5-hour Energy's departure at season's end.
"Everyone wants to stay together," Garone said. "We have an unbelievable team, but we need a sponsor. Our partners need to know what we're doing. We're in a critical time frame and have decisions that need to be made.
"We have a plan in place to continue running. We want to continue with Toyota, perhaps contract (downsize) and not have to rely on a technical partner. But this is a team that is not satisfied with just running. We want to be competitive. We are competitive. Toyota has been a terrific partner, and it has always been our intent to stay with Toyota. Right now, we're doing everything in our power to replace 5-hour and continue to win races and championships."
On Friday, Garone and GMS president Mike Beam confirmed the meeting.
"We looked at it," Beam said. "We talked about it a lot. It's definitely a great race team. We just don't have time to put it together."
"Our primary goal is to keep the team together," Garone said. "Our whole team—Martin, (crew chief) Cole (Pearn)—they want to stay together. We need to find a company that gets behind Martin Truex Jr. and (FRR owner) Barney Visser and sponsors this team.
"We have brought NASCAR to the fans of Colorado. What a great opportunity this would be for a local company in Denver to build a marketing platform around this organization."
08/23/18 Furniture Row Racing is discussing a possible deal with NASCAR Xfinity/Truck series team GMS Racing that, if completed, would see FRR Owner Barney Visser sell FRR's assets to GMS. Sources said that the No. 78 Toyota will be running again in the Monster Energy NASCAR Cup Series in '19, but it was unclear whether GMS would buy FRR's charter and assets right away or whether the two could form an alliance in '19 before GMS acquires the charter in '20.
Sources said the deal was still being worked on and not yet completed. If it was consummated, it would find a way for Visser to keep the No. 78 operation going, as GMS Owner Maury Gallagher's Allegiant Airlines could become a primary sponsor for the car. Both teams declined comment.
Visser had insisted that he did not want to use his own funds from his Furniture Row retail chain to sponsor the team anymore, and GMS needs a charter to move up to the Monster Energy NASCAR Cup Series.
GMS lost out on bidding for the now-defunct BK Racing charter that instead went to Front Row Motorsports. Sources said in recent days that FRR's confidence was rising that the No. 78 would be back with driver Martin Truex Jr. and Toyota next year, but that funding was unclear. This appears to be one way, if not the main way, that FRR is looking to make that happen. Adam Stern/SBD