Jim France to Be At Michigan NASCAR Weekend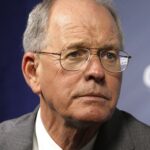 Jim France
NASCAR interim Chair & CEO Jim France is expected to be at track as soon as this weekend's action at Michigan, according to a source, as he tries to instill confidence and stability in the industry following the arrest of his nephew, Brian France.
Jim France, the longtime NASCAR BOD member and brother of Bill France Jr., usually keeps a low profile in recent years even when he is at races.
While he may not hold an official press conference, France is likely to be at and have a higher profile around this weekend's race at Michigan, as the industry tries to move on from the news of Brian France's indefinite leave of absence.
Jim France has been heavily involved in the IMSA sports car series in recent years but had gotten more involved in NASCAR again this year even before Brian France's arrest.
The source said he also will be at other races over the next several weeks in addition to Michigan Adam Stern/SBD