McLaren replacing both F1 drivers in 2019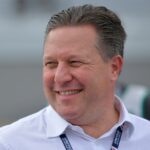 Zak Brown admits he probably needs 2 new drivers in 2019
(GMM) Zak Brown has admitted it is possible Fernando Alonso will leave McLaren and F1 for the Indycar series in 2019.
Brown, the McLaren team boss, said the Spaniard is "very interested" in the American open wheel category.
"He likes the series but hasn't decided yet what he wants to do as it relates to formula one. But our decision is not Fernando dependent," he told the Indy Star.
Brown is referring to McLaren's own deliberations, as talks with Michael Andretti's Indycar outfit about a team collaboration take place.
Andretti has even set a mid-August deadline.
"I hadn't heard that he put a date out there," Brown said. "But we are going to have to make a decision soon.
"Right now, we're laser-focused on formula one. We have driver decisions to make. We just hired a new technical director.
"That being said, we feel we still have time to make a decision on Indycar for 2019."
Brown: Reality is that we have two open seats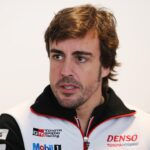 With no winning ride available, Alonso likely to leave F1 for IndyCar, unless Red Bull signs him to replace Ricciardo
McLaren team chief Zak Brown has all but confirmed that Fernando Alonso might not be in Formula 1 next year when he revealed that the Woking outfit have two race seats available for 2019, neither filled as yet.
Mercedes and Renault have now confirmed their driver line-up, which in turn has triggered a flurry of Silly Season speculation, with McLaren – despite their woeful form at the moment – still big players in terms of coveted race seats.
McLaren are still a team with huge pedigree and few drivers (other than those confirmed by the big Big Three) would turn down an opportunity to race for the great F1 organisation.
According to Brown, currently Fernando Alonso and Stoffel Vandoorne are tied to the team, "We do have a long-term agreement with Fernando and Stoffel but in these contracts, there's a variety of elements to them."
Vandoorne has not impressed this season, Alonso has pretty much destroyed the once highly rated Belgian driver, but Brown insists he still has faith in his driver claiming he is "very much part of that consideration" but this may well be lip service to pacify the 26-year-old.
We reported that Carlos Sainz is high up on the team's wishlist, but there are a number of other options, none less than 18-year-old Lando Norris who reportedly has a deal with the team whereby they need to guarantee him a drive in Formula 1 should he win the Formula 2 championship. He lies second in the standings with eight points scoring rounds remaining.
Brown is obviously keen to keep his young charge within the fold, "We want to keep Lando in the family. We're waiting to see ultimately what Fernando wants to do because it's also about the package – experience and youth – especially in the situation we're in where we're rebuilding."
"To have two young drivers with a difficult car wouldn't be a good place to be. If we had a better car, then you might take a risk with two younger drivers."
"In situations like this you need to keep every door and every avenue open and wait for some dominoes to fall. You've got to watch them all."
"We're not prioritising one over the other. We know our situation with Stoffel and we're seeing what other opportunities may or may not be available."
"Reality is that we have two open seats, and it's our job to get the best driver situation possible and that requires talking to other drivers up and down the pit-lane," added Brown.
This confirms that no one really knows what Alonso's plans are for next season – not even his current paymasters – what is certain is that his decision will have a domino effect in this intriguing period of F1 musical chairs.