2020 Martinsville Cup race to run under the lights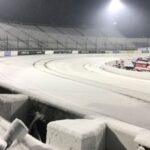 Martinsville needs a warmer date to avoid snow it has had in the past
In a video posted on the track's Twitter page in response to a fan question, Martinsville Speedway President Clay Campbell said, "The earliest a night race at his track would happen is in 2020."
The 0.526-mile track, the oldest active facility on the NASCAR circuit, finished installing 19 LED lights in Feb. 2017. The project was a result of needing an "insurance policy" after the fall 2015 Cup race ended nearly after sunset.
While last year's fall Cup race ended under the lights, Campbell said in the video finding the proper date on the schedule for a full night race is an issue, especially with the 2019 schedule already set.
"I think everybody in the business would love to see a night race here," Campbell said. "I think NASCAR is interested in it; International Speedway Corp., our parent company, is interested. Everybody. … I guess where we're going with that is it's not as easy as pick a date, flip the lights on and let's do it. There's lot of moving pieces to it. We don't control the pieces. So that's the problem. The second part of that is a better date to get out of the problems we had in the spring when we got snowed on."