Renault, McLaren and Williams to block Force India deal?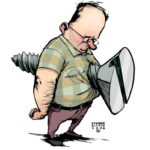 Renault, McLaren and Williams looking to screw Force India deal
Auto Motor und Sport's Michael Schmidt claims that the proposed sale of Force India, which went into administration on Friday, could be thwarted by three rival teams, Renault, Williams and McLaren.
With an eye on the fact that the Silverstone-based outfit might well change hands over the summer break, over the course of the Hungaroring weekend F1 boss Chase Carey sought agreement from all the teams that when changing hands, Force India could continue, albeit with a new name, and thereby still receive its share of the TV revenue and prize money.
However, Schmidt alleges that Renault, Williams and McLaren all refused to agree, which would mean that any new owner would need to register the outfit as a brand new team and would therefore not only be ineligible for Force India's prize money, estimated to be worth $150m, but would not be entitled to its own share of the prize pot for its first couple of seasons.
Such a move would be catastrophic, and according to Schmidt could stymie the sale of the team, leading to the 400 employees being made redundant and leaving the 2019 grid with only nine teams.
While it is unclear exactly what McLaren and Williams motives might be, it isn't that difficult to take a guess, what with both teams admitting that they are anxiously waiting on Liberty Media's proposed budget cap and redistribution of the prize fund.
Renault, on the other hand, according to Schmidt, is seeking to send a clear message to Liberty, concerned at the power wielded by Mercedes and Ferrari, particularly with regard to their so-called B-teams.
Ironically, Gene Haas, whose team has been constantly criticized by Force India for its close ties with Ferrari, was among the first to give his approval to Chase Carey.
While such a move seems almost unthinkable, self-interest has always been one of the sport's biggest problems.
However, as Schmidt argues, financially both McLaren and Williams are far better funded that Force India, the difference being that in recent years the Silverstone-based outfit has done a far, far better job in spending what little it does have wisely. Pitpass