Will the next Mario Andretti be a great as the first?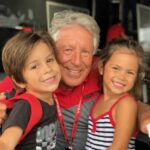 From left, Mario, Mario and Mia Andretti
Will the Mario Andretti legacy continue for decades to come? The next Mario Andretti (L) is pictured here with his sister Mia and grandfather Mario Andretti in this adorable photo from Mid-Ohio this weekend.
Mario and Mia are the youngest children (twins) of Michael Andretti – born in February 2014.
Is it any coincidence that young Mario was born almost 74 years to the day after Mario #1? Did he inherit the same driving abilities as grandpa and dad? Time will tell.