2019 to begin with F1 testing in Bahrain (Update)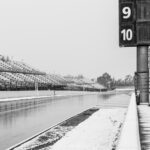 The teams lost one day to snow this past winter in Barcelona
UPDATE This rumor is downgraded to 'false' today.
Formula 1 has scrapped plans to hold a single, five-day pre-season test in Bahrain next year.
RaceFans reports the 2019 F1 season will begin with two four-day tests, as it did this year. The tests are expected to take place from February 18th to 21st and February 26th to March 1st.
The tests will take place a week earlier than last year because the first race of next season, the Australian Grand Prix, has also been brought forward by a week on the 2019 F1 calendar.
Williams chief technical officer Paddy Lowe said "it's become clear there isn't enough support" to move testing from Spain to Bahrain.
While the Circuit de Catalunya is considered the likely venue for both tests, the possibility of holding one test at Jerez has been mooted. However, Lowe said, "there's a reluctance to split because then there's a lot of cost around moving."
Renault technical director Nick Chester is among those who prefers the Circuit de Catalunya as a pre-season test venue. "Just because it's easier and it's still a good baseline track for us," he said.
Moves to change the testing venue to Bahrain came about after this year's pre-season test at the track was disrupted by snow. "We don't tend to lose much with weather," said Chester. "We can lose a day or two."
"The only difficulty with Bahrain is it's a bit harder to get parts out there," Chester added. "So if you're pushing everything late getting your updates there, getting your spares there, is a bit more of a hassle."
07/25/18 (GMM) F1 will kick off the 2019 season with winter testing in Bahrain.
That is the claim of Germany's Auto Motor und Sport, revealing that the risk of bad weather in Spain is the reason for the decision.
That risk has risen even more for 2019 because next season is slated to begin in Australia a week earlier than usual.
"The teams want to vote on the (test) date ahead of the Hungarian grand prix," said correspondent Michael Schmidt.
"But the FIA and Liberty have already given the green light."
This year, several days of the already limited winter testing program were affected by freezing temperatures and even snow.
Some teams initially baulked at the suggestion of the move to Bahrain for 2019, but it is believed Liberty Media has agreed to pick up some of the extra freight costs.
In return, the teams have been asked by Liberty to make the private testing more 'open', including by not using screens in front of the garage doors.