Did the FIA get bribed to reveal Ferrari's secrets?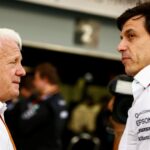 Did Whiting leak Ferrari's secrets to Wolff?
We already know that Lewis Hamilton is the FIA's 'pet' driver by their failure to issue a penalty for a clear infraction Lewis Hamilton committed in the German GP Sunday.
Now comes word that Mercedes wined and dined Charlie Whiting and team in their hospitality unit Sunday, possibly trying to get them to leak what Ferrari's secret is (to its power advantage) because they are not smart enough to figure it out on their own.
Mercedes and the FIA's 'pet' driver Lewis Hamilton have enjoyed a clear power advantage for the last 5 years. Now when the shoe is on the other foot, will the FIA leak to their 'pet' team Ferrari's power secrets?
Feeling the pressure, the reigning world champion team filed a complaint in May which prompted the FIA to launch a thorough investigation into the legality of the Ferrari power unit. Following a three-week-long scrutiny, the governing body found nothing illegal, but asked the Italian team to make modifications to the hardware and software of its power unit to calm down the rivals.
Toto Wolff described yesterday's meeting as "regular business" but we wonder if they served them their best wine to try and get them drunk enough to talk? Why wasn't the meeting at a neutral location or in the FIA offices?
"It's very important from the mindset you need to have, to say 'What can we do in order to achieve that power output?' rather than looking over and saying, 'it's not legal'. We are in a situation that we are looking at ourselves, how can we achieve that, and if we cannot achieve it, how can somebody else achieve it?" Wolff is quoted as saying by autosport.com.
The former race driver and instructor estimated the power loss to Ferrari at half a second during the German Grand Prix qualifying session.
"We need to find out how we can increase our power output, and not one single second I want to look at Ferrari, I want to look at ourselves, look at Mercedes and say 'is there anything we have missed?'
"If we want to win this championship, or stay in the hunt in this championship, we've got a severe warning today in terms of what we have seen," the Austrian concluded.
Is it the power output of Ferrari, or is Ferrari running less drag/wing angle because they found some way to make more downforce from the underbody of the car?
Recall how McLaren blamed their speed deficiency on the Honda power output when it was their inferior chassis all along.