Stroll to Toro Rosso or Force India?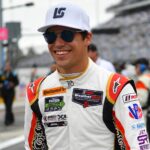 Lance Stroll to anywhere but Paddy Lowe's inferior Williams
UPDATE (GMM) After first being linked to Toro Rosso, now Lance Stroll is being linked with a move to Force India.
The Canadian has sounded frustrated with Williams' situation recently, and his billionaire father Lawrence has been spotted in heated conversations with team bosses.
When asked about the Force India rumors at Hockenheim, 19-year-old Stroll answered: "I'm really focused on the race and won't comment on these rumors.
"Yes, this year we were surprised and shocked by the performance of the car. But I would like to make progress and I want to win races. Why not with Williams?"
But first, he wants at least to see Williams make progress amid its abysmal 2018 season.
The once-great British team has a raft of improvements in Germany.
"I would like to see our improvement and get where we want as a team. But I still want to do what is best for me as a driver, so we will have to see.
"I'm still focused on where I am now."
Some, like Williams' last champion Jacques Villeneuve, think the team is already effectively "dead".
Asked if those comments upset him, current team driver Sergey Sirotkin answered: "No, not upset.
"It's just that not many people see how seriously we are working.
"From the outside, the situation seems more pessimistic than it really is," said the Russian. "It is a pity that I cannot tell you how things are, but from the inside I see much more."
Sirotkin did admit, however, that a lot is riding on Williams' car improvements at Hockenheim.
"The weekend is important, because the team has worked on these parts for a long time.
"If they do not work, we have serious problems with the correlation of data and it will take a long time to solve them, which will become very painful for the team.
"That's why I hope they work as we expect them to," he said.
06/11/18 A rumor that emerged in the Montreal paddock, before the race on Sunday, suggested that Lance Stroll was offered to Toro Rosso – on loan – by Williams to replace Hartley, upon which the Grove outfit would promote their reserve Robert Kubica to the race seat vacated by the young Canadian.
The rumor goes on to say that Canadian Billionaire Lawrence Stroll, who bankrolls the Williams team, would pay to put his son in another car to prove his ability, something he cannot do in the inferior Paddy Lowe Williams.
While the Toro Rosso is not a front running car, it would give Lance Stroll a measure against the highly rated Pierre Gasly who would be his teammate.