Hamilton's next move is to Ferrari (Update)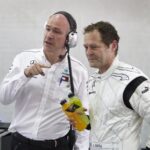 Aldo Costa back to Ferrari? If it is happening then it means he gets to be with his family in Italy and design unbeatable cars for Ferrari once again
UPDATE Added more to the 2021 speculation below.
07/19/18 It was a big surprise today when Mercedes announced they had only signed Lewis Hamilton for another two years.
With Aldo Costa moving back to his home country of Italy, and only working as a Mercedes consultant, Hamilton knows Mercedes is losing the best designer in F1.
It is quite possible that the former Ferrari designer during the Michael Schumacher era is being lured back to Ferrari and the consultant role for Mercedes is really his gardening leave period before moving back to Ferrari as their Chief Designer.
Hamilton knows that Costa is magic, so if our speculation is correct, Hamilton's next move will be to Ferrari in 2 years time.
Will Vettel and Hamilton swap seats for 2021?
Vettel's contract and Hamilton's contract both now end in 2020….as does Verstappen and we suspect Ricciardo when he re-signs with Red Bull.
If Mercedes gets a good designer (Newey?) than we can see Vettel go to Mercedes (German at German team) and he and Hamilton sway seats.
If not we see Vettel retiring and playing Dad to his two daughters, or taking a management role at Ferrari.
Alternately, we can see Ricciardo or Verstappen going to Mercedes in 2021 if 1) the car is still good and 2) the Honda in the Red Bull is not awesome. If the Honda is awesome, and Newey is still there, they both stay at Red Bull.
Let the speculation begin!
Drivers

Annual Salary

F1 Team

Contract
End Date

Sebastian Vettel

$60-million

Scuderia Ferrari

End-2020

Lewis Hamilton

$52-million

Mercedes AMG Petronas Motorsport

End-2020

Kimi Raikkonen

$40-million

Scuderia Ferrari

End-2018

Fernando Alonso

$30-million

McLaren F1 Team

End-2018

Valtteri Bottas

$12-million

Mercedes AMG Petronas Motorsport

End-2018

Max Verstappen

$10-million

Aston Martin Red Bull Racing

End-2020

Stoffel Vandoorne

$7-million

McLaren F1 Team

End-2019

Daniel Ricciardo

$6-million

Aston Martin Red Bull Racing

End-2018

Nico Hülkenberg

$5.5-million

Renault Sport Formula One Team

End-2019

Sergio Perez

$5-million

Sahara Force India

End-2018

Romain Grosjean

$4.45-million

Haas F1 Team

End-2018

Esteban Ocon

$3-million

Sahara Force India

End-2018

Kevin Magnussen

$2.5-million

Haas F1 Team

End-2018

Lance Stroll

$1.8-million

Williams Martini Racing

End-2018

Sergey Sirotkin

$1-million

Williams Martini Racing

End-2018

Carlos Sainz Jr

$750,000

Renault Sport Formula One Team

End-2018

Marcus Ericsson

$500,000

Alfa Romeo Sauber F1 Team

End-2018

Pierre Gasly

$400,000

Scuderia Toro Rosso Honda

Ongoing

Brendon Hartley

$350,000

Scuderia Toro Rosso Honda

End-2018

Charles Leclerc

$150,000

Alfa Romeo Sauber F1 Team

Ongoing