Sainz Jr. set to stay at Renault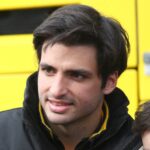 With very few changes to the F1 grid in 2019, Sainz Jr. had no where to go
(GMM) Carlos Sainz Jr. looks set to stay at Renault next year.
The Spaniard's place at the French works team was in doubt after Red Bull elected to drop customer Renault power for 2019 and switch to Honda.
Sainz is 'on loan' to Renault from Red Bull, with the energy drink company wanting him in the event Daniel Ricciardo leaves.
But Spain's Marca is now reporting that Sainz will stay.
"It is something that will be announced in a few weeks, after the other driver involved in the situation, Daniel Ricciardo, announces his renewal with Red Bull," the report claimed.
Sainz was asked about the rumors at Silverstone.
"Daniel Ricciardo's decision is obviously going to determine some things, but as long as it's not 100 per cent confirmed, it is not worth commenting on rumors," he said.
But Sainz, 23, said he would be happy to stay at Renault rather than move up to Red Bull.
"Seeing the amount of people they are hiring, the improvements they have made in the factory, the jump of the engine and the car over the past few years, I think Renault is one of the best prospects in F1.
"I am proud to be part of this project," he said.