McLaren F1 explains NASCAR to F1 fans
Following the F1 season finale in Abu Dhabi, Fernando Alonso and the team packed up their kit and flew straight to Bahrain for a very special project.
Fernando car swapped with seven-time NASCAR world champion Jimmie Johnson at the Bahrain International Circuit, each driver jumping into the cockpit of their counterparts: Jimmie in a McLaren F1, and Fernando in a NASCAR.
The two legendary world champions went head-to-head in the desert to get a glimpse of how the other half live. And boy, was it epic.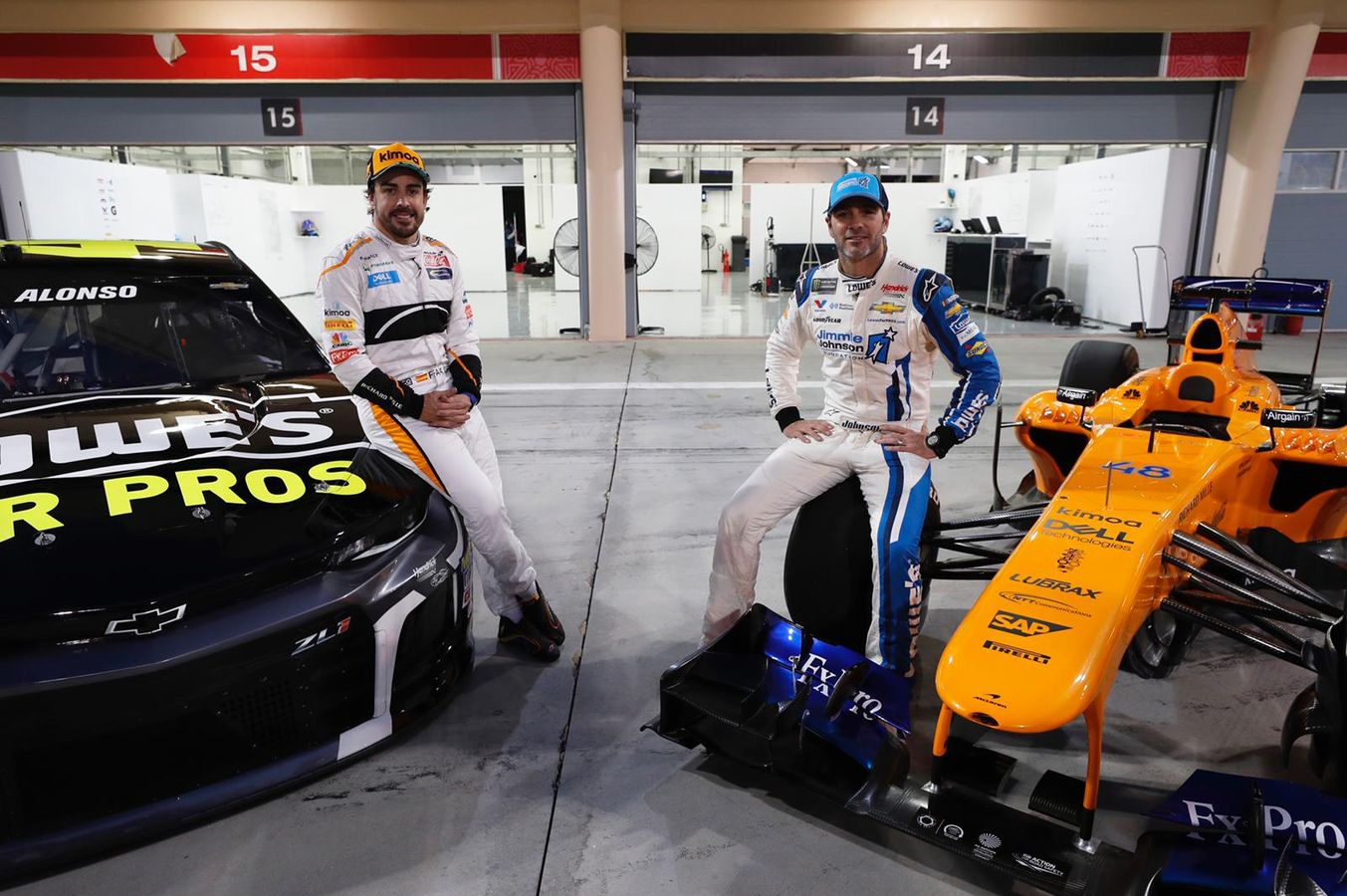 Johnson and Alonso
Although we've dipped our toes outside of Formula 1 with different motorsport series like Can-Am and IndyCar, we've never ventured into the weird and wonderful world of NASCAR. So what's the deal with stock car racing? How exactly does it work?
From the beginning
The NASCAR Cup Series can trace its routes back to 1949 – a year before Formula 1's first World Championship race was run in Europe.
The National Association for Stock Car Racing was formed in 1948 by the legendary Bill France in Daytona Beach. The Florida city had long been a focus of record breaking and racing on its famous beach, and France wanted to created an organisation that would create a rulebook and sanction a series of races around the country. The first championship was contested the following year, with most of the early races taking place on dirt tracks, which were finally phased out in 1970.
From the start the focus was on running "stock" or standard cars, with some modifications for racing. The rules have changed many times over the years but the philosophy of keeping technology relatively simple – and ensuring that the racing is close – has always remained the series' central ethos.
All that said, the modern NASCAR racer has a little in common with its road-going counterpart, other than model names and a basic adherence to the shape. The current specification, introduced in 2013, is known as "Generation Six."
Pedal to the metal
Three manufacturers are currently represented in the Cup Series, namely Chevrolet, Ford and Toyota. All cars feature a tubular spaceframe chassis, with a carefully crafted sheet-metal body. The details of bodywork are strictly regulated to stop teams from gaining an aerodynamic advantage.
Cars are rear-wheel drive and use a 5.86-liter (or 358 cubic inches) V8 engine with a four-speed gearbox. Power output is 725bhp, or 445bhp at high-speed tracks where restrictor plates are mandated for all cars to rein in performance for safety reasons.
Without driver or fuel, a car has to weigh a minimum of 1451kgs (or 3200lbs) – about twice the weight of a Formula 1 car. All cars use the same Goodyear tyres and Sunoco fuel. As in F1, the use of a HANS device by the drivers is mandatory.
In 2012, NASCAR switched from carburettors to electronic fuel injection – and since then every car has used an ECUprovided by and supported by McLaren Applied Technologies. Applied also supplies digital displays and sensors to the teams.
The road to the championship
The championship is run over 36 races, starting with the Daytona 500 – which has been both the season opener and most prestigious event since 1959. The majority of the venues are traditional ovals, ranging in lap length from 0.847kms (or 0.526 miles) to 4.28kms (or 2.66-miles). There are two long established road course events at former US GP venue Watkins Glen and Sears Point. Additionally, in 2018 a race was run on a converted version of the Charlotte speedway, known as a 'roval'.
Until 2004, the series champion was determined in the same way as most categories, with the title going to the highest scorer over the full season. However, in order to prolong the excitement and keep more drivers in the hunt, a 'chase' was instigated that season. In essence after 26 races the top 10 drivers became eligible to challenge for the title over the last 10 races in what is effectively a play-off.
The system has been adjusted and refined several times since then. In essence 16 drivers now start the Chase, and that figure is reduced to 12 after the first three Chase races, then eight after the next three, and then four after the next three. The "Championship Four" drivers then head into the finale at Miami's Homestead Speedway with the best placed finisher taking the title.
Two times the fun
Unlike F1, teams are not required to run two cars, and the major "chartered" teams field anything from one to to four entries at all events. Among those who have four cars are Stewart-Haas, co-owned by F1 team boss Gene Haas, and Hendrick Motorsports. Roger Penske and Chip Ganassi, both well known in IndyCar racing, run three cars apiece. Smaller teams are also able to run a limited schedule that does not include all 36 races.
In addition to the championship schedule there are events that don't count for points, starting before the season proper with the Clash at Daytona, a sprint race essentially for the previous year's pole winners. That is followed by twin 125-mile qualifying races that determine the grid for the Daytona 500. In addition there is an All-Star event at Charlotte in May that features the previous year's race winners and winners up to that point in the season.
The 2018 title was won for the first time by Penske's Joey Logano, who beat Martin Truex Jr, Kevin Harvick and Kyle Busch at the season finale.
So where does Jimmie Johnson enter into this? How did the American racer climb to the top and become the most successful NASCAR driver of all time?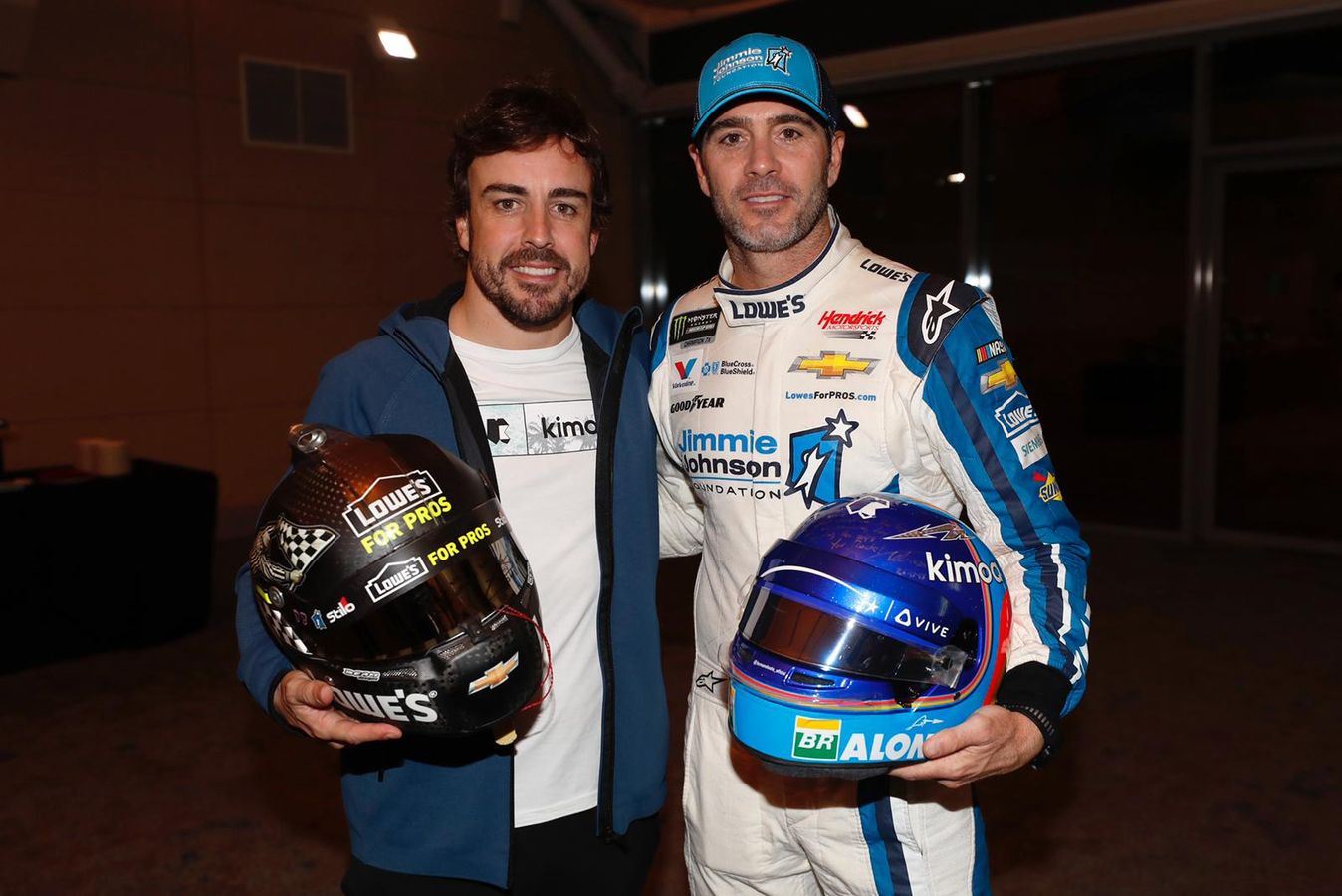 They swapped helmets too
Jimmie assured himself of legendary status when he won his seventh NASCAR title in 2016, tying the record held by Richard Petty and Dale Earnhardt, two of the biggest names in the history of motorsport.
Johnson had his first start in NASCAR's top division in 2001 – the same year that Fernando Alonso made his F1 debut with Minardi – and since his first full season in 2002 he has been a constant presence, always driving Chevrolets for the Hendrick Motorsport team, and always carrying his familiar number 48, and the same Lowe's sponsorship. Now 43, he remains one of the most respected drivers in a series that is packed with young talent.
Early days
Johnson did not follow the typical route into NASCAR. Born in California, he competed initially on two-wheels, before moving to the rough-and-tumble world of stadium car and truck racing. It wasn't until 1998, and at the age of 22, that he moved to traditional oval stock car racing in the ASA series. That year he also ran a few races in NASCAR's second division Nationwide series, which he entered full-time in 2000 and 2001, finishing eighth in the latter season.
He did enough to attract the attention of veteran team owner Rick Hendrick, who had already won a string of titles with Jeff Gordon. In 2001, Johnson made a low-key debut with three starts in NASCAR's top division, which is now known as the Monster Energy Cup, before moving into a full-time Hendrick ride in 2002.
On the title chase
In his first full season, Johnson made his mark by winning three races and leading the standings at one stage, finally finishing fifth. He would finish runner-up in 2003 and 2004, losing by just eight points – then the closest losing margin – in the latter year. He led for much of the 2005 season, but eventually fell back to fifth.
In 2006, the year that Fernando secured his second title for Renault, Johnson finally took the championship for the first time, while also scoring his maiden Daytona 500 victory. It was the start of a remarkable and record-breaking run of five straight successes that saw him win again in 2007, 2008, 2009 and 2010. Maintaining that form in such a competitive category was a simply remarkable achievement.
A fresh start
After two frustrating years he bounced back with a sixth title and second Daytona win in 2013, then in 2016 he tied the record with seven championships. He endured the toughest season of his career in 2018, failing to win a series race for the first time. He remains with Hendrick in 2019, but the season will see a fresh start, with a title new sponsor and a new crew chief.
Along with the seven titles, Johnson has won an incredible 83 NASCAR races and has twice finished second on rare road racing outings in the Daytona 24 Hours. He has also competed against F1 stars in the Race of Champions on several occasions.