Mercedes buries Ferrari in Abu Dhabi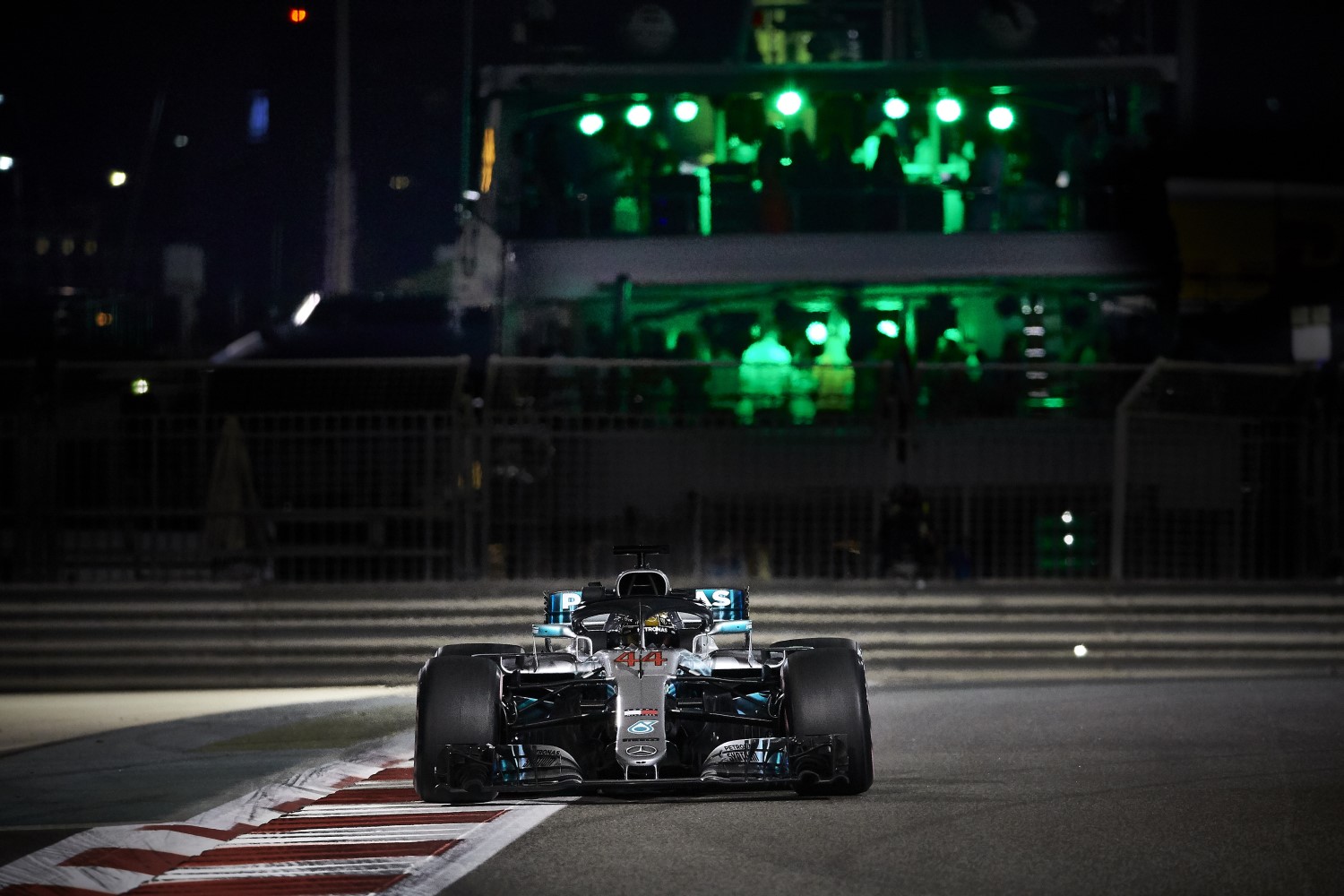 Hamilton wins his 84th career F1 pole with a track record 1m 34.794s, and 11th pole of 2018
No one can beat an Aldo Costa designed race car. Just ask Michael Schumacher.
We have been saying it for years – Costa made Schumacher and he has made Lewis Hamilton.
Hamilton and his Mercedes teammate Valtteri Bottas locked out the front row for the Abu Dhabi GP at the Yas Marina circuit and were the only drivers to dip into the 1m34s range in Q3.
The Ferraris of Sebastian Vettel and Kimi Raikkonen make up the Ferrari row (Row 2) and the Red Bulls of Ricciardo and Verstappen make up the Red Bull row (Row 3).
[adinserter name="GOOGLE AD"]But lets be clear – the two Mercedes are so superior no one else has a chance on Sunday.
Vettel sounded upbeat. Ferrari were quicker than Mercedes yesterday on longer runs – can they pull off something tomorrow in the race? No because Bottas will play slave to Hamilton and hold the Ferraris up.
Mercedes have made a little bit of history today – their fifth consecutive front row lock-out at Yas Marina is the first time any team has managed that level of dominance at one track.
That is some consistency from the Silver Arrows – but that is what Aldo Costa's cars do – dominate.
The only hope anyone has in 2019 is that Costa will step back into semi-retirement and only work on special projects for Mercedes.
But Costa has already designed the 2019 car, then rest assure Hamilton will win the World title in 2019 as well.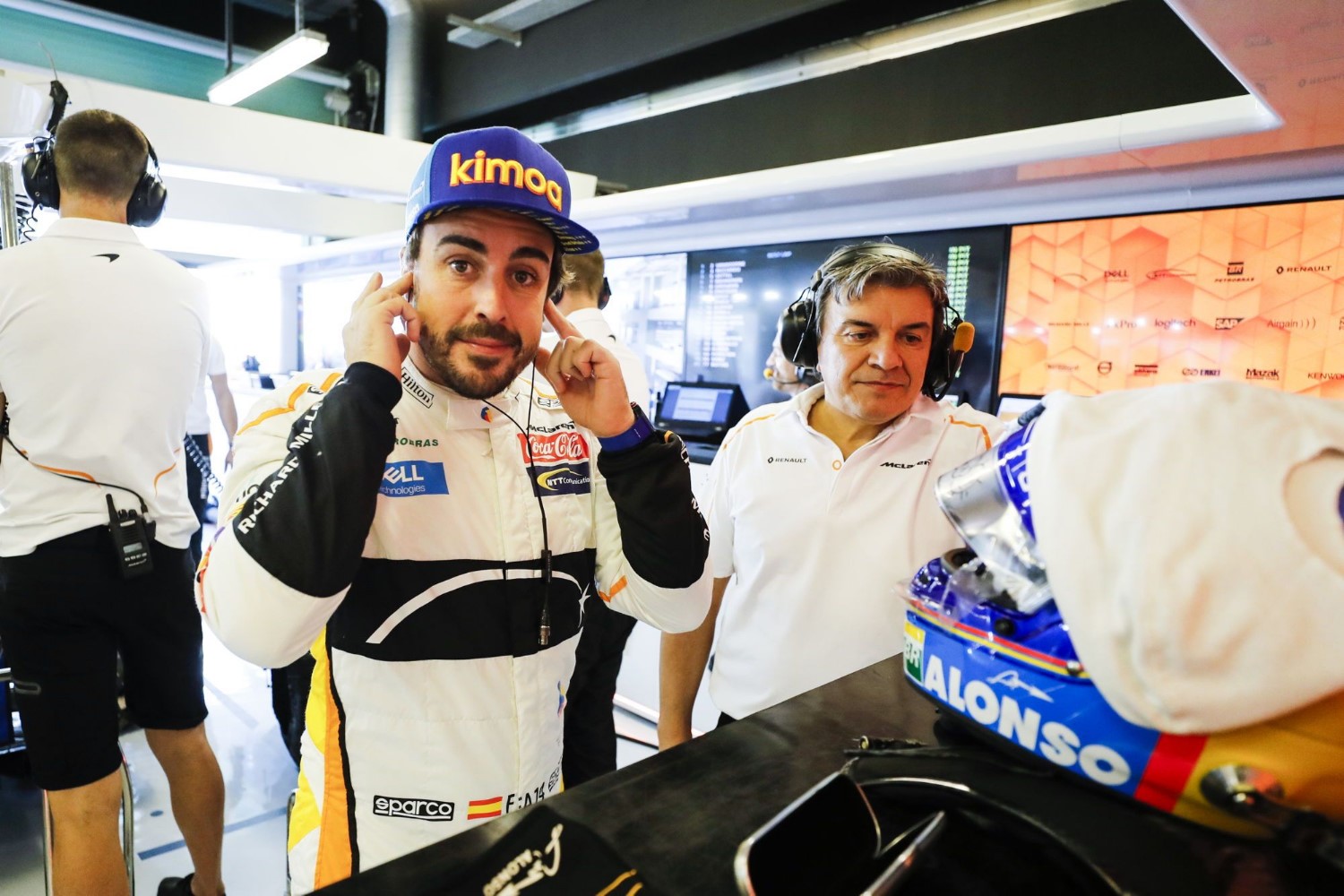 Yes, I buried Vandoorne again
Haas' Romain Grosjean claimed the final 'best of the rest' placing of the season – denying Nico Hulkenberg the chance to claim his fourth consecutive appearance in seventh place on the grid in Abu Dhabi – while the similarly Ferrari-engined Sauber of Charles Leclerc was eighth. Esteban Ocon was ninth for Force India, while Hulkenberg ended up 10th.
Appearing in what could be his final ever qualifying session, Fernando Alonso was P15 for McLaren and beat his teammate Stoffel Vandoorne in every qualifying session of 2018. Make no mistake, Alonso is the superior driver but is leaving F1 because none of the top teams will have him back.
Quotes
Lewis Hamilton
What a great way to end the season with a 1-2 qualifying session. I'm really proud of everyone at Mercedes, I couldn't have done this without the support and I'm really proud to be a part of the team. If you look at the team's performance on a race weekend this year – our mechanics, our engineers, our strategists – we've all raised our game and we continue to elevate ourselves as a team which is really inspiring to me; it encourages me to go out there and not let them down. The qualifying session today was great, it was a lot of fun. It went quite smoothly, the team did a really good job in getting the car into the right window. It's always difficult to improve on your last lap, particularly when your first lap in Q3 is pretty good, but I managed to increase the gap. It's still a long race tomorrow, there's a lot of work to do, but I'm really happy with today. I want to finish the season on a solid high, so that I can use that foundation to start strong next year.
Valtteri Bottas
A great performance from the team – it's impressive to see that even though we've secured the constructors' title in Brazil, everyone is still performing on a really high level, everyone's still happy to be here and really motivated. I was hoping for pole today, but I think Lewis did another exceptional qualifying and I didn't quite find enough time in Q3. I knew that there was room for improvement left after my first run in Q3 and both Lewis and I found some time, but he just managed to get a more complete lap together. However, I'm happy that I got a decent lap in Q3 and that we were able to secure a well-earned front row lockout for the team. Our pace looked good, but it is extremely close with Ferrari and Red Bull, so we'll have to wait and see what happens in the race tomorrow. There are always opportunities in the race to get ahead, so I will be waiting for my chance and hopefully come in first.
Toto Wolff
This weekend has been a special challenge: we are not here for championship points, the negative pressure is off and it's all about the enjoyment of racing. So to take the front row with Lewis and Valtteri is really special; this is a good Saturday for us. Both Lewis and Valtteri produced great laps at the end of Q3 to put some clean air between us and the Ferraris; and we have the positive of starting on the UltraSoft tire for the first stint tomorrow as well. We know that we will need a good start, a strong first lap – and even after that, it will be a long race and very demanding on the tires. We have managed to keep the energy levels high in the team and now we want to finish this fantastic season on another positive note. It's also been a really great day for George Russell – well done George, congratulations on a well-deserved F2 championship.
Andrew Shovlin
We'd gone into the day hoping to be able to start on the UltraSoft tire and hoping for the front row so naturally we're delighted with the way that qualifying went. We had quite a few changes to the cars overnight and looking at our pace in the practice session today, we seemed to have moved in the right direction. We were certainly happier on the hot track than we had been on Friday. We were surprised by the pace on the UltraSoft in the second part of qualfiying. We'd thought it would be really tight to go through but as it happened, Lewis had nearly 1.3 seconds in hand so the car is clearly working nicely on that tire and hopefully that will carry into the first stint tomorrow. The HyperSoft is a bit trickier, even though the track is quite cool in the evening sessions it is still difficult to get the tire to last the lap without overheating in the final sector. Both drivers did good laps in the final session and it was great to see Valtteri get back onto the front row on his final run and Lewis take another brilliant pole position. We know that we've still got a lot of work to do to win tomorrow and that Red Bull and Ferrari will be doing everything they can to take it from us, but we will keep pushing until the last lap of the season and hopefully finish the year in style. I also want to say congratulations to George Russell for his F2 title – well done, George!
Sebastian Vettel
"I think that today we correctly worked out the direction to take in terms of tire strategy and we were able to follow the trend. Yesterday we had tried everything, but the Hypersoft tires didn't last for long, so we were quite confident they weren't the tires we wanted to start the race on. Today I knew in my second run I had some lap time to gain and I wanted to start on the Ultrasofts, so that's why I was happy to take the risk and do my second run in Q2 on the same compound.
In general, I've been happy with our session. For tomorrow I would have liked to start from the front row, but our main rivals probably had saved some performance cushion for the last run in Q3. As I told the guys in the garage, in the race we will fight as much as we can; then anything might happen. Today we had good speed on the straights, but I guess we were lacking a little bit of downforce in the last sector, so let's see what we can do. For sure, it is going to be a long race".
Kimi Raikkonen
It was a solid qualifying session and I think there was nothing wrong with the car today, nothing to complain about. In fact, it worked pretty well, we were only lacking a bit of speed especially in Sector 3; that's where we were losing the most and it has been like that for all the week end. Our competitors were probably playing around a bit in the first part of the session, then in the end the margin was bigger. As for tomorrow, I can only say that we are going to do our best. We will start the race on the Ultrasoft tires, which is the choice all the top teams have made. We hadn't tested that kind of compound before today, and in terms of race pace, we have some figures from Friday's long runs, but practice is another story from the race itself and usually, on Sunday, the gaps close up a little bit.
Daniel Ricciardo
"Today was fast and fun, it was actually an enjoyable qualifying session. I thought I had Kimi for fourth but he just got me by half a tenth. I would be happier with fourth than fifth but we got through Q2 on the ultrasoft which was our target. There is a big step, maybe one second between the ultra and the hyper so we needed to do more or less the perfect lap on the ultra to make it through Q2. It was very close and I was in P10 but the team made the call to abort the lap and we just made it through. My first run in Q3 was good and we looked very close but both Mercedes and Ferrari improved. Fifth and sixth as a Team doesn't look that special on paper but the gap is small and we are competitive. We have solid race pace and hopefully our degradation will be better than Ferrari and Mercedes and we can apply the pressure. I'll be staring down the two Ferraris on the grid, they're in my way of a podium at the moment so I'll try and get in front of them as quickly as possible. All weekend our car has been strong, especially in the last sector, so the podium fight is on."
Max Verstappen
"I'm not overly happy with how qualifying went today. After the first run in Q3 I knew we needed to get the tire temperatures down in order to improve the grip. We tried this for my final run but unfortunately they were still too high, this meant I aborted my flying lap as I was just sliding everywhere, especially in the final sector. The car balance wasn't quite as good as it has been in previous qualifying sessions, I wasn't able to get what I wanted out of the lap. Starting on hypersofts wasn't the original plan but it could be interesting, being on a different compound to some of the others could prove helpful. Overtaking is a bit tricky around here, definitely not as straight forward as Brazil. It will take strategy and a bit of luck to be on top tomorrow. Our race pace once again looks good, so I'll do my best to get on the podium."
Christian Horner
"It was a strong session for Daniel to get through Q2 on the ultrasoft compound in his last qualifying for us. Max unfortunately didn't have a great run on his set of ultras, so resorted to the hypersoft in the final stages of Q2. That means we're starting from the third row on two different compounds which strategically could make things interesting. As we moved into Q3 unfortunately we couldn't compete with the high power modes of Ferrari and Mercedes, but Daniel produced a great lap to qualify fifth with Max just behind him in sixth. Our long run pace and tire degradation has looked good all weekend, so we will definitely be in the fight tomorrow."
Qualifying Results (99% car 1% driver)
| | | | | | | | |
| --- | --- | --- | --- | --- | --- | --- | --- |
| POS | NO | DRIVER | CAR | Q1 | Q2 | Q3 | ROW |
| 1 | 44 | Lewis Hamilton | Mercedes | 1:36.828 | 1:35.693 | 1:34.794 | Mercedes |
| 2 | 77 | Valtteri Bottas | Mercedes | 1:36.789 | 1:36.392 | 1:34.956 | Mercedes |
| 3 | 5 | Sebastian Vettel | Ferrari | 1:36.775 | 1:36.345 | 1:35.125 | Ferrari |
| 4 | 7 | Kimi Raikkonen | Ferrari | 1:37.010 | 1:36.735 | 1:35.365 | Ferrari |
| 5 | 3 | Daniel Ricciardo | Red Bull Renault | 1:37.117 | 1:36.964 | 1:35.401 | Red Bull |
| 6 | 33 | Max Verstappen | Red Bull Renault | 1:37.195 | 1:36.144 | 1:35.589 | Red Bull |
| 7 | 8 | Romain Grosjean | Haas Ferrari | 1:37.575 | 1:36.732 | 1:36.192 | |
| 8 | 16 | Charles Leclerc | Sauber Ferrari | 1:37.124 | 1:36.580 | 1:36.237 | |
| 9 | 31 | Esteban Ocon | Force India Mercedes | 1:36.936 | 1:36.814 | 1:36.540 | |
| 10 | 27 | Nico Hulkenberg | Renault | 1:37.569 | 1:36.630 | 1:36.542 | Renault |
| 11 | 55 | Carlos Sainz | Renault | 1:37.757 | 1:36.982 | – | Renault |
| 12 | 9 | Marcus Ericsson | Sauber Ferrari | 1:37.619 | 1:37.132 | – | |
| 13 | 20 | Kevin Magnussen | Haas Ferrari | 1:37.934 | 1:37.309 | – | |
| 14 | 11 | Sergio Perez | Force India Mercedes | 1:37.255 | 1:37.541 | – | |
| 15 | 14 | Fernando Alonso | McLaren Renault | 1:37.890 | 1:37.743 | – | |
| 16 | 28 | Brendon Hartley | Toro Rosso Honda | 1:37.994 | – | – | Toro Rosso |
| 17 | 10 | Pierre Gasly | Toro Rosso Honda | 1:38.166 | – | – | Toro Rosso |
| 18 | 2 | Stoffel Vandoorne | McLaren Renault | 1:38.577 | – | – | |
| 19 | 35 | Sergey Sirotkin | Williams Mercedes | 1:38.635 | – | – | Williams |
| 20 | 18 | Lance Stroll | Williams Mercedes | 1:38.682 | – | – | Williams |