Steele takes overall, SCORE Trophy Truck win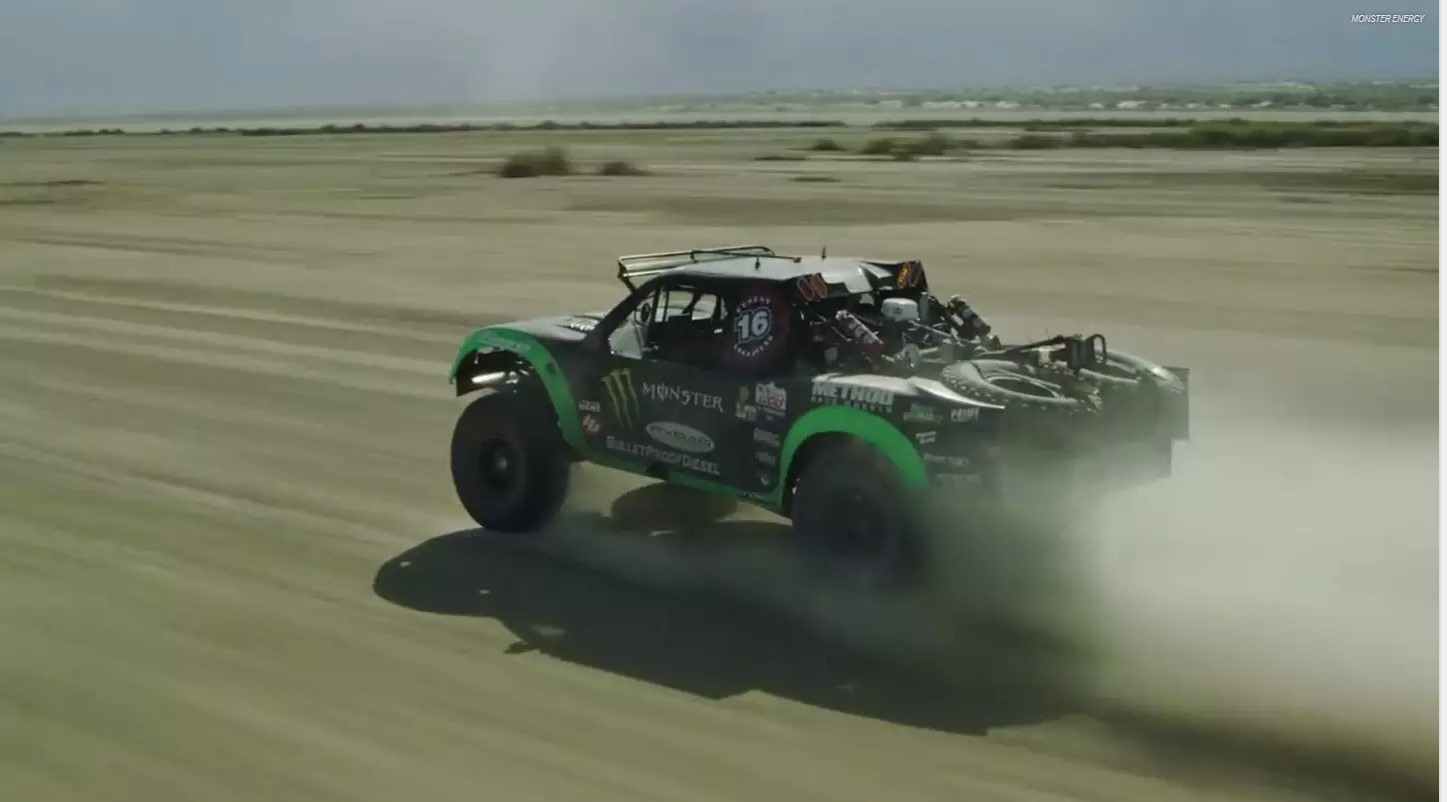 Cameron Steele
ENSENADA, Mexico–After the dust settled early Sunday morning and the vehicle tracking devices had been reviewed, popular action sports TV announcer/desert racer Cameron Steele was officially awarded the overall 4-wheel vehicle and SCORE Trophy Truck race victory at the epic 51st SCORE Baja 1000 in Ensenada, Baja California, Mexico. Finishing second physically behind apparent winner Rob MacCachren, Steele was later awarded the victory after MacCachren was penalized for a course infraction.
Steele finished the radically challenging 806.76-mile race in 16 hours, 24 minutes, 02 seconds in his No. 16 Monster Energy Desert Assassins Geiser Bros. built Ford Raptor with an average speed of 49.19 miles per hour.
The race was also deciding the coveted season point championships in Pro and Sportsman classes for cars, trucks, UTVs, motorcycles and quads in the season-finale of the four-race 2018 SCORE World Desert Championship.
Final official results were released by SCORE race officials after the course closed, all data-tracking devices had been read, penalties assessed and confirmed by the SCORE Competition Review Board late Sunday morning in Ensenada.
The race was the season-finale of the four-race 2018 SCORE Desert World Championship.
51ST BAJA MIL
The world's most iconic, oldest, prestigious and longest continuously held desert race, this year's epic 51st SCORE Baja 1000 was held over a rugged 806.76-mile race course over the Northern part of Mexico's majestic Baja California peninsula, starting and finishing in Ensenada, Baja California Norte.
The week was a heart-warming, memory-building, risk-taking, nostalgic celebration of the world's most iconic desert race—the legendary Granddaddy of all Desert Races. Pre-race festivities and the start/finish line area were held in Ensenada, 80 miles south of the U.S. Border at San Diego.
SCORE TROPHY TRUCK WINNER
[adinserter name="GOOGLE AD"]For the No. 16 Monster Energy Desert Assassins Ford Raptor built by Geiser Bros., Las Vegas' Pat Dean started the race and drove to race mile 538 and Steele drove the rest of the way.
After 13 years racing in the marquee SCORE racing division for high-tech, 950 horse-power unlimited custom trucks, Steele, 50 of San Clemente, Calif., won his second career SCORE Trophy Truck race and second straight after winning in Tijuana in September.
Both drivers drove a steady pace after starting in 12th spot in the class. Biding their time, they were there when they needed to pass all but Rob MacCachren to end up earning the SCORE Overall 4-wheel vehicle and SCORE Trophy Truck victory at the epic 51st SCORE Baja 1000.
TOP FIVE OVERALL 4-WHEEL
Finishing behind Steele, the top five overall 4-wheel vehicle finishers were all SCORE Trophy Trucks.
Second overall and in SCORE Trophy Truck was the team of Andy McMillin, San Diego/Gustavo 'Tavo' Vildosola, Mexicali, Mexico with a penalty-free time of 16:28:51 in their No. 31 McMillin Racing Mason-built Chevy Silverado while completing the podium was the Rob MacCachren, Las Vegas/Jason Voss, Gilroy, Calif. tandem in a final time of 16:32:57 in the No. 11 MacCachren Motorsports Geiser Bros. built Ford F-150.
Finishing fourth overall and in SCORE Trophy Truck was the team of Andy McMillin's cousin Dan McMillin, San Diego/Gary Weyhrich, Boring, Ore. in a penalty-free time of 16:47:44 in their Mark Racing Racer-built Ford F-150.
Rounding out the top five finishers overall and in SCORE Trophy Truck was Las Vegas' Bryce Menzies who teamed with Australia's Toby Price to finish in a time16:52:47 in the No. 7 Menzies Motorsports Huseman-built Ford Raptor.
MORGAN MOTORCYCLE MAGIC
Justin Morgan led his team to a perfect season in the 2018 SCORE World Desert Championship, capped by a convincing overall motorcycle victory in the 51st SCORE Baja 1000. Morgan, 28, El Cajon, Calif., led from green-to-checkered to earn his second overall win in this race. Morgan split the riding on the No. 7x Honda CRF450X with Mark Samuels, 28, Yucca Valley, Calif. and Justin Jones, 27, Murrieta, Calif. in a winning time of 16: 23:26 with an average speed of 49.22 mph.
His time was also the fastest of all vehicles in the race. It was the first time since 2013 that a motorcycle had the fastest time of all vehicles in the race. In race history, motorcycles have now had the overall fastest time in the race 38 times compared to just 13 for the 4-wheel vehicles.
Completing their first season as a team, it was the fourth SCORE Baja 1000 overall motorcycle win for Samuels and the third for Jones.
The victory was also the 28th overall motorcycle win in this legendary race for American Honda.
COPS RACING
Earning prominent COPS Racing of the United States picked up their fourth win as a team in the SCORE Baja 1000. Morgan Langley won the unlimited Class 1 in the No. 150 COPS Racing ESM-Chevy open-wheel desert race car. Morgan Langley, 44, of Manhattan Beach, Calif., shared driving with Paul Keller, El Cajon, Calif. and Mike Malloy, Buckeye, Ariz. There winning time was a near penalty-free 19:35:21.
The family team is led by family patriarch John Langley and includes Morgan's brother Zak.
Zak Langley finished eighth in SCORE Trophy Truck (penalty-free 17:19:27) and John Langley ended up 12th out of 29 starters in Trophy Truck Spec (near penalty-free 26:05:33).
RACE REPORT
This year's race started for the 44th time and finished for the 25th time in Ensenada, Baja California. The start/finish line compound was once again on Blvd. Costero in the heart of Ensenada adjacent to the picturesque Bahia de Todos Santos one side and to the iconic Riviera del Pacifico Cultural Center on the other with the first several spectator-friendly miles running up and back through the Ensenada Arroyo.
Motorcycle and quad classes started at 4 a.m. PT on Friday, and the car, truck and UTV classes began their journey in the elapsed-time race at 10:30 a.m. (PT) on Friday. With a 36-hour time limit to become an official finisher, the course for the 51st anniversary race officially closed at 12:59.30 a.m. PT on Sunday.
There were a total of 285 starters and 178 official finishers (62.46 percent) racing to Pro and Sportsman classes for cars, trucks, UTVs, motorcycles and quads.
The total number of starters was the 15th most in the history of the SCORE Baja 1000. The number of finishers was the 11th most in the 51-year history of the iconic race.
SCORE TROPHY TRUCK RACE
As top qualifier Larry Connor/Ricky Johnson/Luke Johnson set the early pace for a SCORE Baja 1000 record-tying field of 36 SCORE Trophy Truck starters and led physically for three-fourths of the race, Rob MacCachren finally took the physical lead and crossed the finish line first but penalties removed the apparent win for MacCachren and Steele just mastered the Baja desert in a deliberate push that kept him near the top spot throughout the race.
SCORE TOPHY TRUCK WINNER QUOTES
Cameron Steele had plenty to say following his second straight SCORE Trophy Truck and overall race victory and second all-time win in the marquee racing division. Steele said at the finish line, "It was a good day. The team was firing on all cylinders. The Desert Assassins were on point. The pits were great, the prep was amazing. Rene (Brugger) gave us a great truck. A lot of praise for Pat Dean who's been driving with me for five years, an old guy that never really accomplished much (lol), but here we are, on top of the podium. Pretty amazing. We have a ton of respect to Rob (MacCachren) and Bryce (Menzies) and our other competitors. So many of our friends that can't be here – my dad. We prayed this morning about my dad and Cody's mom (navigator Cody Stuart) and all our friends that can't be here anymore. It is special to us to represent for them and for the team. I want to thank God for keeping us safe."
"The whole team really deserves this. This isn't just about one driver or two drivers, it's about everyone that puts the will in and I just want to thank my wife and baby because they give up a lot for us to be here and I love them. And I love the people of Baja. Thank you. Thank you Mexico, thank you Baja because this is our life, we come here, we love this place, we love these people. If it's true that we won the SCORE Baja 100, it will be pretty amazing to put the Steele name on top for the overall. My dad started doing this in 1971 and we never achieved the overall so this is pretty cool."
"We ran the entire thing with no first gear. They told me it would make it and they were right. The race started off wacky, we had a competitor come up from behind us and catch us on the pavement and then ram us in the dirt and kind of set a weird tone for the beginning of the day. We lost first gear about that time so for us it was about persevering until the end. And we did and we able to win the most amazing race on the planet."
SCORE TT LEGEND WINNER
Earning his fifth career class win in the SCORE Baja 1000 was Clyde Stacy, Bristol, Va., co-owner of the prominent RPM Racing team that had five vehicles running in this year's race. Stacy, 73, won the SCORE TT Legend division, the class for SCORE Trophy Truck drivers over 50 years of age who chose to run in this class within-a-class.
Splitting the driving with Stacy with veteran World Rally Championship and SCORE racer Armin Schwarz, 55, of Germany, as the duo teamed to finish an impressive 10th overall among 4-wheel vehicles while winning their class in the No. 5L Geiser Bros. built Chevy Rally Truck.
It was the first career win in this race for the multi-talented Schwarz.
PRO UTV OVERALL WINNER
Veteran champion SCORE racer Wayne Matlock, 40, dove solo in his Polaris RZR XP4 Turbo to lead all 49 Pro UTV finishers in three different classes while winning his Pro UTV FI (Forced Induction) class to earn the Overall Pro UTV title as well over a field of 29 starters in his class. It was his second class race win of the year and it was his seventh all-time class victory in this epic event. His time was a penalty-free 20:25:18.
PRO MOTO IRONMAN
Winning his third race of the season, legendary veteran Mexican motorcycle racer Francisco Septien, of Ensenada rode flawlessly to capture the checkered in the Pro Moto Ironman class for solo riders. Septien, 42, now has 10 class wins in the SCORE Baja 1000 and he won this race on the No. 730x Honda CRF450X in a time of 22:04:00 over the very rugged course.
His time was also the 12th fastest of all motorcycles in the race. While he has won in several motorcycle classes over the years, this was his first win in the Pro Moto Ironman class in this race.
Septien finished all four races in his class in the 2018 SCORE World Desert Championship. The Lucerna Hotels & Resorts Tijuana 22nd SCORE Desert Challenge in September was the only race that he didn't win his class. He finished second in that race.
MADAME IRON-WOMAN
With an ambitious goal to ride solo in the Pro Moto Ironman class as a rookie in the SCORE Baja 1000, SCORE rookie Liz Karcz, 34, a New Jersey transplant who is an ICU nurse at the University of New Mexico Medical Center made it official as she achieved her goal with time to spare.
With sheer dedication, determination, perseverance and an indefatigable spirit to survive, Karz, finished in 34:40:14 on her No. 722x Monkey Business Racing Honda CRF450X.
As thousands of spectators cheered her amazing accomplishment at the checkered flag in an emotional scene at the finish line are that included her parents and her sister from New Jersey, Karcz finished three of the four SCORE races this year.
In her first SCORE Baja 1000, Karcz also finished fifth out of 10 starters (nine males) in her Pro Moto Ironman class.
In this year's SCORE World Desert Championship, Karcz, who won her class in this year's AMA National Hare and Hound Championship series with a perfect record of seven class wins, previously had also finished both the SCORE San Felipe 250 and the Lucerna Hotel & Resorts Tijuana SCORE Desert Challenge riding for Monkey Business Racing.
Karcz was also riding as a charitable fund-raiser, raising charitable funds for the DA8 Strong Foundation. DA8 Strong, founded by former SCORE champion racer Destry Abbott, raises funds to help improve the quality of life for cancer patients and their families.
THE UNDEFEATED
A total of five racers won their class in each of the four grueling races held in 2018. The first two were run over race-record long courses for each event.
The race-record course length for the season-opening 32nd SCORE San Felipe 250 was 319 miles and for the BFGoodrich Tires 50th SCORE Baja 500 the race-record course was 542.12 miles long. The 22nd SCORE Desert Challenge was a very tough 134.8-miles, split into two days of two-laps each over a rugged 33.7-mile course. And the season finale at the 51st SCORE Baja 1000 was held over another brutally rugged 806.76-mile course
The only undefeated racer in the 4-wheel vehicle classes was Vincent Munoz, Yucaipa, Calif. (Heavy Metal, No. 894 Ford Ranger).
Besides Morgan/Samuels/Jones in Pro Moto Unlimited, the other motorcycle class winners who were undefeated in 2018 with identical 4-0 records after their SCORE Baja 1000 class wins were teams led by Jano Montoya, Winter Garden, Fla. (Peru) (Pro Moto 40, No. 400x KTM 450EXCF), Giovanni Spinali, El Cajon, Calif. (Pro Moto 50, No. 510x Yamaha YZ450FX) and Guy Laycraft, Canada (Pro Moto 60, No. 649x Honda CRF450X).
MORE CLASS WINNERS
Among the other class winner in 4-wheel vehicle classes were: Bryce Swaim, El Cajon, Calif. (Trophy Truck Spec, TSCO-Chevy), Ruben Torres, San Luis Potosi, Mexico (Class 10, Alumi Craft-Chevy), Bruce Yee, Chula Vista, Calif. (Class 1/2-1600, Alumi Crat-VW), Freddie Willert, El Cajon, Calif. (SCORE Lites, Jimco-VW), Ben Swift, Newport Beach, Calif. (Class 5, VW Baja Bug), Tyler Backus, Canada (Pro UTV NA, Polaris RZR XP1000), Kris Werth, Reddick, Ill. (Pro UTV Unlimited), Can-Am X3 DCR and Larry McRae, St. George, Utah (Baja Challenge, BTC-Chevy).
Among the other motorcycle class winners were: Carlos Miranda, Ensenada, Mexico (Pro Moto Limited, KTM 350XCF) and Chad Thornton, Farmington, N.M. (Pro Moto 30, KTM 450XCF).
Winning the Pro Quad class for the third time this season in four races was Said Sanchez (Pro Quad, Honda TRX450R).
ELECTRIC CAR MAKES HISTORY
Another history-making result in this year's epic event saw Raul Rodriguez Jr guide his old 1/2-1600 class vehicle to the first ever finish by an all-electric car in the history of SCORE and the SCORE Baja 1000. Rodriguez Jr, 26 and his father Raul Sr covered the course in their No. E402 battery-powered Raceco 1600 cc open-wheel desert race car to a record-setting finishing time of 32:57:28.
SPORTSMAN WINNERS
This year's 51st SCORE Baja 1000 included 34 Sportsman racers competing in five total classes. Fastest Sportsman class winners were Diego Lopez, Glendale, Ariz. (SPT M/C, Honda CRF450X) and Danny Magdalena, Acton, Calif. (Honda TRX450R).
GLOBAL PARTICIPATION
Officially in Ensenada, there were racers from 41 U.S. States, one U.S. Territory and 19 countries competing.
In addition to the United States, the U.S. Territory of Guam and host country Mexico, the other countries with racers entered are Argentina, Australia, Austria, Belgium, Brazil, Canada, Chile, Costa Rica, England, Finland, France, Germany, Italy, New Zealand, Peru, Spain and Sweden.
BFGOODRICH TIRES UNMATCHED
BFGoodrich Tires is celebrating over four decades as a major player in SCORE Baja racing. In addition to being the official tire of SCORE International for over four decades, BFGoodrich Tires has produced the tire of choice for 31 of the overall 4-wheel vehicle winners in the SCORE Baja 1000, including 30 of the last 33 years along with a record-run of 20 straight from 1986 through 2005. In total, BFGoodrich Tires has now be the tire of choice for the overall 4-wheel vehicle winner in 91 SCORE Baja races including 32 in the SCORE Baja 500.
BFGoodrich Tires also provides unmatched pit support for racers using their tires with five full service pit areas and more than 200 support crew personnel spread along the race course and complete radio relay the entire race course.
BFGoodrich Tires also awarded $25,000 contingency bonus money to the overall winners of this year's SCORE Baja 1000 who ran exclusively on BFGoodrich Tires.
SCORE TRUCK ANNIVERSARY
Celebrating its 25th anniversary, SCORE Trophy Truck, developed and launched by former SCORE owner Sal Fish in 1994, is the marquee racing division in the sport—for high-tech, 950 horsepower unlimited custom trucks and SCORE TT Legend, which debuted in 2017, is the SCORE Trophy Truck class-within-a-class with drivers at least 50 years old. This was the 131st SCORE race that included SCORE Trophy Trucks in its 25-year history.
CREEL's SCORE-card
In the probably the most unique way to put your name in the SCORE record books, Mexico's international motorcycle rally racer Santiago Creel has entered seven vehicles in this year's race (six KTM motorcycles and one truck in Trophy Truck Spec. SCORE rules require a driver/rider of record to either start or finish the race in order to receive points for the event.
With plenty of help from plenty of teammates, including Monkey Business Racing team co-owner Mark Winkelman of Texas, Creel, 32 of Mexico City, was rider of record on four of the motorcycles—No. 4x and No. 66x in Pro Moto Unlimited class as well as No. 100x in Pro Moto Limited and No. 360x in Pro Moto 30. He is also listed as a co-rider on the No. 25x in Pro Moto Unlimited (Italy's Massimo Mangini is ROR) and No. 310x in Pro Moto 30 (Mexico's Enrique Fuhrken is ROR).
Creel's 'craziness' also called for him to drive a section in the No. 252 Trophy Truck Spec of DOR Gonzalo Pirron.
Creel's team finished third, fourth and sixth in the Pro Moto Unlimited Class, third in Pro Moto Limited, fifth and seventh in Pro Moto 30, and 11th in Trophy Truck Spec
People really did need a SCORE-card to keep up with Creel and his Monkey Business Racing team.
MORE AWARDS…
In addition to season class point championships and SCORE World Desert Championship overall point titles, the racers were also competing for part of nearly $400,000 in cash purse and contingency postings.
There are also the numerous annual SCORE Off-Roadsman of the Year Awards.
Drivers are also attempting to earn prestigious SCORE Milestone Awards given to all racers who complete every required mile of the race season. These awards are being presented by SCORE for the 33rd consecutive year.
VIVA BAJA!
As it has for over four and a half decades, SCORE has put together another memorable race course for the 51st anniversary, this one a loop race, with all of the foreboding, unforgiving terrain that the northern state of the majestic Baja California peninsula has to offer. SCORE Race Director Jose A. Grijalva has designed and finalized this year's race course of 806.76 miles. The course has five checkpoints along the way to the finish and approximately 194 virtual checkpoints.
Starting and finishing in the heart of Ensenada in front of the historic Riviera del Pacifico Cultural Center, the course travels in a clockwise direction east to Ojos Negros before launching its weaving route around both the east and then the west side of the northern part of the peninsula.
The five checkpoints are located at north of San Felipe (race mile 177.34), before Highway 1 on Chapala Road (rm 378.27), Highway 1 in San Quintin (rm 597.81), end of Vicente Guerrero Wash (rm 633.85) and in Santo Tomas before Highway 1 (rm 733.02).
EL GRAN JEFE—GRAND MARSHAL
For this year's 51st SCORE Baja 1000, SCORE International selected Mexico's beloved tourism official Nico Saad, the only person who has been behind the scenes at all 50 of the previous races, as the Grand Marshal for this year's anniversary of the world's most iconic desert race.
Honorably humble, unusually unassuming, famously friendly by nature while constantly and consistently working diligently behind the scenes by choice on behalf of SCORE Baja racing for nearly 45 years, Saad is the revered owner of the San Nicolas Resort and extremely cherished and prolifically productive President of Proturismo de Ensenada. Saad is the only person who has been part of all 50 Baja 1000 events, obviously including the 44 produced and sanctioned by SCORE International.
2019 SCHEDULE
Here is the four-race 2019 SCORE World Desert Championship and for the fourth consecutive year all races are being held in Baja California, Mexico:
33rd SCORE San Felipe 250, April 3-7, San Felipe, Mexico
51st SCORE Baja 500, May 29-June 2, Ensenada, Mexico
Inaugural Lucerna SCORE Baja 400, Sept. 19-23, Ensenada, Mexico
52nd SCORE Baja 1000, Nov.12-17, Ensenada, Mexico
TV TIME
SCORE races are airing domestically on the El Rey Network and outside of the U.S. on ESPN International as well as syndication. The SCORE Baja 1000 race coverage show will be a two-hour special.
El Rey Network is a 24-hour, English-language lifestyle network and is available in 45 million homes across the country through cable and OTT providers and via satellite on DirecTV Channel 341 and Dish Network Channel 253. For more information on how to watch El Rey visit http://elreynetwork.com.
SCORE Baja 1000 All-Time Overall Champions
(4-wheel and 2-wheel vehicles–1967 through 2018)
YEAR DRIVERS/RIDERS VEHICLE TIME
1967 Vic Wilson/Ted Mangels Meyers Manx-VW 27:38
J.N. Roberts/Malcolm Smith Husqvarna 28:48
1968 Larry Berquist/Gary Preston Honda 20:38:28
Larry Minor/Jack Bayer Ford Bronco 21:11:32
1969 Larry Minor/Rod Hall Ford Bronco 20:48:10
Gunnar Nilsson/J.N. Roberts Husqvarna 21:35:52
1970 Drino Miller/Vic Wilson Miller-VW 16:07
Mike Patrick/Bill Bowers Yamaha 18:31
1971 Parnelli Jones/Bill Stroppe Ford Bronco 14:59
Malcolm Smith/Gunnar Nilsson Husqvarna 16:51
1972 Parnelli Jones/Bill Stroppe Ford Bronco 16:47
Gunnar Nilsson/Rolf Tibblin Husqvarna 19:19
1973 Bobby Ferro/Johnny Johnson Funco-VW 16:50:25
Mitch Mayes/A.C. Bakken Husqvarna 18:42:51
1974 NO RACE
1975 Al Baker/ Gene Cannady Honda 18:22:55
Malcolm Smith/Dr. Bud Feldkamp Hi-Jumper-VW 18:55:49
1976 Larry Roeseler/Mitch Mayes Husqvarna 11:30:47
Ivan Stewart Chenowth-VW 12:17:28
1977 Brent Wallingsford/Scot Harden Husqvarna 14:37:07
Malcolm Smith/Dr. Bud Feldkamp Funco-VW 15:10:42
1978 Larry Roeseler/Jack Johnson Husqvarna 10:23:47
Mark Stahl Chenowth-VW 12:55:42
1979 Larry Roeseler/Jack Johnson Husqvarna 19:48:04
Walker Evans/Bruce Florio Dodge pickup 20:48:27
1980 Larry Roeseler/Jack Johnson Yamaha 12:45:13
Mark Stahl Chenowth-VW 13:33:55
1981 Scot Harden/Brent Wallingsford Husqvarna 17:14:05
Mark McMillin/Thomas Hoke Chenowth-VW 20:29:14
1982 Al Baker/Jack Johnson Honda 17:25:27
Mickey Thompson/Terry Smith Raceco-VW 19:40:23
1983 Dan Smith/Dan Ashcraft Husqvarna 14:48:10
Mark McMillin/Ralph Paxton Chenowth-VW 17:35:06
1984 Chuck Miller/Randy Morales Honda 14:34:34
Mark McMillin/Ralph Paxton Chenowth-VW 16:27:09
1985 Randy Morales/Derrick Paiement Honda 17:44:42
Steve Sourapas/Dave Richardson Raceco-VW 17:54:55
1986 Bruce Ogilvie/Chuck Miller Honda 18:05:52
Mark McMillin/Ralph Paxton Chenowth-Porsche 18:26:28
1987 Dan Ashcraft/Bruce Ogilvie Honda 12:02:14
Bob Gordon/Malcolm Smith Chenowth-Porsche 13:15:04
1988 Paul Krause/Larry Roeseler/Danny LaPorte Kawasaki 11:33:45
Mark McMillin Chenowth-Porsche 13:07:09
1989 Larry Roeseler/Danny LaPorte/Ted Hunnicutt Jr. Kawasaki 17:53:16
Robby Gordon Ford Truck 18:04:07
1990 Larry Roeseler/Ted Hunnicutt Jr./Danny LaPorte Kawasaki 11:11:45
Bob Gordon/Robyn Gordon/Robby Gordon Chenowth-Chevy 12:30:45
1991 Larry Roeseler/Ted Hunnicutt Jr./Marty Smith Kawasaki 13:35:25
Larry Ragland Chevrolet pickup 16:37:35
1992 Danny Hamel/Garth Sweetland/Paul Ostbo Kawasaki 16:50:12
Paul & Dave Simon Ford truck 16:53:02
1993 Ivan Stewart Toyota SR5 13:29:11
Danny Hamel/Larry Roeseler/Ty Davis Kawasaki 13:57:23
1994 Danny Hamel/Larry Roeseler/Ty Davis Kawasaki 10:20:47
Jim Smith (SCORE Trophy Truck) Ford 10:28:56
Dave Ashley/Dan Smith Ford truck 10:43:43
1995 Paul Krause/Ty Davis/Ted Hunnicutt Jr. Kawasaki 19:31:19
Larry Ragland (SCORE Trophy Truck) Chevy 20:14:12
Dale White Chevy Truck 21:57:03
1996 Paul Krause/Ty Davis/Greg Zitterkopf Kawasaki 14:11:02
Larry Ragland (SCORE Trophy Truck) Chevy 14:38:59
Ryan Thomas Chenowth-VW 15:53:56
1997 Johnny Campbell/Tim Staab/Greg Bringle Honda 13:19:59
Larry Ragland (SCORE Trophy Truck) Chevy 13:53:46
Doug Fortin Chenowth-VW 14:31:02
1998 Johnny Campbell/Jimmy Lewis Honda 18:58:48
Ivan Stewart Toyota truck 19:08:20
1999 Johnny Campbell/Tim Staab Honda 14:15:42
Larry Ragland Chevy truck 14:26:36
2000 Johnny Campbell/Tim Staab/Craig Smith, Steve Hengeveld Honda 30:54:12
Dan Smith/Dave Ashley Ford truck 32:15:39
2001 Johnny Campbell/Tim Staab Honda 13:51:40
Doug Fortin/Charlie Townsley Jimco Chevy truck 14:35:42
2002 Steve Hengeveld/Johnny Campbell/Andy Grider Honda 16:17:28
Dan Smith/Dave Ashley, Ford truck 16:19:03
2003 Steve Hengeveld/Johnny Campbell/Bruce Ogilvie Honda 15:39:52
Doug Fortin/Charlie Townsley Jimco-Chevy 16:24:02
2004 Steve Hengeveld/Johnny Campbell/Kendall Norman, Honda 15:57:37
Troy Herbst/Larry Roeseler, Smithbuilt-Ford 16:18:14
2005 Steve Hengeveld/Johnny Campbell/Mike Childress, Honda 14:20:30
Larry Roeseler/Troy Herbst, Smithbuilt-Ford 15:06:19
2006 Steve Hengeveld/ Mike Childress/Quinn Cody, Honda 18:17:50
Andy McMillin/Robby Gordon, Chevy truck 19:15:17
2007 Robby Bell/Steve Hengeveld/Johnny Campbell/Kendall Norman, Honda 24:15:50
Mark Post/Rob MacCachren/Carl Renezeder, Ford truck 25:21:25
2008 Robby Bell/Kendall Norman/Johnny Campbell, Honda 12:29:18
Roger Norman/Larry Roeseler, Ford truck 12:40:33
2009 Kendall Norman/Timmy Weigand/Quinn Cody, Honda 13:27:50
Andy McMillin/Scott McMillin, Chevy truck 14:19:50
2010 Gus Vildosola Jr./Gus Vildosola Sr., Ford truck 19:00:04
Kendall Norman/Quinn Cody, Honda 19:20:52
2011 Kendall Norman/Quinn Cody/Logan Holladay, Honda 14:14:25
Andy McMillin/Scott McMillin, Ford truck 14:51:36
2012 B.J. Baldwin, Chevy truck 20:00:59
Colton Udall/Timmy Weigand/David Kamo, Honda 20:09:30
2013-Tim Weigand/Colton Udall/David Kamo,/Mark Samuels, Honda 18:29:14
B.J. Baldwin, Chevy Truck, 18:36:30
2014-Rob MacCachren/Andy McMillin/Jason Voss, Ford truck 22:31:28
Ricky Brabec/Robby Bell/Steve Hengeveld/Max Eddy Jr., Kawasaki 24:24:01
2015-Rob MacCachren/Andy McMillin, Ford truck 15:58:32
Colton Udall/Mark Samuels/Justin Jones, Honda 16:29:08
2016- Rob MacCachren/Jason Voss, Ford truck 17:12:58
Colton Udall/Mark Samuels/Justin Jones/Daymon Stokie/David Kamo, Honda 18:16:42
2017- Carlos 'Apdaly Lopez/Juan C. Lopez, Chevy truck 19:53:36
Francisco Arredondo/Shane Esposito/Justin Morgan/Max Eddy Jr/Ty Davis, Honda 21:07:17
2018- Justin Morgan/Mark Samuels/Justin Jones, Honda 16:23:26
Cameron Steele/Pat Dean, Ford Raptor 16:24:02
NOTE: 1994-1997, SCORE Trophy Truck competed as its own series