Conway and Kobayashi combine to set Pole in Shanghai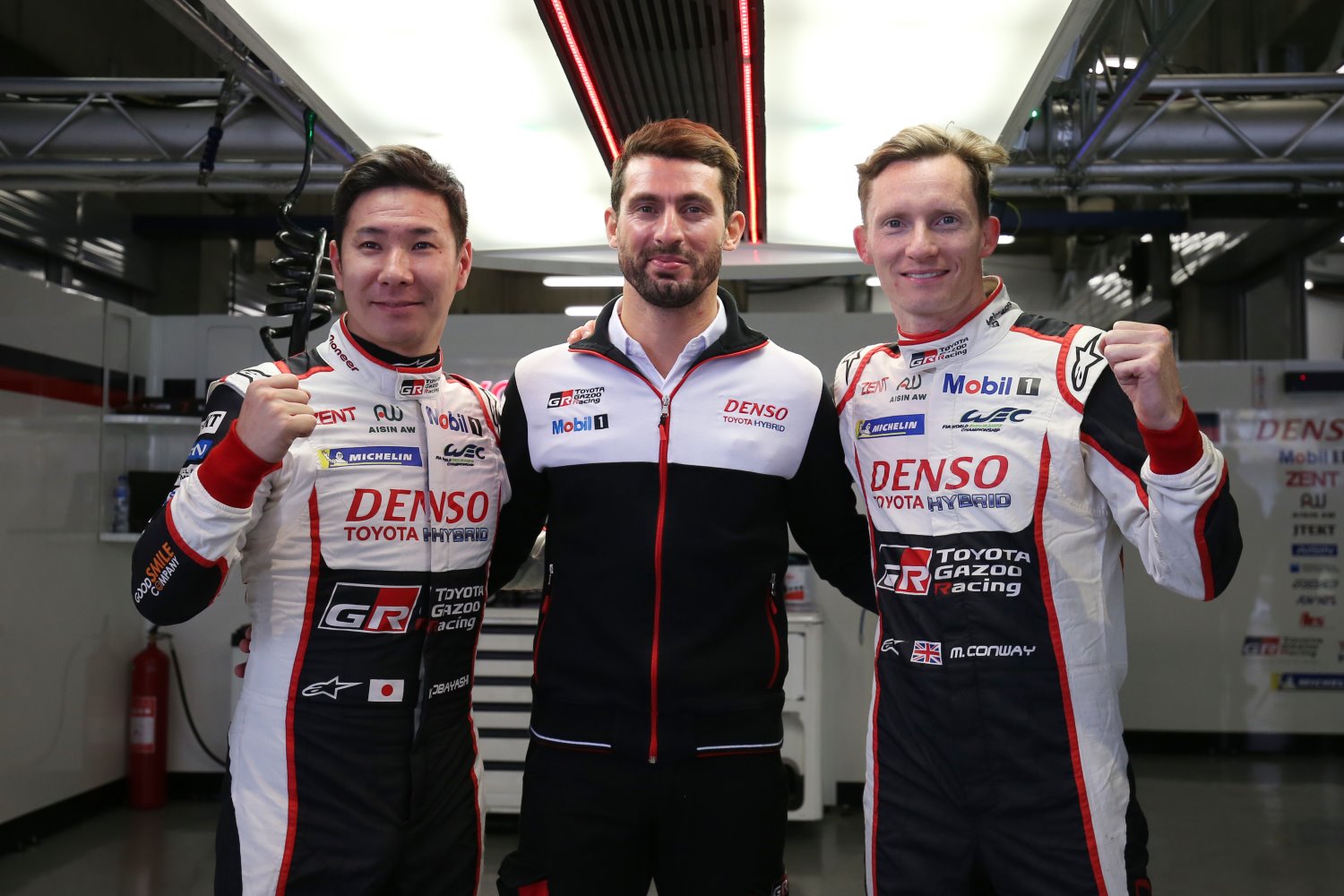 #7 Toyota wins pole – Lopez if flanked by pole winning teammates Kobayashi and Conway
As expected Toyota locked out the front row of the grid for the Six Hours of Shanghai despite a close challenge from Rebellion Racing.
Mike Conway and Kamui Kobayashi took pole with an average time of 1:42.931 while the FIA World Endurance Championship-leading No. 8 car of Fernando Alonso and Kazuki Nakajima followed 0.228 seconds behind.
Kobayashi said: "The track was improving and Mike did a great lap, so I went again, which was important because it was quite tight at the end."
Rebellion's Bruno Senna split the Toyotas in the first driver segment, going quicker than Alonso, but Andre Lotterer lost three tenths to Nakajima in the second set of runs.
[adinserter name="GOOGLE AD"]That prevented the No. 1 Rebellion R13 Gibson crew from preventing a fifth consecutive 1-2 for the Japanese manufacturer, with Lotterer going six-hundredths of a second shy of splitting the Toyota TS050 Hybrids.
SMP Racing's No. 17 BR Engineering BR1 AER will start fourth, ahead of the sister Rebellion and the Gibson-powered No. 10 DragonSpeed BR1.
The headlines from Qualifying following a close and exciting session in which the top 5 LMP1 cars – representing three different teams using both Hybrid and Non-Hybrid technology – were separated by just 1.2 seconds, much closer than seen previously.
The qualifying results are a clear indication that the work being carried out by the regulators on Equivalence of Technology is paying dividends.
In LMP2, Jackie Chan DC Racing locked out the class front row with its pair of Oreca 07 Gibsons.
The No. 38 car qualified by Ho-Pin Tung and Gabriel Aubry will start from pole, ahead of the Fuji-winning No. 37 machine, while DragonSpeed slots into third with its Oreca.
Ford wins GTE-Pro Pole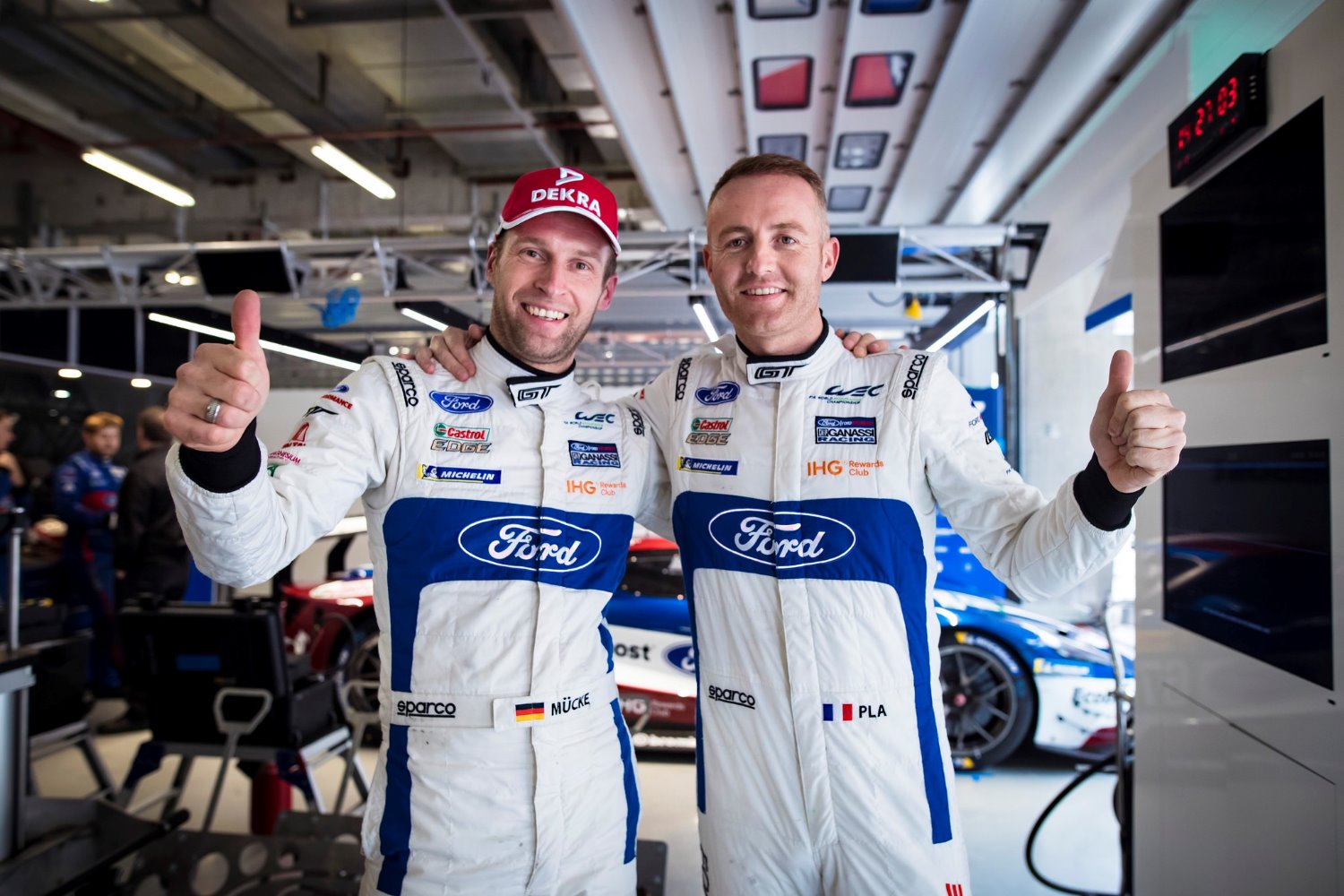 Mucke and Pla on GTE-Pro pole
Stefan Mucke and Olivier Pla gave Ford Chip Ganassi Racing its third pole of the season in a dramatic end to the GTE-Pro qualifying session.
BMW Team MTEK looked set to claim a 1-2 until Mucke came through right at the end to snatch the top spot by 0.023 seconds on average.
Mucke was the first man out and quickly set the pace before handing the car over to Pla. A top time from the Frenchman moved the #66 GT higher up the order before Mucke jumped back in and put in a stunning lap that took pole position. Currently sitting in second place in the GTE Drivers' World Championship, the duo also earn an extra championship point for their efforts today.
"That was an excellent performance by everyone," said team principal George Howard-Chappell. "Stefan and Olivier are 'on fire' here in Shanghai. It was an excellent strategy by the team who used the qualifying session to the maximum. It's great to get pole and the extra championship point. It was a shame about the minor technical issue for the other car or I'm sure they would have been right up there too."
"We saw that the car was improving quickly with each lap as the track rubbered in so we made the decision to use one more set of tires at the end and do that third run," Mucke said. "Oli's lap was amazing so we decided to have one more go and we got pole! I couldn't believe it when I saw the lap time. The team did a brilliant job and gave me the tires in the perfect temperature window and a beautifully-balanced car so we're very happy with this big team effort."
"I'm very happy with that!" said Pla. "During the final practice session this morning we nailed the balance of the car, which gave me the confidence to push hard in qualifying. I managed to set a good time on my first flying lap so we had time left for Stefan to head out for another go. It's great to get that extra point for the championship as we need every point we can get after a couple of difficult races. We want to leave Shanghai with maximum points so that is our target for tomorrow."
The No. 81 BMW M8 GTE of Martin Tomczyk and Nicky Catsburg will start second after running an alternative, while the No. 82 sister car ultimately qualified fifth.
Late improvements from the No. 97 Aston Martin Vantage and the No. 92 Porsche 911 RSR bumped the second BMW down the order after it initially set the second best time.
GTE-Am also saw a late qualifying upset as Pedro Lamy grabbed pole for Aston Martin Racing in the final moments of the session.
Lamy's last-ditch 2:00.880 put the No. 98 Aston Martin Vantage, which Paul Dalla Lana started, on top of the pile ahead of the No. 88 Dempsey-Proton Racing Porsche 911 RSR.
The FIA WEC's Six Hours of Shanghai will air from 9:30-11 p.m. ET on Saturday and 3-4:30 a.m. ET Sunday on Velocity. Full live streaming coverage will be available on MotorTrend On-Demand with full audio coverage on Radiolemans.com.
Quotes
Mike Conway (TS050 HYBRID #7): "It's great to get another pole position but it was tight because the track was getting quicker and quicker; every time we put on new tires the lap times went down. We managed to stay ahead of the sister car and the Rebellion, which had been right with us throughout the session. It's always nice to start at the front and we will do our best to stay there in the race."
Kamui Kobayashi (TS050 HYBRID #7): "Thanks to the team for giving us a great car in qualifying. The track was quite dusty in the morning but it improved all through qualifying; Mike did a strong lap then I jumped in again and it was even quicker. I'm pleased with my lap and happy to be starting from pole position but it will be a tough fight in the race I think."
Kazuki Nakajima (TS050 HYBRID #8): "I was happy with the car and I did my best; the #7 was a little bit quicker. The interesting thing is that the non-hybrids were very fast. We were using our hybrid boost optimized for qualifying but they were still on the same pace. Without this boost we would have been behind, which is a little concerning for the race. So we need to be sharp on tire selection and avoid making any mistakes."
Fernando Alonso (TS050 HYBRID #8): "Overall it was a positive qualifying result for the team, to be first and second on the grid again. But the competition is getting very tight from the non-hybrid cars; as well as our qualifying boost we also needed to use new tires for every run to stay ahead. So it will be a difficult race, especially as we are expecting rain."
OLIVER GAVIN, NO. 64 REDLINE/MOBIL 1 CHEVROLET CORVETTE C7.R: "It is different here coming to an FIA WEC sprint race compared to Le Mans. The mentality is very different and the qualifying procedure is very different. You effectively have one-lap qualifying for both drivers. We made a decent step in setup from the dry practice this morning to qualifying this afternoon. And if it does stay dry tomorrow, we can make another significant step to get us close to the front-runners. But all the forecasts are saying there will be significant rain tomorrow. We're expecting mixed conditions, and that will be good for us. We were competitive yesterday in the wet sessions. Like we've seen in so many endurance races, we run well in these. Our team is tested. We have an excellent team with great strategy and pit stops. The Redline Corvette C7.R is really coming along a lot closer to our performance window. Everyone on this team will do all they can to get us a good result."
TOMMY MILNER, NO. 64 REDLINE/MOBIL 1 CHEVROLET CORVETTE C7.R: "We anticipate wet weather tomorrow and maybe a little bit of dry for tomorrow. Mother Nature is really giving us all sorts of weather conditions to prepare us! This is all a lot of data-gathering for us plus a new qualifying format. Olly and I both learned quite a bit. Ultimately it's about going as fast as you can. As always, the race is what really matters. We certainly made a bit step between the free practice and qualifying with the Corvette, so we're positive about that. We feel good about the car in wet based on yesterday. We're moving in the right direction and getting closer on pace to our competition. We'll spend tonight looking at data and come back tomorrow with a car that we feel will be right in the mix."
Results
| | | | | |
| --- | --- | --- | --- | --- |
| Pos | No./Drivers | Team | Cass | Time |
| 1 | 7 Mike CONWAY / Kamui KOBAYASHI / Jose Maria LOPEZ | Toyota Gazoo Racing | LMP1 H | 1:42.931 |
| 2 | 8 Sébastien BUEMI / Kazuki NAKAJIMA / Fernando ALONSO | Toyota Gazoo Racing | LMP1 H | 1:43.159 |
| 3 | 1 Neel JANI / André LOTTERER / Bruno SENNA | Rebellion Racing | LMP1 | 1:43.218 |
| 4 | 17 Stéphane SARRAZIN / Egor ORUDZHEV / Matevos ISAAKYAN | SMP Racing | LMP1 | 1:43.870 |
| 5 | 3 Mathias BECHE / Thomas LAURENT / Gustavo MENEZES | Rebellion Racing | LMP1 | 1:44.179 |
| 6 | 10 James ALLEN / Ben HANLEY / Renger VAN DER ZANDE | DragonSpeed | LMP1 | 1:44.612 |
| 7 | 11 Mikhail ALESHIN / Vitaly PETROV / Jenson BUTTON | SMP Racing | LMP1 | 1:44.789 |
| 8 | 4 Oliver WEBB / Tom DILLMANN / James ROSSITER | Bykolles Racing Team | LMP1 | 1:46.353 |
| 9 | 38 Ho-Pin TUNG / Gabriel AUBRY / Stéphane RICHELMI | Jackie Chan DC Racing | LMP2 | 1:48.888 |
| 10 | 37 Jazeman JAAFAR / Weiron TAN / Nabil JEFFRI | Jackie Chan DC Racing | LMP2 | 1:49.138 |
| 11 | 31 Roberto GONZALEZ / Pastor MALDONADO / Anthony DAVIDSON | DragonSpeed | LMP2 | 1:49.857 |
| 12 | 36 Nicolas LAPIERRE / André NEGRÃO / Pierre THIRIET | Signatech Alpine Matmut | LMP2 | 1:50.206 |
| 13 | 28 François PERRODO / Matthieu VAXIVIERE / Loïc DUVAL | TDS Racing | LMP2 | 1:51.006 |
| 14 | 29 Frits VAN EERD / Giedo VAN DER GARDE / Nyck DE VRIES | Racing Team Nederland | LMP2 | 1:51.657 |
| 15 | 50 Erwin CREED / Romano RICCI / Enzo GUIBBERT | Larbre Competition | LMP2 | 1:51.925 |
| 16 | 66 Stefan MÃœCKE / Olivier PLA | Ford Chip Ganassi Team UK | LMGTE Pro | 1:58.627 |
| 17 | 81 Martin TOMCZYK / Nicky CATSBURG | BMW Team MTEK | LMGTE Pro | 1:58.874 |
| 18 | 97 Alexander LYNN / Maxime MARTIN | Aston Martin Racing | LMGTE Pro | 1:59.000 |
| 19 | 92 Michael CHRISTENSEN / Kevin ESTRE | Porsche GT Team | LMGTE Pro | 1:59.031 |
| 20 | 82 Tom BLOMQVIST / Antonio Felix DA COSTA | BMW Team MTEK | LMGTE Pro | 1:59.055 |
| 21 | 95 Marco SØRENSEN / Nicki THIIM | Aston Martin Racing | LMGTE Pro | 1:59.157 |
| 22 | 67 Andy PRIAULX / Harry TINCKNELL | Ford Chip Ganassi Team UK | LMGTE Pro | 1:59.278 |
| 23 | 91 Richard LIETZ / Gianmaria BRUNI | Porsche GT Team | LMGTE Pro | 1:59.286 |
| 24 | 51 Alessandro PIER GUIDI / James CALADO | AF Corse | LMGTE Pro | 1:59.454 |
| 25 | 71 Davide RIGON / Sam BIRD | AF Corse | LMGTE Pro | 1:59.689 |
| 26 | 64 Oliver GAVIN / Tommy MILNER | Corvette Racing | LMGTE Pro | 2:00.228 |
| 27 | 98 Paul DALLA LANA / Pedro LAMY / Mathias LAUDA | Aston Martin Racing | LMGTE Am | 2:01.884 |
| 28 | 77 Christian RIED / Julien ANDLAUER / Matt CAMPBELL | Dempsey – Proton Racing | LMGTE Am | 2:01.951 |
| 29 | 54 Thomas FLOHR / Francesco CASTELLACCI / Giancarlo FISICHELLA | Spirit of Race | LMGTE Am | 2:02.090 |
| 30 | 88 Khaled AL QUBAISI / Riccardo PERA / Matteo CAIROLI | Dempsey – Proton Racing | LMGTE Am | 2:02.115 |
| 31 | 90 Salih YOLUC / Jonathan ADAM / Charlie EASTWOOD | TF Sport | LMGTE Am | 2:02.211 |
| 32 | 61 Weng Sun MOK / Keita SAWA / Matthew GRIFFIN | Clearwater Racing | LMGTE Am | 2:02.400 |
| 33 | 56 Jörg BERGMEISTER / Patrick LINDSEY / Egidio PERFETTI | Team Project 1 | LMGTE Am | 2:02.429 |
| 34 | 86 Michael WAINWRIGHT / Benjamin BARKER / Thomas PREINING | Gulf Racing | LMGTE Am | 2:04.241 |
| 35 | 70 Motoaki ISHIKAWA / Olivier BERETTA / Edward CHEEVER | MR Racing | LMGTE Am | 2:04.648 |