Nemechek wins Xfinity pole in Phoenix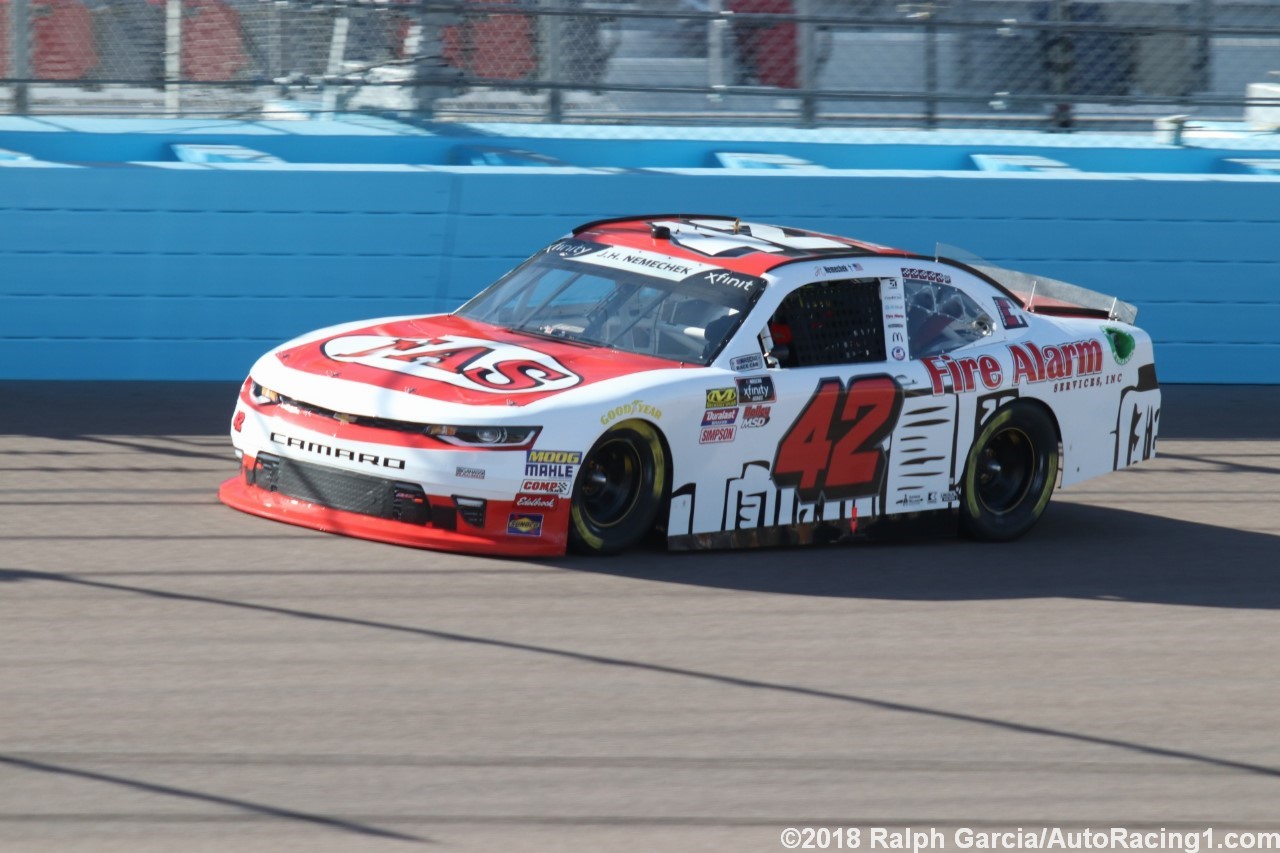 John Nemechek
John Hunter Nemechek will start from the Xfinity pole at ISM Raceway beating Cole Custer and Austin Cindric in final round qualifying.
Nemechek is not a playoff driver and looks to play spoiler with a top speed of 133.482 mph.
It is Nemechek's first Xfinity Series pole.
[adinserter name="GOOGLE AD"]"It feels good," Nemechek told NBCSN. "We came here with the mindset to try and qualify on the pole. … We unloaded not really good yesterday so we only got to do one mock (qualifying) run and it wasn't that great."
The pole comes a day after Chip Ganassi Racing announced Ross Chastain will drive its No. 42 Xfinity car full-time next season.
The top five is completed by Cole Custer (playoffs), Austin Cindric (playoffs), Justin Allgaier (playoffs) and Ryan Preece.
Playoff drivers Elliott Sadler (sixth), Daniel Hemric (eighth) and Matt Tifft (10th) also qualified within in the top 12.
Tyler Reddick (14th) was the only playoff driver who made a qualifying attempt to not advance to final round.
View the full NASCAR Xfinity Series starting lineup for Phoenix at ISM Raceway below. The green will drop on the Whelen Trusted To Perform 200 in just two hours time.
Lineup
Pos
Car
Driver
Team
Time
Speed
1
42
John Hunter Nemechek
Fire Alarm Services Inc. Chevrolet
26.970
133.482
2
00
Cole Custer (P)
Haas Automation Ford
26.987
133.398
3
22
Austin Cindric # (P)
Discount Tire Ford
27.058
133.048
4
7
Justin Allgaier (P)
BRANDT Professional Agriculture Chevrolet
27.081
132.935
5
18
Ryan Preece
Rheem/Smurfit Kappa Toyota
27.121
132.738
6
1
Elliott Sadler (P)
Hunt Brothers Pizza Chevrolet
27.174
132.480
7
19
Brandon Jones
Toyota Service Centers/Mobil 1 Toyota
27.216
132.275
8
21
Daniel Hemric (P)
South Point Hotel & Casino Chevrolet
27.228
132.217
9
3
Shane Lee
CIPT/Race to Give Chevrolet
27.230
132.207
10
2
Matt Tifft (P)
Go Green Chevrolet
27.254
132.091
11
23
Spencer Gallagher
ISM Connect Chevrolet
27.319
131.776
12
16
Ryan Reed
Drive Down A1C Lilly Diabetes Ford
27.479
131.009
13
5
Michael Annett
Pilot Flying J Chevrolet
27.399
131.392
14
9
Tyler Reddick # (P)
BurgerFi Chevrolet
27.414
131.320
15
11
Ryan Truex
LeafFilter Gutter Protection Chevrolet
27.478
131.014
16
39
Ryan Sieg
Lombard Brothers Chevrolet
27.487
130.971
17
36
Alex Labbe #
Can-Am/Wholey/Cyclops Gear Chevrolet
27.710
129.917
18
51
Jeremy Clements
RepairableVehicles.com Chevrolet
27.719
129.875
19
38
JJ Yeley
Iron Mountain Data Centers Chevrolet
27.928
128.903
20
8
Tommy Joe Martins
Chevrolet
27.986
128.636
21
35
Joey Gase
Donate Life Arizona/Sparks Chevrolet
28.006
128.544
22
40
Chad Finchum #
Smithbilt Homes Toyota
28.151
127.882
23
4
Ross Chastain
Flex Seal Chevrolet
27.723
129.856
24
52
David Starr
Whataburger Chevrolet
28.124
128.005
25
93
Jeff Green
RSS Racing Chevrolet
28.227
127.537
26
90
Donald Theetge
MercedesBenzStNicolas/CircuitAcura Chev
28.294
127.235
27
0
Garrett Smithley
Flex Tape Chevrolet
28.308
127.173
28
01
BJ McLeod
Flex Glue Chevrolet
28.353
126.971
29
15
Quin Houff
teamjdmotorsports.com Chevrolet
28.415
126.694
30
99
Stephen Leicht
Chevrolet
28.566
126.024
31
13
Tyler Hill
OCR Gaz Bar Toyota
28.624
125.769
32
76
Spencer Boyd #
Grunt Style Chevrolet
28.649
125.659
33
66
Akinori Ogata
Toyota
28.737
125.274
34
55
Bayley Currey(i)
RollinSmokeBBQ/TouchedbyPros Toyota
Owner Points
35
89
Morgan Shepherd
Visone RV Chevrolet
Owner Points
36
74
Mike Harmon
Veterans 4 Child Rescue Chevrolet
Owner Points
37
78
Vinnie Miller #
CorvetteParts.net/JWTransport Chev
Owner Points
38
20
Christopher Bell # (P)
GameStop Just Cause 4 Toyota
Owner Points
39
60
Ty Majeski
Ford Ford
Owner Points
40
45
Josh Bilicki #
Prevagen Toyota
Owner Points