Harvick surges to Busch Pole Award at ISM Raceway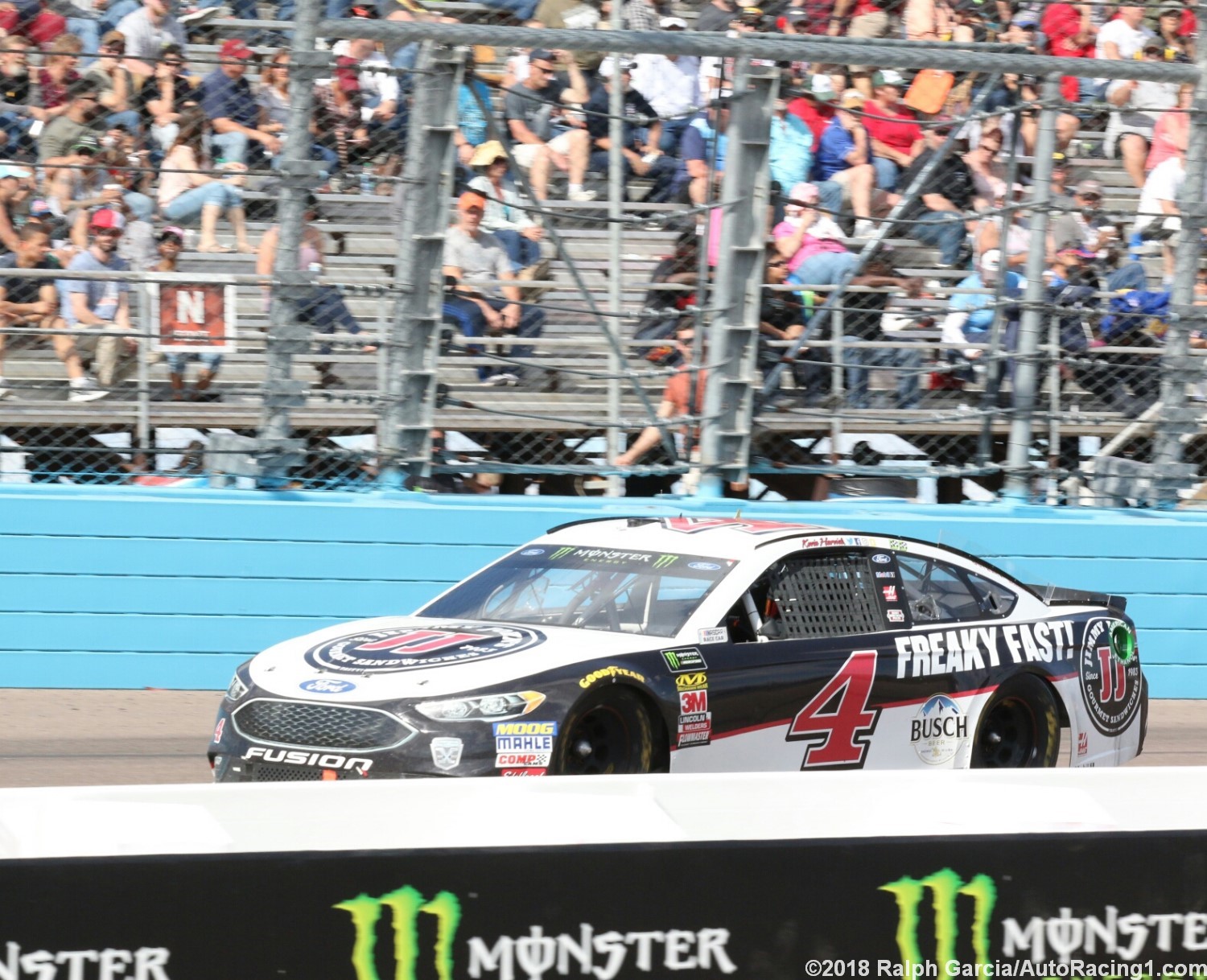 Harvick wins pole
Kevin Harvick rolled to the Busch Pole Award in Monster Energy Series qualifying Friday at ISM Raceway in Phoenix.
Harvick, a nine-time Phoenix winner, landed a best lap of 139.340 mph around the 1-mile track, putting the Stewart-Haas Racing No. 4 Ford in the first starting spot for Sunday's Can-Am 500 (2:30 p.m. ET, NBC/NBC Sports App, MRN, SiriusXM NASCAR Radio). The pole position is the fourth for Harvick this season, his second at Phoenix and 25th of his Monster Energy Series career.
Harvick is competing this weekend with interim crew chief Tony Gibson calling the shots in place of Rodney Childers, who is serving a two-race suspension for a technical infraction after last weekend's win at Texas Motor Speedway.
"It's pretty awesome to see a group of people come together — old man Tony Gibson and Nick (DeFazio, interim car chief) — coming out to fill the gaps for the suspensions," Harvick told NBCSN. "Like I told the radio a second ago, everybody on our Busch Light Ford has been there before and we know what we need to do. This is a great race track for us. I really wasn't expecting that. Our cars are usually a lot better in race trim than in qualifying trim, and just got fortunate to hit a good lap right there and it came at a good time."
[adinserter name="GOOGLE AD"]Chase Elliott will share the front row after registering the second-fastest lap (139.152 mph) in the Hendrick Motorsports No. 9 Chevrolet. Ricky Stenhouse Jr., Ryan Blaney and Alex Bowman rounded out the top five in qualifying for the penultimate event in the 10-race playoffs, with title-eligible Kyle Busch snagging sixth.
The 312-lap event is the final race in the Round of 8. After Sunday's race, the championship-eligible field will be trimmed from eight to the four drivers who will race for a title Nov. 18 at Homestead-Miami Speedway.
Joey Logano, the only driver assured of a title shot after his Martinsville win clinched an automatic berth, qualified ninth in the 39-car field.
Defending series champ Martin Truex Jr. was a late arrival to the qualifying grid after his Furniture Row Racing No. 78 Toyota failed inspection three times. The issues resulted in the ejection of Blake Harris, the team's car chief, and a loss of 30 minutes in Saturday's final practice.
Truex was bumped out of the final round of the session by a last-minute lap from Brad Keselowski. Truex will start 13th.
"It was a battle," said Truex, who was 20th-fastest in Friday's practice. "Kind of par for the course for us here lately, so I say 13th is a pretty good starting spot for the day we've had. I really didn't get a good crack at anything in practice and we didn't end up having much time and we were pretty far off. Made some good gains for sure. I wish we could've ran again. I definitely feel like I could pick up some more. Car was just pretty tight, so we'll start 13th and get to work tomorrow."
Lineup
| | | | | | |
| --- | --- | --- | --- | --- | --- |
| Pos | Car | Driver | Team | Time | Speed |
| 1 | 4 | Kevin Harvick (P) | Busch Light Ford | 25.836 | 139.340 |
| 2 | 9 | Chase Elliott (P) | NAPA Auto Parts Chevrolet | 25.871 | 139.152 |
| 3 | 17 | Ricky Stenhouse Jr. | Ford Ford | 25.898 | 139.007 |
| 4 | 12 | Ryan Blaney | PPG Ford | 25.924 | 138.867 |
| 5 | 88 | Alex Bowman | Axalta Chevrolet | 25.948 | 138.739 |
| 6 | 18 | Kyle Busch (P) | M&M's Toyota | 25.954 | 138.707 |
| 7 | 20 | Erik Jones | Sirius XM Toyota | 26.022 | 138.344 |
| 8 | 42 | Kyle Larson | DC Solar Chevrolet | 26.038 | 138.259 |
| 9 | 22 | Joey Logano (P) | Shell Pennzoil Ford | 26.039 | 138.254 |
| 10 | 11 | Denny Hamlin | FedEx Ground Toyota | 26.040 | 138.249 |
| 11 | 21 | Paul Menard | Menards/Cardell Ford | 26.108 | 137.889 |
| 12 | 2 | Brad Keselowski | Miller Lite Holiday Knitwear Ford | 26.150 | 137.667 |
| 13 | 78 | Martin Truex Jr. (P) | Auto-Owners Insurance Toyota | 26.023 | 138.339 |
| 14 | 41 | Kurt Busch (P) | Haas Automation/Monster Energy Ford | 26.053 | 138.180 |
| 15 | 3 | Austin Dillon | American Ethanol e15 Chevrolet | 26.074 | 138.069 |
| 16 | 14 | Clint Bowyer (P) | ITsavvy Ford | 26.110 | 137.878 |
| 17 | 6 | Matt Kenseth | Wyndham Rewards Ford | 26.131 | 137.767 |
| 18 | 10 | Aric Almirola (P) | Smithfield Ford | 26.140 | 137.720 |
| 19 | 24 | William Byron # | Hertz Chevrolet | 26.162 | 137.604 |
| 20 | 48 | Jimmie Johnson | Lowe's Power of Pride Chevrolet | 26.174 | 137.541 |
| 21 | 1 | Jamie McMurray | Cessna Chevrolet | 26.176 | 137.531 |
| 22 | 31 | Ryan Newman | Cat Global Mining Chevrolet | 26.212 | 137.342 |
| 23 | 34 | Michael McDowell | Love's/Luber Finer Ford | 26.313 | 136.815 |
| 24 | 47 | AJ Allmendinger | Kroger ClickList Chevrolet | 26.368 | 136.529 |
| 25 | 37 | Chris Buescher | Gain Chevrolet | 26.342 | 136.664 |
| 26 | 19 | Daniel Suarez | STANLEY Toyota | 26.368 | 136.529 |
| 27 | 32 | Matt DiBenedetto | Can-Am/Wholey Ford | 26.487 | 135.916 |
| 28 | 13 | Ty Dillon | GEICO Military Chevrolet | 26.516 | 135.767 |
| 29 | 95 | Regan Smith | Procore Chevrolet | 26.539 | 135.649 |
| 30 | 43 | Bubba Wallace # | U.S. Air Force Chevrolet | 26.560 | 135.542 |
| 31 | 38 | David Ragan | Trident Seafoods Wild Alaska Pollock Ford | 26.614 | 135.267 |
| 32 | 00 | Landon Cassill(i) | StarCom Fiber Chevrolet | 26.834 | 134.158 |
| 33 | 15 | Ross Chastain(i) | Ternio Chevrolet | 26.970 | 133.482 |
| 34 | 72 | Cole Whitt | Standard Plumbing Supply Chevrolet | 27.001 | 133.328 |
| 35 | 23 | JJ Yeley(i) | She Beverage Company Toyota | 27.010 | 133.284 |
| 36 | 97 | Tanner Berryhill | Toyota | 27.231 | 132.202 |
| 37 | 66 | Timmy Hill(i) | Rewards.com Toyota | 27.457 | 131.114 |
| 38 | 7 | DJ Kennington(i) | APC/Northern Provincial Pipelines Chevrolet | 27.666 | 130.124 |
| 39 | 51 | Cody Ware | JacobCo/BanyanCayGolfClub&Resort Chev | 0.000 | 0.000 |