Blaney wins pole in Texas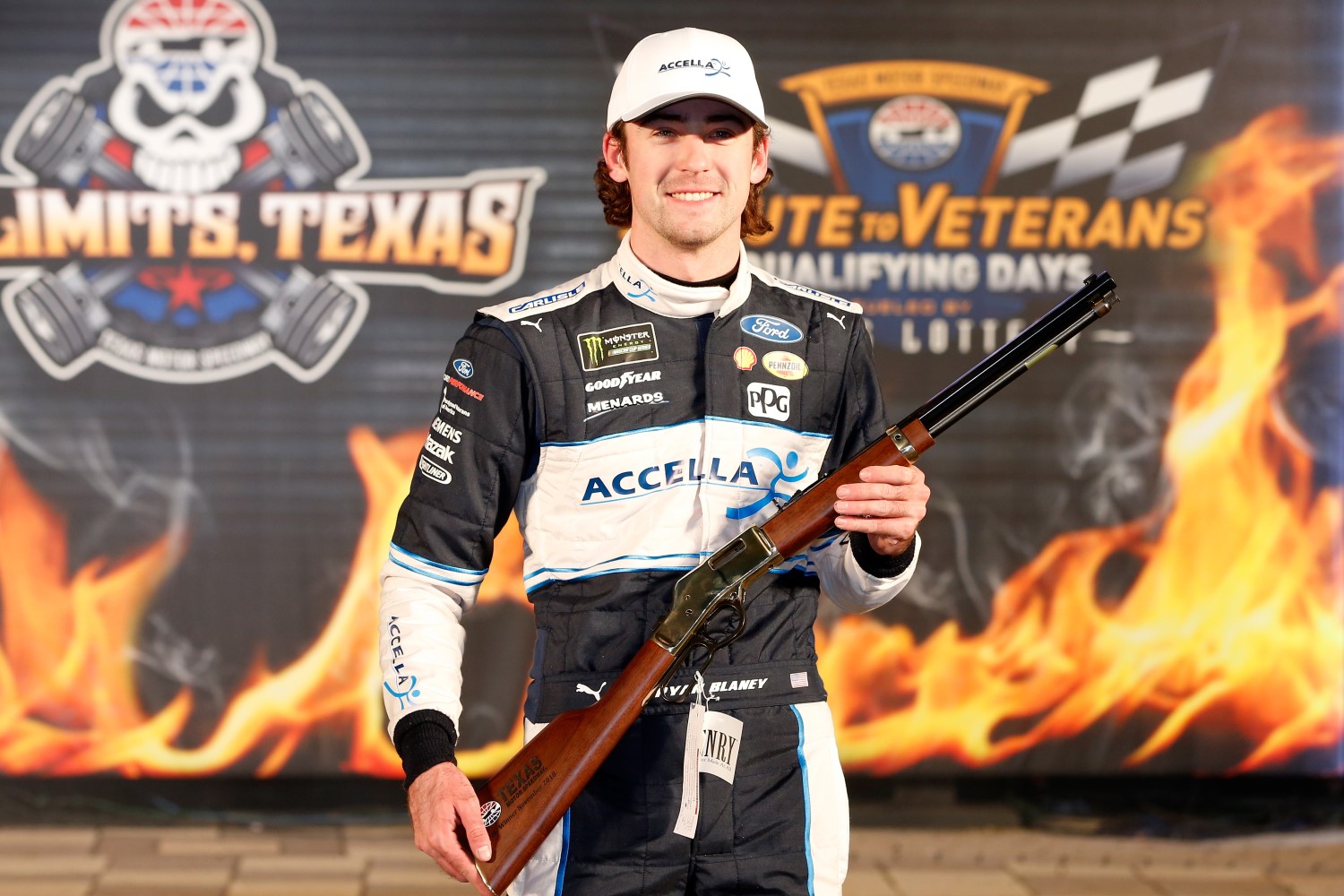 Blaney gets a gun for winning the pole
Penske driver Ryan Blaney won the Pole Award for the 14th Annual AAA Texas 500 with a lap of 26.932 seconds, at a speed of 200.505 mph. Blaney led a Ford 1-2-3-4-5 and 8 of the top-10. This is the year of Ford in NASCAR and their domination continues.
Three Stewart-Haas teammates still competing in the NASCAR Playoffs followed Blaney — Clint Bowyer was second in the No. 14 (200.230 mph), Kevin Harvick was third in the No. 4 (199.941 mph) and Aric Almirola was fourth in the No. 10 (199.778 mph).
Brad Keselowski rounded out the top five in the three-round knockout qualifying for Sunday's AAA Texas 500 (3 p.m. ET, NBCSN, PRN, SiriusXM NASCAR Radio).
[adinserter name="GOOGLE AD"]Of the remaining Round of 8 Playoff drivers, three more qualified among the top 10 — Kurt Busch was seventh in the No. 41 SHR Ford (199.225 mph), Joey Logano was eighth in the No. 22 Team Penske Ford (199.086 mph) and Kyle Busch was 10th in the No. 18 Joe Gibbs Racing Toyota (198.705).
Two of the playoff drivers did not advance to the final round: Martin Truex Jr., who qualified 13th in the No. 78 Furniture Row Racing Toyota, and Chase Elliott, who qualified 16th in the No. 9 Hendrick Motorsports Chevrolet. Elliott enters Sunday's race ranked sixth among the eight playoff drivers, 31 points below the cut line; Truex is third, 25 points above the cut line.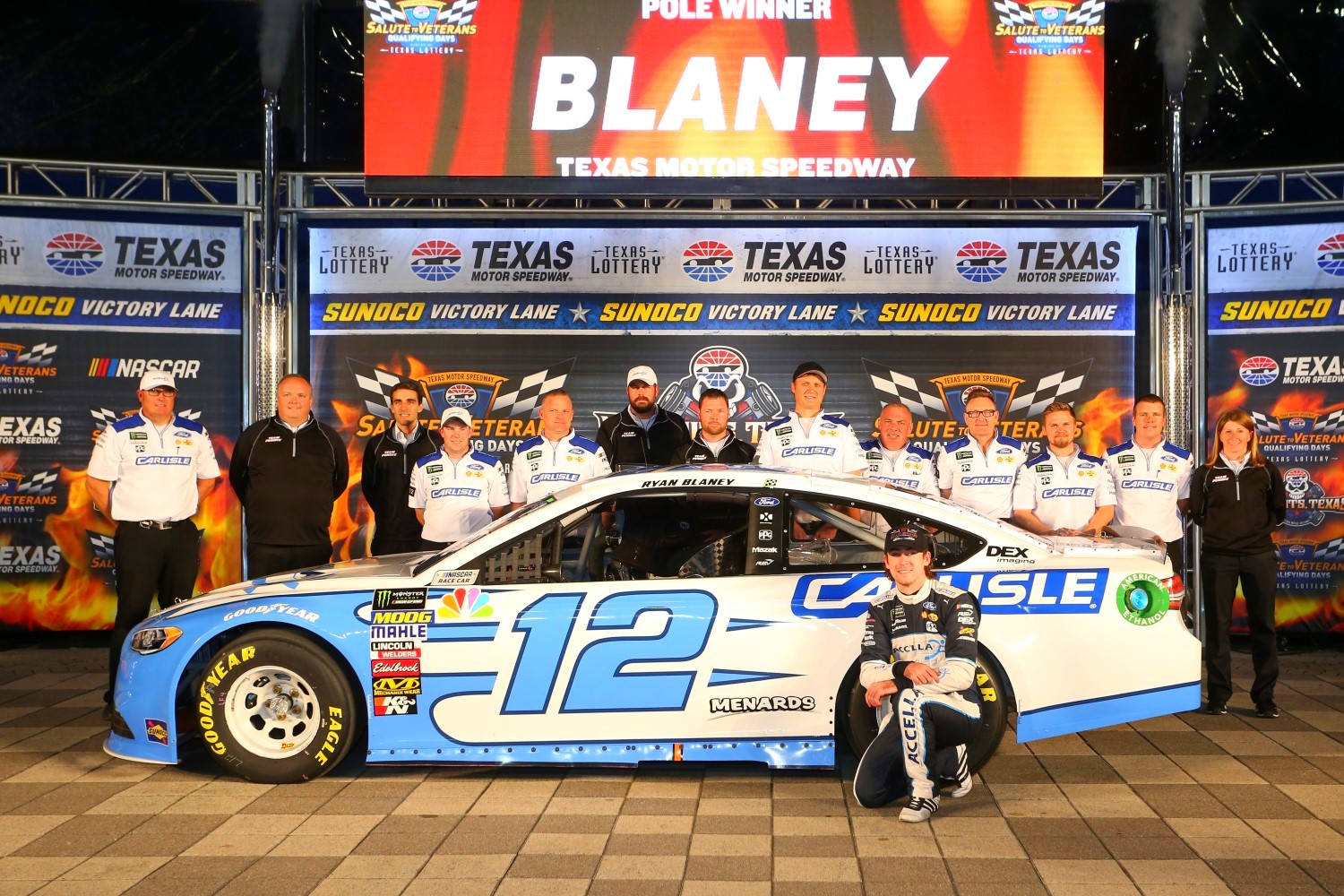 Ryan Blaney
The red flag came out briefly near the end of Round 1 when No. 38 David Ragan spun coming out of Turn 4 and through the infield grass. He had qualified 27th before the incident.
Sunday's running of the AAA Texas 500 at Texas Motor Speedway will air on NBCSN and the NBC Sports App beginning at 3:00 pm ET. The green flag is expected to waive at 3:16 pm ET. The AAA Texas 500 is scheduled to go 334 laps which equals to 501 miles.
Kyle Busch is the most recent MENCS winner at Texas while Kevin Harvick went to victory lane here last fall.
Qualifying Results
| | | | | | |
| --- | --- | --- | --- | --- | --- |
| Pos | No. | Driver | Car | Time | Speed |
| 1 | 12 | Ryan Blaney | Accella/Carlisle Ford | 26.932 | 200.505 |
| 2 | 14 | Clint Bowyer (P) | Rush Truck Centers/Mobil Delvac 1 Ford | 26.969 | 200.230 |
| 3 | 4 | Kevin Harvick (P) | Mobil 1 Ford | 27.008 | 199.941 |
| 4 | 10 | Aric Almirola (P) | Smithfield Spirals Ford | 27.030 | 199.778 |
| 5 | 2 | Brad Keselowski | Wurth Ford | 27.064 | 199.527 |
| 6 | 11 | Denny Hamlin | FedEx Office Toyota | 27.101 | 199.255 |
| 7 | 41 | Kurt Busch (P) | State Water Heaters Ford | 27.105 | 199.225 |
| 8 | 22 | Joey Logano (P) | AAA Insurance Ford | 27.124 | 199.086 |
| 9 | 24 | William Byron # | Hendrick Autoguard Chevrolet | 27.126 | 199.071 |
| 10 | 18 | Kyle Busch (P) | M&M's Toyota | 27.176 | 198.705 |
| 11 | 21 | Paul Menard | Menards/Cardell Ford | 27.279 | 197.954 |
| 12 | 20 | Erik Jones | Sport Clips Toyota | 27.293 | 197.853 |
| 13 | 78 | Martin Truex Jr. (P) | Bass Pro Shops/5-hour ENERGY Toyota | 27.278 | 197.962 |
| 14 | 31 | Ryan Newman | Caterpillar Next Gen Excavator Chevrolet | 27.283 | 197.925 |
| 15 | 6 | Trevor Bayne | AdvoCare Rehydrate Ford | 27.312 | 197.715 |
| 16 | 9 | Chase Elliott (P) | Kelley Blue Book Chevrolet | 27.316 | 197.686 |
| 17 | 17 | Ricky Stenhouse Jr. | Fastenal Ford | 27.329 | 197.592 |
| 18 | 88 | Alex Bowman | Axalta Chevrolet | 27.336 | 197.542 |
| 19 | 19 | Daniel Suarez | ARRIS Toyota | 27.356 | 197.397 |
| 20 | 1 | Jamie McMurray | Sherwin-Williams Chevrolet | 27.358 | 197.383 |
| 21 | 37 | Chris Buescher | Clorox Chevrolet | 27.399 | 197.087 |
| 22 | 42 | Kyle Larson | DC Solar Chevrolet | 27.437 | 196.815 |
| 23 | 48 | Jimmie Johnson | Lowe's for Pros Chevrolet | 27.449 | 196.728 |
| 24 | 13 | Ty Dillon | GEICO Military Chevrolet | 27.479 | 196.514 |
| 25 | 47 | AJ Allmendinger | Kroger ClickList Chevrolet | 27.550 | 196.007 |
| 26 | 3 | Austin Dillon | Dow NORKOOL Chevrolet | 27.646 | 195.327 |
| 27 | 38 | David Ragan | Earthwater Ford | 27.661 | 195.221 |
| 28 | 95 | Regan Smith | Procore Chevrolet | 27.728 | 194.749 |
| 29 | 34 | Michael McDowell | Love's/Luber Finer Ford | 27.767 | 194.475 |
| 30 | 43 | Bubba Wallace # | NASCAR Racing Experience Chevrolet | 27.778 | 194.398 |
| 31 | 32 | Matt DiBenedetto | Can-Am/Wholey Ford | 28.066 | 192.404 |
| 32 | 00 | Landon Cassill(i) | Brookshire's Chevrolet | 28.148 | 191.843 |
| 33 | 15 | Ross Chastain | Low T Center Chevrolet | 28.228 | 191.299 |
| 34 | 96 | Parker Kligerman(i) | Gaunt Brothers Racing Toyota | 28.256 | 191.110 |
| 35 | 23 | JJ Yeley(i) | maximum elevation off-road Toyota | 28.381 | 190.268 |
| 36 | 99 | Kyle Weatherman | StarCom Fiber Chevrolet | 28.538 | 189.221 |
| 37 | 72 | Corey LaJoie | Gas Monkey Garage Chevrolet | 28.598 | 188.824 |
| 38 | 7 | Reed Sorenson(i) | Sustainable Quarry Crypto Mining Chevrolet | 28.785 | 187.598 |
| 39 | 51 | Joey Gase(i) | Jacob Companies/Donate Life Texas Ford | 29.496 | 183.076 |
| 40 | 97 | David Starr(i) | Toyota | 29.784 | 181.305 |
Failing to qualify was Timmy Hill.
# DENOTES ROOKIE
(I) NOT ELIGIBLE FOR POINTS
(*) REQUIRED TO QUALIFY ON TIME