Ricciardo beats Verstappen for pole in Mexico City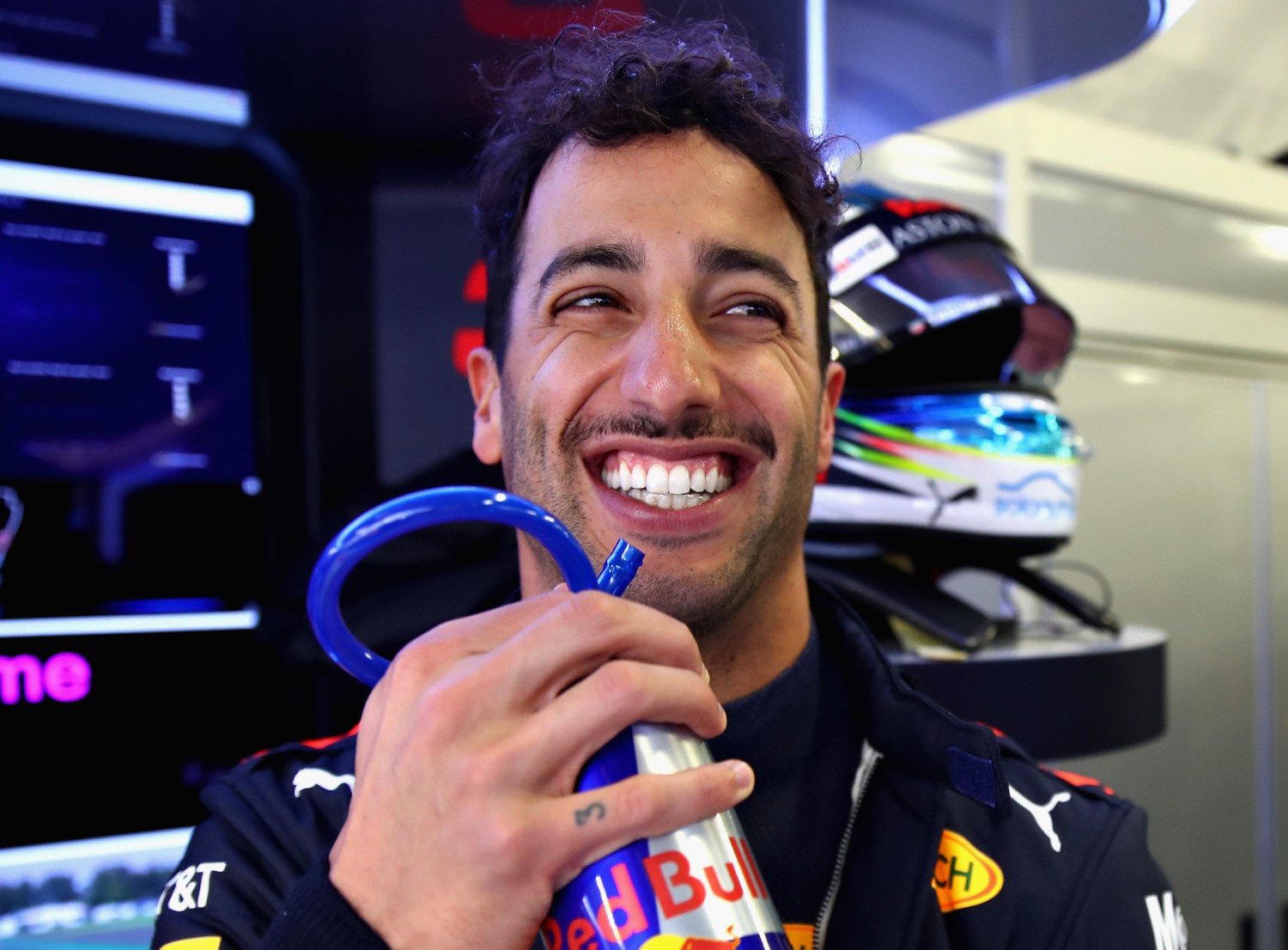 A very happy Daniel Ricciardo
Daniel Ricciardo found 6/10ths of a second on his final lap to deny his Red Bull teammate his first ever F1 pole in qualifying for Sunday's Mexican GP in Mexico City.
It was a front-row lockout for the Red Bulls with Lewis Hamilton and Sebastian Vettel breathing down their neck on the 2nd row.
In the end, Verstappen lost out on the youngest pole-sitter mantle by just 0.026s, heading off the title contenders of Lewis Hamilton in third and Sebastian Vettel in fourth as Red Bull capitalized on the searing pace that they've demonstrated in Mexico so far to make the front-row theirs and theirs alone for the first time since the 2013 United States Grand Prix.
It was a sweet result for the Australian, who's endured a miserable second-half of the season that's been blighted by mechanical failures – his most recent coming at the United States Grand Prix just a week ago.
Yet while the blue cars with the yellow noses will have the front row covered at the start of Sunday's race, all eyes will likely be on the row just behind, as title contenders Hamilton and Vettel line up alongside one another, each with their Finnish stable mate ready to back them up (or not, as the case may be…) one row behind.
And with Mexico having witnessed its fair share of first-lap action in recent years, it could make for quite the opening-lap fiesta.
Valtteri Bottas and Kimi Raikkonen will start on row 3 and the Renaults of Nico Hulkenberg and Carlos Sainz Jr. will lineup on row 4.
The Saubers of Charles Leclerc and Marcus Ericsson rounded out the top-10
The key stats
That was Daniel Ricciardo's third ever pole position, and the first that the street circuit specialist hasn't scored in Monaco.

While being Red Bull's first front-row lock-out since 2013, it was also the team's 60th pole position.

Max Verstappen and Lewis Hamilton take up the same positions in Mexico this year as they had last year – second and third.

Sunday's Mexican Grand Prix will mark the first time one of either Lewis Hamilton or Sebastian Vettel hasn't been on the front row of the grid this season.

Considering that Sebastian Vettel needs to win tomorrow to stay in the title hunt, things aren't looking good, with Vettel (starting in P4) having never won a race from outside the top three before.

Kimi Raikkonen maintains his unwanted record of having never started in the top four in Mexico – although he remains the only driver to start every race in the top six in 2018.

Having failed to get both cars into Q3 in between the 2015 Italian Grand Prix and the 2018 Russian Grand Prix, Sauber have now managed that feat twice in four Grands Prix.

Nico Hulkenberg claimed his seventh seventh place on the grid this year, while failing to start inside the top six at any race.

Haas' poor qualifying ended an 11-race Q3 run for Romain Grosjean, the best of his career.

Both Williams cars were out in Q1 for the 11th time this season.
Quotes
DANIEL RICCIARDO, Position: P1
"As you can probably tell, I'm pretty happy right now. I know it's only qualifying but actually it's pretty special and this is only the third time in my career that I've been on pole. Every other time was Monaco, it starts with an M but this time it's Mexico. Putting the lap together right at the very end, when Max had dominated in practice and then Mercedes came on so strong made it even more exciting. I don't think anyone expected me to do it but I knew there was some extra speed in me and I'm happy to have found it. I knew I could clean up my first lap in Q3 and the first sector on my second lap was still average, but in the second sector I was building and I was pretty pumped up by the third. It feels awesome to be back at the front and it feels right. It's been a challenging year and I've been wanting to finish on a high with Red Bull, so hopefully my run of poor fortune has come to an end and we can deliver what we all want tomorrow. This is the first front row lockout for the Team since 2013 so it's a really big day for us all. I don't think it will be a straightforward race and it will certainly be interesting, but hopefully it will be interesting for all the right reasons. It's going to be a good fight with Max, Lewis and Seb but if we can convert a double front row into a double podium then the entire Team will leave Mexico very happy."
MAX VERSTAPPEN, Position: P2
"It's really disappointing to be consistently the fastest all weekend, and then not when it counts. I felt comfortable going into qualifying but I soon experienced similar issues that I had felt in FP2, the rear was locking while I was off throttle during cornering. I felt like I couldn't push the car to its limit, which you need to do in Q3 as it is the most important session. I was surprised to be on top of the time sheet at the start of Q3 but in the end it wasn't enough to take the pole. The issue should be less influential tomorrow which means we can both have a good race. Given today's frustration we are still in really strong shape going into Sunday, it's just a shame to miss the pole. The fact we have locked out the front row for the first time in years is a brilliant result for the Team, you can't beat first and second."
CHRISTIAN HORNER, Team Principal:
"Amazing! An incredible last lap from Daniel which really seemed to come from nowhere. On the last run to be able to string together a perfect lap was a mighty performance. Another great lap from Max, who has looked so competitive all weekend meant we locked out the front row for the first time since Austin 2013, a phenomenal team performance. Our priority now has to be to try and convert these fantastic grid positions into a haul of points tomorrow. The Team has worked very hard for this so it is crucial that we now make the most of it."
Lewis Hamilton
I want to say thank you to everyone at the factory and the team here at the race track, everyone has worked really hard to get the car to where it was today. Red Bull were really fast in the middle sector, the Renault engine seems to be working well in the high altitude and so does their high-downforce package. I think they were probably in a league of their own today, so I'm happy to be as close as I am. Our race pace was not bad on Friday, but again Red Bull seemed to have the upper hand. We were able to improve quite a bit since yesterday, so I'm hoping that we will be able to fight them and maybe gain some ground at the start. Mexico is a great place to be and a great place to race, so I'm looking forward to tomorrow. Game on!
Valtteri Bottas
The entire team did a really good job last night and today. It didn't look great for us yesterday, but the car felt a lot better today; we were able to recover a lot of our performance. I also want to say thank you to our mechanics, they did an amazing job. In less than one and a half hours, they managed to take the car apart and change the engine – and the car worked well afterwards. Qualifying was pretty straightforward after the car was fixed, but I didn't get a perfect lap together in Q3. It never felt as good as it did in the previous qualifying runs, but at least we're a lot closer to the front than we were on Friday. The first row was probably out of reach for us today, but at least our times were very close to those of Ferrari. There's a long straight here at the start, so not starting from the front might actually be an advantage if we manage to get a tow from the cars in front of us. The race tomorrow should be good fun.
Toto Wolff
A fantastic qualifying session with the top three teams covered by two tenths of a second – and congratulations to Daniel, who has had a tough time in recent races. As a team, we can be happy with how we recovered – we were nowhere on Friday but in the ballpark today. Starting from the second row with Lewis may not be the worst thing tomorrow with the long straight, certainly he will have opportunities on the way to Turn One. From the constructors' perspective, it's good to have each of our cars ahead of a Ferrari on the grid; but they are once again so fast on the straights that keeping them behind won't be easy. It's certainly going to be a very exciting run to the first corner…
James Allison
This team has set some high standards in recent seasons, so it's unusual to feel pretty jubilant with P3 and P5 in qualifying. But after our troubles yesterday and Valtteri's issue in FP3, this result represents an excellent recovery. Overnight, we did good work on the engine side to post a competitive level of power in the thin air, while the chassis engineering team recovered the slow corner competitiveness that was missing yesterday. We're under no illusions that it will be anything other than a tough race tomorrow, with Red Bull enjoying a very strong weekend and Ferrari neck and neck on outright pace. The top three teams are all starting on the preferred UltraSoft tire and we have every intention of giving it our best shot to win.
More to follow……
Qualifying Results
| | | | | | | | |
| --- | --- | --- | --- | --- | --- | --- | --- |
| POS | NO | DRIVER | CAR | Q1 | Q2 | Q3 | LAPS |
| 1 | 3 | Daniel Ricciardo | Red Bull Renault | 1:15.866 | 1:15.845 | 1:14.759 | 16 |
| 2 | 33 | Max Verstappen | Red Bull Renault | 1:15.756 | 1:15.640 | 1:14.785 | 15 |
| 3 | 44 | Lewis Hamilton | Mercedes | 1:15.673 | 1:15.644 | 1:14.894 | 20 |
| 4 | 5 | Sebastian Vettel | Ferrari | 1:16.089 | 1:15.715 | 1:14.970 | 16 |
| 5 | 77 | Valtteri Bottas | Mercedes | 1:15.580 | 1:15.923 | 1:15.160 | 22 |
| 6 | 7 | Kimi Raikkonen | Ferrari | 1:16.446 | 1:15.996 | 1:15.330 | 20 |
| 7 | 27 | Nico Hulkenberg | Renault | 1:16.498 | 1:16.126 | 1:15.827 | 18 |
| 8 | 55 | Carlos Sainz Jr. | Renault | 1:16.813 | 1:16.188 | 1:16.084 | 18 |
| 9 | 16 | Charles Leclerc | Sauber Ferrari | 1:16.862 | 1:16.320 | 1:16.189 | 20 |
| 10 | 9 | Marcus Ericsson | Sauber Ferrari | 1:16.701 | 1:16.633 | 1:16.513 | 20 |
| 11 | 31 | Esteban Ocon | Force India Mercedes | 1:16.252 | 1:16.844 | – | 16 |
| 12 | 14 | Fernando Alonso | McLaren Renault | 1:16.857 | 1:16.871 | – | 12 |
| 13 | 11 | Sergio Perez | Force India Mercedes | 1:16.242 | 1:17.167 | – | 16 |
| 14 | 28 | Brendon Hartley | Toro Rosso Honda | 1:16.682 | 1:17.184 | – | 12 |
| 15 | 10 | Pierre Gasly | Toro Rosso Honda | 1:16.828 | – | – | 11 |
| 16 | 8 | Romain Grosjean | Haas Ferrari | 1:16.911 | – | – | 9 |
| 17 | 2 | Stoffel Vandoorne | McLaren Renault | 1:16.966 | – | – | 6 |
| 18 | 20 | Kevin Magnussen | Haas Ferrari | 1:17.599 | – | – | 9 |
| 19 | 18 | Lance Stroll | Williams Mercedes | 1:17.689 | – | – | 5 |
| 20 | 35 | Sergey Sirotkin | Williams Mercedes | 1:17.886 | – | – | 6 |
[adinserter name="GOOGLE AD"]