Indy 500 Winner Rossi Looks Forward To Baja Challenge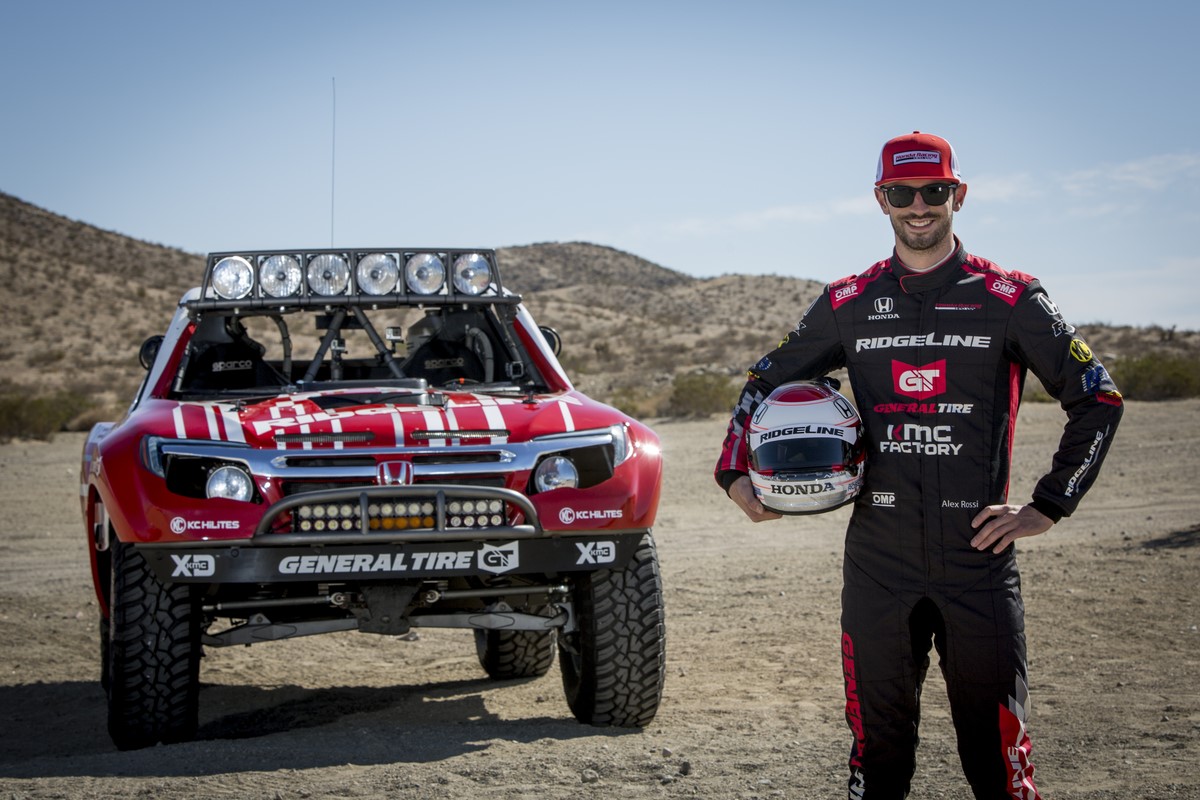 Honda racer Alexander Rossi with his off-road Ridgeline
Honda racer Alexander Rossi, rookie winner of the historic 100th running of the Indianapolis 500 in 2016, is excited to tackle a new challenge – the SCORE Baja 1000 – as he joins the Honda Off-Road Racing Team for November's 61st running of the legendary race.
"I'm super excited to be a part of the Baja 1000 with the Honda Off-Road team. This is my first time racing anything even remotely like this," Rossi said. "I'm used to several thousand pounds of downforce and no power steering. To say this is unlike anything I've ever done is an understatement, but I'm confident in being able to perform in the truck right away."
Rossi, who took runner-up honors in the Verizon IndyCar Series this season with three wins, will share driving duties in this year's Baja 1000 with Jeff Proctor in the No. 709 Honda Ridgeline Baja Race Truck. Proctor won his class in the Baja 1000 in both 2015 and 2016 with the Ridgeline; and won the companion SCORE Baja 500 race both in 2016 and again earlier this year. The Ridgeline competes in Class 7, for unlimited six-cylinder production-appearing trucks and SUVs.
[adinserter name="GOOGLE AD"]"I'm thrilled and honored to be sharing the wheel with Alexander, Johnny Campbell and Pat Dailey this year," said Jeff Proctor, owner/driver of the Ridgeline Baja Race Truck. "We've enjoyed getting to know Alex and introducing him to off-road racing. Baja is always tough, but we are feeling prepared to go to battle with a very capable Ridgeline, and look forward to continuing our momentum to end this season on a high note."
"I did this to take on the challenge of off-road desert racing, plain and simple. Honda is a great partner of mine, and I'm appreciative they've helped make this happen with Jeff's team," Rossi said. "It will be cool to share the Baja experience with our fans".
Rossi will be the sixth Indy 500 winner to take part in the Baja 1000. Other Indy winners who have raced in the SCORE Baja 1000 include Parnelli Jones, a two-time race winner (1971-72); fellow Honda IndyCar Series driver and Andretti Autosport teammate Ryan Hunter-Reay; Rick Mears, Danny Sullivan and Buddy Rice. Indy car season champions who have raced in the Baja 1000 include Mears, Hunter-Reay, Sebastien Bourdais, Jimmy Vasser and Paul Tracy.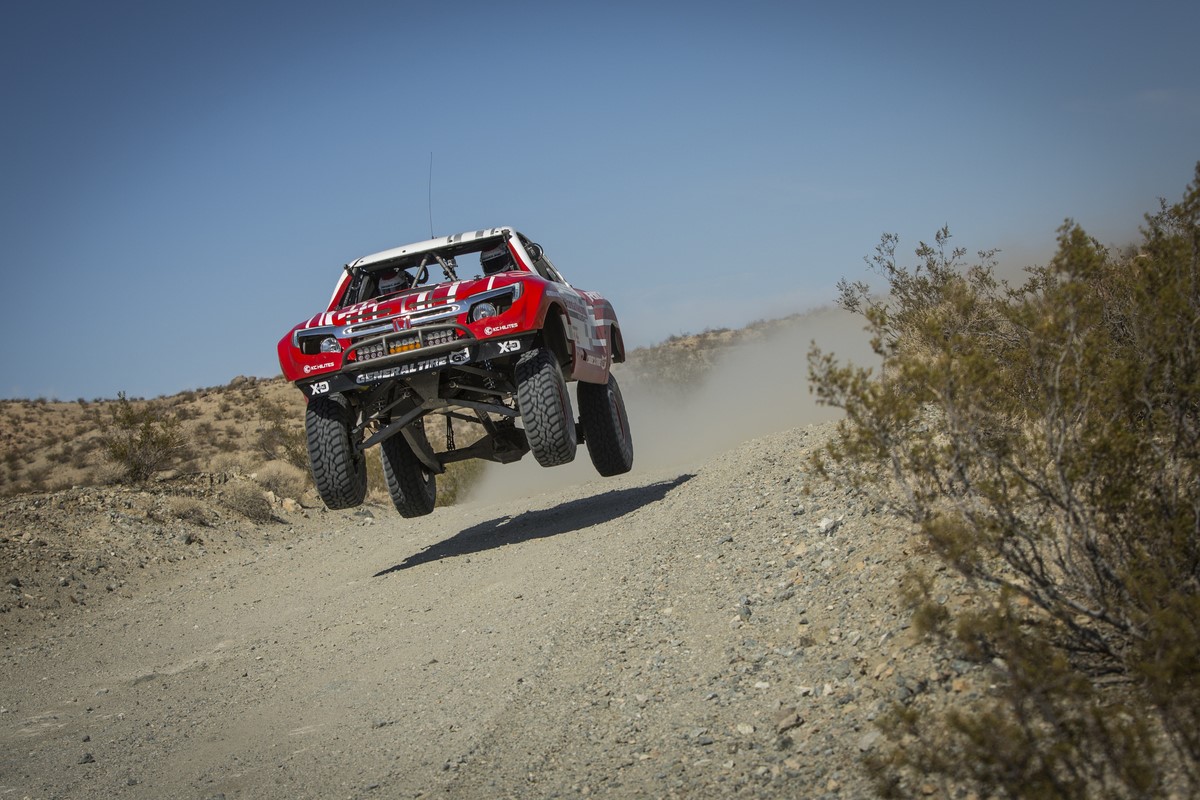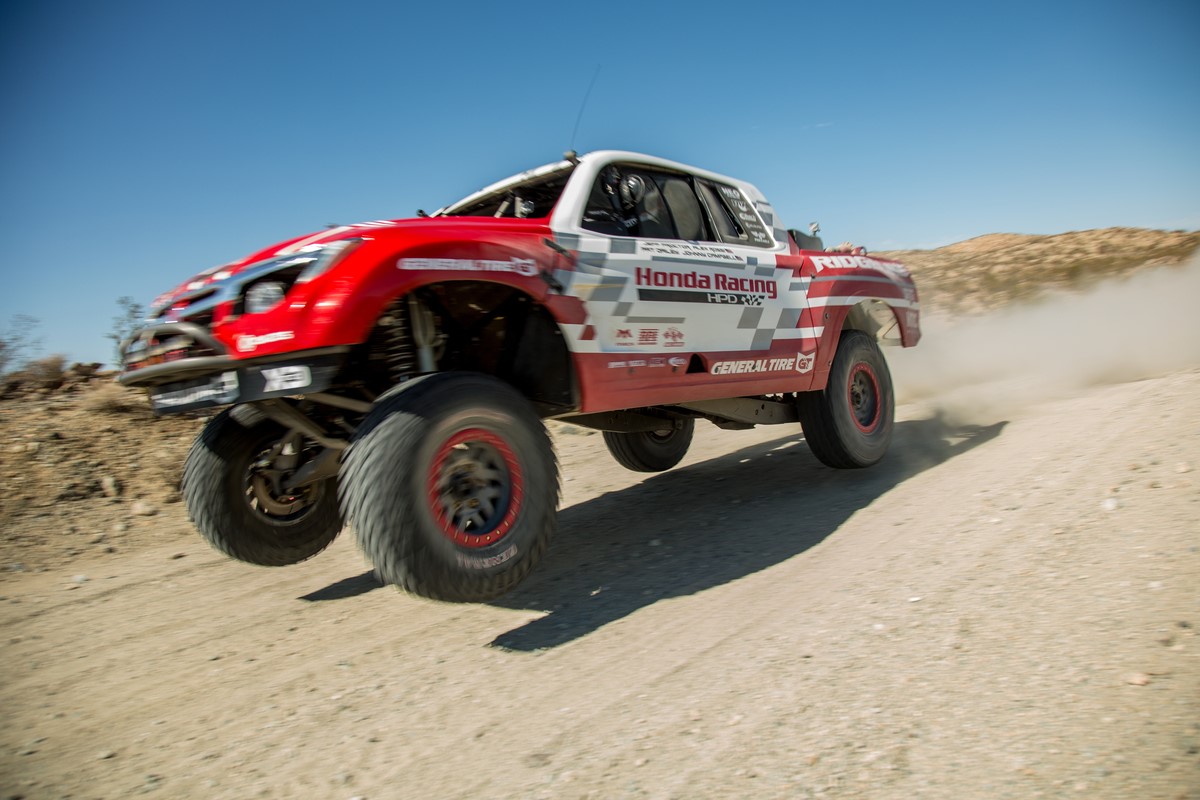 Rossi getting some air as he tests out his truck ahead of the Baja 1000
"I got the chance to get in the truck for the first time a couple weeks ago, and it totally blew my mind," Rossi said. "Jeff Proctor [team owner/driver] and my co-driver Evan [Weller] have been great teachers so far and I look forward to working closely with them in the coming weeks. Now it's just counting the days until we get to Mexico for some pre-running time."
Powered by a twin-turbocharged V6 produced by Honda Performance Development, the Ridgeline Baja Race Truck features a body designed by Honda R&D Americas' Los Angeles Design Studio, with inspiration taken from the current Honda Ridgeline, which was also designed and developed by Honda R&D North Americas. Key design cues drawn from the 2019 Honda Ridgeline can be seen in the front fascia, hood, roof, bed and side profile.
Making approximately 550 horsepower, HPD's 3.5-liter HR35TT engine uses the same block, cylinder heads and crankshaft as the production V6 engine that powers the all-new Ridgeline. Additional, custom elements of the powertrain include an HPD-designed intake plenum and custom Engine Control Unit programming.
The oldest, most prestigious and longest continuously held desert off-road race, this year's SCORE Baja 1000 on Nov. 16-17 will be a loop race of 806.76 miles, starting and ending in Ensenada in Mexico's Baja California peninsula. The race is the finale of the SCORE World Desert Championship. The start/finish line compound will once again be adjacent to the historic Riviera del Pacifico Cultural Center in Ensenada. The car, truck and UTV classes will start at 10:30 a.m. PT on Friday, Nov. 16, with the first finishers expected to complete the race in approximately 13 hours.
The One and Only–SCORE Baja 1000 desert race
ENSENADA, Mexico— As the World Series is to baseball, the Super Bowl to football and the World Cup to soccer, the legendary SCORE Baja 1000 continues to stands as tall at the pinnacle of the motorsports world today as it did when it began 51 years ago.
REWIND
Last year's epic 50th anniversary race, sponsored for the first time by BFGoodrich Tires, was held Nov. 12-18. It started in the heart of Ensenada, Baja California, Mexico covering much of the majestic Baja California peninsula for 1,134.40 grueling miles. It finished in La Paz, Baja California Sur. It was the 50th anniversary of the race shrouded in mystery that continues to lure the world's best racers and adventurers from around the globe who all continue to share the dream to conquer the Baja.
A total of 404 starters, competing in Pro and Sportsman classes for cars, trucks, UTVs, motorcycles and quads were part of last year's annual odyssey. Racers came from 44 U.S. States and 28 countries. The 404 starters was the third most in the 50-year history of this great race (second most when it finished in La Paz) and the 237 finishers in 2017 ties the all-time mark set for this race in 2007 when it started in Ensenada and finished in Cabo San Lucas. The 237 finishers is the most in race history when it has finished in La Paz.
THIS YEAR
Over 300 entries, from 35 U.S. States and 20 countries are expected to compete in this year's 51st anniversary celebration of the SCORE Baja 1000 which is revered worldwide as the Granddaddy of all Desert Races.
The world's most iconic, oldest, prestigious and longest continuously held desert race, this year's SCORE Baja 1000 will be a loop race of 806.76 miles in the northern state of Mexico's majestic Baja California peninsula. It will start for the 44th time and finish for the 25th time in Ensenada and dates for the race and race week festivities are Nov. 12 through Nov. 18. The race is annually the finale of the four-race SCORE World Desert Championship, which has been held exclusively for the past three years in Baja California. The start/finish line compound will once again be adjacent to the historic Riviera del Pacifico Cultural Center.
With a total time limit of 36 hours in the elapsed-time race, the motorcycle and quad classes will start at 4 a.m. (PT) on Friday, Nov. 16 and the car, truck and UTV classes will follow with their start on at 10:30 a.m. (PT) on Friday, Nov. 16. The fastest finishers are expected to complete the race in approximately 16 hours.
Online racer registration, this year's course map, course notes and GPS files are all available on the SCORE website under race info on the SCORE Baja 1000 page at www.SCORE-International.com.
ROOTS
It's the oldest and most well known of all desert races, and it remains as the single most appealing accomplishment to a driver. Since 1967, the mother of all desert races has been run over the mysterious, majestic Baja California peninsula every year except 1974 when an international fuel crisis forced a cancellation.
The SCORE Baja 1000 has captured the imagination of the entire world as entries have come not only from every state in the United States, the District of Columbia and U.S. territories Guam and Puerto Rico, but also has attracted racers from Argentina, Australia, Austria, Bahamas, Brazil, Belgium, Canada, Chile, China, Columbia, Costa Rica, Cyprus, England, Finland, France, Germany, Greece, Guatemala, Hong Kong, Hungary, India, Ireland, Israel, Italy, Japan, Latvia, Lithuania, Monaco, Morocco, New Caledonia, New Zealand, Netherlands, Norway, Panama, Paraguay, Peru, Philippines, Poland, Portugal, Romania, Russia, Saudi Arabia, South Africa, Spain, Sweden, Switzerland, Thailand, Uruguay, Yugoslavia as well as the host country of Mexico.
Over the years, SCORE races have been televised in more than 100 nations worldwide.
PRELUDE
The first known record run occurred in 1962. Dave Ekins and Bill Robertson Jr. timed their trip from Tijuana to La Paz on a pair of Honda 250 motorcycles. Ekins made it in 39 hours, 54 minutes, Robertson in less than an hour slower. There were no official timers, of course, and to establish that they had made the trip, the two motorcycle racers time-stamped a sheet of paper in the Tijuana telegraph office and time-stamped it again at the telegraph office when they arrived in La Paz. They began their journey at midnight in Tijuana.
Capitalizing on the pioneer effort of Ekins and Robertson, Chevrolet commissioned car builder Bill Stroppe to prepare a small fleet of trucks for the run to La Paz. Late that year they left Long Beach, Calif., and all of them reached La Paz. Advertising and publicity campaigns heralded the feat as "the roughest run under the sun."
1967
Enthusiast Ed Pearlman founded the National Off Road Racing Association (NORRA) and established the Mexican 1000. It started officially in Tijuana on October 31, 1967 with 68 entries. They actually motored at leisure speeds to Ensenada and restarted the next day, finishing in La Paz.
NORRA continued to organize the Mexican 1000, which came to be known as the Baja 1000. In 1968, Pearlman moved the start of the race to Ensenada, where it stayed with one exception until 1993. In 1972 NORRA started at Mexicali and ran the first half of the race down the east coast of the peninsula through the treacherous Three Sisters section. Pre-running for this race, Parnelli Jones and Walker Evans were among a group of competitors who nearly got swept out to sea during a tropical storm.
NORRA's last race was in 1972. At that point, Mexican officials revoked NORRA's permits to stage races in Baja. In 1973, a domestic group called the Baja Sports Committee produced the race.
NUMERO UNO!
For two years (2016 and 2017), readers of USA Today newspaper voted the SCORE Baja 1000 as the No. 1 motorsports event in the world.
"Without the SCORE Baja 1000, there just wouldn't be any desert racing," said Roger Norman, SCORE International's President and CEO. "The SCORE Baja 1000 continues to draw interest from all over the world and we now find second, third and even fourth generation racers appearing at the starting line with their family patriarchs cheering for their off-spring. This event continues to be the focal point of the SCORE World Desert Championship each year the celebration of our 50th anniversary will surely add another colorful chapter to the golden legacy of the SCORE Baja 1000."
NEW BEGINNINGS
After the fuel crisis of 1974 forced local officials to cancel the event, SCORE International, founded by the late Mickey Thompson and headed soon after by Sal Fish (until 2012), was invited by the northern state of Baja California to hold the race in 1975. The SCORE Baja 1000 became a loop event starting and finishing in Ensenada. Roger Norman purchased SCORE International from Fish on Dec. 20, 2012.
In 1979, the government of Baja California Sur granted permission to resume the Ensenada-to-La Paz format and SCORE has used this route intermittently ever since.
The 1979 race was notable for Walker Evans' overall win in a Dodge truck, the first truck to win the overall title of the race.
START/FINISH
In its first 50 years, the SCORE Baja 1000 has started 43 times in Ensenada, three times in Mexicali (1972, 1993, 1994), twice in Tijuana (1967, 1995) once in Santo Tomas (1998) and once in Ojos Negros (1999). The legendary race has finished in Ensenada 24 times, in La Paz 21 times, in Mexicali two times (1993, 1994), twice in Cabo San Lucas (2000, 2007) and once in Ojos Negros (1999).
FAMOUS
The famous and not-so-famous have tried their hand at conquering the Baja and they have come from all walks of life. Mark Thatcher, son of Great Britain's then-prime minister Margaret Thatcher, raced in the 1982 SCORE Baja 1000. Celebrities James Garner, Ted Nugent and the late Steve McQueen all battled the Baja in the early 1970s and many racers from other forms of motorsports crossed over to try their skills.
Among the drivers from other arenas who have tested the Baja were Indy Car racers Rick and Roger Mears, Parnelli Jones, Danny Ongias, Danny Sullivan, Jimmy Vasser, Buddy Rice, Sebastien Bourdais, Oriol Servia, Roberto Guerrero, Michel Jourdain Jr., Johnny Unser and Mike and Robbie Groff, NASCAR's Robby Gordon, Jimmie Johnson, Boris Said and Brendan Gaughan, SCCA legend Elliot Forbes-Robinson, World Rally Championships' Armin Schwarz, Armin Kremer, Andreas Aigner and Harri Pavanpera,, world motorcycle champions Malcolm Smith, Larry Roeseler and Destry Abbott, Motocross legends Ricky Johnson and Jeremy McGrath, XGames star Travis Pastrana, drag racers Don Prudhomme and Larry Minor and legendary SCORE founder and motorsports innovator Mickey Thompson.
The late Academy Award winning actor, racer and race team owner Paul Newman raced in the 2004 event. Jesse James, of 'Monster Garage' fame, and Hollywood film and TV star Patrick Dempsey both have raced in this classic several times.
LEGENDS
This year's race will commemorate the achievements of legendary desert racers like Rod Hall, Ron Bishop, Johnny Johnson, and Larry Roeseler. Hall, who will turn 81 on Nov. 22, has retired with an unbelievable record of 25 class wins (including one overall win in 1969), and is the only racer who competed in all 50 SCORE Baja 1000 races to date. Bishop, now deceased was the only racer who competed in the first 40 SCORE Baja 1000 races all on a motorcycle.
Johnson, now retired, had 15 class wins, amazingly in eight different classes.
Roeseler, has won 17 times in this race, including 13 overall wins (10 on a motorcycle). Roeseler won the unlimited Class 1 for four consecutive years (2004-2007), driving with the youngest of three racing brothers, Troy Herbst, in the Smithbuilt-Ford open-wheel desert race car that was known as the 'Land Shark'. Roeseler is the only racer in the history of the event to win the overall 4-wheel in a truck and also in a car as well as the overall 2-wheel title as well. This year he will split driving with Luke McMillin in the No. 83 Ford F-150.
In 2008, Roeseler split the driving with driver of record and team owner and now SCORE owner Roger Norman (Starting with the 2013 season) when they were the overall 4-wheel and SCORE Trophy Truck champions and the pair was second in 2009. In 2010, Roger Norman drove solo the length of the peninsula and finished third overall.
Special history was also made in 2010 when the father/son team of Gustavo Vildosola Sr and Gustavo 'Tavo' Vildosola Jr drove to the overall 4-wheel and SCORE Trophy Truck victory to become the first Mexican nationals' team to win the legendary race and it was a peninsula run from Ensenada to La Paz.
That landmark was reached again during the 50th anniversary when Mexico's Carlos 'Apdaly' Lopez and his father Juan C. Lopez split the driving to win the mammoth 2017 peninsula run from Ensenada to La Paz.
SAME SIREN
Lured by the same siren that enraptured the Ekins brothers in the 1950s, the SCORE Baja 1000 remains as the No. 1 target of adventurers the world over, not to mention the cadre of pro and semi-pro desert racers who consider it the fitting climax to their racing season each year.
WHERE THEY'RE FROM
To date registration for this November's 51st SCORE Baja 1000, there are 140 total early entries with racers from 31 U.S. States and 15 countries officially signed up to compete. In addition to the United States, the U.S. Territory of Guam and host country Mexico, the other countries with racers entered are Argentina, Australia, Austria, Canada, Costa Rica, England, Finland, Germany, Italy, New Zealand, Peru and Sweden.
SCORE SPONSORS…
Official SCORE Sponsors: BFGoodrich Tires-Official Tire and official race title sponsor, Monster Energy-Official Energy Drink, King Shocks-Official Shock Absorber, Polaris RZR-Official UTV, RACELINE Wheels-Official Wheel, VP Racing Fuels-Official Fuel, Lucerna Hotels & Resorts-Official Hotel and official race title sponsor, Wide Open Excursions-Official Arrive and Drive Company, Crystal Bay Casino-Official Casino.
SCORE Official Partners: PCI Race Radios, 4 Wheel Parts, The Satellite Phone Store, Satellite Del Norte.
Additional SCORE Associate Partners: Proturismo Ensenada, Baja California Secretary of Tourism, Mexicali Ayuntamiento, COTUCO Mexicali/San Felipe, Cruz Roja Mexicana, Corporate Helicopters, McKenzie's Performance Products, Advanced Color Graphics.
Lucerna Hotels & Resorts 22nd Tijuana SCORE Desert Challenge Special Partners: XXII Ayuntamiento de Tijuana, Baja California State Secretary of Tourism, Comite de Turismo and Convenciones, Comite de Marcadotecnia Turistica, Lucerna Hotels and Resorts, Asociacion de Hoteles del Noroeste.
For more information regarding SCORE, visit the official website of the SCORE World Desert Championship at www.SCOREInternational.com.
SCORE Baja 1000 Milestones
1962 – In March Dave Ekins and Bill Roberston Jr. ride The 1000 Miles of Baja for the first run ever.
1966 – In May Dave & Bud Ekins, with Eddie Mulder and Cliff Coleman Ride Again to finish the 1000
Miles of Baja and complete the First Non Assisted Ride.
1967 – October 31, Ed Pearlman puts together the First Official Mexican 1000 Race
From Tijuana to La Paz
-Vic Wilson/Ted Mangels first overall winner, driving a Meyers Manx-VW
-J.N. Robert/Malcolm Smith first overall motorcycle winner, riding on Husqvarna
1968 – Larry Minor the first person to win the SCORE Baja 1000 overall back to back in 1968-'69
1969 – Rod Hall wins his only overall title in the race (with Larry Minor)
-Hall has raced in all 49 years and has a record 24 class wins
1973 – With a huge assist from Nico Saad, Mickey Thompson takes over the Mexican 1000 Baja race and forms SCORE
1974 – Sal Fish takes control of SCORE and runs it for the next 38 Years
-Only year that the SCORE Baja 1000 did not occur (due to U.S. Oil Crisis)
1975 – Malcolm Smith becomes the first to win both an overall 4-wheel and 2-wheel titles win he wins
the 4-Wheel with Dr. Bud Feldkamp in a Funco-VW. They won again in 4-wheel in 1977
1976 – BFGoodrich Tires begins a 40-plus year history racing in the SCCORE Baja 1000
-BFGoodrich Tires has won a race-record 28 4-wheel overall titles in this race
1978 – Larry Roeseler and Jack Johnson are the first to win the SCORE Baja 1000
three times in a row on motorcycles 1978, 1979, 1980.
1979 – PPI Begins Racing in SCORE with the Toyota Team and Ivan Stewart
-Frank De Angelo, with BFGoodrich Tires, start pits for racers at SCORE events
-Walker Evans wins the overall 4-wheel title earning the first by a truck
1982- Mickey Thompson wins his first and only SCORE Baja 1000 in a Raceco-VW
1990 – Bob Gordon wins the overall 4-wheel with his daughter Robyn and son Robby, marking the
first time for both a father/daughter and father/son overall win and Robyn is first female overall winner
1994 – SCORE Trophy Truck Class debuts; created by SCORE
-Jimmy Smith wins the first SCORE Trophy Truck title at the SCORE Baja 1000
1994-1997 – SCORE Trophy Truck runs as its own series, Jimmy Smith wins this race in 1994, Larry
Ragland wins in 1995, 1996 and 1997
1997 – Johnny Campbell wins his first of 11 overall mototcycle titles, all on Honda bikes
1999 – Larry Ragland wins the first SCORE Trophy Truck overall as part of the regular series to give
him four wins in five years in the marquee racing division
2000 – Dave Ashley and Dan Smith win the once-in-a-lifetime SCORE Baja 2000 from Ensenada to Cabo San Lucas, held to commemorate the new millennium
-Team of Johnny Campbell/Tim Staab/Craig Smith/Steve Hengeveld win motorcycle overall
2004 – Larry Roeseler becomes only the second person in race history to win the overall on both 2-wheel and 4-wheel, earning the 4-wheel title with Troy Herbst.
2006 – 431 total starters, most in the history of this race from Ensenada to La Paz
–Andy McMillin/Robby Gordon win 4-Wheel overall, Andy is the youngest overall winner at 19
-Steve Hengeveld/Mike Childress/Quinn Cody win 2-wheel overall
2007 – 40th anniversary race from Ensenada to Cabo San Lucas, race-record 237 finishers
Mark Post, Rob MacCachren and Carl Renezeder win 4-wheel overall
2008 – Johnny Campbell, riding with Robby Bell and Kendall Norman wins his record-setting 11th overall motorcycle title
– Roger Norman wins the overall 4-wheel with Larry Roeseler. Roeseler now has a record 13 overall wins in this race, 10 in 2-wheel and three in 4-wheel
2010 – Gus 'Tavo' Vildosola and his father Gus Vildosola Sr. become the first Mexican nationals to
win the overall; Roger Norman finishes third overall driving solo down the peninsula
2011 – Andy McMillin and his father Scott Millin son/father duo wins the 4-Wheel Overall
2012 – B.J. Baldwin wins the SCORE Baja 1000 back-to-back in 2012 and 2013
-Roger Norman takes over ownership of SCORE on December 20
2014, 2015, 2016 – Rob MacCachren wins the Overall SCORE Baja 1000 with Andy McMillin and
Jason Voss. MacCachren wins again in 2015 with Andy McMillin and a third straight in 2016
with Jason Voss
2014 – With riders Ricky Brabec/Robby Bell/Steve Hengeveld/Max Eddy Jr., Kawasaki motorcycle
returns to the top of the podium, breaking the record 17 straight 2-wheel wins by Honda
2017 – Carlos 'Apdaly' Lopez and his father Juan C. Lopez team to capture the Overall at the 50th
Anniversary of the Granddaddy of All Desert Races, the second team of Mexican nationals to
win the Overall title at this epic event. It was also the 29th Overall 4-wheel vehicle title won by BFGoodrich Tires
SCORE Baja 1000 Celebrity Watch
Famous Personalities who have raced in the SCORE Baja 1000 include:
A
ANDREAS AIGNER—Austrian 2008 World Rally Championship Production Car champion
STEVE APPLETON—Late CEO and President of Micron Technology, stunt-plane pilot
FRANK ARCIERO JR.–off-road racer, developer, Winery owner, former CART team owner
FRANCISCO ARREDONDO—International motorcycle rally racer from Guatemala
JACK ARUTE–Sports TV personality
SCOTT ATCHISON—former IndyCar driver
HUBERT AURIOL–multiple winner of the Grenada-to-Dakar Rally
B
BOBBY BALDWIN—President/CEO of the Mirage Resorts, former World Series of Poker Champion
GAYLE BANKS—Land Speed Record Holder
JAMIE BESTWICK—Legendary British BMX racer who won nine straight X Games BMX Vert gold medals
RON BISHOP—Only person who raced in the first 40 SCORE Baja 1000 races a motorcycle
KEN BLOCK—Founder of DC Shoes, Pro Rally racer, X Games star
SEBASTIEN BOURDAIS—2004 and 2005 Champ Car World Series season champ from France
BUD BRUTSMAN—show creator and TV producer of 'Rides' and 'Overhaulin'
C
JEAN CALVIN–former world class professional figure skater
SHANNON CAMPBELL—Hall of Fame rock Crawling champion
ERIK CARLSSON–world champion rallye driver
PAT MOSS CARLSSON–Erik's wife/co-driver, sister of race driver Stirling Moss
LANCE CLIFFORD—Rock Crawling champion
ANDREW COMRIE-PICARD—North American Rally racer, 2010 X-games medalist
LARRY CONNOR—prominent Ohio businessman, two-time national sports car racing champion
JESSI COMBS—TV sports personality, moto/car/truck racer
DAN COOK—Professional Fly Fisherman
SANTIAGO CREEL—International motorcycle rally racer from Mexico
ERIN CROCKER—USAC, ARCA and NASCAR Truck racer
D
TARA DAKIDES—snowboarding legend
WALLY DALLENBACH JR.—veteran open-wheel, Pike's Peak Hill Climb, NASCAR racer, TV personaltiy
PATRICK DEMPSEY—Film and TV star (Grey's Anatomy)
CYRIL DESPRES—2007 Dakar Rally Overall motorcycle champion
BROC DICKERSON—Short course racer turned desert racer
DOMINIC DOBSON—German-born former CART, NASCAR Truck Series and IMSA sports car star
CARLIN DUNNE—three-time Pike's Peak Hill Climb motorcycle champion
E
KERRY EARNHARDT—NASCAR Racer, Son of the late NASCAR star Dale Earnhardt
TERRY EARWOOD—An instructor with the Skip Barber Racing School who has also won championships in NHRA drag racing and IMSA road racing
F
BRIAN FINCH—Autocross racer, road racer and TV personality
TANNER FOUST—Pro Rally racer, X Games Gold medalist, Formula Drifting Champion, Hollywood Stunt driver
CHIP FOOSE—Star of TV's Overhaulin'
GREG FOSTER—veteran Formula 1 powerboat racer
LOU FRANCO—noted Hollywood Stunt driver/rider
G
GARY GABELICH–Land Speed Record holder
JAMES GARNER–movie/TV star
JOSELE GARZA–Mexico's only Indianapolis 500 "rookie of the year"
JOHN CLARK GABLE–movie actor and son of famed actor Clark Gable
JAMIE GALLES, former Trans Am and Toyota Atlantic racer whose family was a long-time IndyCar team owner
MICHAEL GAUGHAN—Prominent Las Vegas Hotel/Casino owner
BRENDAN GAUGHAN–NASCAR Nationwide Series/NASCAR Truck racer whose roots are in desert racing
CHAD GILSINGER–2010 champion of the SCCA National Runoffs Championship
ROBBY GORDON–former CART and NASCAR Sprint Cup driver/team owner
MIKE GROFF—former IRL driver
ROBBIE GROFF—former IRL driver
ROBERTO GUERRERO—former IndyCar and Formula 1 veteran
H
ROD HALL–25 class victories (one overall)–Only person who has raced in EVERY SCORE Baja 1000
PETE HALSMER–former Indianapolis 500 driver, IMSA GT and Super Vee champion
LAIRD HAMILTON—Surfing legend
IKUO HANAWA—Pike's Peak Hill Climb record-setting champion in electric race car
VIC HICKEY–land speed racing and off-road racing pioneer
DERRICK HILL—veteran of several open-wheel pavement series, son of the late Formula1 Champion Phil Hill
SAMUEL HUBINETTE—two-time Formula Drift champion from Switzerland, professional stunt driver
RYAN HUNTER-REAY—veteran open-wheel racer and IndyCar champion
I
BRIAN ICKLER—NASCAR Truck Series driver who returns to his desert racing roots
J
JESSE JAMES—Reality TV star (Monster Garage, Jesse James is a Dead Man, etc.)
BRUCE JENNER—Reality TV star, 1976 Olympic decathlon gold medal winner
RICKY JOHNSON–third all-time winningest Supercross motorcycle racer, founder of TORC short-course series
JIMMIE JOHNSON–former motocross star, seven-time Monster Energy NASCAR Cup champion
JOHNNY JOHNSON–15 class victories in eight different classes
STEFAN JOHANSSON—IndyCar racer and team owner
PARNELLI JONES–1963 Indianapolis 500 winner
P.J. JONES—Parnelli's son who has raced open-wheel, sprint cars and NASCAR
TRACY JORDAN—Rock Crawling pioneer with championships in three different series
BERNARDO JOURDAIN–Mexican IndyCar driver
MICHEL JOURDAIN Jr.–Mexican IndyCar and NASCAR driver
K
ARMIN KREMER—German Rally champion and veteran World Rally Championship driver
L
JOHN LANGLEY—award-winning Television producer (COPS), has star on the Hollywood Walk of Fame
DARREN LAW—GT Prototype racer
KYLE LeDUC—second generation desert racer, five-time Pro-4 short-course off-road champion
ROD LEWIS—Prominent Texas energy (oil) businessman, prominent international air-racing pilot
KEN LOSCH–Former SCCA Formula Mazda racer and Indy Pro Series owner/driver
BRAD LOVELL—multi-time Rock Crawling champion, short course off-road racer
ROGER LOVELL—Rock Crawling champion, short course off-road racer along with brother Brad
MORGAN LUCAS—NHRA Top Fuel drag racer
JUSTIN LOFTON—2009 ARCA champion, NASCAR Truck Series racer
KYLE LOZA–Freestyle MX, XGames Gold medalist
M
GARY MAGNESS—Hollywood film producer and international businessman
JEREMY McGRATH—former legendary supercross MX star
HERSHEL McGRIFF–first Carrera Panamericana winner and stock car champion
ROB MacCACHREN—8-time SCORE class champ, Stadium and Short Course racing champion, six-time AARWBA All-America, over 300 career race wins in desert, short-course and stadium won three straight SCORE Baja 1000 races (2014, 2015, 2016)
MIKE 'MOUSE' MCCOY—SCORE race champion, noted Hollywood stunt driver, star of Dust to Glory, 2005
CHRIS MacCLUGAGE—legendary IJSBA personal watercraft racing world champion
ANDY McMILLIN—Third generation McMillin Family racer-Corky's grandson, five-time overall winner of the SCORE Baja 1000
CORKY McMILLIN—Founder-Corky McMillin Cos, patriarch of first SCORE 3-generation team, multiple Baja wins
MARK McMILLIN—Corky's son, San Diego developer; 8 class wins, including 5 overall in SCORE Baja 1000
TYLER McQUARRIE—Formula Drift racing star, veteran of numerous racing disciplines, driving instructor
CHAD McQUEEN—actor and son of Steve McQueen
STEVE McQUEEN–movie and TV star
CASEY MEARS—NASCAR Cup racer, former desert racer, son of off-road star Roger Mears
RICK MEARS–4-time Indy 500 winner; younger brother of former off-road star Roger Mears
ROGER MEARS—1991 AARWBA All-America racer, desert racing legend, Indy Car Racer
SHEKHAR MEHTA–4-time winner of East African Safari
BRUCE MEYERS–originator of the Meyers Manx, world's first desert race car (dune buggy)
MIKE METZGER—godfather of Freestyle MX
AK MILLER–American hot rodding and off-road racing patriarch
ROD MILLEN—Pikes Peak Hill Climb Record Holder, rally racer, Stadium racing champion
RHYS MILLEN—Rod's son, Formula D Drifting racing National Champion, precision Hollywood Stunt driver
RYAN MILLEN—Rod's son, accomplished Formula Drift racer
RICH MINGA—1987 SCORE Overall Point Champion, noted Hollywood stunt driver
LARRY MINOR—former drag racer and team owner
DANNY MODER—noted film cinematographer with over 20 on his filmography
PAULA MURPHY–one-time 'world's fastest woman' racer
N
MICHAEL NESMITH–TV actor/musician "Monkees"; pioneer producer of CD music
PAUL NEWMAN—Actor, race car driver, philanthropist
GUNNAR NILSSON–Formula 1 driver
SERGIO NOLASCO–owner of Mexico's finest Formula 3 road racing team
AARON NORRIS–motion picture and TV producer; brother of actor Chuck Norris
ERIC NORRIS—former NASCAR touring series driver, TV stunt coordinator, son of actor Chuck Norris
MARCO NOVELO—Mayor of Ensenada, Baja California, Mexico
TED NUGENT–rock 'n' roll singing star
O
DANNY ONGAIS–motorcycle, drag racing, road racing and Indy 500 racer
P
PAUL PAGE—Motorsports TV commentator
TED PAPPAS–Indy 500 racer
TRAVIS PASTRANA—Freestyle MX, Supercross star, X Games Superstar
CHRIS PAULSEN—Former Indy Car crew chief, owner of C&R Racing, columnist for National Speed Sport News
ROBBIE PIERCE—Former owner of MasterCraft and Impact, now Jimco owner
SAM POSEY–international race driver and motorsports TV commentator
GLEN PLAKE—Two-Time World Champion Hot Dog Skier
TOBY PRICE—champion factory motorcycle rally racer, Dakar champion
DON PRUDHOMME–legendary drag racer
R
GASTON RAHIER–former Paris-to-Dakar rally champion
DARON RAHLVES—legendary three-time U.S. Olympic downhill skier
DYLAN RATIGAN—host of CNBC's 'Bullseye' show
BUDDY RICE—2004 Indianapolis 500 winner
ELLIOTT FORBES-ROBINSON—legendary SCCA sports car racer
LARRY ROESELER–legendary motorcycle rider with an amazing 13 overall wins in SCORE Baja 1000
ALEXANDER ROSSI—2016 Indy 500 champ as a rookie, former Formula 1 driver
S
BORIS SAID—NASCAR driver and Trans Am racing star
ARMIN SCHWARZ—Seven-time World Rally Championship race winner
ORIOL SERVIA—IndyCar star from Spain
BON SINCLAIR–president of Volvo Automobile of America
GAY SMITH–Pike's Peak Hill Climb champion
MALCOLM SMITH–off-road motorcycle champion and star of movie, "On Any Sunday"
CAMERON STEELE—Motorsports & Action Sports TV commentator
NELSON STEWART—Former Sprint Car racer, father of NASCAR star Tony Stewart
DAYMON STOKIE—Australian motocross champion
DANNY SULLIVAN—1987 Indianapolis 500 champion
ROBERT SUTTON—President/CEO of Centrix Financial
T
TARA DAKIDES—prominent professional snowboarder
MARK THATCHER–son of England's former prime minister Margaret Thatcher
MAX THIERIOT—second generation desert racer, Hollywood movie and TV actor with 15 films to his credit, currently starring role in CBS TV's SEAL TEAM
DANNY THOMPSON—Son of SCORE founder Mickey Thompson, former stadium off-road racer
MICKEY THOMPSON–hot rodding and off-road racing pioneer, SCORE founder
ROLF TIBBLIN–world's only motocross champion in three classes–500, 250 and 125cc
J.R. TODD—NHRA Top Fuel drag racer
JUGATSU TOI–Japanese novelist
KYLE TUCKER– Autocross champion
U
JOHNNY UNSER—Indy car racer, first from his racing family to drive in the race
V
JIMMY VASSER–CART champion driver
GUS VILDOSOLA JR—Prominent Mexican businessman who with his father Gus Sr became the first Mexican nationals to win the overall title in the race in 2010
W
BILL WEBBER—legendary long-time motorsports TV announcer
CAL WELLS III–NASCAR team owner who has also owned off-road and Indy Car teams
BILL WHITTINGTON—former Indy Car racer
DON WHITTINGTON—former Indy Car racer
LARRY WILCOX–TV actor
BEKKI FREEMAN-WIK—Top female racer in SCORE History, 3-time SCORE Baja 1000 champ
Z
JOHN ZINK–creator of Indy's famed 'laydown cars'